Freeview reception - all about aerials

Brian Butterworth published on UK Free TV
Updated 8th January 2014.


Your ability of receive all the Freeview transmissions depends on the suitability of aerial
the design style,
the "group", and
its physical location.
Standard type - Yagi aerial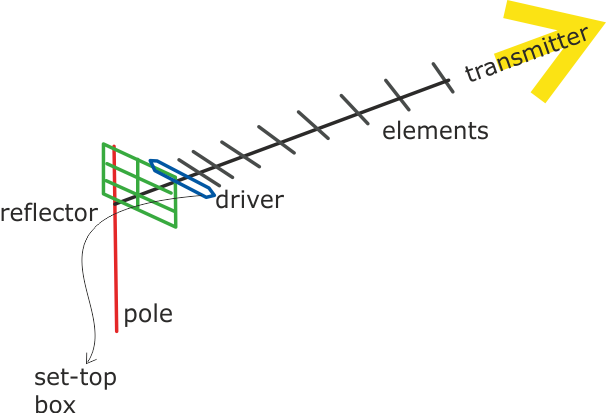 The
standard
type of TV aerial is known as the Yagi aerial. It is mounted on a pole, and consists of a rod with a reflector (shown green) at the back and many spiky elements (in grey) at the front. The connecting
cable
connects to the element nearest the reflector, known as the driver (shown in blue).
These Yagi aerials are directional and so pick up signals best from a
transmitter
that the rod points towards. The more elements the aerial has, the better it picks up a
signal
and becomes more directional.
A standard-type aerial is all that is required for
digital
TV
reception
in most places. These antennae have between 10 and 18 elements and a single reflector. These are recommended for new installations for good digital television reception, but will more often than not function perfectly in good reception areas.
Typically these aerials are designed to receive only some transmission frequencies - see "groups" below.
High Gain aerials

These aerials are designed for poor digital reception areas, and have two reflectors. For maximum signal strength, some digital high
gain
aerials have up to 100 elements. Since the
switchover
to digital-only transmissions back in October 2012, most UK households now have good
quality
digital TV signals.
A more expensive aerial is only required where the signal strength is low, but can often provide the whole Freeview reception where it might otherwise be impossible.
The CAI (that represents aerial installers) has four standards for digital TV aerials. The highest standard "1" is for homes on the fringes of coverage areas, intermediate standard "2" is suitable for use within the coverage area; minimum standard "3" is for good coverage conditions.
These aerials can be either
wideband
, or receive only selected frequencies - see "groups" below.
Grid

You may haved used a 'Grid aerial' for
analogue
reception, but as they are generally unsuitable for Freeview reception, they have now generally been replaced by the Yagi type. However in some places a Grid aerial installation may work for Freeview: otherwise replace with a standard Yagi aerial.
Indoor
Indoor aerials
are generally not suitable for Freeview reception. In areas of good signal strength it is often possible to receive some transmissions. Even where an aerial works, people often find that may get interruptions to their viewing (or recording).
Loft mounted
Loft
mounted arrivals are not generally recommended for Freeview reception, as the
roof
tiles and plumbing will degrade the signal. Some compensation for this loss of signal can be made by using
satellite
-grade cable to connect the set top box to the aerial.
Positioning
The best position for a TV aerial is mounted outdoors, as high from the ground as possible, pointing directly at the transmitter. The signal can be blocked by hills and tall buildings. It should be positioned away from any other aerials.
Horizontal or vertical?
The transmitter will either use vertical
mode
which requires the elements of your aerial to be up-down, or horizontal mode which requires them to be level with the ground.
Groups
Both analogue and digital television is transmitted the same group of transmission frequencies (known as
channel
21 through to 60). A coloured marking on the aerial shows the group.

To create the best possible analogue
picture
, TV transmissions from adjacent transmitters have been designated to several different groups of frequencies. By using an aerial that receives only the
channels
in the correct group, the analogue picture can be kept free from
interference
.
To receive Freeview transmissions from the same transmitter it has been sometimes necessary to use frequencies that are not part of the transmitter's normal group. When this has occurred, the aerial will need to be replaced with a "wideband" aerial (also known as group W) - one that covers every group.
As
Ofcom
is planning to move the TV frequencies again - perhaps as soon as 2018 - it may be wise to use a wideband aerial if you can to ensure you can keep viewing Freeview for many years to come.
Comments
Sunday, 26 February 2012

cal wale: For HD services from Tacolneston you need to tune to channel 62.

The link to the page I referred to above is here:

Freeview signals: too much of a good thing is bad for you | ukfree.tv - independent free digital TV advice

A crude way of attenuating (reducing signal level) that might work (as a test) is to either hold the aerial plug close but not quite in or remove the outer screen of the plug where it is a non-moulded type, placing only the centre pin in the socket. This might help demonstrate if it is too high a signal level.

Dave Lindsay's 5,724 posts
Saturday, 3 March 2012
D
David Power
1:57 PM
Nairn

David Power. I live two miles outside Nairn in the north of Scotland and have just bought a Digital arial and it is mounted in the loft and points across the sea directly at the transmitter. I get good reception on all channels except channel 15 (Film Four) which breaks up so badly that we cannot watch it. Any comments would be welcome.

David Power's 1 post
David's:
map
D's Freeview map
terrain
D's terrain plot
waves
D's frequency data
D's Freeview Detailed Coverage

David Power: If you have direct line of sight with the transmitter, your receiver could be suffering from too much signal, see here:

Freeview signals: too much of a good thing is bad for you | ukfree.tv - independent free digital TV advice

That said, Film4's multiplex is at lower power than that of the Public Service Broadcasters (PSB) from Rosemarkie. That said, perhaps the high power PSBs are acting to desentise your receiver to the lower power Arq B (Film 4).

There is no such thing as a "digital aerial" (or a "digital arial" for that matter, other than the typeface on a digital computer).

I suggest that you confirm that all channels are tuned correctly. Do this by viewing the signal strength screen on the following services and observing that the UHF channels to which they are tuned are those of Rosemarkie and not another transmitter such as Rumster Forest:

BBC One C45
STV C49
BBC One HD C42
ITV3 C43
Pick TV C46
Yesterday C50 (this is the same mux as Film4).

Dave Lindsay's 5,724 posts

dave in over 20 years of fitting aerials i have only come accross too much signal and that is with an amplifier and never one fitted in a loft this is from someone who fits aerials not someone who just looks at the internet and other peoples posts. If your aerial wont work in the loft there could be lots of reasons why, foil insulation, solar panals, or outside problems like trees. Have you instaled the coax rigth if your coax plug has a screw in it remove it this can short the coax . If it wont work in the loft it might have to go out side if you arnt any good on ladders or roofs get a local aerial rigger to do it rigth first time.

Mazbar's 384 posts

David Power: Just to add to that already mentioned, should this problem have been in existence for a while now I would be inclined to try repositioning your aerial in the horizontal plane, as although the various multiplexes on the TX mast radiate in a reasonably even fashion (albeit from different heights) this cannot be said for the way they are received, and especially so when they have crossed an expanse of water, this being why horizontal repositioning frequently brings results as you can balance the differences out.

What to do is carry out a signal strength / quality check whilst on Film 4 having a look at what's indicated (noting same) and which will most likely be seen fluctuating, then go up into the loft and reposition your aerial a few feet to the side, checking on and noting the result, then return to the loft and try the aerial on the other side, once again followed by a signal check.

Using this procedure will at least give you an idea of what's happening so that you can leave the aerial in the best spot, however should this action have helped the problem by leaving the aerial in a different position from before, then I would advise that before shutting the loft up try some of the other channels like Pick TV (11) and Quest (38) as that will test the other two lower powered multiplexes, as any improvement to the Film 4 situation could possibly have been made at the expense of these other multiplexes, this why its best to check beforehand.

jb38's 7,179 posts
Wednesday, 7 March 2012

Seems that rowridge is now dual polarity, which means our wideband is now defunct. unless there is anyway to block upper or lower freqs.

jay's 92 posts
jay's:
map
J's Freeview map
terrain
J's terrain plot
waves
J's frequency data
J's Freeview Detailed Coverage

as it points to whitehawk

jay's 92 posts
jay's:
map
J's Freeview map
terrain
J's terrain plot
waves
J's frequency data
J's Freeview Detailed Coverage

jay: See Digital Region Overlap | ukfree.tv - independent free digital TV advice . The easiest way is to buy yourself a Freeview HD box as this will list the region choices for you.


Briantist's 38,907 posts
Sunday, 11 March 2012

Hi,I have BT vision which I can recieve sky sports,at times I have noticed a break up of picture,I checked the signal strenght which was around 60%,with the quality flashing between 60 to 100%,the big channels bbc 1 ect,show 70% strenght and 100% quality,would an upgrade of aerial improve my viewing experience.My area is BA20

jon Stanley's 1 post
Wednesday, 14 March 2012
Peter Thornton
4:39 PM


We have a canal boat and would like to know what sort of portable aerial system we can buy to receive freeview digital transmissions from different parts of the UK.

Peter Thornton's 3 posts
Select more comments
Your comment please