Indoor aerials

Brian Butterworth published on UK Free TV
We have tested a number of indoor aerials, to investigate how well they work for Freeview reception.
Simple stick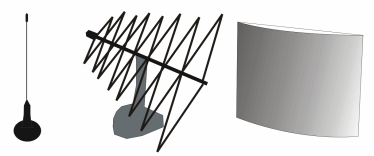 The first is a small 20cm high simple stick aerial, costing a few pounds. This was found to give adequate reception of (16QAM-
mode
) Freeview
channels
in strong
signal
areas, especially outside.
However, unless it can be placed in direct sight of the
transmitter
an only unsatisfactory signal can be received.
Indoor Yagi
The second form of aerial is of the Yagi design of around 30cm length, costing around 10.
This aerial was slightly better than the simple stick design, largely because it can be directed to point at the transmitter and be positioned horizontally or vertically as required.
However, in poor signal areas the
64QAM
channels were not received, and the aerial required good placement to get an uninterrupted Freeview signal.
Indoor Panel aerial
This was found to have around the same reception
quality
as the Indoor Yagi type, and cost around the same.
Indoor digital aerial with booster
Costing 25-30, the improvement of the signal provided by a modern internal TV aerial. Typically able to boost the signal by 36dB, this type of aerial when well positioned provided stable, uninterrupted Freeview reception on all channels.
Comments
Wednesday, 13 June 2012
A
argyle_mikey
12:22 PM
Heathfield

Sorted out my roof aerial last night and at 7am this morning I retuned. Result...perfect !

All channels present, strength stable at 97-99% (exactly as predicted), HD looking good although will need to tweak the picture which was set up for Sky HD. I have recorded BBC HD all day so hopefully I will get the test card to assist with that.

I have set my Samsung box to feed my tv at best quality possible (1080p), although my Philips TV is only 1080i/720p. Great picture though.

Thanks for the advice JB, just teething troubles in the 2 week gap it would seem.

Mike

argyle_mikey's 4 posts
argyle_mikey's:
map
A's Freeview map
terrain
A's terrain plot
waves
A's frequency data
A's Freeview Detailed Coverage
Tuesday, 10 July 2012

my daughter has always been able to get freeview programmes with her digi box except bbc1 now the signal has gone completely ihave checked the ariel connections from box to tele and the box appears to be ok too. her post code is ch451jy

john cassidy's 2 posts
Wednesday, 11 July 2012

Hi,
I have a freeview digital aerial on my chimney,a new tv and set top box.My question is,which type of cable do I need to connect from aerial to box. I have seen two sorts, one which says it is Satellite cable, the other one is co-axial but they both look the same.

Jonathan's 1 post

Jonathan: See

Satellite, Television, FM, DAB, Aerial, Coaxial Cable, Plugs, Sockets, Connectors & Leads

If you already have a cable from the aerial to the TV, then it is probably worth trying it as it is.

Dave Lindsay's 5,724 posts
Thursday, 30 August 2012

when i had new aariel i had two extra points (I dont know what you call them on my ariel so i could add more tvs on it might be worth seing if any of you have these

whitfield's 1 post
Tuesday, 18 September 2012

Hiya,can you tell me if I can drill a hole in my bedroom floor to my living room and connect the downstairs aerial to my bedroom tv? Is this possible? Many thanks,Lee.

Lee's 1 post

Lee: Lots of informaion on ATV's site:

Television Aerial Boosters / Amplifiers, Splitters, Diplexers & Triplexers

Dave Lindsay's 5,724 posts
Saturday, 22 September 2012

I've recently bought a 52 element wide, band aerial, horizontal polarised in the hope of mounting it myself on the top corner of the house. The trouble is our incoming telephone/internet cable is already anchored close by. I know all conductors radiate. Will this interfere with my aerial reception?

Rob Murray's 1 post
Monday, 15 October 2012
C
Charlene
11:51 AM
Telford

HELP please

I have recently purchased a Labgear TV Aerial High Gain 48-Element to mount in my loft but we cannot get anything on it. Our postcode is TF7 4EW. Any suggestions on what to do next or even a set top aerial as it is only for our bedroom??

Charlene's 1 post
Charlene's:
map
C's Freeview map
terrain
C's terrain plot
waves
C's frequency data
C's Freeview Detailed Coverage
Tuesday, 16 October 2012

Charlene: As you are located at only 5 miles or so from The Wrekin transmitter then the signal received from your loft mounted aerial "might" be causing a severe overload in your TV or boxes tuner, this being something that can completely block reception.

Try the set top aerial on the TV in question "after" having carried out an auto-tune on it without the aerial being connected, this just to ensure that no corrupted data is stored in the memory, then after connecting the set top aerial into the TV give the set another auto-scan.

If this gives a picture of sorts then an attenuator will require to be fitted on the aerial lead from the loft, this connecting into the TV's aerial socket.

Variable attenuators only cost a few pounds (under £5.00) and these are inclined to be better as you can adjust them to suit the occasion.

jb38's 7,179 posts
Select more comments
Your comment please