Indoor aerials

Brian Butterworth published on UK Free TV
We have tested a number of indoor aerials, to investigate how well they work for Freeview reception.
Simple stick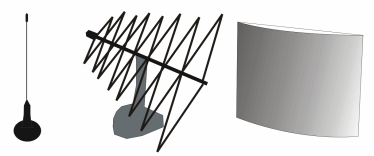 The first is a small 20cm high simple stick aerial, costing a few pounds. This was found to give adequate reception of (16QAM-
mode
) Freeview
channels
in strong
signal
areas, especially outside.
However, unless it can be placed in direct sight of the
transmitter
an only unsatisfactory signal can be received.
Indoor Yagi
The second form of aerial is of the Yagi design of around 30cm length, costing around 10.
This aerial was slightly better than the simple stick design, largely because it can be directed to point at the transmitter and be positioned horizontally or vertically as required.
However, in poor signal areas the
64QAM
channels were not received, and the aerial required good placement to get an uninterrupted Freeview signal.
Indoor Panel aerial
This was found to have around the same reception
quality
as the Indoor Yagi type, and cost around the same.
Indoor digital aerial with booster
Costing 25-30, the improvement of the signal provided by a modern internal TV aerial. Typically able to boost the signal by 36dB, this type of aerial when well positioned provided stable, uninterrupted Freeview reception on all channels.
Comments
Saturday, 18 May 2013

It is strange! Maybe you're right - the box has somehow developed a fault. At least my TV works fine and picks up all the channels (except HD) - it's just the recording facility that the box offered that I miss!

Thank you very much for all the time you've spent exploring this problem with me.

Ian's 11 posts

Ian: I think that the issue was somewhat clouded from the start by your suspicion about the powered aerial that you had purchased and use of.

The aspect of your problem that could suggest a fault being, that if you are viewing something you have previously recorded and you press stop, this should revert you back to the live TV channel that the "boxes" tuner was sitting on, you having indicated not.

However on having a search around you might find the info / comments relating to software problems with that model of box an interesting read albeit somewhat lengthy.


Philips/Pace HDT 8520 HD-PVR Master thread inc. Bug and Issues List [Part One] | AVForums.com - UK Online

jb38's 7,179 posts

Ian: Just to satisfy my curiosity about something there is one final test that I would like you to try, and being, rather than using the HDMI lead between the box and the TV try using a scart connection between the AV1 sockets on both devices and see if this changes anything.

jb38's 7,179 posts

I've just tried it - I just got even a blank screen!

Thank you very much for your assistance on this matter. I think for the time being I'll just have to live without my HD and recording facility! If I ever come across a solution - although I suspect it's the equipment at fault - I'll let you know

Ian's 11 posts

Ian: Thanks for trying that test, but could you just confirm that this the result you get even although you have selected AV1 input rather than the usual HDMI1 "after" having pressed AV on your TV's remote control?

jb38's 7,179 posts

Yes, I pressed AV1 rather than HDMI1

Ian's 11 posts

Ian: Many thanks, although that now adds to my suspicion about the box having developed a fault, as virtually nothing should stop a signal passing between the AV1 sockets on two devices.

Should it transpire that you return the box to wherever purchased from (if still possible) I would appreciate if you could give an update on the result.

jb38's 7,179 posts
Friday, 28 June 2013

Would an indoor aerial work in my area, and if so what would you recommend?

Mo582's 1 post
Mo582's:
map
M's Freeview map
terrain
M's terrain plot
waves
M's frequency data
M's Freeview Detailed Coverage

Mo582: Indoor aerials nearly always result in iffy reception as they are vulnerable to the capacitive effects of movement within the room they are located in, and any time they do give satisfactory reception is generally in situations where they are positioned near to a window that faces towards a "visible" mast of a few miles away.

In your particular case the nearest transmitter that you are predicted as being able to receive is Bluebell Hill @ 20 miles, although Crystal Palace @ 29 miles appears to be the station that's used in your area, this being the case I would not recommend any type of indoor aerial, loft types possibly OK though!

jb38's 7,179 posts

Mo582: No.

There are a number of reasons I suggest this:

- The aerials on the tops of the houses are larger types, which suggests that you aren't in the best reception area.

- Even at roof level you don't have line-of-sight to the Crystal Palace transmitter because the ground blocks the view between 1.5 and 2 miles away. On that higher ground is the Pipps Hill Industrial Estate where there are large buildings.

- The bearing to the transmitter is roughly west and the road runs west to east, so pointing an aerial in that direction from within one house means that it is pointed through other houses.


If this is a for an additional TV and you already have a roof-top aerial then I would look at using that aerial to feed the other room.

Dave Lindsay's 5,724 posts
Select more comments
Your comment please