Indoor aerials

Brian Butterworth published on UK Free TV
We have tested a number of indoor aerials, to investigate how well they work for Freeview reception.
Simple stick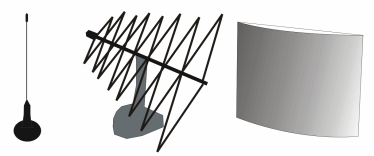 The first is a small 20cm high simple stick aerial, costing a few pounds. This was found to give adequate reception of (16QAM-
mode
) Freeview
channels
in strong
signal
areas, especially outside.
However, unless it can be placed in direct sight of the
transmitter
an only unsatisfactory signal can be received.
Indoor Yagi
The second form of aerial is of the Yagi design of around 30cm length, costing around 10.
This aerial was slightly better than the simple stick design, largely because it can be directed to point at the transmitter and be positioned horizontally or vertically as required.
However, in poor signal areas the
64QAM
channels were not received, and the aerial required good placement to get an uninterrupted Freeview signal.
Indoor Panel aerial
This was found to have around the same reception
quality
as the Indoor Yagi type, and cost around the same.
Indoor digital aerial with booster
Costing 25-30, the improvement of the signal provided by a modern internal TV aerial. Typically able to boost the signal by 36dB, this type of aerial when well positioned provided stable, uninterrupted Freeview reception on all channels.
Comments
Friday, 17 June 2011

I have a sky dish and was wondering if i could link that to my tv in the bedroom to receive a freeview signal, the tv in question has a built in freeview and we are 3 mile from idle moor transmitter

alan wood's 1 post
Thursday, 23 June 2011

I live in Falkirk area my TV set is Techika 19" with built in Freeview + DVD (Tesco)we are covered by Blackhill trans using indoor Arial plugin SLX digitop with built in booster. In May this system received over 90 Freeview channels with no problems now only get 24 channels and no terrestrial TV.I have tried retuning several times, unplugging system any ideas what is wrong

Ian's 1 post
Friday, 24 June 2011

Hi

I have just erected a summerhouse and want to have TV in there. I'd rather not run coax cable all the way down the back garden (most of it is paved). Am I best finding a way or would an outdoor ariel work?

Thanks

Nick Gibbs's 1 post

First just try it with an indoor aerial.
If your summerhouse has a window pointing towards the transmitter, put it there.
Your summerhouse may not be strong enough to support a big out door aerial, but a small waterproof one should be ok.
If your summerhouse is a long way from your house you will lose some of the signal down a long coaxial cable and will need an aerial amplifier.

Another option would be to use a satellite dish. I use one I got from Maplin that is meant to be used with a caravan.

Mark A.'s 373 posts
Mark's:
map
M's Freeview map
terrain
M's terrain plot
waves
M's frequency data
M's Freeview Detailed Coverage
Sunday, 26 June 2011
C
christine symonds
8:13 PM

have been getting all channels in my bedroom untill today and for some reason im just getting bbc channels now,,,please help dont know what to do !!!

christine symonds's 1 post
Tuesday, 12 July 2011

hi, im going camping in the north west of scotland (gairloch).looking to take a tv with us what aerial would i need to get to watch free view?
thanks BARRY

BARRY's 1 post

Barry: Reception as one would expect can be very iffy up in these areas, however if you are spending time in Gairloch itself then all you need to receive the local Badachro transmitter is a standard log periodic aerial, as indeed is used by many caravan & camper vans, with the signal from the aforementioned transmitter blasting in according to the trade predictor based on the local Post Office.

Matter of fact space permitting, you could even take a simple set top aerial and still get satisfactory results, but the aerial mentioned was suggested as its suitable for covering various situations.

jb38's 7,179 posts
Tuesday, 26 July 2011

HELP. My son has just moved to a student house in Reading postcode RG13PB. His bedroom does not have an aeriel point connection to the roof top aeriel and the landlord will not install one. He tried an indoor aeriel but it couldnt find even one channel? It was a 45db aeriel.
Can you suggest anything please? Do you think an indoor aeriel should have worked? His TV has built in freeview.
I would be very gratful for any advice.

John's 2 posts

John the only solution could be to ask the landlord if your son can fit an aerial at his own expence. If he can get a local aerial man not an 0800 number or ask the landlord who he uses for his aerial work. Hope this helps

Mazbar's 384 posts
Mazbar's:
map
M's Freeview map
terrain
M's terrain plot
waves
M's frequency data
M's Freeview Detailed Coverage

John: Well, on looking at the reception possibilities (using trade view) for the post code mentioned I would say its very doubtful if any reception would be possible using an indoor aerial of any sort, the nearest station I can see being Hannington @ 17 miles away on a bearing of 232 degrees from his location.

If he has a room of his own with a "South facing window" then one of these inexpensive portable Satellite kits would work indoors provided he could sit the dish tripod facing out of the unopened window, other than that there really isn't much that can be done, as is not until February 2012 onwards that the possibilities reception "might" start to improve.

By the way, these Satellite kits referred to plugs into the TV's rear scart socket.

jb38's 7,179 posts
Select more comments
Your comment please