Indoor aerials

Brian Butterworth published on UK Free TV
We have tested a number of indoor aerials, to investigate how well they work for Freeview reception.
Simple stick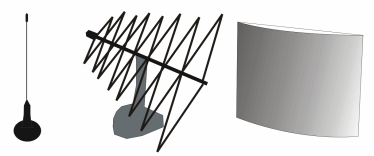 The first is a small 20cm high simple stick aerial, costing a few pounds. This was found to give adequate reception of (16QAM-
mode
) Freeview
channels
in strong
signal
areas, especially outside.
However, unless it can be placed in direct sight of the
transmitter
an only unsatisfactory signal can be received.
Indoor Yagi
The second form of aerial is of the Yagi design of around 30cm length, costing around 10.
This aerial was slightly better than the simple stick design, largely because it can be directed to point at the transmitter and be positioned horizontally or vertically as required.
However, in poor signal areas the
64QAM
channels were not received, and the aerial required good placement to get an uninterrupted Freeview signal.
Indoor Panel aerial
This was found to have around the same reception
quality
as the Indoor Yagi type, and cost around the same.
Indoor digital aerial with booster
Costing 25-30, the improvement of the signal provided by a modern internal TV aerial. Typically able to boost the signal by 36dB, this type of aerial when well positioned provided stable, uninterrupted Freeview reception on all channels.
Comments
Wednesday, 7 December 2011

I live in Plymouth, PL3 4QR so use Caradon hill Transmitter. I have external aerial(amp mast i think?) where all four outputs are being used. Are there any internal aerials that would work with freeview as I have not tried one since the switch over when digital signal would be totally swamped by analogue signal at the time. Am relunctant to buy one just to find that it won't pick up majority of available channels.

Gary's 1 post
Gary's:
map
G's Freeview map
terrain
G's terrain plot
waves
G's frequency data
G's Freeview Detailed Coverage
Wednesday, 14 December 2011

Gary: No, please see the article. You can split the outputs of your existing system to support additional receivers.

Briantist's 38,908 posts
Saturday, 17 December 2011

I have an old Portable in my 3rd Bedroom, it has no Aerial socket on the wall. Can i get a devise which will pick up a signal in a poor area for signals. i have Sky in the other rooms but just need a cheap fix.

Thanks

Steve's 1 post
Steve's:
map
S's Freeview map
terrain
S's terrain plot
waves
S's frequency data
S's Freeview Detailed Coverage

Steve: In general, indoor aerials are no substitute for outdoor ones. This is because the signal is worse inside than outside.

I presume that poor reception you refer to is that of the main transmitter, Sutton Coldfield. If that is the case, then you will be pushing your luck to receive it using an indoor aerial.

However, the Redditch relay transmitter might work. It doesn't carry all the commercial channels, but it will nonetheless give you BBC services, ITV1, ITV2, C4, E4, C5 and a few others.

The reason for this transmitter is because of the topography of your area which can't 'see' Sutton Coldfield very well.

You might need to retune your TV to receive from it if it is tuned to Sutton Coldfield.

It is a very low power relay and it is situated alongside Brockhill Drive, near to the pedestrian over-pass. If you are to get it working (if it is possible), you might need to site your aerial at that side of the house, ideally with as few a walls as possible in the way.

Dave Lindsay's 5,724 posts

Steve: For a set-top aerial, I would only have a directional polarised aerial. I wouldn't go in for these amplified models.

A quick look on Amazon:

Philex 27766R Kobra High Gain TV Set Top Aerial: Amazon.co.uk: Electronics
Antiference, Set top TV aerial: Amazon.co.uk: Kitchen & Home

If you are going to use it on Redditch transmitter, then the aerial needs to be vertically polarised or for Sutton Coldfield it should be horizontally polarised.

See this picture:

http://www.leekes.co.uk/c….jpg

The main photo shows horizontal and the inset image shows it vertically polarised. Both those models I linked to on Amazon can set for each polarisation.


Another thing to be aware of is that when doing auto-tuning your receiver might choose to go with the wrong transmitter. For example, if you have a roof-top aerial horizontally polarised pointing at Sutton Coldfield, and you tune your receiver using it, the receiver may choose to use the signal from the Redditch relay. Remember that Redditch doesn't broadcast the commercial multiplexes, hence those that are stored will always be the ones from SC.

The simplest method to avoid this is when tuning to SC is to run the auto-tune scan with the aerial unplugged and then plug it in when it gets to 25%. This will have the aerial unplugged whilst it's scanning the frequencies used by Redditch, but plugged in when scanning SC's frequencies.

As Redditch carries only two standard-definiation multiplexes, manual tuning is probably the most straight-forward. It needs tuning to Ch25 (for BBC) and Ch22 (for ITV1/C4/C5 and others). If you do want to auto-tune it, then have the aerial plugged in up until 25% and then leave it unplugged until the scan is completed. If it's a set-top aerial you're using to do this, then I'd doubt that this will be necessary as the SC signals will probably be so weak. If it's the roof-top aerial, then that's a different matter.

The possible problem you have is that in order to tune you need the aerial sited where it can pick up the signal and in order to site the aerial you need to have already tuned the receiver. To start off with, you could put the set-top aerial somewhere where you think that you might have the best chance of reception (clearest view of the transmitter), even if that's not where you intend to use it. The key thing is that having tuned it in, don't re-scan because it is the aerial that needs moving and not the tuning that needs altering.

Dave Lindsay's 5,724 posts
Wednesday, 28 December 2011

I can get all 6 groups using the One-for-all 9360 in my son's bedroom (back of the house) which faces the transmitter (Pontop Pike), but when I move into my bedroom at the front of the house I lose groups 2 & 4 (ITV, Channel 4 & Channel 5).

I'm presuming because the aerial quite literally can't 'see' the transmitter. Probably not much I can do about that, but is there anyway I can boost the signal, or is there a device I can plug into the unused rooftop aerial downstairs to 'transmit' a signal to the rest of the house?

Carl Hudson's 3 posts

Carl Hudson: Devices such as the One-for-all are as you have found basically OK but only for line of site situations, and there is nothing you can do to improve the device as it already has an amplifier built into it which is far more powerful than most types used on loft or roof aerials when located in bad reception areas.

Cant you put the device in the loft? as it would probably operate quite satisfactory up there "if" positioned properly.

By the way you cannot get anything to transmit the signal in the way you have mentioned.

jb38's 7,179 posts
Friday, 30 December 2011

Thanks for that JB38.

Only problem with putting the device in the loft is the work around getting the cable through the ceiling to the TV.


Carl Hudson's 3 posts

Carl Hudson: Have you tried moving it around the room? Maybe on top of the wardrobe? You will probably need an extension for it, but it might improve the signal.

Dave Lindsay's 5,724 posts

will freeview tv work with indoor areial digital

jane's 1 post
Select more comments
Your comment please