Freeview reception has changed?

Brian Butterworth published on UK Free TV
From time to time people find that their Freeview box, integrated set (idTV) or Personal Video Recorder (PVR) has lost many channels without any apparent changes.
There are a number of factors to consider
Freeview is broadcast on
digital
multiplexes. This means that, once broken down into a stream of bits, each television channel is combined into a single transmission of 1s and 0s. This means that
reception
is of the
multiplex
first if this is lost it affects all the channels in the multiplex in the same way.
The
signal
strength received by the box or TV for a particular multiplex from a given
transmitter
determines if the data can be received or not. So, a poor signal results in no data, an adequate signal in perfect data and a low signal in either none or all.
Poor digital signal levels do not result, as they do with old-fashioned
analogue
television, in a sub-
standard
picture or sound. Poor signals often result in a perfect data-stream, but are prone to periods of no reception. Sometimes this will be for hours, but can also be several times a minute when caused by induction from fridges, freezers, central heating systems, two-stroke scooters, baby monitors and so on.
If you have lost ALL your Freeview channels
First disconnect the
aerial
lead from the Freeview box or TV set and reconnect it and then follow
this reset procedure
to
scan
for channels again. If this does not result in
services
being restored, check the
Freeview transmitters page
to see if there are any
engineering
problems with your local transmitter.
How to check all cables, connectors and aerials
The RF connectors need to be in very good condition to work. There are two general types:
Factory-fitted connectors are very reliable as they cannot easily be taken apart, but they can be damaged by wear and tear. On the female-type the central section is often composed of two parts which can often be forced apart, resulting in a poor connection you can push them back together if this has happened with a pair of tweezers. On male connectors if the central pin is damaged, you will need a new
cable
. If there are any loose partials in the connector, remove them.
Another problem with these cables is that quite easy to sprain the connector at the back which causes little obvious external damage, but disconnects the internal connection. This happens often when a set-top box is pushed backwards into a cabinet.
Hand made cables can also suffer from similar problems to factory made ones and they are also prone to accidental damage from a cable being pulled. If such a connector is not firmly attached to the cable, the connector may need refitting.
Cables
Make a visual check of the cables. There are a few basic checks:
If the cable has been slashed or cut, it will not be very effective or reliable. If such a cable is fitted externally, this can allow rainwater to enter the cable and this will reduce the signal levels.
You can easily damage an RF cable by crushing it, for example in a door. If the outside of the cable has a permanent kink in the cable or has been very tightly looped, this could be the site of damage.
Aerial
For reliable and effective Freeview reception, a
rooftop aerial
is required. It is hard to make a visual check of such an aerial without putting yourself in potential danger.
You can make a visual check of the route between the aerial and the transmitter. Any form of obstruction will damage the digital signals. In particular trees coming into leaf, as these will leech the signal before it reaches your aerial. This applies to both trees adjacent to the aerial and at a distance.
Another common problem in cities is building work. A large crane will often change position many times during the day, and if this is between your aerial and the transmitter this can reduce the signal levels in an unpredictable way.
If your system uses a
booster
, the
power
may have failed. Check the fuse to the power to the
booster
.
Weather problems
There are two main weather problems that effect Freeview reception.
The
Inversion Effect
: please see
What is the Inversion Effect and why does it effect my Freeview TV reception?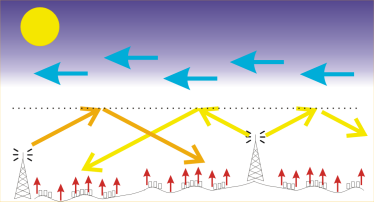 Wind: high winds sometime can dislodge the aerial this results in a poor signal.
Rain: poor or old cables can fill with water and this results in a poor signal. If this happens, the cables will require replacement.
Comments
Thursday, 8 September 2016

jb38: Thanks for all of that information. My aerial points are standing up, as are my neighbours (I'm in a semi detached house), however the neighbours on the other side of me have their points flat and their aerial is pointing towards Crystal Palace, (south east).

It could be Harrow on the Hill which is interrupting my channels or there is extensive building work going on in North Harrow (about a mile from me) with large cranes on the building site.

Could you tell me what Freesat is? Do I need a new digital TV (my 2 TVs are the old type, over 15 years old) or do I just need Freesat set top box. Thanks for your help.

Angela

Angela Thompson's 15 posts

jb38: I forgot to add that I haven't got a satellite dish, would I need one to get Freesat?

Angela Thompson's 15 posts

Angela Thompson: There is no need to wipe your recordings, it certainly isn't necessary to delete any recordings when retuning.

Freesat is received via satellite dish, with a set top box connected to your TV. There is no need to replace a fully working TV to receive any type of TV service, whether terrestrial, satellite, cable or via internet as all are available with an appropriate set top box. Have you asked your neighbour who has their aerial pointing at Crystal Palace what their Freeview reception is like, as you could potentially get your aerial changed for one pointed at Crystal Palace if that gives better results than Hemel Hempstead.

StevensOnln1's 3,569 posts

Paul Lines:

There is no apparent fault at Mendip, the transmitter I use. It could be a poor aerial connection, so check all of those from the back of the set up to the aerial itself.

By retuning, you will have lost some channels, so after checking everything as mentioned above you will need to retune. But before doing a full automatic tune, if your TV has a manual tune facility try entering channel 33 and waiting a few seconds to see what signal strength id=s shown - DO NOT perform an automatic tuning at this stage. The point of this manual test is to find out if there is any signal received fpr channel 33 and how strong, or weak, it is.

Further advise depending on feedback.



MikeP's 3,056 posts

Angela Thompson : Yes, a satellite dish is required, as a Freesat installation involves exactly the same procedures as that used for Sky, the only difference between the two systems being that of the box connected on the end of the coax.

As far as Freesat receiver boxes are concerned, an excellent relatively low cost reliable box (at just under 50) which I can personally recommend (two of having been used in my household for around 18 months now - fault free) is the Manhattan Plaza HD-S, this of course purely being a receiver, and although Manhattan does manufacture a twin tuner recording version of the box, I would generally advise keeping to Humax brand devices on the grounds of reliability.

However, on the subject of possibly opting for reception from Crystal Palace rather than Hemel Hempstead, it does have to be admitted that there is always a possibility that C.P might well provide better reception! albeit though with an element of iffy as far as reliability is concerned, backed up by the fact of DUK's reception predictor only indicating the main PSB channels (BBC / ITV etc) as good, all other multiplexes listed with the status of variable / poor, in other words possibly erratic.

By the way, a rooftop check (via Google earth) of aerials in C/ Gardens revealed about an even number of them either facing towards HH or CP, the other thing that was noticed, as indeed mentioned by yourself, being the number of satellite dishes in use, many of likely being used for Freesat reception rather than Sky, as both systems are externally identical.

Signal checking etc. Although many viewers loathe having to make contact with a neighbour or whoever for the purpose of enquiring about TV reception, which in some cases is quite understandable!, but though unfortunately its the only way of finding out if others located nearby are also experiencing similar problems with freeview reception as yourself, and from which station?.

Further advice / assistance as required.

jb38's 7,179 posts
Friday, 9 September 2016

GOOD NEWS!!! My Freeview box is now up and running. I just wanted to say thank you to everyone for your help and advice. Next time anything goes wrong I'll know where to come.

It took about 40 minutes yesterday to get the box to do anything, but my friend has got more patience than me so persevered, pressing all buttons, and it suddenly sprang into life, so at least we knew there was nothing wrong with the box. Anyway I didn't have the will to try it last night so waited until this morning, plugged it in and hey presto it was working!! I couldn't believe it, after all that tearing out of hair and cursing. So there was nothing wrong with my aerial after all, I did notice when I drove back through North Harrow yesterday evening that the huge cranes on the large building site have gone so I wonder if they had anything to do with the interference.

The only gripe I have is that the picture colours are very subdued and the text on the information etc is not clear but I put that down to the age of my TV, being nearly 20 years old.

Thank you all once again.

Angela

Angela Thompson's 15 posts

Angela Thompson: Good to hear you've got it sorted. Cranes wouldn't cause interference but could potentially block the signal if directly in line between your aerial and the transmitter.

StevensOnln1's 3,569 posts

StevensOnln1: yes, I meant block the signal as I didn't have anything at all, so interference wasn't really the the right word. I can never think of the right words when I'm typing, I seem to get brain freeze!!

Angela Thompson's 15 posts

Angela Thompson: Although I am obviously pleased to know that the situation has now been resolved, I am however rather intrigued as to exactly what could have been pressed on your box that rectified the problem, therefore I would be most obliged if you could furnish me with details of the brand / model number of the box in question, as this info would then enable me to check details of said box, of course, that is should I have the manual for same. Thanks / jb.

jb38's 7,179 posts
Saturday, 10 September 2016

jb38: I bought it from Argos - Bush DVB-T2 PVR MPEG4 248/9502, I chose this one as it's one stop up from the one that went wrong which I'd had for nearly 2 years and was very happy with , it's about the 4th box I've had over the years so it's not like I don't know how to install it. Usually you just plug them in and they start downloading on their own and tells you in steps on the TV screen without you really having to do too much but this one just refused to co-operate for some reason. I tried it on my 2 TVs, my main TV it wouldn't do anything, on the TV which I rarely use it flashed up i n s t a l a couple of times, which obviously means installing, but nothing came up on the TV screen, I waited twice from 30 minutes to an hour, with nothing happening, then the word "scan" appeared for a split second and went off, again there was nothing on the TV screen. When my friend plugged it into his TV, the same happened, he even turned it off and on a few times from the switch on the front of the box, we then left it for a while as we were frustrated at that time as to why it wouldn't down load, then he started pressing all the buttons on the hand set and believed he pressed the right and left arrows around the OK button, that's all he can remember, and a picture appeared on the TV screen, much to our amazement.

That's all I can tell you really. I hope that helps.

Angela Thompson's 15 posts
Select more comments
Your comment please