Sudbury Arqiva multiplex B changes 16 November - retune required

Brian Butterworth published on UK Free TV
After 6am 16th November 2011, viewers in Suffolk and Essex who receive the full Freeview service from the Sudbury transmitter will need to do a full retune of their Freeview boxes - you must perform a "first time installation" retune (sometimes "Factory Reset" or "Shipping Condition") to ensure you can watch the all the available Freeview channels on the correct channel numbers.

The ArqB multiplex is moving from C50 to C63 for seven months. There will be no changes to the power level or transmission mode parameters of the service. C50 is required for the ArqB at the Tacolneston transmitter digital switchover next wednesday.

Sudbury not see the commercial multiplexes operating at their final power levels until 27th June 2012. On this date SDN will move to C58, ArqA to C60 and ArqB to C56. Until this time some viewers on the edges of the service area for the transmitter will be unable to receive the commercial services.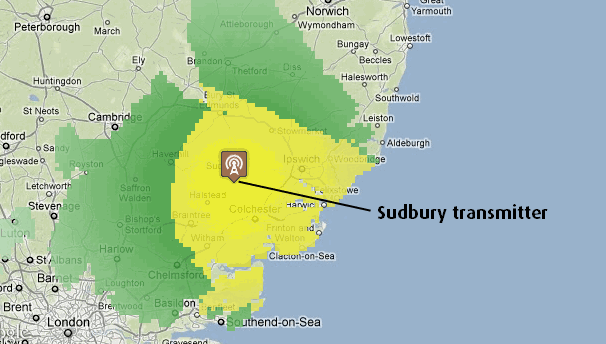 Comments
Sunday, 20 November 2011

Dale: Where were you when this went out?!

http://www.digitaluk.co.u….pdf

Dave Lindsay's 5,724 posts

Mr Monteith's mobile phone number has been published on a number of sites:

www.heatherwheeler.org.uk/blog/2674

Dave Lindsay's 5,724 posts

Seems they have got their suns wrong. It says 'some viewers on the edges of the service area for the transmitter will be unable to receive the commercial servics'. If Colchester and Ipswich are affected as per the above comments, then there are literally tens of thousands of people who now cannot get certain channels, including top up tv of Sky Sports. Who ever has messed up, need to sort this out before they get claims and lost revenue from this c*ck-up.

nog's 1 post
nog's:
map
N's Freeview map
terrain
N's terrain plot
waves
N's frequency data
N's Freeview Detailed Coverage

Dave : would have applied, but I was planning my retirement, so that I could spend my days getting upset over Freeview channels that I don't even watch, and expressing that discontent on internet forums. I am now fulfilling that plan ...

Dale's 78 posts
Dale's:
map
D's Freeview map
terrain
D's terrain plot
waves
D's frequency data
D's Freeview Detailed Coverage
Monday, 21 November 2011

@nog: 'some viewers on the edges of the service area for the transmitter will be unable to receive the commercial servics'.

Erm, we're in the middle of Sudbury and can't get anything on ch.63 <3 miles. Not just us but several neighbours, some of whom had new wideband aerials install within the last 3 months! Its disgraceful.



Aaron's 11 posts
Aaron's:
map
A's Freeview map
terrain
A's terrain plot
waves
A's frequency data
A's Freeview Detailed Coverage
Tim CO14
12:58 PM
Walton On The Naze

Dale: It's a good job someone's still got a sense of humour amongst all this woe! As regards 'expertise', it would seem that yourself, and many others on UKfreeTV, have more expertise than most of those so-called experts running the DSO circus! We appreciate how technically challenging it is to put into operation, but we'd just like to know what's going on! I'm no expert myself, but I've learnt an awful lot about digital TV from this forum over the last few months, and I'm glad to pass on that knowledge to anyone that needs help.

Aaron: If you're virtually next-door to the transmitter, then where the heck is the ideal spot to get Ch63?!! It would be interesting to know just how many people can actually receive ArqB off of Sudbury, and where are they? Back in the days of analogue, a friend of mine lived a mile from the Crystal Palace mast, and used a wire coat-hanger stuck in the back of the TV for an aerial, and got a perfect picture! I bet he couldn't do it now. So much for progress...

Tim CO14's 34 posts
Tim's:
map
T's Freeview map
terrain
T's terrain plot
waves
T's frequency data
T's Freeview Detailed Coverage

Hi I live near Southend SS0. Since the 16th November I have been able to pick up channel 63 Arq B signal strength 73%. Between Dso and the 16th I had a very flaky picture on channel 50 with a signal strength below 25%. Before DSo I had no problems picking up all Muxes.
I have a wideband ariel that is a year old pointing at Sudbury's transmitter , I also have a four way amplifier to supply the whole house.
Those of us that use the Sudbury seem to have more retunes than the average and lower power output.
It would seem for now that I am one of the lucky ones! Roll on June 2012 when hopefully all these problems will be put behind us.

Dave SS0's 7 posts

What a Plonka I am. I have been in moaning about the loss of C63. Spending ages this morning climbing ladders, checking aerial direction, even trying another aerial on my TV.
I then came to the conclusion the problem was my installation
To cut a long story the problem was the bloomin freeview box. Ok on every other C but not C63.
Changed box and my channels are back.

Alan's 9 posts

Not all STBs are equally sensitive. If you have one that works on 63 and one that doesn't, unless the latter one is actually faulty, it's likely your signal is very weak and it won't take much for the box that is currently working to give corrupted pictures and drop outs in the audio.

According to the digitaluk postcode predictor there is due to be a change of the Forward Error Corrector settings tomorrow on both Arq A and ArqB. Instead of a third of the gross bit-rate being given over to error correction bits, only a quarter will be. That is not good news for those just on the edge.

drgeoff's 22 posts
Tuesday, 22 November 2011

Dale: Prior to switchover (before your leaving do), what channel did you get Mux 2 on?

I ask because if you refer to this document which lists all pre-DSO digital services:
http://www.ofcom.org.uk/s….pdf

According to this, there was "Sudbury" which transmitted all muxes at various powers whose antenna was at 178m. "Sudbury B" was slightly higher at 184m and only transmitted Mux 2.

I am given to understand that the reason for this "B" is because of issues with interference with other countries and that other sites such as Dover and The Wrekin do or did have a "B".

Now for the questions:

1. Is the "Sudbury B" listed in that document the same Sudbury B mast shown here?:

mb21 - The Transmission Gallery

2. We assume that "Sudbury" shown in that document was radiated from a different antenna to that of Sudbury B. But is it ("Sudbury") on the taller mast or the shorter one? That is, are they both on the same mast?

ATV suggests that all pre-DSO DTT came from the shorter mast and identifies the separate array for Mux 2 on C68:

Sudbury Transmitter

3. If "Sudbury B" Mux 2 (68) shown in the document was directional, then there was presumably a null in the radiation pattern of Mux 2 from "Sudbury" (56). Thus C68 was there to (to a degree) fill that null.

If this was the case, then surely all of the "Sudbury" muxes were radiated from the same antenna array which would mean that they all had that same null. So did that mean that there were some viewers who could only get Sudbury B's solitary mux?

4. The antenna heights given in that document are puzzling. "Sudbury" was 178m, yet "Sudbury B" was a bit higher at 184m. I can't see how that fits in with the photographs of the masts. Could these figures be the wrong way around?

Dave Lindsay's 5,724 posts
Select more comments
Your comment please