Sudbury Arqiva multiplex B changes 16 November - retune required

Brian Butterworth published on UK Free TV
After 6am 16th November 2011, viewers in Suffolk and Essex who receive the full Freeview service from the Sudbury transmitter will need to do a full retune of their Freeview boxes - you must perform a "first time installation" retune (sometimes "Factory Reset" or "Shipping Condition") to ensure you can watch the all the available Freeview channels on the correct channel numbers.

The ArqB multiplex is moving from C50 to C63 for seven months. There will be no changes to the power level or transmission mode parameters of the service. C50 is required for the ArqB at the Tacolneston transmitter digital switchover next wednesday.

Sudbury not see the commercial multiplexes operating at their final power levels until 27th June 2012. On this date SDN will move to C58, ArqA to C60 and ArqB to C56. Until this time some viewers on the edges of the service area for the transmitter will be unable to receive the commercial services.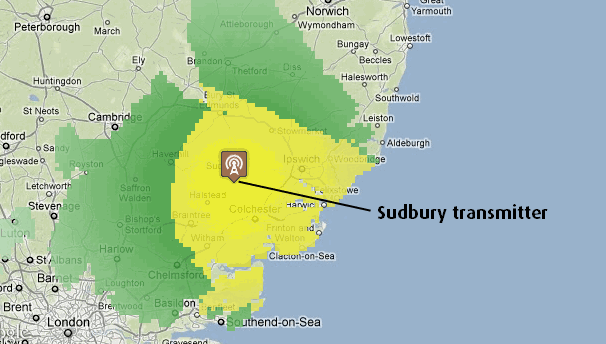 Comments
Monday, 28 November 2011
Stevie Boy
6:44 PM


Still can't get Ch 12 (Yesterday), Ch 15(Film 4) and Ch 18 4 Music since 16th November Re-Tune of the Sudbury transmitter. All of which seem to be on Multiplex D Will that ever get corrected. I'm getting used to not having those channels (like I have a choice) but I'm glad I'm not an advertiser because that would be a waste of advertising revenue when you're not reaching your potential!

Stevie Boy's 1 post
D
drgeoff
10:36 PM
Felixstowe

Stevie Boy

Film 4, Yesterday and others are on the Arqiva B multiplex. On 27 June 2012, it will move from Ch63 to Ch56 and its power will be increased very substantially. Your missing channels are very likely to be receivable again then.

drgeoff's 22 posts
drgeoff's:
map
D's Freeview map
terrain
D's terrain plot
waves
D's frequency data
D's Freeview Detailed Coverage
Tuesday, 29 November 2011
Tim CO14
1:16 PM
Walton On The Naze

Dave Lindsay: Just a quick update, attenuator fitted, but unfortunately, reducing signal strength quickly resulted in loss of quality - picture break-up on the PSB muxes, and complete loss of the COMs. So back to square one! But then I guess the average Freeview tuner's signal meter is only a rough guide to strength/quality, as there's a big difference between them in readings from the same aerial input.
The main problem is that Sudbury B never was a high-power transmitter compared to A, even on analogue, and as far as I know, it is currently at maximum output capability.

Tim CO14's 34 posts
Tim's:
map
T's Freeview map
terrain
T's terrain plot
waves
T's frequency data
T's Freeview Detailed Coverage

Waiting 6 and a half months to get these stations back isn't acceptable in my opinion. The digital switch over wasn't our choice, it was forced upon us and Digital's stock response of "Buy a wide band aerial" is quite frankly insulting. I can't believe they're not doing anything to sort this problem out for us. It's a shame it wasn't the channel with all the shopping channels that went rather than half of the watchable freeview stations.

Woody's 1 post
Tim CO14
10:15 PM
Walton On The Naze

Woody: I agree. I know the date for Dover's switchover was in the original DSO planning, but why won't they be going digital till next June? It's "done in stages" they say, "to give viewers time to prepare". Well, I can understand the technical reasons why Sudbury have to wait for them to switch over, but as most of the country is now all digital, people getting Dover's transmissions have had plenty of time to buy suitable equipment. Perhaps pressure can be put on bringing the date forward, especially by Channel 4 when they realise how many thousands can't watch Film4 on Freeview from Sudbury. I don't reckon the advertisers are happy about it.
Does anyone out there know if Dover's DSO could be brought forward?

Tim CO14's 34 posts
Tim's:
map
T's Freeview map
terrain
T's terrain plot
waves
T's frequency data
T's Freeview Detailed Coverage
Wednesday, 30 November 2011

Was getting all channels via sudbury until a couple of weeks ago. Fist Dave then Yesterday and Film 4 have all disapeard. Postcode is CO6. I would like to know who to complin to and whether a bigger/better aerial is likely to help. My current aerial is a roof mounted analogue type but I got perfect reception until recently.

Ed Hogbin's 5 posts

Ed Hogbin

I would respectfully suggest that you read all the posts on this topic prior to yours.

drgeoff's 22 posts
Thursday, 1 December 2011

Ed Hogbin: As drgeoff suggests, read earlier posts.

There is no such thing as an "analogue aerial" or a "digital aerial" for that matter. Any aerial replacement, *if* it were to make any difference (doubtful) would likely only to be required up until 27th June 2012 anyway.

Dave Lindsay's 5,724 posts
Friday, 2 December 2011

Ah yes Geoff and Dave, I did read the previous posts but am really looking for advice as to how best to complain about this. Also the descriptio of my aerial as analogue really just means it was put up well before digital TV but it has, until now, provided perfect pictures - even HD.

So would a bigger/better aerial help or do we all have to wait?

Ed Hogbin's 5 posts
D
drgeoff
9:31 PM
Felixstowe

Ed Hogbin

How long is a piece of string?

Yes a bigger/better aerial will get a stronger signal but will the increase be enough? That depends on many, many factors which only an experienced person who can see your current installation can estimate. For example, is your existing aerial a wideband one, how many elements in it, is it in good condition, is it pointing in exactly the right direction, is the downlead in good condition, are there any splitters in circuit, is there a masthead amplifier, is there an amplifier behind the TV, how high is the aerial, anything close to it, what is between it and Sudbury, is your receiver above or below average sensitivity?

drgeoff's 22 posts
drgeoff's:
map
D's Freeview map
terrain
D's terrain plot
waves
D's frequency data
D's Freeview Detailed Coverage
Select more comments
Your comment please