Mendip, Bristol and relay transmitters - retune require on 27th March 2013

Brian Butterworth published on UK Free TV
At 6am on 27th March 2013, several multiplexes will change their transmission frequencies.

Notably the main transmitters will make changes. This includes the Mendip transmitter, where the BBCA multiplex (including 1 BBC One West, 2 BBC Two England, 7 BBC Three, 9 BBC Four, 70 CBBC Channel, 71 CBeebies, 80 BBC News, 81 BBC Parliament) will move from C61 to C49.

Also changing is Bristol Kings Weston where the D3+4 multiplex (3 ITV (West), 4 Channel 4 South ads, 5 Channel 5 Part Network ads, 6 ITV 2, 13 Channel 4+1 South ads, 14 More 4, 28 E4, 33 ITV +1 (West)) will move from C50 to C40, and Bristol Ilchester Crescent where ArqivaB (15 Film 4, 18 4Music, 19 Yesterday, 21 VIVA, 24 ITV 4, 41 Sky Sports 1 (not free), 42 Sky Sports 2 (not free), 47 4seven, 83 Al Jazeera English, 85 Russia Today English,) moves from C49 to C39+.

See below for a full list of transmission masts that will make changes.

When you now rescan, you MUST do a "first time installation" or "factory reset" scan, not an "add channels". Do the procedure you did on September 30th 2009. If you can't recall what this was, please see List of manuals for Freeview retune, or try the generic clear and rescan procedure.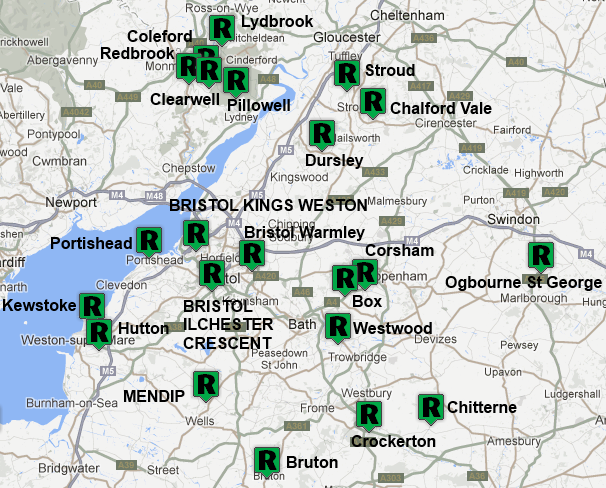 Bampton: PSB1 C49 to C39
Box: PSB2 C50 to C40
Bristol Ilchester Crescent: COM6 C49 to C39+
Bristol Kings Weston: COM6 C60 to C60- PSB2 C50 to C40
Bristol Warmley: PSB3 C49 to C39
Bruton: PSB2 C50 to C40
Chalford Vale: PSB3 C50 to C40
Chilfrome: PSB2 C50 to C40
Chitterne: PSB2 C50 to C40
Clearwell: PSB2 C62- to C50
Coleford: PSB2 C49 to C39
Corsham: PSB1 C50 to C40 PSB1 C50 to C40 5W to 8W
Countisbury: PSB2 C62- to C50
Crewkerne: PSB2 C50 to C40
Crockerton: PSB3 C50 to C40
Culm Valley: PSB2 C49 to C39
Dursley: PSB2 C50 to C40
Hutton: PSB2 C62- to C50
Kewstoke: PSB2 C50 to C40
Kilve: PSB2 C62- to C50
Lydbrook: PSB2 C50 to C40
Mendip: PSB1 C61 to C49
Monksilver: PSB1 C50 to C40
Ogbourne St George: PSB2 C50 to C40
Pillowell: PSB2 C50 to C40 PSB2 C50 to C40
Portishead: PSB2 C62- to C50
Redbrook: PSB3 C49 to C39
Stroud: PSB1 C50 to C40
Washford: PSB2 C62- to C50
Westwood: PSB2 C50 to C40
Woodcombe: PSB2 C62- to C50

Now changing on 5th June 2013

Beaminster: PSB1 C62- to C50 3.8W to 15W PSB2 3.8W to 15W PSB3 3.8W to 15W
Beer: PSB1 C62- to C50 3W to 4.8W PSB2 3W to 4.8W PSB3 3W to 4.8W
Bincombe Hill: PSB1 C62- to C50
Crediton: PSB3 C50 to C40
Dawlish: PSB1 C62- to C48 PSB2 C59 to C52
Pennsylvania: PSB2 C61 to C56
Preston: PSB1 C61 to C52
Rampisham: PSB3 C50 to C40
Comments
Tuesday, 2 April 2013

i am one aerial , one tv, relatively recent aerial (2 years)

Fiona's 7 posts

Andy: I suspected that might be the case and something thats rather a pity, because if the quality had been reasonably stable and not prone to diving down to zero now and again, then you might well have managed to get reasonable reception on the BBC mux by using one of these SLX 0-20dB variable gain boosters as sold by Argos item No 534 / 4235 @ £11.99, these being excellent devices.

However in cases where the quality is fluctuating badly then about the only thing that "sometimes" helps is by moving the aerial to the right or left of its present position, because boosters only help in situations where although a signal might be weak, its accompanying quality although also being low is stable.

I only suggested a booster because I dont really see the reception problem on Ch49 being rectified at an early date, because in a technical sense anyway, it possibly does not come into the category of being a fault as such.


jb38's 7,179 posts
R
Richard Tonkin
8:25 PM
Caldicot

Fiona: That's what I wanted to hear. So if you get no signal then there's no hope for the rest of us!

Richard Tonkin's 6 posts
Richard's:
map
R's Freeview map
terrain
R's terrain plot
waves
R's frequency data
R's Freeview Detailed Coverage

A complete muck up and we have to pay to get it sorted out
! All done to line the Pockets of the treasury for 4G!

Mark's 9 posts
Wednesday, 3 April 2013

im in bridgwater and my telly wont pickup any signals
went to diagnostices and all lines are blank now
what shoul i do?

jefferson's 7 posts

the software version
V3.29.0
HAS THIS CHANGED

jefferson's 7 posts

My they have sent us all to sky

jefferson's 7 posts

jefferson:
back in the dark ages to ATV anolog tv

jefferson's 7 posts

Thanks jb38. I'll head up into the loft at the weekend- was planning to move the aerial slightly to the left away from Wenvoe to see if that makes a difference anyway. We have a single aerial which is in the loft (I know not as good as being on the roof but it worked before with no problems!). It goes through a powered hub which splits the signal into several outputs. Would this already have some sort of booster in it?

Andy's 7 posts

Andy: These hubs, or distribution amplifiers, can be obtained with different gain levels starting from around 6dB or so, and so if you do not see this printed on the casing then knowledge of the devices model number would enable it be checked out.

I would like to emphasise though, that when carrying out experiments with alternative aerial positions where digital reception is involved that its really essential to be able to monitor the signal strength & quality levels (especially the latter) whilst you are moving the aerial, as instant feedback on the result of every move made is the key to success, because should (or if!) a good spot be found then its almost guaranteed to be of a critical nature whereby an inch or so either side of the choice position is liable to kill off the most important aspect of the signal, that being its quality.

By the way, should the distribution amplifier only be rated at around 6dB or so then that's not really high enough to make that much difference to the signal, that is unless a somewhat superior position is found during experiments, remember though that should a good spot be found to test the aerial out on all of Mendips six muxes, this done by selecting the following programme guide numbers. (EPG's not TX mux channels)

1 - 3 - 101 (if HD used) - (10) ITV3 - (11) Pick TV - (15) Film 4.

jb38's 7,179 posts
Select more comments
Your comment please