The end is near for analogue radio... Part 4, the local radio to do list

Brian Butterworth published on UK Free TV
As we saw from part one, radio started out as a regional services. From this national networks were added. Then from 1969 onwards, local radio was added.

However, running a network of local radio stations, all with their own output, staff, presenter and news has always stretched the budget of individual stations a little bit thin.

This is as true for BBC stations, which share a small proportion, 4.6% of the TV Licence (£114.7m on content, £9.9m on distribution, £27.9 on infrastructure, making £152.5m), as it is for local commercial stations that fund themselves from adverts.



DAB local radio
Almost all of the country does now have a local radio
DAB
service - see
List of all DAB multiplexes
, but there are still some on the "to do very soon" list.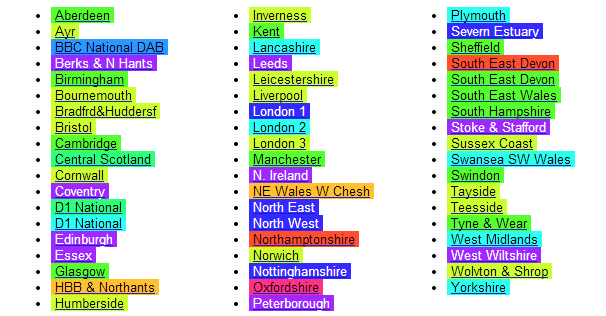 The "missing" services cover 5,583,000 people, which is about 9% of the UK population.
These are:
Cumbria
- 408,000 people
Derbyshire
- 652,000 people, Now
Digital
(East Midlands) Limited
Gloucestershire
- 498,000 people, MuxCo (Gioucestershire) Limited
Hereford and Worcester
- 501,000 people, MuxCo (South Midlands) Limited
Lincolnshire
- 550,000 people, MuxCo Lincolnshire Limited
Mid and West Wales
377,000 people, MuxCo
Wales
Limited
North Yorkshire
- 531,000 people, MuxCo North Yorkshire Limited
Somerset
- 444,000 people, MuxCo Somerset Limited
Suffolk
- 541,000 people
Surrey
about 1.085 million people, MuxCo Surrey and North Sussex Limited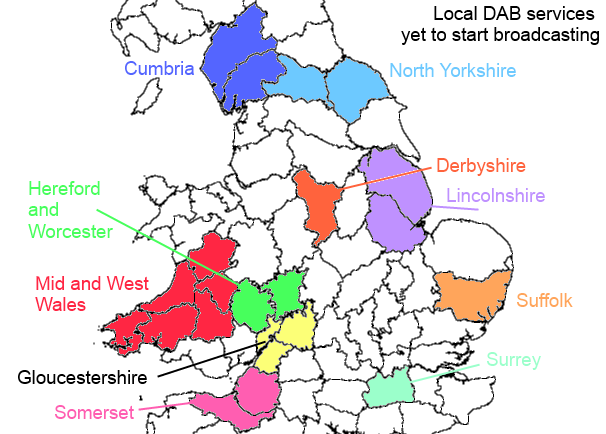 Why can't we have local radio on Freeview?
The
Freeview
service is provided on six
Multiplexes
. Like the DAB multiplexes, these services provide a large number of
channels
together on a single broadcast.
The three "commercial" multiplexes operate a UK wide service, and are therefore unsuitable for local radio. One of the "public service" multiplexes is for high definition TV services only.
This leaves the BBC and Digital 3+4 multiplexes. However, even though these services are "regional", they each cover many "local radio" areas. It would therefore be impracticable to add so many local stations to either
multiplex
.
However,
Local television on Freeview
is coming. These services are designed to provide a
local TV
service to specific local areas. It may be possible for each of these multiplexes to have local radio added to them.
Why can't we have BBC local radio on Freesat or Sky?
The additional cost for the BBC to add the 39 local radio stations not on digital
satellite
(BC
London
94.9 is already there) to the
four DVB-S mode transponders
would probably be marginal.
However, the BBC does have to currently pay
Sky
a large fee to add channels to the Sky EPG, so this would be perhaps unreasonably expensive (see
Government to stop Sky charging public service broadcasters for "retransmission"
).
And whist the BBC owns
Freesat
, it would probably not be worth the bother of up linking 39 radio streams if Sky viewers could not also benefit.
See also
BBC - Annual Report 2012/13 - Expenditure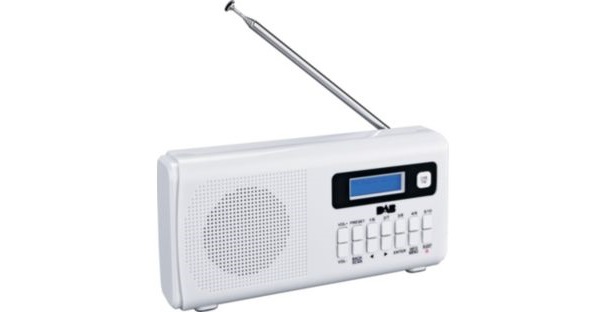 Comments
Friday, 30 August 2013

While DAB is OK for my little Sony clock radio, I am far from convinced that it will be adequate for the BBC to propose an early switch-off for national VHF/FM. The main reason being the cost of fit/form/function replacement of in-car radios.

It's not just the cost of replacing a receiver; often the antenna system is difficult to replace - and many people will NOT accept stick-on-windshield systems or nasty little plug-in DAB receivers.

As for VHF/FM being relegated to ultra-local bedroom radio stations, where is the demand for such rubbish?

nickwilcock's 24 posts

Actually, in Northern Ireland we have three local stations on Freeview. BBC Radio Ulster, BBC Radio Foyle, and U105.

Likewise, Scotland and Wales have both of their local national services on Freeview so there should be no reason why some local stations couldn't be carried in England.

There are also huge gaps in DAB coverage throughout the country. Before any such move from MW and FM contemplated, this must be addressed.

PJH's 240 posts
Saturday, 31 August 2013

PJH: That's because "Northern Ireland" isn't a "local", it is what is called a "Nation".

Technically speaking, "England" and "Scotland" are countries, "Wales" is a principality and "Northern Ireland" is a province.

So BBC Radio Wales, Cymru, Scotland, Nan Gidheal, Ulster and Foyle are "national" service.

On the commercial side, Downtown Radio is "local", as it transmits to Belfast and not the whole of Northern Ireland.


Briantist's 38,899 posts

nickwilcock: Strange to derride community radio as "such rubbish", as there are currently thes:

1 Ummah FM (Reading)
10 Radio (Wiveliscombe)
3TFM Community Radio for Health (Saltcoats & Adrossan, N Ayrshire)
7 Waves 92.1 (Wirral)
AHBS Community Radio (Ashford, Kent)
AIR (Weymouth, Dorset)
ALL FM (South Central Manchester)
Abbey 104 (Sherborne, Dorset)
Academy FM 105.9 (Folkestone, Kent)
Academy FM 107.8 (Ramsgate, Kent)
Access FM (Bridgwater, Somerset)
Aldergrove and Antrim FM (Aldergrove)
Alive Radio (Dumfries)
Amber Sound FM (Ripley, Derbyshire)
Ambur Radio (Walsall)
Angel Radio (Havant)
Angel Radio Isle of Wight (Newport, IoW)
Apple FM (Taunton, Somerset)
Asian Star 101.6 FM (Slough)
Awaaz Radio (High Wycombe)
Awaz FM (Central Glasgow)
BANG Radio (Stonebridge / Harlesden)
BCB 106.6 FM (Bradford)
BFBS (Bulford/Tidworth)
BFBS (Blandford Camp, Dorset)
BFBS (Aldershot)
BFBS (Colchester, Essex)
BFBS (Catterick)
BFBS (Edinburgh)
BFBS Lisburn FM (Lisburn N. Ireland)
BRFM (Brynmawr, Blaenau Gwent)
BRFM 95.6 FM (Sheerness, IoS)
BRO Radio (Barry, Vale of Glamorgan)
Ballykinler FM (Ballykinler)
Bangor Community Radio (Bangor, NI)
Bay FM Radio (Exmouth, Devon)
Betar Bangla Radio (Stratford)
Big City Radio (Aston, Birmingham)
Biggles FM (Biggleswade, Beds)
Bishop FM 105.9 (Bishop Auckland)
Black Diamond FM (Midlothian)
Blast 106 (Belfast)
Blyth Valley Radio (Southwold)
Bolton FM (Bolton)
Branch FM (Dewsbury)
Brick FM (St Boswells, Borders)
Bristol Community FM (Bristol)
Bute FM (Rothesay, Isle of Bute)
CSR (Canterbury)
Calon FM (Wrexham)
Cam FM (Cambridge)
Cambridge 105 FM (Cambridge)
Canalside's The Thread 102.8 FM (Bollington)
Castle FM 98.8 (Leith, Scotland)
Castledown Radio (Tidworth)
Celtic Music Radio (Glasgow)
Chorley FM (Chorley, Lancashire)
Community Voice FM (Middlesbrough)
Corby Radio (Corby)
Crescent Radio (Rochdale)
Cross Rhythms City Radio (Stoke on Trent)
Cross Rhythms Plymouth (Plymouth)
Cross Rhythms Teesside (Stockton-on-Tees)
Demon FM (Leicester)
Desi Radio (Southall, West London)
Diverse FM (Luton)
Down FM (Downpatrick, N. Ireland)
Drive 105 FM (Derry/Londonderry)
Drystone Radio (South Craven, Yorkshire)
Dunoon Community Radio (Dunoon, Argyll)
EAVA FM (Leicester)
East Coast FM (Haddington, East Lothian)
Erewash Sound (Ilkeston, Derbyshire)
Express FM (Portsmouth)
Fantasy Radio (Devizes)
Felixstowe Radio (Felixstowe)
Flame CCR (Wirral)
Forest FM (Verwood, East Dorset)
Frome FM (Frome)
Future Radio (Norwich)
GTFM Pontypridd (Pontypridd)
Gateway 97.8 (Basildon)
Gaydio (Central Manchester)
Glastonbury FM (Glastonbury & Street)
Gloucester FM (City of Gloucester)
Gravity FM (Grantham)
HCR FM (Huntingdon)
Halton Community Radio (Halton)
Harborough FM (Hfm) (Market Harborough)
Hayes FM (Hayes, Middlesex)
Hermitage FM (Coalville, Ibstock & Ashby de la Zouch)
Holywood FM (Holywood)
Hope FM (Bournemouth)
Hot Radio 102.8 (Poole)
In2beats FM (Bedford)
Indigo 106.6 FM (Kirkby Lonsdale, Cumbria)
Insanity Radio (Egham)
Insight Radio (West Glasgow)
Inspiration FM (Northampton)
Inspire FM (Luton)
Ipswich Community Radio (Ipswich)
Irvine Beat FM (Irvine, North Ayrshire)
IR FM (Newry, N. Ireland)
KCC Live (Knowsley, Merseyside)
Kane FM (Guildford)
Kemet Radio (Nottingham)
Kohinoor FM (Leicester)
Leisure FM (Braintree East)
Lincoln City Radio (Lincoln)
Lionheart Radio (Alnwick)
Lisburn City Radio (Lisburn)
Marlow FM (Marlow, Buckinghamshire)
Mearns FM (Stonehaven & the Mearns)
Meridian FM (East Grinstead)
Moorlands Radio (Biddulph, Staffordshire)
NE1 FM 102.5 (Newcastle upon Tyne)
Nevis Radio (Fort William)
New Style Radio 98.7 FM (Birmingham)
North Manchester FM (Manchester)
Nu Sound Radio (Newham)
OX105 FM (Oxford)
Oldham Community Radio (Oldham)
Peace FM (Manchester)
Pendle Community Radio (Nelson)
Penistone FM (Penistone, South Yorkshire)
Phoenix FM (Brentwood)
Phoenix FM (Halifax)
Phonic FM (Exeter)
Point FM (Rhyl, North Wales)
Preston FM (Preston, Lancashire)
Pulse (Cheddar Valley, Somerset)
Pulse Community Radio (Barrhead)
Pure 107.8 FM (Stockport)
RWS FM 103.3 (Bury St Edmunds)
Raaj FM (Sandwell)
Radio Asian Fever (Leeds, Yorkshire)
Radio BGWS (Farnborough/Aldershot/Camberley/Fleet)
Radio Cardiff (Cardiff)
Radio Dawn (Nottingham)
Radio Faza 97.1 FM (Nottingham)
Radio Hartlepool (Hartlepool)
Radio Ikhlas (Derby)
Radio Jcom (Leeds)
Radio LaB (Luton)
Radio Plus (Coventry)
Radio Reverb (Brighton W. Sussex)
Radio Scilly (Scilly Isles)
Radio St Austell Bay (St Austell Bay)
Radio Sunlight (Gillingham, Kent)
Radio Teesdale (Teesdale)
Radio Tircoed (Tircoed Forest Village, Swansea)
Radio Verulam (St Albans)
Radio Winchcombe (Winchcombe, Glos)
Raidi Filte (Belfast)
Redroad FM (Harthill, South Yorkshire)
Reprezent 107.3 FM (South London)
Resonance FM (Central London)
Revival FM (Cumbernauld)
Rinse FM (Inner London)
SFM (Sittingbourne)
Saint FM (Burnham on Crouch)
Salford City Radio (Salford, Manchester)
Seahaven FM (Newhaven, Seaford and Peacehaven, East Sussex)
Seaside FM 105.3 (Withernsea, Holderness)
Sheffield Live! 93.2 FM (Sheffield)
Shine FM (Banbridge N. Ireland)
Shmu FM (Aberdeen)
Sine FM (Doncaster, South Yorkshire)
Siren FM (Lincoln)
Skyline Gold 102.5 (Hedge End, Southampton)
Somer Valley FM (Midsomer Norton, Somerset)
Soundart Radio (Dartington/Totnes)
Spark FM (Sunderland)
Speysound Radio (Badenoch & Strathspey)
Spice FM (Newcastle upon Tyne)
Stroud FM (Stroud)
Sunny Govan Radio (Govan)
Susy Radio (Reigate & Redhill)
Swindon 105.5 (Swindon)
Switch Radio 107.5 (Castle Vale, Birmingham)
TCR FM (Tamworth)
TMCR (Thorne & Moorends, South Yorkshire)
Takeover Radio (Leicester)
Takeover Radio 106.9 (Sutton in Ashfield)
Tameside Radio (Tameside, Cheshire)
Tempo 107.4 FM (Wetherby, Yorkshire)
The 'Bridge (Stourbridge)
The Eye (Vale of Belvoir)
The Hillz FM (Hillfields, Coventry)
The Source (Falmouth & Penryn)
The Super Station (Orkney)
Tone FM (Taunton, Somerset)
Tudno FM (Llandudno, North Wales)
Tulip Radio (Spalding, South Holland)
Uckfield FM (Uckfield, East Sussex)
Ujima Radio (St Paul's & Easton, Bristol)
Unity 101 (Southampton)
Unity FM (Birmingham)
Unity Radio (Manchester)
Vibe 107.6 FM (Watford)
Vixen 101 (Market Weighton & Pocklington)
Voice FM (Southampton)
Voice of Africa Radio (Newham, East London)
WCR (Warminster)
WCR FM (Wolverhampton)
West Hull Community Radio (West Hull)
Westside 89.6 FM (Southall, W. London)
Wythenshawe FM (Wythenshawe, Manchester)
Youthcomm Radio (Worcester)
Zack FM 105.3 (Forest Heath, West Suffolk)

...running at the moment.

Ofcom | Community Radio Stations for the details of each.

Briantist's 38,899 posts

nickwilcock: Just one Google it takes me to £30 converter that requires no fitting ...
In-Car DAB Adaptor with FM Transmitter : Maplin Electronics


Briantist's 38,899 posts

or Pure do one Highway

Briantist's 38,899 posts

Beware every review I have seen in car DAB adaptors have been very negative. Even the BBC did a piece on them and should that they did not work. One manufacturer was getting 90% returns and so discontinued them.

One of the problems is the aerial an FM one will not work efficiently because DAB use a different frequency band. I think windscreen aerials are dangerous because they can be distracting.

Ironically some of these units use a low power FM transmitter to connect to your radio. So you have to find a frequency which is not being used in order to avoid interference. I bought an FM transmitter with a audio input to play from phone. I live in Surrey and I could not find any frequency that did not have interference.. You need to test this with the car on the move.

I have just installed a radio (not DAB) into my wifes car. It has bluetooth and so the radio can play from the internet or from music stored in the phone.


Trevor Harris's 367 posts

Briantist, both those DAB-to-FM transverters are PRECISELY the sort of thing I would never use in my car.

About 35 years ago I bought an FM-to-MW transverter for the MW/LW car radio in my Opel Manta. Although it worked, the main reason was that the existing antenna was fine at VHF.

Whereas DAB needs a proper Band III antenna and to install such a thing in my car would require major surgery. Windscreen antennae are little more than junk.

DAB might be OK for some low-fidelity static locations, but it is utterly inadequate for national car radio usage.

nickwilcock's 24 posts

Briantist: Downtown Radio does effectively broadcast to the whole of Northern Ireland on DAB - which is good news for listeners who live miles away from Belfast.

KMJ,Derby's 1,811 posts
C
Charles Stuart
10:54 PM
Bristol

@Trevor Harris and Nick Wilcock - I have had two cars with DAB to FM Transverters and, for my current car, I bought a DAB/FM radio to fit. There's no major surgery involved in fitting the DAB band III aerial. You do not need the windscreen aerial because you can get a magnetic roof antenna. However, I found the windscreen aerial that I had in one car no problem because it was so far away from the driver's line of sight that it wasn't an issue. It's far less dangerous than furry dice and it's far less of an obstruction than the average satnav. I like DAB because none of the stations I like broadcast on FM. I can't imagine the phone bill for using Internet radio incar on a regular basis. I only get 250Mb monthly data allowance on my mobile contract and I really don't think that would go far if I used it for good quality radio.

Charles Stuart's 159 posts
Charles's:
map
C's Freeview map
terrain
C's terrain plot
waves
C's frequency data
C's Freeview Detailed Coverage
Select more comments
Your comment please