On the tenth day of Christmas Auntie brought to me ... five more HD channels

Brian Butterworth
published on
UK Free TV
It would seem the BBC are going to have five HD channels for many UK homes in plenty of time for Christmas.

Here is the evidence. First, YouView is listing the channels from 7am/7pm on 10 December 2013.




And if you look into space, you can see the channels lined on satellite too.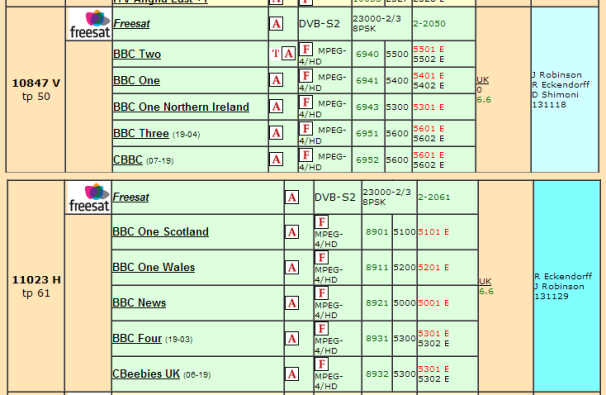 Remember that for Freeview HD viewers, you need to use the Crystal Palace (London), Belmont (Lincolnshire), Black Hill (Central Scotland), Emley Moor (West and South Yorkshire) and Winter Hill (Greater Manchester) transmitters to get BBC FOUR HD, CBeebies HD and BBC News HD.

UPDATE 9/12/13

The channel numbers are:



Sky HD subscribers will get the HD channels on the "usual" channel numbers: CBBCHD on 613 , CBeebies HD on 614 , BBC Three HD on 115 and BBC Four HD 116. (Virgin will get CBBCHD on 710, CBeebies HD on 711, BBC Three HD on 163, BBC Four HD 164 and BBC News HD 604).

See BBC - Blogs - About the BBC - CBBC HD, CBeebies HD, BBC Three HD, BBC Four HD & BBC News HD launch Tuesday 10 December 2013 for more.
Comments
Thursday, 5 December 2013
M
Mike Davison
1:14 AM
Wetherby

BBC News HD doesn't look upscaled to me.

Mike Davison's 127 posts
Mike's:
map
M's Freeview map
terrain
M's terrain plot
waves
M's frequency data
M's Freeview Detailed Coverage

No BBC News now is full HD though I am personally not that excited !

Dave's 126 posts

P. Kieran Ward: The point of launching these new HD channels is to encourage viewers to buy DVB-T2 receivers, and aerials that cover this frequency range.

The channels will be simulcasts of the SD versions that you already have - the same content, broadcast at the same time. So you're not missing out on content if you don't have an HD receiver. There is no plan to retire the SD services yet.

The background is that Ofcom are considering an auction of even more of the TV frequencies to the mobile phone networks, in around 2018. Freeing up the block they want, approximately 700 - 800 MHz, requires the entire TV network to be replanned to fit into a smaller range of frequencies. It will be easier if many of the existing services can be converted over to the more efficient, lower bitrate AVC encoding, and the multiplexes to the more efficient, higher capacity DVB-T2 modulation. That could mean that only four or five frequencies are required at each site, rather than six. If everyone's box or TV can handle HD, the SD versions could be turned off, saving even more space.

It will only happen that way if enough people voluntarily take up Freeview HD, or move to a different platform altogether. The alternative is that one or more of the multiplexes has to be shut down, closing many of the channels. That would increase the costs paid by each of the remaining channels and could make the whole platform unviable. Arqiva, who have borrowed a large amount of money to upgrade all the transmitters for switchover, want to avoid that at all costs. That's why they hatched this plan with the BBC and Channel 4.

Mike Dimmick's 2,486 posts

Mike Dimmick: I dont think you need to see a secret plan for an upgrade to t2 tuners by Arqiva, etc - the market is already taking care of that.

The first T2 tuner arrived on high level TV's about 3 years ago, and by the next year was on pretty much everything from the major brands. Although Toshiba still makes 'Freeview' TV's, and of course the cheap non brand sets found in supermarkets and the like will tend to have standard tuners, most sets on sale right now are ready for HD out of the box, and any flat screen can have a T2 tuner added on.

If you are looking for a SD turn off of around 2018, then thats five years of TV's/recorders. etc being replaced by T2 equiped sets, and so on.

Pretty much all the early DVI flat screens will have gone by then, as will almost all CRT's (the last ones would have been sold around 2006). By then, it will be an HDMI world (although of course even my CRT can hook up to a T2 tuner via scart), and therefore it might be that 80-90% of TV's are either HD or have some sort of HD tuner connected to them.

For those that are left without a T2 tuner, there will be plenty of options, but by and large, any charge will have already occured on the ground, with the SD switchoff being just a push to the small number with very old equipment.

As for the people who think that children's TV is a waste of spectrum - obviously you dont have kids! Cbeebies/CBBC is a godsend, and has some of the best TV around - and of course, it simply time shares with BBC3/4 anyway.

MikeB's 2,579 posts

It's not really a "secret" that Freeview will be moved to DVB-T2. Ofcom state

http://stakeholders.ofcom….pdf

"1.58 Taking these factors into account, and having regard to all our statutory duties, we have decided to proceed with an approach that will enable a shared short term use of the 600 MHz band for one or more DVB-T2 MPEG-4 DTT multiplexes, PMSE and white space devices"

See also

http://www.ofcom.org.uk/s….pdf

Briantist's 38,908 posts

MikeB: I'm not so sure that flatscreen tvs will have been replaced in 5 years time! Are they so unreliable? With regards to CRT sets, some have a reputation for longevity. My late Mother would never replace anything that still worked, consequently the ITT/KB colour TV that was delivered in 1971 remained in use and eventually outlived her. It is still in daily use today, fed by one of the last models of Panasonic DVD recorders to have an RF modulator included.

KMJ,Derby's 1,811 posts

KMJ,Derby: I'm getting large numbers of customers who bought a flat screen 4-7 years ago, in 32in-37in sizes, who now find that the TV is rather small. They are buying 40-42 or 46-47in screens instead (they probably underbought at the time, and of course a modern 40in screen is barely wider than a 6 year old 32in).

The tv they already have is not being dumped, but instead will go down the food chain, perhaps to the bedroom, spare room, etc. Many of my customers tend to have a set until it either dies (which is my wifes outlook), or when it just becomes too big, too poor or too heavy. Remember that the UK already has some of the highest market penetration of flat screen TV's in Europe, so the percentage that are left over are not vast.

CRT's are pretty reliable (I hope mine is....), but the last ones came off the line seven years ago, and its unlikely that most will make it to 2018. If they do, then you can of course fix up a T2 recorder to it, providing the recorder has a scart. I did have a customer the other day whose CRT was 20 years old, who wanted to buy a DVD player (which we no longer sell, as I said, its an HDMI world), but most have TV's rather younger than that, although our record for a returning customer was 32 years with the same set!

If you look at the buying cycle of most people, 6-7 years is not unusual for the main TV, and of course they will get vastly more for their money these days, so the chances are that most non HD capable sets will be replaced in that time.

MikeB's 2,579 posts

MikeB: As you say, the tvs get moved on to another room when a newer model is purchased for the main receiver. It will be interesting in 2018 when if, as planned, the COM muxes switch to DVB-T2 and many thousands of "second sets" lose the COM muxes, whether viewers will then purchase a tuner to restore the missing muxes, or if they will simply use the tv for the PSB muxes - which still accounts for most of the "live" viewing. If the latter takes place, the PSB muxes could remain as DVB for quite some time.

KMJ,Derby's 1,811 posts

KMJ,Derby: Thats quite true, although you can currently buy a T2 settop box for less than £50, and I suspect that price will come down significantly.

Ultimately, its will hinge on whether people will simply be happy having HD for a main TV, and not want to bother for any others. Experience would suggest that if you are used to a better picture, you'll want it in other rooms as well, at least if the price is right. In fact I was amazed at the number of people who dumped older TV's floowing switchover when a cheap digibox would have been all that was needed (we did try to tell them...), but often customers want a clean sweep.

It should also be remembered that there will be a fair number of surplus T2 tuner equiped recorders around at that point - recorders tend to be bought more frequently than TV's, since they are less costly, often add extra features for not a particularly large outlay, and have hard drives which often look small within five years or less (my own recorder was described in What Hifi in 2008 as having a 'huge' hard-drive. Its 250gb, whereas 500gb is now perfectly standard, and 1TB fairly normal) - they will often end up partnering the older TV, as the main room recorder gets an upgrade.

It would be interesting to know just how many HD ready TV's are in the UK, and how many ones with T2 tuners have been sold. Unlike B & W sets, we have no absolute figures, but it would be interesting to see the trend.

Anyway, since I still have a CRT TV, I'm happy for T2 to be standard only after I geta new one!

MikeB's 2,579 posts

MikeB

"If you are looking for a SD turn off of around 2018."
If they do, then they will need to add BBC4, CBeebies and the BBC News HD channels to all terrestrial transmitters
and not just 80 out of 1000.


Mark A.'s 374 posts
Mark's:
map
M's Freeview map
terrain
M's terrain plot
waves
M's frequency data
M's Freeview Detailed Coverage
Select more comments
Your comment please