A bakers dozen of changes: Freeview channel number changes from 3 September 2014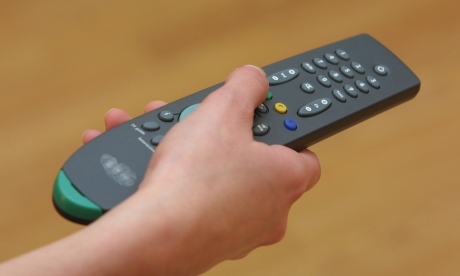 Brian Butterworth
published on
UK Free TV
These changes have been long coming, and have even been subjected to formal review on behalf of Sky.

From the afternoon of Wednesday 3rd September 2014, Freeview viewers will find that 13 channels will have new numbers.




Depending on the sophistication of (which means "how long you have had") your Freeview equipment, the channels will either change number automatically, or require a retune.

If you have Freeview+ box - the ones the can record programmes - you should find that the channel number changes will not cause any scheduled recordings to change.

You may need to do a "first time installation" to ensure the channel numbers are correct. See My Freeview box has no EPG ... or the channel line up is wrong if you don't know what to do. Another option is the list of retune instruction leaflets and manuals on the Freeview Retune - list of manuals page.

The new channel numbers do provide better logic on the whole, however BBC News HD is in the HD section, whereas CBBC HD and CBeebies HD are not.

Sadly the Freeview channel number system is unable to match Freesat HD and Sky EPGs which both provide the ability to find HD channels in place of the standard definition channels.
All free TV channels
I have recently updated the ever-popular
All free TV channels
page.
As well as ensuring that all the channel numbers are up-to-date (there has been a small number of changes to some Sky Guide numbers) I have split the table to have three new sections.
The first, as shown below, lists all of the High Definition channels first.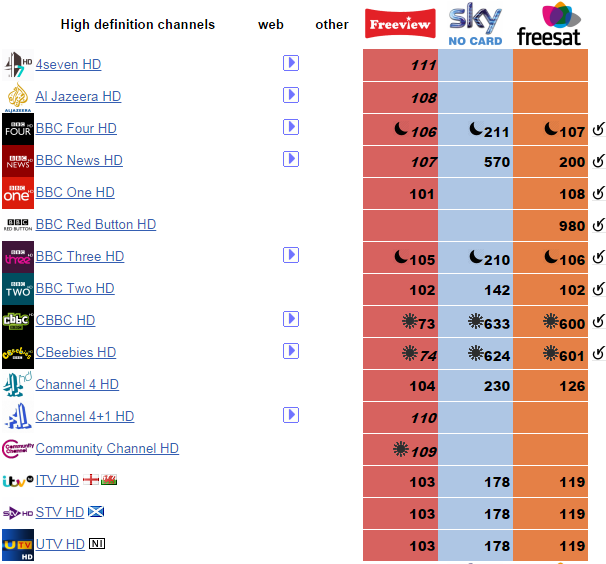 A third section now splits the Local TV channels from the "Main TV channels" section, and there is a "Where Local TV broadcast" section for channels that are provided alongside
local TV on Freeview
.
Good luck with your retune.
Comments
Saturday, 6 September 2014

Please would someone explain how to see the various channels where there appears to be nothing? Christian tv etc

nick's 404 posts
Sunday, 7 September 2014

kevin clarkson: Although that said by mike jones is indeed correct, however if you simply carry out a manual tune on Ch59 you"might" find that the newly acquired Winter Hills ITV mux (C59) will have been allocated up in the 800 range of channels, and that EPG3 will still come up as ITV Wales.

Should this be found to apply, then the only way of getting around the problem is either to delete the channels already stored by selecting auto-tune then immediately stopping the search as soon as it starts before it can find anything, usually achieved by pressing "exit", or alternatively by carrying out an auto-tune with the aerial connection removed.

Once you have reconnected the aerial and checked that nothing has been received, go into the tuning menu / manual tune then select and scan Ch59 storing the results of that found, this then followed selecting, scanning, and storing (in turn) each of the following Mux channels used by Winter Hill.

50 (BBC) - 54 (only if an HD box) - 58 (ITV3 etc) - 49 (Pick TV etc) - 55 (4Music etc) - 31 (only if an HD box) - 56 (local L-PTN)

jb38's 7,179 posts

I eventually got ITV C4 ect back but now they are pixilating & freezing . It seems that channel 41 from Sudbury is only showing signal quality of 2 now . Why cant they leave things alone when all is working well !!!

Colin Evans's 9 posts

Mike B: Thank you for your comments.

It does seem that the BBC channels may be the worst affected, but I'm not sure... they are the ones I view most.

The TV is flat screen, with built in DVD player, from C/PCW (or was it Dixons then?) and the Proline is a digibox from Comet. Not being a tele addict I retained the digibox to feed an old DVD/VCR when I moved the CRT analogue TV to the spare room. It linked through and I could watch DTV on the scart input when the normal aerial input failed. This was not 100% reliable as the digibox tended to lock up too and for reasons I don't understand, this also killed the pass through for the aerial. Perhaps there is a processor controlled buffer/preamp.

The old analogue TV (Grundig, with a scart socket) works fine with a Tosumi digibox (from a charity shop!) and another aerial but the Tosumi digibox won't work on my 'living room' aerial. perhaps this is a strong pointer to needing a higher gain/wider band aerial.

I need to see how the Proline digibox works with the other aerial and TV.

I'm in BS6, close to the railway but the building is tall and the path to Mendip only slightly obstructed by a hill to the south of me. I wondered at first whether it could be a propagation issue due to the hot weather affecting the diffraction over the hill. It could be part of the problem.

I think things may be better following the installation retune but the issue has not been cured by doing it. I plan to change the aerial but I'm puzzled by the lock up issue and may take steps to find out what other signals there are in or close to Band III. (I'm a radio amateur and have a receiver for frequencies up to 1.2 GHz..)

I've checked the bottom of the feeder connections (the center pin is soldered!) and tried several scart leads. I've experimented with an attenuator (a very long, cheap, far eastern extension lead) without noticing any change in behavior. The feeder is new and the aerial is old. I bought an expensive three boom aerial and fitted it, only to get no signal at all. I think, from continuity measurements, that the balun was faulty. It went back for a refund. The new feeder made such a difference in killing the occasional pixilation that I never bothered to get on the roof again. Perhaps I need to!


John Everingham's 2 posts

John Everingham: I know what you mean about the BBC channels. They tend to feeze on my box, but like you, its the ones we tend to use. So is it the channel, or just one of those things?

As far as aerials and reception, there are much more expert people on this site, although you could really help them out with a full postcode (just put it in the website when you post), because then they will know your position, the terrain and the local transmitters. I suspect that your aerial system might need some TLC (why should a digibox work on one aerial, but not another?), but thats another matter. You could also give them signal strengths, (since your using an attenuator both with and without using it), to see if thats the problem. And the numv=bers for the old CR/digibox might be useful too.

The tuners in the Proline and the TV might have the same problem, or you might just be unlucky and they are failing at the same time for different reasons. I would suggest you at least split the signal at the aerial socket between the TV and the Proline to the DVD/VCR (and yes, a hard drive PVR would vastly easier to use), because you can then make sure that problems with one do not cascade onto another.

The other thing you could do is to take the Proline (its small, so easy to carry!) to someone else's house and try it with their aerial. If its still got a problem, then its the box, and if not, then you'll start to narrow it down. I'm also going to have a look at my power supply - could be a failing power pack, so it might be worth just check that too.

MikeB's 2,579 posts

I get Freeview from Whitehawk Hill in Brighton. I now cannot receive the BBCA mux channels, that is BBC1, 2, 3 4 etc. That means no BBC4 or local BBC1 at all (the HD versions of 1, 2 & 3 are fine, different transmission frequency, I think). What's happening and will it be resolved?

Paul Crawford's 2 posts
Monday, 8 September 2014

I note that there seem to be some extra channels on an extra multiplex. These channels are duplicates of channels from more than one multiplex but not duplicates of a whole multiplex, thus I don't think I'm receiving an additional multiplex from another transmitter. Also the extra multiplex has a low channel number but its channels are ending up in the 790s. Is this a test of MUX8, which I think is the lowest channel number from Mendip?

Charles Stuart's 159 posts

This is because some have moved mux, and you should still be seeing 80-85 as well as 130-135 for news.

Jay's 92 posts

John Grogan: I live in the Winter Hill area and was unable to get ITV etc (Channel 59) after the retune last Wednesday. All other channels were fine (100% quality and around 50% signal). I tried again over the weekend and I now have 5 out of my 6 boxes fully working. I haven't altered my setup at all. I can only conclude that either Winter Hill has improved its Channel 59 signal to bring it more into line with all the other channels or something that was interfering with Channel 59 has been removed or turned down.

John Grogan's 2 posts
Tuesday, 9 September 2014

Mike B: Thanks for your latest comments. here is an update, of sorts. Since the installation retune I have left the TV as it is. BBC1 seems likely to lock the tuner (and remote) but I can get to another channel by switching off ('standby') and selecting the new channel immediately I get a picture on the screen. I will assess the two digiboxes with the old analogue TV on the aerial that has not produced problems. I haven't been able to find a signal quality indicator on the DTV but the Proline box has it, some where... I recall seeing 55% but I can't remember any details of the channel or aerial it was connected to at the time. One of my contacts, south of the Mendips (near Somerton) has the very same problem, especially with BBC1 on her DTV receivers. I may be wasting my time trying to solve the problem at my end. (Just seen John Grogan's post. Perhaps I should relax and wait for things to improve!) I found this page while looking for info on filters... HDTV Antennas and Reception Systems Very sound technical assessment of the issues. The more I worry this 'bone' the more I come up with possible issues and solutions... I'm going to try the 'classic' double sided pcb high pass filter, G8YOM/RSGB. You can find the design here... www.saundrecs.co.uk/g4trn/HiPassFilter.png I've scanned page 199 of 'Amateur Radio Techniques', Pat Hawker, RSGB,1978 edition. I'm going to try moving my aerial to get it a bit further away from my neighbour's. They share the same chimney and I suspect that the lashings have been overlapped. Quite apart from the potential for corrosion between the lashings producing non-linear effects and cross modulation, I believe that the aerials should be isolated from each other. Now that I have put my web page into this discussion my location is traceable so I may as well throw my complete postcode into the mix...BS6 6PD

John Everingham's 2 posts
Select more comments
Your comment please