Can I receive UK free-to-view TV in Southern Spain?

Brian Butterworth published on UK Free TV
You will only be able to get the services on the Astra 2A satellite (and then only Transponders 1, 2, 5, 6, 9, 10, 13, 18, 22, 37) and ASTRA 2B (transponders 14, 17, 21, 25, 26, 29, 30, 33, 34, 38):

ScreenShop
Price-Drop TV
TV Travel Shop
TV Travel Shop 2
TCM UK
CNN International
Travel Channel
Travel Deals Direct
BBC Parliament
S4C Digidol
S4C2
You TV
Goldshield Vitality
Create and Craft
Zee Music
Ideal World
ITV News Channel
QVC UK
Bid-up.TV
Sky News
TV Shop UK
Reality TV
TV High Street
The Shopping Genie
TV Warehouse Select
Shop America
TV Warehouse
Vector Direct
JML Direct
Game Network UK
Yes
Shopsmart TV

You will not be able to get any of the BBC and ITVs are all on the Astra 2D satellite: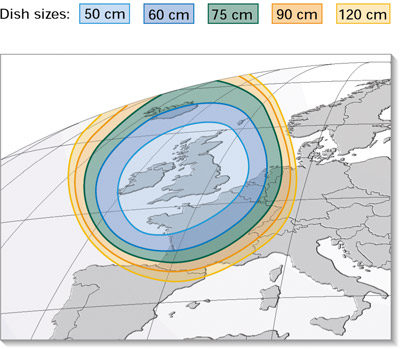 Channel 4 is on Astra 2A: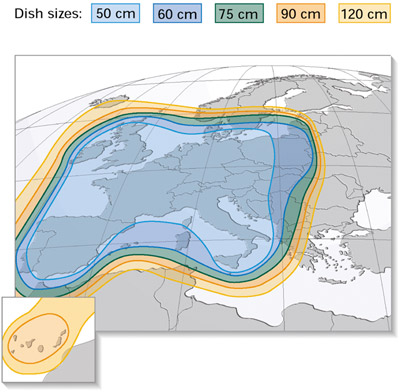 You may be able to get five, but you will need a Sky card to decode it.
Comments
Friday, 10 June 2011

Peter Clayton
you can get free sat which is the satelite version of free sat i belive spain is in the footprint of the satelite, try these links for further info
free sat - Google Search (CV92AN)

peter clayton's 3 posts

peter clayton:
Yes Spain is within the footprint.
But some areas have better reception than others. Especailly of Astra 2d, which carries BBC and (most) ITV1s. The north east can get most channels 24/7 on an 80cm dish. In Alicante even a 3.1m dish will not get all channels 24/7!

And at the moment the "freesat" version of "Five" is bad to get 24/7 even on a 3.1m dish oin my area. Yet the "freesatfromsky" version I can pick you on a sky minidish here!

satandpcguy's 89 posts
Friday, 17 June 2011

Hi there, Am south of Alicante and have a 2.4 m dish. I lost a few channels before Christmas when I believe there were some frequency changes. However I have been offered a system which includes connection to the internet and I should receive all Sky Sport and films in HD! Have seen the system working and it seems too good to be true. How does it work? And, is it legal?

Pat's 3 posts

HI everyone , i'm going out to work in morocco on a contract , and I want to know how i can pick up all BBC and ITV channels aswell as channel4 in north africa .

Does morocco come under the same frequency as southern spain ?

many thanks

khalid

khalid's 1 post
Saturday, 18 June 2011

khalid: i dont know about ALL BBC and ITV channels. Even in Spain I cannot get ALL channels 24/7.
It will also depend where exactly in Morroco you are going. You may need something like a 3.1m dish.
It will also hep if you had a Sky box and a freesatfromsky card.

UK TV comes from the same 4 satellites no matter where you are - the frequencies for the channels are the same as the UK, whether you are in France, the UK, Spain or Morroco.

satandpcguy's 89 posts
Sunday, 19 June 2011

pat: it will be an illegal cardshare network, using the internet and someone elses sky card to unlock channels they you should really be paying sky for. card sharing is theft. card sharing is illegal. just recently a huge network on Cyprus was closed and raided, and apparently under their law all users of the network can also be prosecuted. no idea if that is also possible in spain. going on card share will not get your chnnels back that you lost due to frequency changes, as the TV signals still come from the satellite. its just the "unlocking" codes that are coming form the internet. If you have lost channels due to frequency changes then a simple rescan of the frequencies on oyur box should sort that out (freesat and Sky boxes will do this automatically).

satandpcguy's 89 posts
Friday, 1 July 2011

I have a sky dish on my roof in Spain but it is currently not working I am considering replacing the lnb could this be the problem, is there a spacial type of lnb I need to buy, cheers

Dieter's 1 post
Sunday, 3 July 2011

Dieter: the only issue is if the dish is an offset dish, in which case any univesal LNB will be OK (the inverto ultra black range are exceptional!), or a primefocus dish (in whcihc ase you will need an primefocus LNB (the invacom c120 range are best for these).

Yes the LNB could be the issue, as could the cable connections or dish alignment.

satandpcguy's 89 posts
Saturday, 19 November 2011

I have bought a Luxor DTR (HDD 250GB) in the UK and am trying to use it in Spain. It has found the challenges well and the main functions (e.g. live pause TV or recording) work well. The problem is that there is no sound. Any ideas? Thanks

Alfonso's 1 post
Thursday, 24 November 2011

Alfonso: The inter carrier soun frequency in the UK is 6 MHz, and it is different in Spain, if my memory serves me correctly, it is 5.5 MHz there. Your Luxor DTR is therfore not tuned to receive this frequency. I don't know whether it is capable of being re-programmed. Perhaps an email to Luxor customer services would suggest a solution

Christopher Pugh's 4 posts
Select more comments
Your comment please