Freeview reception - all about aerials

Brian Butterworth published on UK Free TV
Updated 8th January 2014.


Your ability of receive all the Freeview transmissions depends on the suitability of aerial
the design style,
the "group", and
its physical location.
Standard type - Yagi aerial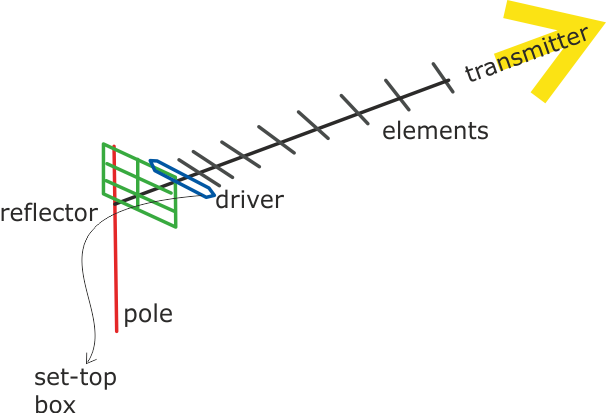 The
standard
type of TV aerial is known as the Yagi aerial. It is mounted on a pole, and consists of a rod with a reflector (shown green) at the back and many spiky elements (in grey) at the front. The connecting
cable
connects to the element nearest the reflector, known as the driver (shown in blue).
These Yagi aerials are directional and so
pick
up signals best from a
transmitter
that the rod points towards. The more elements the aerial has, the better it picks up a
signal
and becomes more directional.
A standard-type aerial is all that is required for
digital
TV
reception
in most places. These antennae have between 10 and 18 elements and a single reflector. These are recommended for new installations for good digital television reception, but will more often than not function perfectly in good reception areas.
Typically these aerials are designed to receive only some transmission frequencies - see "groups" below.
High Gain aerials

These aerials are designed for poor digital reception areas, and have two reflectors. For maximum signal strength, some digital high
gain
aerials have up to 100 elements. Since the
switchover
to digital-only transmissions back in October 2012, most UK households now have good
quality
digital TV signals.
A more expensive aerial is only required where the signal strength is low, but can often provide the whole Freeview reception where it might otherwise be impossible.
The CAI (that represents aerial installers) has four standards for digital TV aerials. The highest standard "1" is for homes on the fringes of coverage areas, intermediate standard "2" is suitable for use within the coverage area; minimum standard "3" is for good coverage conditions.
These aerials can be either
wideband
, or receive only selected frequencies - see "groups" below.
Grid

You may haved used a 'Grid aerial' for
analogue
reception, but as they are generally unsuitable for Freeview reception, they have now generally been replaced by the Yagi type. However in some places a Grid aerial installation may work for Freeview: otherwise replace with a standard Yagi aerial.
Indoor
Indoor aerials
are generally not suitable for Freeview reception. In areas of good signal strength it is often possible to receive some transmissions. Even where an aerial works, people often find that may get interruptions to their viewing (or recording).
Loft mounted
Loft
mounted arrivals are not generally recommended for Freeview reception, as the
roof
tiles and plumbing will degrade the signal. Some compensation for this loss of signal can be made by using
satellite
-grade cable to connect the set top box to the aerial.
Positioning
The best position for a TV aerial is mounted outdoors, as high from the ground as possible, pointing directly at the transmitter. The signal can be blocked by hills and tall buildings. It should be positioned away from any other aerials.
Horizontal or vertical?
The transmitter will either use vertical
mode
which requires the elements of your aerial to be up-down, or horizontal mode which requires them to be level with the ground.
Groups
Both analogue and digital television is transmitted the same group of transmission frequencies (known as
channel
21 through to 60). A coloured marking on the aerial shows the group.

To create the best possible analogue
picture
, TV transmissions from adjacent transmitters have been designated to several different groups of frequencies. By using an aerial that receives only the
channels
in the correct group, the analogue picture can be kept free from
interference
.
To receive Freeview transmissions from the same transmitter it has been sometimes necessary to use frequencies that are not part of the transmitter's normal group. When this has occurred, the aerial will need to be replaced with a "wideband" aerial (also known as group W) - one that covers every group.
As
Ofcom
is planning to move the TV frequencies again - perhaps as soon as 2018 - it may be wise to use a wideband aerial if you can to ensure you can keep viewing Freeview for many years to come.
Comments
Wednesday, 6 November 2013
J
James Town
5:02 PM
Braintree

I live in Braintree CM7 2LF. My Humax box is ser up to work with a TV that does not have Freeview built in. Reception is very poor with frequent breaks in signal and loss of programmes.
My TV in the kitchen with built in Freeview has limited channels but does not lose signal.
Any ideas please.
Oh I have replaced the wall to TV arial cable as you have suggested previously with little success.

James Town's 2 posts
James's:
map
J's Freeview map
terrain
J's terrain plot
waves
J's frequency data
J's Freeview Detailed Coverage

James Town: You posted previously about this and myself and MikeB made some suggestions:

Resolve your interference problems | Freeview Interference | ukfree.tv - 11 years of independent, free digital TV advice

Dave Lindsay's 5,724 posts
Thursday, 7 November 2013

As I live on the edge of transmission area for Tacolneston in Norfolk I would like to know whether I can have too much signal - as has been said by various engineers when sorting (or failing to sort) reception problems. I have a Yagi type aerial at present and thanks to Dave Lindsay advice have tuned in the correct regional programmes. As I sometimes get some pixelation wondered whether changing aerial to either a Group B E or W would help or would I just be aggravating the problem with 'too much signal' ?

john layton's 4 posts

john layton: Postcode would be very helpful.

MikeB's 2,579 posts

Post code is PE31...

john layton's 4 posts

john layton: I had to guess the rest of the postcode, but the area is generally a bit of a pain. My parents in law are in the same area, and they actually use Belmont (from where they get a signal which is slightly too strong).

If your getting pixelation, check signal strength - if you are high just buy a attenuator - a variable one is about a fiver or less on the net, or even just buy a really rubbish aerial lead from a poundshop - it might be enough to bring it down a tad. If everything is working fine other than that, why spend more time and money.

I'm sure that David and others can offer better advice, but start with the simple stuff first.

MikeB's 2,579 posts

john layton: I don't think you have any worries about having too much signal at your location.

The pixelation could be down to not having line-of-sight with the transmitter, something which you can't do anything about. The terrain means that the northest edge of Norfolk has difficulty or cannot receive from Tacolneston, which is why there are a series of relays along the north coast.

As far as aerial groups goes then if you have a Group C/D aerial, strictly speaking the three COM channels on 42, 45 and 39 are "out of group" and therefore your aerial isn't as sensitive to them as the PSB channels. That said, it might be good enough for the COMs, in which case the gain on the PSBs is a bit greater than the minimum required.

Dave Lindsay's 5,724 posts
Tuesday, 12 November 2013

Best Aerial Setup for Dual Transmitter Reception?

Hi, I''m currently receiving some Freeview channels from a 3 mile distant ( only just obscured) light Freeview transmitter via an old yagi-type loft mounted aerial. When the weather is fine and other interference is minimal I can get undisturbed viewing of some other channels (like Quest, Yesterday and Movie Mix) which I suspect are being picked up from the 12 mile distant Brighton Whitehawk Full Freeview transimitter. When environmental conditions are anything but perfect we get breakup, freezing and no signal messages. I tried replacing the old yagi aerial with a high gain wideband digital aerial (again loft mounted) but it performed worse than the old yagi! So back to the yagi.... Ideally, I'd like to stick with a loft mounted aerial - we are hammered here with strong winds, salt spray and gulls. However, I understand reception should be improved if we go for a rooftop aerial. I'd like some advice as to whether there is an aerial setup that would maximise reception from both the higher signal Newhaven transmitter, but also the weak Brighton (guess i's just possible the weaker signals could be coming from Rowridge Isle of Wight). I should mention I've tried two different plug-in boosters but they both made the problem worse.
Any pointers on this very gratefully received. Sorry for the long-windedness!

Frank's 10 posts
R
Russ Dring
10:28 AM
Spalding

Frank: You don't say where you are, whether both Whitehawk and Newhaven are in roughly the same direction?
There is no (simple) way to combine both signals as they cross aerial groups.
If as you suspect some of the signals are indeed coming from Rowridge, combining either Whitehawk/Newhaven with Rowridge is far easier. A diplexer for group A plus B/C/D should enable reception of both.
What channels is your receiver picking up?

Russ Dring's 48 posts
Russ's:
map
R's Freeview map
terrain
R's terrain plot
waves
R's frequency data
R's Freeview Detailed Coverage
D
Dick Crabtree
12:07 PM
Cupar

I live in Collessie, 6 miles west of Cupar at KY15 7RQ. Because of hills to the north, I receive my signals from the central belt of Scotland.
I cannot receive ITV 3 or 4 and I cannot receive HD, probably because of an indoor aerial. ( Outdoor aerials are prohibited on our estate. )
At present I have an old analogue aerial in the loft.
What would you recommend, and could I split the signal to go to 3 TV points ?

Dick Crabtree's 1 post
Dick's:
map
D's Freeview map
terrain
D's terrain plot
waves
D's frequency data
D's Freeview Detailed Coverage
Select more comments
Your comment please