Freeview reception - all about aerials

Brian Butterworth published on UK Free TV
Updated 8th January 2014.


Your ability of receive all the Freeview transmissions depends on the suitability of aerial
the design style,
the "group", and
its physical location.
Standard type - Yagi aerial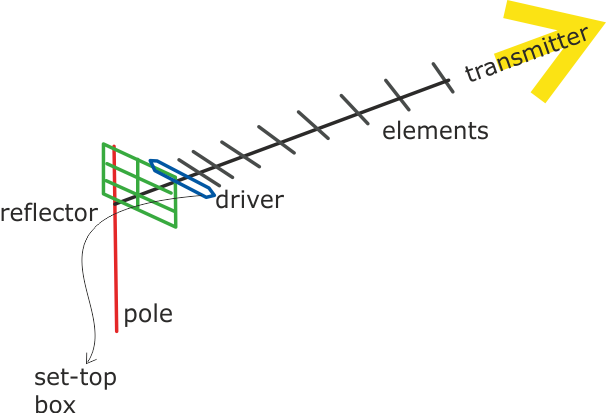 The
standard
type of TV aerial is known as the Yagi aerial. It is mounted on a pole, and consists of a rod with a reflector (shown green) at the back and many spiky elements (in grey) at the front. The connecting
cable
connects to the element nearest the reflector, known as the driver (shown in blue).
These Yagi aerials are directional and so pick up signals best from a
transmitter
that the rod points towards. The more elements the aerial has, the better it picks up a
signal
and becomes more directional.
A standard-type aerial is all that is required for
digital
TV
reception
in most places. These antennae have between 10 and 18 elements and a single reflector. These are recommended for new installations for good digital television reception, but will more often than not function perfectly in good reception areas.
Typically these aerials are designed to receive only some transmission frequencies - see "groups" below.
High Gain aerials

These aerials are designed for poor digital reception areas, and have two reflectors. For maximum signal strength, some digital high
gain
aerials have up to 100 elements. Since the
switchover
to digital-only transmissions back in October 2012, most UK households now have good
quality
digital TV signals.
A more expensive aerial is only required where the signal strength is low, but can often provide the whole Freeview reception where it might otherwise be impossible.
The CAI (that represents aerial installers) has four standards for digital TV aerials. The highest standard "1" is for homes on the fringes of coverage areas, intermediate standard "2" is suitable for use within the coverage area; minimum standard "3" is for good coverage conditions.
These aerials can be either
wideband
, or receive only selected frequencies - see "groups" below.
Grid

You may haved used a 'Grid aerial' for
analogue
reception, but as they are generally unsuitable for Freeview reception, they have now generally been replaced by the Yagi type. However in some places a Grid aerial installation may work for Freeview: otherwise replace with a standard Yagi aerial.
Indoor
Indoor aerials
are generally not suitable for Freeview reception. In areas of good signal strength it is often possible to receive some transmissions. Even where an aerial works, people often find that may get interruptions to their viewing (or recording).
Loft mounted
Loft
mounted arrivals are not generally recommended for Freeview reception, as the
roof
tiles and plumbing will degrade the signal. Some compensation for this loss of signal can be made by using
satellite
-grade cable to connect the set top box to the aerial.
Positioning
The best position for a TV aerial is mounted outdoors, as high from the ground as possible, pointing directly at the transmitter. The signal can be blocked by hills and tall buildings. It should be positioned away from any other aerials.
Horizontal or vertical?
The transmitter will either use vertical
mode
which requires the elements of your aerial to be up-down, or horizontal mode which requires them to be level with the ground.
Groups
Both analogue and digital television is transmitted the same group of transmission frequencies (known as
channel
21 through to 60). A coloured marking on the aerial shows the group.

To create the best possible analogue
picture
, TV transmissions from adjacent transmitters have been designated to several different groups of frequencies. By using an aerial that receives only the
channels
in the correct group, the analogue picture can be kept free from
interference
.
To receive Freeview transmissions from the same transmitter it has been sometimes necessary to use frequencies that are not part of the transmitter's normal group. When this has occurred, the aerial will need to be replaced with a "wideband" aerial (also known as group W) - one that covers every group.
As
Ofcom
is planning to move the TV frequencies again - perhaps as soon as 2018 - it may be wise to use a wideband aerial if you can to ensure you can keep viewing Freeview for many years to come.
Comments
Friday, 6 January 2012

can i use my sky sat/dish to recieve a tv signal

alan steer's 1 post
Saturday, 7 January 2012

alan steer: Not if you are thinking along the lines of using it for reception of any signals other than from a Satellite, that said though some have been known to use a single wire connection to the end of the cable to receive normal (AM/FM/SW) radio broadcasts, as it would then just perform in exactly the same way as would a length of ordinary cable pushed into an aerial socket.

jb38's 7,179 posts

can i use my sky sat/dish to recieve a tv signal

That is the only thing you can do with it. Except perhaps as a baseball target or art object.

If you mean TERRESTIAL TV, not unless you have so strong a signal that you don't need a proper aerial, and even then a Sketchley Loop will probably do better.

Steve P's 1,173 posts
Monday, 9 January 2012

Hi all
I have a TV and recordable Freeview box both which were causing me no issues regarding reception (although ch4, E4 and More4 were a bit ropey). As of a couple of weeks ago some channels (ITV, 4, E4, Ch5 have moved to the 800's and I have lost reception of these channels completely through the TV but not through the Freeview box (where the channels have remained the same)
Also my DAB radio keeps cutting out after 10-20 mins whereas before it rarely did.
Hope someone can help as this is driving me nuts!

Pinkie's 1 post

Hi, in response to these people's quetions, may I add that AFTER the digital switchover in the UK in April 2012 ALL Freeview signals will be much stronger. I myself are in a strong signal area, but use just a loft ariel and cheap-plug in signal booster. I CAN receive MOST of the Freeview channels with this set up, using my combi freeview box connected to a standard scart-TV (NON-HD TV or anything like that).

In response to questions regarding satellite dishes, may I add you need a separate standard rooftop or high-gain ariel to receive Terrestial TV or Freeview. To run Freesat and Freeview at the same time for example you would need BOTH a satellite dish AND a rooftop ariel, ideally. Along with this you would ALSO need either a scart switcher connected to the 2 boxes with scart leads andor an LNB signal splitter, since one signal is DVB-T (terrestial) and the other is DVB-S (satellite).

I hope this helps you all?

Thanks, from Dan. :)

Daniel's 3 posts

In response to Pinkie, have you tried looking in Argos or Ebay for cheap plug-in-the-mains signal boosters?

That is what I use for my Freeview. :)

Daniel's 3 posts

Pinkie - have you tried complete retune? Possibly with "no aerial connected" retune to get a clear start.

Where are you is critical to more help.

DAB radios - bin them

Steve P's 1,173 posts
Tuesday, 10 January 2012

Daniel: You cannot (easily anyway) split an LNB signal, as a satellite box sends instructions (voltages) to the LNB regarding polarity (H or V) changing hence terrestrial and satellite are technically incompatible as far as their actual reception side is concerned, as so its only their analogue scart output signals than can be switched between each.

jb38's 7,179 posts

I coulde not underestand the relevence to Terrestial of splitting an LNB signal at all.

But don't recent sky boxes get two signal from one LNB - record one, watch other? Where earlier ones had two LNBs?

Steve P's 1,173 posts

Steve P: No there isn't any! I was really correcting the part of the statement referring to an LNB splitter, which doesn't actually exist as such albeit there is a device called a stacker around £80.00 or so than can feed two "satellite" signals down one cable, and a device that's critical in use to the extent that it really requires CT100 cable to be used for satisfactory operation.

As regards to latter comment, yes Sky+ boxes as well as Freesat recorders use twin inputs from either a dual or a quad block, but no matter what the type each of its oututs are totally independent of each other as though they were separate units bunched together.

i.e: There isn't any splitting involved.

jb38's 7,179 posts
Select more comments
Your comment please