Loft aerials

Brian Butterworth published on UK Free TV
One of the most common problems people have with Freeview reception relates to the use of "loft" aerials.

Because the analogue TV transmitter network uses very high power transmissions (the total ERP for the UK is 64 megawatts) many people have installed their TV aerial in places such as lofts, or have used other Indoor Aerials.

The effect on that roof tiles and walls have on analogue TV signals is that the picture will degrade slightly. Making the signal slightly weaker will add a 'snow' element to the picture which is mildly irritating. The picture quality drops, but it is usually possible to make out the picture, as demonstrated here: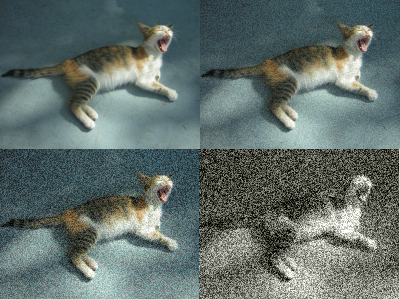 Many people have preferred this slight loss in picture quality for the perceived benefits of a loft-mounted aerial. Loft aerials are much easier and somewhat safer to install, and the aerial is shielded from wind and rain that can cause damage to rooftop aerials. In some places (such as New Towns) TV aerials have been previously banned from rooftops.

However, the BBC and others state that Freeview reception demands a roof-top aerial. The existing (pre Digital Switchover) Freeview signals are at very low power levels. The use by ITV, Channel 4 and five of "64QAM" mode for their transmission multiplexes to provide more channel choice results in a very lower chance of reception of these channels (multiplex 2 is ITV1, ITV2, ITV3, ITV4, CITV, Channel 4, More4, E4, Film4+1; multiplex A carries five, five Life and five US) with a loft-mounted aerial.

By comparison with the image above of how analogue signals look as the signal grow weaker, digital TV reception will continue to give perfect pictures and sound as the power level drops off, until suddenly the level drops below what the COFDM system can cope with. At this point the picture will become blocky and freeze whilst the sound will appear to come and go. Another tiny drop in signal level will result in no picture or sound and a message saying that "no signal is being received". As the signal can vary with weather conditions, people often find that a loft aerial will work when installed and then suddenly stop some months later.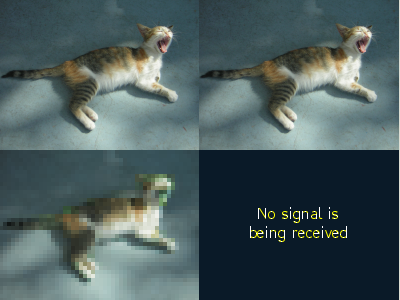 After switchover
After switchover new digital signals will replace the existing analogue and digital ones. The new digital signals will be at much higher levels that the current ones (for most people) and this will
help
with reception. However, all six multiplexes will switch to the
64QAM
mode that causes the problems indicated above.
Due to our Climate Change commitments (Kyoto Protocol), the signal levels for these new digital will not be as high as those currently used for analogue. For this reason you should not depend on the increase in power levels after switchover compensating for having a loft aerial.
Wherever possible you should use a rooftop aerial. If this is impossible, you may find that connecting your aerial to your Freeview box or integrated digital television using
satellite
-grade coaxial
cable
will compensate for the loss.
Comments
Sunday, 9 June 2013

Muz: Yes do! but as far as these other aerials referred to are concerned, they will probably just like your own pre date Rowridges April 2012 switch over when the high powered vertical element of the transmission was added on the three commercial channels, that being said, although mounting the aerial vertically should (in theory) have quite an effect as far as reception of the commercial channels are concerned, I would however appreciate if you could give an update if its discovered that this action has had any effect on the reception of the BBC / ITV PSB channels due to the fact that they already radiate on a high powered dual polarity signal, and propagation can vary with the polarity of the signal.

jb38's 7,179 posts

Muz
My father lives in Verwood in a bungalow and has a hill with trees within 400 yards in the direction for Rowridge (IoW). He has two external aerials on a substantial pole, one horizontal and one vertical. He uses your local TV dealer, Bailey's (see http://www.baileyselectri…uk/) and they are very knowledgeable and experienced with reception problems in the town. (I have no conection with them but they do seem to know the area well.)
Dad's reception is mainly good, though bad weather, rain and wind, can affect signals as the tree move.

MikeP's 3,056 posts
Thursday, 13 June 2013

Hi, I've just switched to freeview. I purchased a HD + freeview box, and replaced the aerial in my loft with a huge 91 element aerial in the loft. I've pointed the aerial towards the recommend transmitter ( sutton on coldfield) I receive half of the freeview channels with a crystal clear picture, the other half are un watch able as the picture keeps dropping out. The main channels that are not working are anything channel 4 or itv. Any ideas what the issue is? Will a signal booster cure it? My postcode is de21 2sw. Thanks.

rob's 3 posts
rob's:
map
R's Freeview map
terrain
R's terrain plot
waves
R's frequency data
R's Freeview Detailed Coverage

rob: How did the original aerial perform when set to receive Sutton Coldfield signals? It is quite possible that a 91 element aerial could deliver too strong a signal if positioned where it has line of site to S/C, ie between the houses on the hill opposite (Matlock Rd). The DUK prediction is for excellent reception on all muxes. Try repositioning the aerial slightly, if that is possible , to see if any improvement results.

KMJ,Derby's 1,811 posts
Friday, 14 June 2013

hi again jb38 and RobP.
Just a quick update and huge thanks for all your advice! I have now turned the Arial thru 90 degrees and it has had a huge effect! all free view channels are now accessible. the commercial channels are 100% signal. Bbc are more like 75% but I no longer have signal loss at all. in the heavy wind and rain all I suffered was some pixelation
I AM ONE HAPPY PERSON THANX TO THIS FORUM :)

Muz's 3 posts
M
MikeB
1:22 PM
Peterborough

Muz: 75% is what your really after for signal strength, 100% is normally too high, but if everything works, dont worry about it.

There seems to be lots of people in the same boat - an aerial more powerful that strictly needed, and a rubbish picture due to a overly strong signal.

MikeB's 2,579 posts
MikeB's:
map
M's Freeview map
terrain
M's terrain plot
waves
M's frequency data
M's Freeview Detailed Coverage

Muz: Thanks for your update on the situation and that by your action on having changed the aerials polarity did indeed have the desired result, at least now that your signal is much stronger it will give you a better leeway before suffering from any problems should it drop again through changes in atmospheric conditions, something generally experienced to a greater degree where the line of sight is obstructed closer to the receiving end of the signal such as applies in your situation.

jb38's 7,179 posts

KMJ, we were originally with virgin. But the old aerial didn't pick up and channels thru the old aerial.

rob's 3 posts
rob's:
map
R's Freeview map
terrain
R's terrain plot
waves
R's frequency data
R's Freeview Detailed Coverage
Sunday, 16 June 2013

I've now plugged the aerial straight into the back of the tv, and have all freeview channels with perfect signal, high strength signal. But when its plugged into my HD+ box it has a weak signal.

rob's 3 posts
Sunday, 23 June 2013

My Humax 9300 and 9150s shows signal as dropping...see video...I have a btvision connected and a Topfield all show the same symptom, I am on sandy heath, postcode LU7 0HP

Humax signal issues - YouTube

Pixelation and loss of sound, this only happens on COM4/SDN and COM5/ARQ A any thoughts?, have tried without the 4 way splitter/amp with just a passive splitter...is the signal too strong? could it need an attenuator on the input, if so what value? CCC

Mark Tiller's 1 post
Select more comments
Your comment please