Loft aerials

Brian Butterworth published on UK Free TV
One of the most common problems people have with Freeview reception relates to the use of "loft" aerials.

Because the analogue TV transmitter network uses very high power transmissions (the total ERP for the UK is 64 megawatts) many people have installed their TV aerial in places such as lofts, or have used other Indoor Aerials.

The effect on that roof tiles and walls have on analogue TV signals is that the picture will degrade slightly. Making the signal slightly weaker will add a 'snow' element to the picture which is mildly irritating. The picture quality drops, but it is usually possible to make out the picture, as demonstrated here: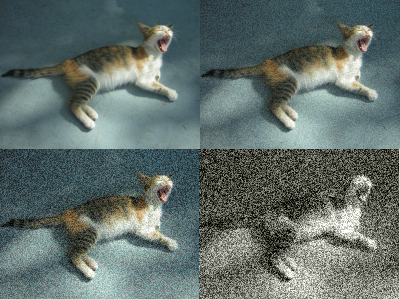 Many people have preferred this slight loss in picture quality for the perceived benefits of a loft-mounted aerial. Loft aerials are much easier and somewhat safer to install, and the aerial is shielded from wind and rain that can cause damage to rooftop aerials. In some places (such as New Towns) TV aerials have been previously banned from rooftops.

However, the BBC and others state that Freeview reception demands a roof-top aerial. The existing (pre Digital Switchover) Freeview signals are at very low power levels. The use by ITV, Channel 4 and five of "64QAM" mode for their transmission multiplexes to provide more channel choice results in a very lower chance of reception of these channels (multiplex 2 is ITV1, ITV2, ITV3, ITV4, CITV, Channel 4, More4, E4, Film4+1; multiplex A carries five, five Life and five US) with a loft-mounted aerial.

By comparison with the image above of how analogue signals look as the signal grow weaker, digital TV reception will continue to give perfect pictures and sound as the power level drops off, until suddenly the level drops below what the COFDM system can cope with. At this point the picture will become blocky and freeze whilst the sound will appear to come and go. Another tiny drop in signal level will result in no picture or sound and a message saying that "no signal is being received". As the signal can vary with weather conditions, people often find that a loft aerial will work when installed and then suddenly stop some months later.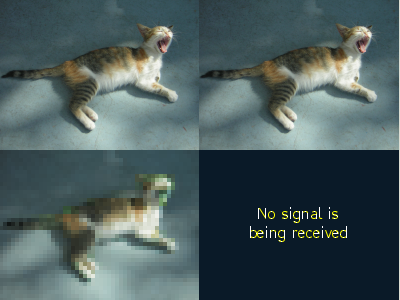 After switchover
After switchover new digital signals will replace the existing analogue and digital ones. The new digital signals will be at much higher levels that the current ones (for most people) and this will
help
with reception. However, all six multiplexes will switch to the
64QAM
mode that causes the problems indicated above.
Due to our Climate Change commitments (Kyoto Protocol), the signal levels for these new digital will not be as high as those currently used for analogue. For this reason you should not depend on the increase in power levels after switchover compensating for having a loft aerial.
Wherever possible you should use a rooftop aerial. If this is impossible, you may find that connecting your aerial to your Freeview box or integrated digital television using
satellite
-grade coaxial
cable
will compensate for the loss.
Comments
Tuesday, 13 January 2015

How can I find out what compass bearing I should point my aeriel.
i.e. from Normacot to Sutton Coalfield, or Normacot to Fenton?

Best regards,
Mike

Mike's 2 posts

Mike: Enter your postcode on this page, tick "Detailed view" and press "Go":

Digital UK - Coverage checker

Dave Lindsay's 5,724 posts

Thankyou very much Dave.

Mike's 2 posts
Sunday, 11 December 2016

LOFT AERIALS
I have had a loft aerial for the past 10 years and I receive very clear free view reception for all channels now numbering 157
As I live in a river valley and definitely not line of site with the Sudbury transmitter I was very surprised to get such a good signal
But I have installed a sealed European patio type aerial and thought at first I was wasting my money and time but it turned out well in the end it was a fantastic replacement for my old g class aerial which was fixed to my roof in 1979 and only stopped receiving a good signal in 2006 when the Sudbury transmitter was restructured and I lost most of my channels

FRANK SMITH's 1 post
Saturday, 10 November 2018

I changed to a high gain exterior antenna installed in my loft which I positioned using an inexpensive signal meter. This resulted in the antenna performing best at a strange angle. In addition, I installed a signal amplifier close to the antenna which restores the picture to my two receivers during low signal conditions. It is nice to have a maintenance free system rather than external hardware.

Malcolm's 2 posts
Sunday, 3 May 2020

This is an interesting post. I have been installing aerials in lofts for a number of years. I have yet to have one show poor reception. I agree you should always install outside at roof level, however this may not always be what the customer wants. As long as you are in a strong signal area you shouldn't have any issues.

Homecoms's 1 post
Select more comments
Your comment please