Ofcom consults about Freeview HD two-multiplex upgrade plan in the 600MHz band

Brian Butterworth published on UK Free TV
As we covered back on 25th November 2012 Ten more HD channels on two new Freeview HD multiplexes on air from 2014-18 - Freeview news - there is plan to provide until the end of 2018 two more Freeview HD multiplexes.

The following sites will be upgraded to have two new DVB-T2/MPEG4 high definition services.

The sites that will get the services will be:

10 site plan (44.1% coverage): Crystal Palace, Winter Hill, Sutton Coldfield, Craigkelly, Black Hill, Divis, Pontop Pike, Rowridge, Wenvoe and Bilsdale.

20 site plan (61.8% coverage): above plus Waltham, Hannington, Belmont, Oxford, Tacolneston, Ridge Hill, Emley Moor, Mendip, Sandy Heath and Durris.

30 site plan (65.7% coverage): above plus Angus, Bluebell Hill, Sheffield, Moel-y-Parc, Caldbeck, Caradon Hill, Beacon Hill, Darvel, Fenton and Fenham.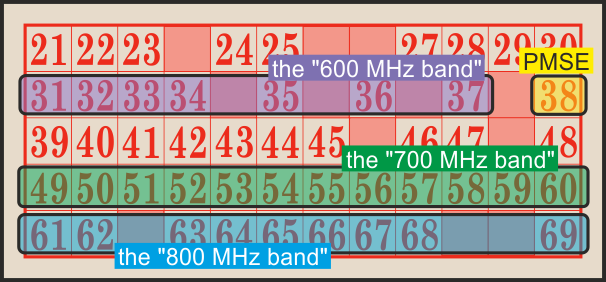 The allocations of frequcneis are:


Sutton Coldfield C33, C35 One just outside, One in group
Craigkelly C33, C34 In group
Black Hill C32, C35 One just outside, One in group
Divis C33, C34 In group
Pontop Pike C33, C34 Out of group
Rowridge HP C31, C37 In group
Wenvoe C31, C37 One just outside, One in group
Bilsdale C31, C37 In group
Waltham C31, C37 Outside with others
Hannington C32, C34 Just outside
Belmont C33, C35 In group
Oxford C31, C37 Out of group
Tacolneston C31, C37 Out of group
Ridge Hill C32, C34 In group
Emley Moor C32, C34 Just outside
Mendip C33, C35 Out of group
Sandy Heath C32, C34 In group
Durris C32, C35 In group
Angus C31, C37 Out of group
Bluebell Hill C32, C34 Just outside
Sheffield C31, C37 In group
Moel-y-Parc C32, C34 Just outside
Caldbeck C32, C35 In group
Caradon Hill C31, C37 In group
Beacon Hill C33, C34 Outside with others
Darvel C31, C37 In group
Fenton C32, C34 In group
Fenham C31, C37 In group
See also
Ofcom - Award of the 600 MHz spectrum band - Including request to stakeholders to notify intention to apply
Comments
Wednesday, 6 February 2013

This is interesting so does it mean more HD channels for free view and which would they be?

mark powlett's 3 posts
mark's:
map
M's Freeview map
terrain
M's terrain plot
waves
M's frequency data
M's Freeview Detailed Coverage
T
trevorjharris
11:34 PM
Aldershot

Yery good question Mark. The BBC has still not been able to find anyone to go on their spare HD channel let alone find 10 more with only up to 65% coverage. Satellite is cheaper and has better coverage.

trevorjharris's 367 posts
trevorjharris's:
map
T's Freeview map
terrain
T's terrain plot
waves
T's frequency data
T's Freeview Detailed Coverage
Thursday, 7 February 2013

trevorjharris: The slot on PSB3 is possibly a relatively costly outlet for any broadcaster. No doubt the 10 site plan will be considered most attractive cost-wise, with the 20 site plan most desirable as it tips the coverage over the 50% mark. Whether another ten transmitters for 4% more viewers will be considered unattractive remains to be seen - or could the winning licence holder cherry pick and choose say Fenham, Fenton and Sheffield as worthwhile additions to the 20 site plan? Satellite, whilst having a signal which covers most areas is limited to serving those viewers with suitable receivers. As the majority of satellite viewers are subscribers to Sky it is not surprising that HD commercial channels choose to be subscription channels, in common with the practice in Germany where satellite viewing is more extensive.

KMJ,Derby's 1,811 posts

At present even free satellite services only offer 1 extra HD Channel (NHK World), all other HD channels are premium channels through Sky. I cannot believe that any would go terrestrial, just because the facility is available. 10 additional free channels is wishful thinking.

Even is they were allowed to charge, none of the terrestrial subscription services (e.g. TopUp TV) have been a runaway success, and those a moving towards additional broadband services: So, although I hope to be proved wrong, DTH Terrestrial HDTV is unlikely to attract any broadcaster.

Roger Martlew's 16 posts
C
Charles Stuart
11:42 AM
Bristol

As a viewer, I would appreciate 10 extra HD services. Nothing will convince me to subscribe to Sky and I'm set up for DTTV, so I'm not keen on getting Freesat either. I'd like to see the 30 site plan because it gives the largest number of people the option and, if the aim is to get people to buy DVB-T2 receivers, you're more likely to succeed if greater numbers of people can receive the service. I think that it has to be decided whether this is a means to an end or an end in itself.

Charles Stuart's 159 posts
Charles's:
map
C's Freeview map
terrain
C's terrain plot
waves
C's frequency data
C's Freeview Detailed Coverage

lets have film four in hd.

sharealam's 225 posts

Briantist,in your first piece,you had ' The Wrekin ' within the top 20 of transmitters per populations,this is absent from this latest list.
Can you confirm this?please can you give more reasons?why The Wrekin should not be included.
1% of all UK viewers use this transmitter.

Aerialman's 140 posts

Aerialman: They have move a few allocations around to ensure that Wales, Scotland and Northern Ireland get some coverage, which has bumped The Wrekin off in England.


Briantist's 38,908 posts

sharealam: As per the older article, Channel 4 are very keen to have some of the slots.

Briantist's 38,908 posts

What about all the other main Transmitters? i.e Waltham???

Ian's 497 posts
Ian's:
map
I's Freeview map
terrain
I's terrain plot
waves
I's frequency data
I's Freeview Detailed Coverage
Select more comments
Your comment please