Ofcom consults about Freeview HD two-multiplex upgrade plan in the 600MHz band

Brian Butterworth published on UK Free TV
As we covered back on 25th November 2012 Ten more HD channels on two new Freeview HD multiplexes on air from 2014-18 - Freeview news - there is plan to provide until the end of 2018 two more Freeview HD multiplexes.

The following sites will be upgraded to have two new DVB-T2/MPEG4 high definition services.

The sites that will get the services will be:

10 site plan (44.1% coverage): Crystal Palace, Winter Hill, Sutton Coldfield, Craigkelly, Black Hill, Divis, Pontop Pike, Rowridge, Wenvoe and Bilsdale.

20 site plan (61.8% coverage): above plus Waltham, Hannington, Belmont, Oxford, Tacolneston, Ridge Hill, Emley Moor, Mendip, Sandy Heath and Durris.

30 site plan (65.7% coverage): above plus Angus, Bluebell Hill, Sheffield, Moel-y-Parc, Caldbeck, Caradon Hill, Beacon Hill, Darvel, Fenton and Fenham.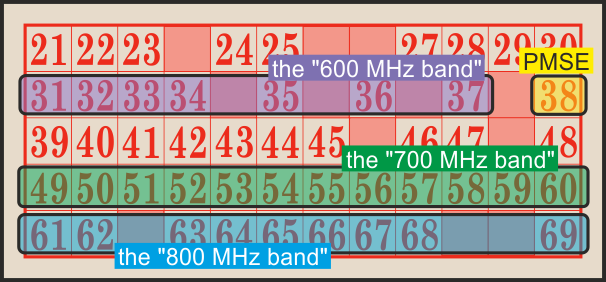 The allocations of frequcneis are:


Sutton Coldfield C33, C35 One just outside, One in group
Craigkelly C33, C34 In group
Black Hill C32, C35 One just outside, One in group
Divis C33, C34 In group
Pontop Pike C33, C34 Out of group
Rowridge HP C31, C37 In group
Wenvoe C31, C37 One just outside, One in group
Bilsdale C31, C37 In group
Waltham C31, C37 Outside with others
Hannington C32, C34 Just outside
Belmont C33, C35 In group
Oxford C31, C37 Out of group
Tacolneston C31, C37 Out of group
Ridge Hill C32, C34 In group
Emley Moor C32, C34 Just outside
Mendip C33, C35 Out of group
Sandy Heath C32, C34 In group
Durris C32, C35 In group
Angus C31, C37 Out of group
Bluebell Hill C32, C34 Just outside
Sheffield C31, C37 In group
Moel-y-Parc C32, C34 Just outside
Caldbeck C32, C35 In group
Caradon Hill C31, C37 In group
Beacon Hill C33, C34 Outside with others
Darvel C31, C37 In group
Fenton C32, C34 In group
Fenham C31, C37 In group
See also
Ofcom - Award of the 600 MHz spectrum band - Including request to stakeholders to notify intention to apply
Comments
Friday, 8 February 2013

Must be my middle aged eyes.

Ian's 497 posts
Ian's:
map
I's Freeview map
terrain
I's terrain plot
waves
I's frequency data
I's Freeview Detailed Coverage

Mike Dimmick: There was a suggestion that The Wrekin and Sutton Coldfield would use the same frequencies as a SFN.

KMJ,Derby's 1,811 posts
Saturday, 9 February 2013

cheers briantist
i did assume filmfour hd was on sky?

ian from notts's 253 posts

As far as I can see the HD TV debacle will cary on and on and in the end becuase of the multi platform duplication of the programming of HD broadcasts the public justs looses interest.
Freeview was the answer to the masses as an alternative to all of the other pay TV platforms but there is not one platform (except for SKY that has all of the HD channels available,at a price.
ITV 2,3 & 4, CH 4 & CH5 are not available in HD on Freeview.
Virgin does not have SKY Sports 3 & 4 available in HD. So we have a monopoly in the UK that SKY is the only platform if the public want's a decent picture on their 42 inch plus large screen TV.

Watching standard Freeview on a large screen TV is not a good experience but as usual we have gone for quantity rather than quality for our mass TV broadcasting.

Brian Wright's 77 posts

I see Black Hill (aka Blackhill) is to use channels 32 and 35. As you say channel 32 is 'out of group'. I understand the Group B covers 35-53. Assuming good reception at present, is reception of channel 32 likely to be reasonable without changing aerial? Indeed, would a wideband aerial (which is a compromise) provide any better reception of channel 32 than a Group B aerial?

Scott's 110 posts

Scott: I would wait and see.

An aerial's gain does not drop off suddenly. A Group B aerial is designed with a particular gain so as to be classified as "Group B".

The more the gain of your aerial "in group" is greater than is actually needed, then the more the "out of group" gain will be sufficient.

So in actual fact, it could be that the gain of your aerial slightly out of group is more than enough.

If you get a yagi aerial, then I suggest that you get a Group K one as wideband incorporates C/D as well, which as you say, is a compromise. On the basis that the powers that be are busy clearing 61 to 68 to sell off to the mobile operators I would think that it's safe to say that any transmitters that don't currently use C/D channels will not be using them in the future.

If you are in a good enough signal area then I suggest that you get a log periodic which are usually wideband but have a much much flatter response than yagi widebands. They also have a much neater polar response than yagis which means that they are less likely to pick-up reflections that might be present where the signal is stronger:

Aerial Polar Reponse Diagrams

Vision Products does a Group A log and a Group E log, but not a Group K one so it will have to be wideband.

Dave Lindsay's 5,724 posts

Scott: Read up on Sorites paradox

Sorites paradox - Wikipedia, the free encyclopedia

Dave Lindsay's 5,724 posts

Scott: In practice many group B aerials would out perform a similar sized wideband aerial for reception of C32

KMJ,Derby's 1,811 posts

ian from notts: According to their website, "Channel 15 on Freeview Channel 315 on Sky Channel 428 on Virgin Media Channel 300 on Freesat".

However, there is a press release saying Film4 HD will be coming to Sky ... Sky customers to enjoy comprehensive access to the best of Channel 4 - Channel 4 - Info - Press

However, there are no listings for Film 4 HD on satellite I can find...

Briantist's 38,906 posts

Brian Wright: It is certainly interesting that Sky have been allowed to grab HD versions of channels on an "exclusive" basis, using their enormous marketing budget to gain exclusive deals.

It is certainly strange that channels from public service broadcasters (ITV2, ITV3, ITV4 etc) are not free-to-air on satellite when their SD versions are!

I suspect that Ofcom (or the Competition Commission) took the view that "HD" was too small a market for them to worry about.

Now that we might see the need to move to DVB-T2/MPEG-4 in 2019 to clear the 700MHz band for broadband, it is possible that "Sky HD exclusive" deals will happen less...

You have to realise that HD is good for Sky, in that it creates a "premium" product (like Tesco Finest) for their top-level customers (Freesat from Sky being Tesco Basics).

HD is just a technology upgrade, which needs a little more bandwidth (but less than three analogue channels) and some additional production values.

The way Sky HD is sold, it is a "differentiator product" for customers who wish to have something better than the plebs, so they can show their wealth off by making big profits for Sky.

It's not like Sky are the only company to do this...

Briantist's 38,906 posts
Select more comments
Your comment please