Ofcom consults about Freeview HD two-multiplex upgrade plan in the 600MHz band

Brian Butterworth published on UK Free TV
As we covered back on 25th November 2012 Ten more HD channels on two new Freeview HD multiplexes on air from 2014-18 - Freeview news - there is plan to provide until the end of 2018 two more Freeview HD multiplexes.

The following sites will be upgraded to have two new DVB-T2/MPEG4 high definition services.

The sites that will get the services will be:

10 site plan (44.1% coverage): Crystal Palace, Winter Hill, Sutton Coldfield, Craigkelly, Black Hill, Divis, Pontop Pike, Rowridge, Wenvoe and Bilsdale.

20 site plan (61.8% coverage): above plus Waltham, Hannington, Belmont, Oxford, Tacolneston, Ridge Hill, Emley Moor, Mendip, Sandy Heath and Durris.

30 site plan (65.7% coverage): above plus Angus, Bluebell Hill, Sheffield, Moel-y-Parc, Caldbeck, Caradon Hill, Beacon Hill, Darvel, Fenton and Fenham.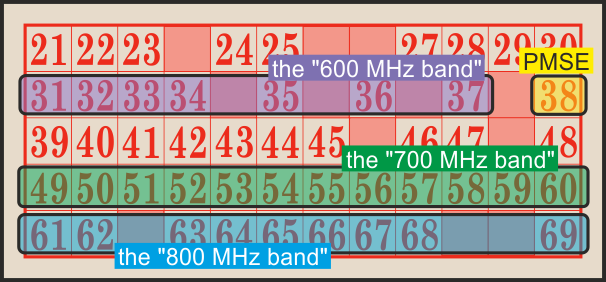 The allocations of frequcneis are:


Sutton Coldfield C33, C35 One just outside, One in group
Craigkelly C33, C34 In group
Black Hill C32, C35 One just outside, One in group
Divis C33, C34 In group
Pontop Pike C33, C34 Out of group
Rowridge HP C31, C37 In group
Wenvoe C31, C37 One just outside, One in group
Bilsdale C31, C37 In group
Waltham C31, C37 Outside with others
Hannington C32, C34 Just outside
Belmont C33, C35 In group
Oxford C31, C37 Out of group
Tacolneston C31, C37 Out of group
Ridge Hill C32, C34 In group
Emley Moor C32, C34 Just outside
Mendip C33, C35 Out of group
Sandy Heath C32, C34 In group
Durris C32, C35 In group
Angus C31, C37 Out of group
Bluebell Hill C32, C34 Just outside
Sheffield C31, C37 In group
Moel-y-Parc C32, C34 Just outside
Caldbeck C32, C35 In group
Caradon Hill C31, C37 In group
Beacon Hill C33, C34 Outside with others
Darvel C31, C37 In group
Fenton C32, C34 In group
Fenham C31, C37 In group
See also
Ofcom - Award of the 600 MHz spectrum band - Including request to stakeholders to notify intention to apply
Comments
Thursday, 7 February 2013

What about all the other main Transmitters? i.e Waltham???

Ian's 497 posts
Ian's:
map
I's Freeview map
terrain
I's terrain plot
waves
I's frequency data
I's Freeview Detailed Coverage
DaveCheltenham
6:04 PM
Cheltenham

An interesting article and comments. As Charles Stuart said, nothing will convince him to subscribe to Sky and more so, I understand that some people paying £10/month for HD are opting out and some being persuaded to stay by this being reduced to £2.50/month.

From this, it is possible to conclude that HD is not a big enough attraction by itself without good programme content. For me, only sport and wildlife are important in HD and for other programmes, nice to have.

A very difficult choice lies ahead for the broadcasters to go with HD or SD?

Regards

DaveCheltenham's 35 posts
DaveCheltenham's:
map
D's Freeview map
terrain
D's terrain plot
waves
D's frequency data
D's Freeview Detailed Coverage
C
Charles Stuart
6:13 PM
Bristol

It appears that there's an omission from the 10 site list and a second omission from the 20 site list. Waltham and Rowridge appear in the 30 sites with frequency allocations but they seem to be missing from the list of 30 organized into tens of priority.

Charles Stuart's 159 posts
Charles's:
map
C's Freeview map
terrain
C's terrain plot
waves
C's frequency data
C's Freeview Detailed Coverage

Sudbury not on the list, as usual. Everyone in Suffolk is, of course, too busy getting the harvest in to bother with HD channels ...

Dale Rumbold's 78 posts
Friday, 8 February 2013

i would think hd channels on subscription sky, like filmfour hd, would be interested in a terrestial slot, as this would increase their commercial base ?
though am i right in thinking that, when on subscription, they have to wait for contracts to end? like ch5 did with freesat?

ian from notts's 253 posts

ian from notts: I thought Film4 HD was "exclusive" to Virgin Media and not on Sky?

Briantist's 38,899 posts

If the Wrekin is not on the list now,i suppose it will generate extra work for me,in time.
As customers may ask to have their roof aerials re-directed to Sutton Coldfield from The Wrekin to receive all the new HD channels.Which can only be positive for me and my business.

Aerialman's 140 posts

Aerialman: Much better news is that in 2019 all the 700MHz service will be moved down into the 600MHz band. That's going to be a lot of work for anyone who had a grouped aerial (other than group A perhaps).

Briantist's 38,899 posts

Aerialman: Maybe The Wrekin was left off the list because of the generous overlap with Sutton Coldfield. Then there is the question of what happens in 2018. At present it appears that transmissions might continue on these muxes, subject to the frequencies not being required for services displaced when future extensions are made to the 4G/5G spectrum allocation. Is S/C a safer bet for being able to remain on air?

KMJ,Derby's 1,811 posts

Sites were left off the list as there were no spare allocations for them. Simple as that. Allocations have been moved around between transmitter sites, to move them from sites that have lower population density to those that serve more households. The Wrekin's allocation of C33 and C35 has been given to Sutton Coldfield.

Ian: Waltham is on ths list, this list is sorted roughly in population coverage order and Waltham is #10 in UK households covered (gross coverage). The Scottish, Welsh and Northern Irish transmitters have been pushed up the list from their actual population coverage. (Wenvoe is actually #15, Craigkelly #18 and Divis #21, ranked by 6MUX coverage.)

I posted the list of usable allocations that the UK got at the Geneva conference in 2006, at Ten more HD channels on two new Freeview HD multiplexes on air from 2014-18 | Freeview news | ukfree.tv - 10 years of independent, free digital TV advice . As I said at the time, Winter Hill, Sutton Coldfield, Emley Moor and Black Hill didn't have enough, or even any, usable frequencies, so we've had to pull together a network out of what we did have, plus agreeing with neighbouring countries where we can modify the plans to avoid mutual interference.

Ofcom's spreadsheet at http://stakeholders.ofcom….xls is surprisingly illuminating as to what restrictions we've managed to negotiate. The permitted transmitter power is in the RPC_ERP column: it's either a figure in dB-watts (dBW, decibels relative to one watt) or a Reference Planning Configuration. For example, Ireland seem to have been OK with Black Hill using full power (50 dBW = 100 kW) in all directions, but Winter Hill, while being permitted 100kW in most directions, will have to have a 14 dB notch in the direction of Kippure.

However, in most cases we're not going to get anywhere near the negotiated ERP limits. The coverage figures are based on Arqiva's Reference Offer indication of what they can do with the spare transmitters they have after switchover - some old analogues, some pre-switchover digital - and with the antenna systems already on the masts/towers. In some cases the proposed power for 600 MHz is actually lower than pre-switchover levels (e.g. Oxford at 5.8 kW, where pre-switchover levels ranged from 6 to 10 kW). Also note that at many sites the two new multiplexes will broadcast at different power levels.

http://www.arqiva.com/cor….pdf

Some transmitters will be having a nice tour around the country: my favourites are the Croydon backup BBC One and Two analogue transmitters travelling up to Winter Hill, and Dover's to Emley Moor. Only Mendip and Sandy Heath are proposed to get new antennas.

Mike Dimmick's 2,486 posts
Select more comments
Your comment please