Mendip, Bristol and relay transmitters - retune require on 27th March 2013

Brian Butterworth published on UK Free TV
At 6am on 27th March 2013, several multiplexes will change their transmission frequencies.

Notably the main transmitters will make changes. This includes the Mendip transmitter, where the BBCA multiplex (including 1 BBC One West, 2 BBC Two England, 7 BBC Three, 9 BBC Four, 70 CBBC Channel, 71 CBeebies, 80 BBC News, 81 BBC Parliament) will move from C61 to C49.

Also changing is Bristol Kings Weston where the D3+4 multiplex (3 ITV (West), 4 Channel 4 South ads, 5 Channel 5 Part Network ads, 6 ITV 2, 13 Channel 4+1 South ads, 14 More 4, 28 E4, 33 ITV +1 (West)) will move from C50 to C40, and Bristol Ilchester Crescent where ArqivaB (15 Film 4, 18 4Music, 19 Yesterday, 21 VIVA, 24 ITV 4, 41 Sky Sports 1 (not free), 42 Sky Sports 2 (not free), 47 4seven, 83 Al Jazeera English, 85 Russia Today English,) moves from C49 to C39+.

See below for a full list of transmission masts that will make changes.

When you now rescan, you MUST do a "first time installation" or "factory reset" scan, not an "add channels". Do the procedure you did on September 30th 2009. If you can't recall what this was, please see List of manuals for Freeview retune, or try the generic clear and rescan procedure.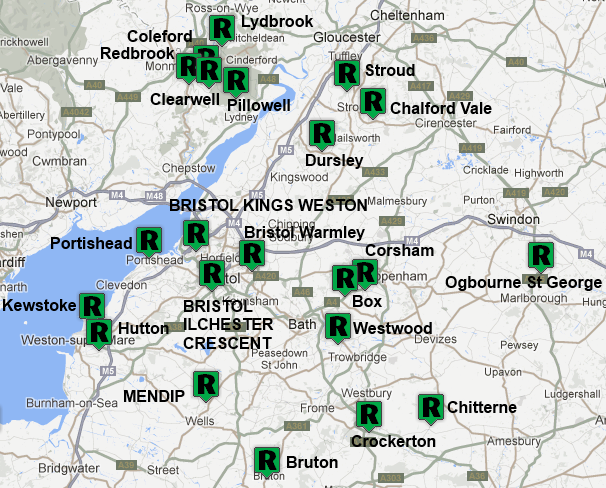 Bampton: PSB1 C49 to C39
Box: PSB2 C50 to C40
Bristol Ilchester Crescent: COM6 C49 to C39+
Bristol Kings Weston: COM6 C60 to C60- PSB2 C50 to C40
Bristol Warmley: PSB3 C49 to C39
Bruton: PSB2 C50 to C40
Chalford Vale: PSB3 C50 to C40
Chilfrome: PSB2 C50 to C40
Chitterne: PSB2 C50 to C40
Clearwell: PSB2 C62- to C50
Coleford: PSB2 C49 to C39
Corsham: PSB1 C50 to C40 PSB1 C50 to C40 5W to 8W
Countisbury: PSB2 C62- to C50
Crewkerne: PSB2 C50 to C40
Crockerton: PSB3 C50 to C40
Culm Valley: PSB2 C49 to C39
Dursley: PSB2 C50 to C40
Hutton: PSB2 C62- to C50
Kewstoke: PSB2 C50 to C40
Kilve: PSB2 C62- to C50
Lydbrook: PSB2 C50 to C40
Mendip: PSB1 C61 to C49
Monksilver: PSB1 C50 to C40
Ogbourne St George: PSB2 C50 to C40
Pillowell: PSB2 C50 to C40 PSB2 C50 to C40
Portishead: PSB2 C62- to C50
Redbrook: PSB3 C49 to C39
Stroud: PSB1 C50 to C40
Washford: PSB2 C62- to C50
Westwood: PSB2 C50 to C40
Woodcombe: PSB2 C62- to C50

Now changing on 5th June 2013

Beaminster: PSB1 C62- to C50 3.8W to 15W PSB2 3.8W to 15W PSB3 3.8W to 15W
Beer: PSB1 C62- to C50 3W to 4.8W PSB2 3W to 4.8W PSB3 3W to 4.8W
Bincombe Hill: PSB1 C62- to C50
Crediton: PSB3 C50 to C40
Dawlish: PSB1 C62- to C48 PSB2 C59 to C52
Pennsylvania: PSB2 C61 to C56
Preston: PSB1 C61 to C52
Rampisham: PSB3 C50 to C40
Comments
Sunday, 7 April 2013
R
Richard Tonkin
9:28 PM
Caldicot

Having had a good look at my Mendip aerial and googled around on the net I think that my problem may be the aerial itself. It has 8 shallow Xs on the main part and six horizontal bars on the angled reflector at the back, three on the top bit and three on the bottom. My guess is that as it was installed pre-digital and I'm assuming it is a C/D group aerial then at the freqency for channel 49 its response is dropping off (signal strength is 49 and quaility is 10%)compared with that when the BBC was on 61 before March 27th. It still seems to be good enough for ITV which is on channel 54 even though the signal strength for that is 54.
I would welcome comments from the resident experts regarding a better aerial. I will also contact the gentlemen who set up the aerials originally as he's very good and has a lot of local knowledge.

Richard Tonkin's 6 posts
Richard's:
map
R's Freeview map
terrain
R's terrain plot
waves
R's frequency data
R's Freeview Detailed Coverage

Richard Tonkin: If you are thinking on changing your aerial then you do not really have many options except to go for a group E aerial which spans from 35 - 68, Mendips span being 48 - 58 therefore the group E aerial allowing a good safety margin at either end of the band.

However, as you appear to be located in an area of reasonably good line of sight (in the RF sense) to the transmitter then I would just fit something like a Log 40 as that should be perfectly adequate for your requirements.

jb38's 7,179 posts
Monday, 15 April 2013

I agree with jb38, on site diagnosis is always best - just not always possible.
Those thinking there is any difference between a group C/D aerial for analogue TV signals and for digital TV signals has been misinformed, the signals are all UHF RF and the only difference is the modulation format and that doesn't alter the design requirements for the aerial. The key criteria are primarily about frequency range, gain and directivity as well as ability to reject any 'back/side lobe' reception. It is a sad fact that some of the 'less expensive' aerials have poor performance towards the extremities of the designed reception band, so some group C/D aerials may not perform as well in the Ch48/9 part as they do in the Ch61 part. Hence it may be worth having the aerial changed to a Group E so ensuring you get good coverage for the reasonable future - unless the 'powers that be' decide to make even more changes as has been rumoured.
Further information at http://www.bbc.co.uk/rece….pdf It also gives the colour codes for the different groups, E=brown, C/D=green (it gives all the others as well).
The aerial described by Richard Tonkin is a typical X-fire pattern commonly used for the modified Yagi pattern aerial needed.

MikeP_UK's 3,056 posts
Thursday, 18 April 2013

i am a retired aerial installer, so i still have my customers, can you tell me when the mendip transmiter wil be completed with updates only my customers who cannot retune themselves . which means a fair milage to retune for them ive been twice now 40miles away to retune so can you give me any idea of completion
colin needs

colin needs's 1 post

colin needs: Changes to the Mendip transmitter with regard to the frequencies of the existing muxes are complete for the near future. It is possible that two additional temporary muxes could come on air , possibly later this year. This would not affect the existing services. The next possible change might be about 2018 when more frequencies could be under threat of being given over to 4G/5G! This would entail frequency changes for some or all services at Mendip.

KMJ,Derby's 1,811 posts
Select more comments
Your comment please