Mendip, Bristol and relay transmitters - retune require on 27th March 2013

Brian Butterworth published on UK Free TV
At 6am on 27th March 2013, several multiplexes will change their transmission frequencies.

Notably the main transmitters will make changes. This includes the Mendip transmitter, where the BBCA multiplex (including 1 BBC One West, 2 BBC Two England, 7 BBC Three, 9 BBC Four, 70 CBBC Channel, 71 CBeebies, 80 BBC News, 81 BBC Parliament) will move from C61 to C49.

Also changing is Bristol Kings Weston where the D3+4 multiplex (3 ITV (West), 4 Channel 4 South ads, 5 Channel 5 Part Network ads, 6 ITV 2, 13 Channel 4+1 South ads, 14 More 4, 28 E4, 33 ITV +1 (West)) will move from C50 to C40, and Bristol Ilchester Crescent where ArqivaB (15 Film 4, 18 4Music, 19 Yesterday, 21 VIVA, 24 ITV 4, 41 Sky Sports 1 (not free), 42 Sky Sports 2 (not free), 47 4seven, 83 Al Jazeera English, 85 Russia Today English,) moves from C49 to C39+.

See below for a full list of transmission masts that will make changes.

When you now rescan, you MUST do a "first time installation" or "factory reset" scan, not an "add channels". Do the procedure you did on September 30th 2009. If you can't recall what this was, please see List of manuals for Freeview retune, or try the generic clear and rescan procedure.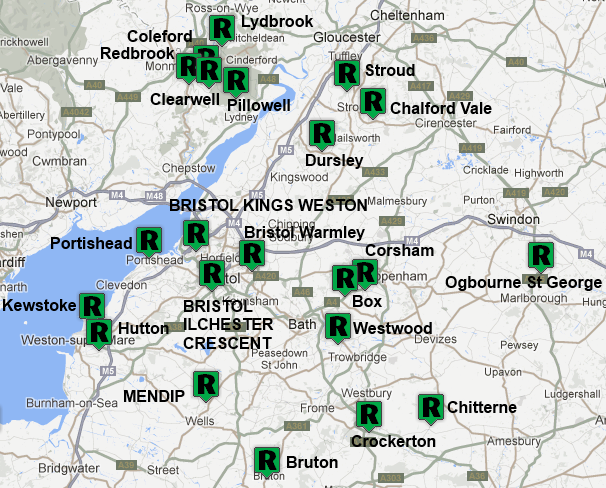 Bampton: PSB1 C49 to C39
Box: PSB2 C50 to C40
Bristol Ilchester Crescent: COM6 C49 to C39+
Bristol Kings Weston: COM6 C60 to C60- PSB2 C50 to C40
Bristol Warmley: PSB3 C49 to C39
Bruton: PSB2 C50 to C40
Chalford Vale: PSB3 C50 to C40
Chilfrome: PSB2 C50 to C40
Chitterne: PSB2 C50 to C40
Clearwell: PSB2 C62- to C50
Coleford: PSB2 C49 to C39
Corsham: PSB1 C50 to C40 PSB1 C50 to C40 5W to 8W
Countisbury: PSB2 C62- to C50
Crewkerne: PSB2 C50 to C40
Crockerton: PSB3 C50 to C40
Culm Valley: PSB2 C49 to C39
Dursley: PSB2 C50 to C40
Hutton: PSB2 C62- to C50
Kewstoke: PSB2 C50 to C40
Kilve: PSB2 C62- to C50
Lydbrook: PSB2 C50 to C40
Mendip: PSB1 C61 to C49
Monksilver: PSB1 C50 to C40
Ogbourne St George: PSB2 C50 to C40
Pillowell: PSB2 C50 to C40 PSB2 C50 to C40
Portishead: PSB2 C62- to C50
Redbrook: PSB3 C49 to C39
Stroud: PSB1 C50 to C40
Washford: PSB2 C62- to C50
Westwood: PSB2 C50 to C40
Woodcombe: PSB2 C62- to C50

Now changing on 5th June 2013

Beaminster: PSB1 C62- to C50 3.8W to 15W PSB2 3.8W to 15W PSB3 3.8W to 15W
Beer: PSB1 C62- to C50 3W to 4.8W PSB2 3W to 4.8W PSB3 3W to 4.8W
Bincombe Hill: PSB1 C62- to C50
Crediton: PSB3 C50 to C40
Dawlish: PSB1 C62- to C48 PSB2 C59 to C52
Pennsylvania: PSB2 C61 to C56
Preston: PSB1 C61 to C52
Rampisham: PSB3 C50 to C40
Comments
Sunday, 31 March 2013

just to mention not only can i not get the channels on my tv i am also paying bt vision for there services and i can only recieve between 18 and 50 channels i had 120 before i retuned so will ring bt in the morning to cancel a service i pay for and cant receive

w palmer's 2 posts
Monday, 1 April 2013
J
JANE OSBORN
7:06 PM
Marlborough

j OSBORN

I am in Burbage, Wiltshire. Close to MARLBOROUGH, PEWSEY OR HUNGERFORD in Berkshire. not sure where our transmitter is.Since 27th our bbc channels have been bad. we always had problems with certain channels such as itv3 and itv 4 etc but never bbc1 or bbc2. We have retuned several times and reset to factory settings too. Do not want to have to buy sky to get reception. please can you help us.

JANE OSBORN's 1 post
JANE's:
map
J's Freeview map
terrain
J's terrain plot
waves
J's frequency data
J's Freeview Detailed Coverage

JANE OSBORN: Go to a BBC channel, then check either the signal strength screen or the manual retune option in the menu to see what UHF channel comes up. It should be UHF 49 if you are picking it up from Mendip, UHF 45 from Hannington (the latter would give a poorer signal).

Michael's 358 posts

JANE OSBORN: It is worth ensuring that your receiver(s) is/are tuned to the transmitter to which the aerial faces.

It would appear, based on Google Streetview photos that Mendip, which is is a westerly direction, is what is mainly used in your area. However, Hannington may be possible and it is in the opposite direction. Therefore, you could perhaps be picking up Hannington off the back of your aerial and if so, it is this which needs correcting.

The only thing I will say, as far as Mendip goes, is that we've had a lot of reports of poor or non-existant reception of BBC standard definition services since the change on 27 March, these particularly, although not exclusively, emanating from viewers on the south-west side of the transmitter.

Observe the tuned UHF channel number on the signal strength screen whilst on the following:

PSB1 | BBC One | Mendip=C49 | Hannington=C45
PSB2 | ITV | Mendip=C54 | Hannington=C42
PSB3 | BBC One HD | Mendip=C58 | Hannington=C39
COM4 | ITV3 | Mendip=C48 | Hannington=C41
COM5 | Pick TV | Mendip=C56 | Hannington=C44
COM6 | Yesterday | Mendip=C52 | Hannington=C47

It could, perhaps, have picked up Hannington because it was found first during the scan. Rectification may come in the form of manual tuning, or unplug the aerial for the first 55% of the scan. The latter solution may be tricky considering that Hannington's highest channel is 47 and Mendip's lowest is 48. If you have manual tuning then you may be able to add any missing ones from Mendip that way.

Dave Lindsay's 5,724 posts

We're having problems receiving the BBCA multiplex from Mendip on C49 here in Bradley Stoke as well. Signal level is unchanged (c90%) but quality has dropped to <30% on C49 compared to >80% on C61. Reading are based on the output of my TBS6284 PCIe card's drivers - YMMV.

I've tried bypassing the masthead amp/splitter (no change) and also changing the gain. Lowering the gain didn't help and increasing it just made things worse! In my mind, this points to some level of interference on C49.

I can get a reliable picture on one freeview box and several PCIe TV tuners, but not on others. Presumably because they have better quality RF stages / more sensitive tuners.

No problems with the SDN mux on C48.

Craig's 1 post
Tuesday, 2 April 2013

bristol - loss of bbc itv3 channels 5* and 5usa
why is this problem not being addressed?
it is clear that there are a lot of people affected, yet there appears to be no way of contacting anyone who can do anything about it.

who should one contact and how?

these channels have been out for almost a week now.

we need some answers please.

Fiona's 7 posts

Fiona: Reception is not the broadcasters' responsibility; it is the viewer's responsibility.

Dave Lindsay's 5,724 posts

sorry - i don't understand...
everything worked fine... then they move stuff to 48 and 49 and then it doesn't work...
the other channels come through fine - same mast difft channels?
what can i do if the signals on 48 and 49 are too weak?

all suggestions welcome

Fiona's 7 posts
Mr E Dinnis
2:30 PM
Taunton

I live one mile from Tqaunton centre and for last week B B C ONE regional news is showing SPOTLIGHT instead of the usual Points west on my SONY. My second Tv upstairs on same aerial a Panasonic gets Points west. Tried reasetting but still comes back SPOTLIGHT ???????

Mr E Dinnis's 1 post
Mr's:
map
M's Freeview map
terrain
M's terrain plot
waves
M's frequency data
M's Freeview Detailed Coverage

Mr E Dinnis: The reason is likely to be that the Sony has decided to tune to Stockland Hill transmitter, for BBC standard definition TV and radio services, at least.

The reason I say this is because Stockland carries BBC South West whose regional news programme is Spotlight.

The Stockland transmitter uses low frequencies which are within the first third of the scan. Have the aerial lead out for the first 50% of the scan.

Dave Lindsay's 5,724 posts
Select more comments
Your comment please