Freeview round up - BBC HD, Local TV, Al Jazeera HD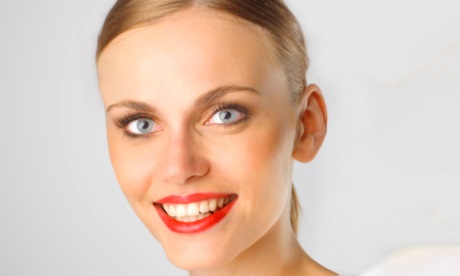 Brian Butterworth
published on
UK Free TV
As the "com7" multiplex is alive on the Crystal Palace transmitter, viewers in London now see this exciting screen if they choose 74, 106 or 107.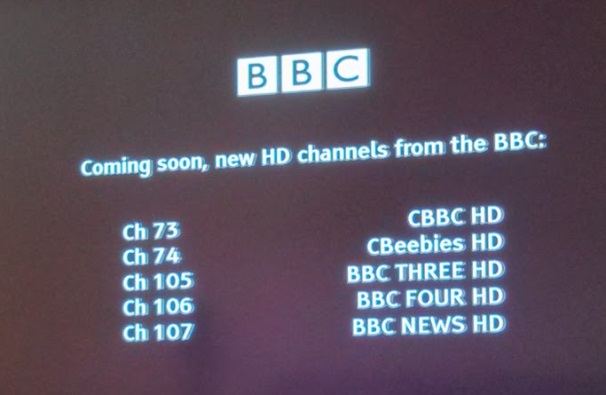 The same multiplex is also broadcasting Al Jazeera in high defintion in HD.

Another "new" feature is Freeview is now showing a short region code on standard definition BBC ONE

And, congratulations to The York Channel and Made in Teesside, who have won their local TV licences.
Comments
Friday, 20 December 2013

The quality of signal you may have noticed Rob is a little lower at this time at around 6 maybe Dave can confirm ?

NICK ADSL UK's 38 posts
Saturday, 21 December 2013
M
Martin L
1:08 PM
Somerton

Mendip transmitter: I have just retuned my HD TV and Humax box, trying to add new HD channels. The TV (with built in HD tuner) has successfully added the new HD channels, like BBC 3 HD on 105, BBC News HD on 107, etc., but the Humax (twin HD tuners) now won't load any HD channels at all. The Humax can't find any transmissions on Channel 58, which I think covers all the HD outputs in this area. Any ideas on this problem, pleas?

Martin L's 4 posts
Martin's:
map
M's Freeview map
terrain
M's terrain plot
waves
M's frequency data
M's Freeview Detailed Coverage

Martin L: BBC Three HD and CBBC HD are carried on the existing HD multiplex which carries BBC One HD, BBC Two HD, ITV HD and Channel 4 HD. Thus, it is available from all transmitters now.

BBC News HD and BBC Four HD are available only from a few select transmitters and not all transmitters which will carry them do so now. Mendip's new HD mux won't come on air until some time next year (date not published by Digital UK).

I imagine that your TV has tuned in the new mux from Wenvoe, which is on air now. This is the best you can hope for until the Mendip one starts.

On the manual tune screen of the Humax, where you select 58, you need to select DVB-T2 rather than DVB-T.

The new mux from Wenvoe is on C31. You should be able to confirm that your TV is tuned to this by viewing the signal strength screen whilst on BBC News HD.

Dave Lindsay's 5,724 posts
M
Martin L
1:55 PM
Somerton

Martin L: Many thanks Dave for your super-quick reply. I'll follow your advice to hopefully get current HD transmissions back on the Humax. I'll then leave further retunes until I'm sure Mendip is putting the new mux transmissions out.

Martin L's 4 posts
Martin's:
map
M's Freeview map
terrain
M's terrain plot
waves
M's frequency data
M's Freeview Detailed Coverage
Sunday, 22 December 2013
M
Mark Holdsworth
4:54 PM
Dursley

Why aren't all channels in HD. If its bandwidth you can always cut out the plus 1 channels?

Mark Holdsworth's 1 post
Mark's:
map
M's Freeview map
terrain
M's terrain plot
waves
M's frequency data
M's Freeview Detailed Coverage

Mark Holdsworth:

Many people rely on the PLUS 1, you cannot simply get rid of them to please the minority, they need to be seen to accommodate the majorities needs.

jamie stevens's 207 posts
jamie's:
map
J's Freeview map
terrain
J's terrain plot
waves
J's frequency data
J's Freeview Detailed Coverage

My human had picked up all of the new BBC HD channels but for some reasons it won't pick up BBC 4 HD from Winter Hill
I have tried the box of at the mains and winter hill looks to be transmitting
Any ideas please?
Thanks

Adrian's 3 posts
Friday, 27 December 2013

TV 3D HD Phillips built-in Freeview but the connected aerial is currently pointed to a local booster station. How do I get and know I am getting Freeview HD on my Phillips TV?
The main regional station is Winter Hill and I can get good occasionally variable reception on high placed Freeview add-on boxes which are connected to other portable TV's.

Toni B's 20 posts

Toni B: How do you know if you are getting an HD channel? Go to channels 101-105...

Michael's 358 posts

Toni B: Should you be referring to your Philips 42PFL7606H/12 then this model is unable to receive HD signals as its only fitted with a DVB-T tuner, HD reception requiring DVB-T2.

However, if you are referring to another model, or alternatively a Freeview HD box connected into your Philips via an HDMI lead, then Bacup's HD service transmits on mux C40, Haslingden C29 and with Winter Hill being on C54, and so if the EPG numbers mentioned by Michael are missing from the programme guide then try a manual tune on the HD mux channel number appropriate to your area, which on checking your previous postings would suggest that you are located extremely close to the Bacup 50 watts relay and which if using a roof mounted aerial could possibly cause problems with HD reception due to an excessively high signal level swamping the tuner, this obviously not applying to the bare Philips DVB-T model referred to.


jb38's 7,179 posts
Select more comments
Your comment please