Freeview reception - all about aerials

Brian Butterworth published on UK Free TV
Updated 8th January 2014.


Your ability of receive all the Freeview transmissions depends on the suitability of aerial
the design style,
the "group", and
its physical location.
Standard type - Yagi aerial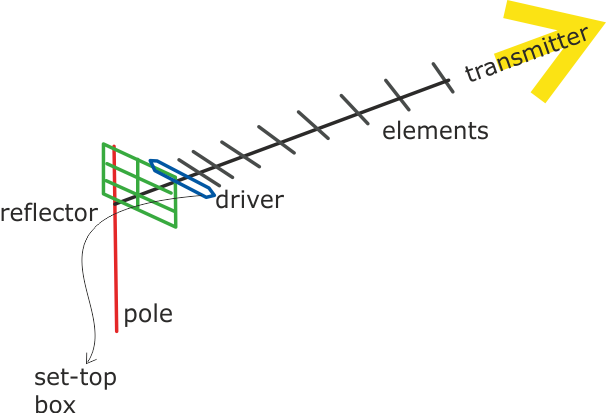 The
standard
type of TV aerial is known as the Yagi aerial. It is mounted on a pole, and consists of a rod with a reflector (shown green) at the back and many spiky elements (in grey) at the front. The connecting
cable
connects to the element nearest the reflector, known as the driver (shown in blue).
These Yagi aerials are directional and so pick up signals best from a
transmitter
that the rod points towards. The more elements the aerial has, the better it picks up a
signal
and becomes more directional.
A standard-type aerial is all that is required for
digital
TV
reception
in most places. These antennae have between 10 and 18 elements and a single reflector. These are recommended for new installations for good digital television reception, but will more often than not function perfectly in good reception areas.
Typically these aerials are designed to receive only some transmission frequencies - see "groups" below.
High Gain aerials

These aerials are designed for poor digital reception areas, and have two reflectors. For maximum signal strength, some digital high
gain
aerials have up to 100 elements. Since the
switchover
to digital-only transmissions back in October 2012, most UK households now have good
quality
digital TV signals.
A more expensive aerial is only required where the signal strength is low, but can often provide the whole Freeview reception where it might otherwise be impossible.
The CAI (that represents aerial installers) has four standards for digital TV aerials. The highest standard "1" is for homes on the fringes of coverage areas, intermediate standard "2" is suitable for use within the coverage area; minimum standard "3" is for good coverage conditions.
These aerials can be either
wideband
, or receive only selected frequencies - see "groups" below.
Grid

You may haved used a 'Grid aerial' for
analogue
reception, but as they are generally unsuitable for Freeview reception, they have now generally been replaced by the Yagi type. However in some places a Grid aerial installation may work for Freeview: otherwise replace with a standard Yagi aerial.
Indoor
Indoor aerials
are generally not suitable for Freeview reception. In areas of good signal strength it is often possible to receive some transmissions. Even where an aerial works, people often find that may get interruptions to their viewing (or recording).
Loft mounted
Loft
mounted arrivals are not generally recommended for Freeview reception, as the
roof
tiles and plumbing will degrade the signal. Some compensation for this loss of signal can be made by using
satellite
-grade cable to connect the set top box to the aerial.
Positioning
The best position for a TV aerial is mounted outdoors, as high from the ground as possible, pointing directly at the transmitter. The signal can be blocked by hills and tall buildings. It should be positioned away from any other aerials.
Horizontal or vertical?
The transmitter will either use vertical
mode
which requires the elements of your aerial to be up-down, or horizontal mode which requires them to be level with the ground.
Groups
Both analogue and digital television is transmitted the same group of transmission frequencies (known as
channel
21 through to 60). A coloured marking on the aerial shows the group.

To create the best possible analogue
picture
, TV transmissions from adjacent transmitters have been designated to several different groups of frequencies. By using an aerial that receives only the
channels
in the correct group, the analogue picture can be kept free from
interference
.
To receive Freeview transmissions from the same transmitter it has been sometimes necessary to use frequencies that are not part of the transmitter's normal group. When this has occurred, the aerial will need to be replaced with a "wideband" aerial (also known as group W) - one that covers every group.
As
Ofcom
is planning to move the TV frequencies again - perhaps as soon as 2018 - it may be wise to use a wideband aerial if you can to ensure you can keep viewing Freeview for many years to come.
Comments
Monday, 7 January 2013

Hello Brian.
I note you say Grid aerials are unsuitable for digital but this isn`t the case, they`re perfectly suitable for digital, though it is fair to say that they were originally popular due to their alleged anti-ghost properties. Of course digital pictures don`t exhibit ghosting, but that`s not to say that reducing multi path is necessarily a bad thing even for digital. More details on Grid aerials here :
Aerials, TV Aerial and Digital Aerial

Justin Smith's 41 posts
Tuesday, 8 January 2013

Can you tell me when I will be able to receive more than just the standard Freeview channels.
I live in Chapel En Le Frith in the High Peak and I have a new TV aerial installed outside of my property pointing at the Ladder Hill transmitter.

Ian Fenton's 1 post

Ian Fenton: With your aerial directed to Ladder Hill, never. This is because the Commercial networks which are those that don't broadcast from Ladder Hill don't consider it worth the investment:

Londonderry transmitter (page 2) | ukfree.tv - 10 years of independent, free digital TV advice

The only thing you can do is investigate whether you might be able to receive the full complement of channels directly from Winter Hill.

Earlier today there was a posting from someone in Bagshawe Avenue who has sucessfully switched to using Winter Hill:

Ladder Hill (Derbyshire, England) transmitter | ukfree.tv - 10 years of independent, free digital TV advice

It is important to point out that in terrains such as yours where there is no line of sight, what can and what can't be received can vary over short distances.

Dave Lindsay's 5,724 posts

Hello, after weeks of intermittment freeview we now have a digial booster. some improvement - ie channel from about 18 - 800 but nothing "normal" ie BBC1 ITV etc.

Is it likely to be the arial. Thanks!

Ang's 1 post
Friday, 18 January 2013

Hello, I would appreciate it if you could give me some advice please.

I live in Snettisham in North Norfolk and my aerial is a grade 3 ( I beleive ) and is directed towards The Waltham transmitter.

However, I find the ITV1 transmitter quality is quite often very poor ( and also the other channels ( Programs ) on the same Mux ).

Is there any mileage in redirecting my aerial towards Tacolneston or Sandy and also perhaps upgrading it to grade 2 or 1?

Thanks for your attention.

Gordon Elliott

Gordon Elliott's 9 posts

Hello again,

Sorry , a correction to my last query.

I actually have a grade 2 aerial

Regards

Gordon Elliott

Gordon Elliott's 9 posts

Gordon Elliott: If you aren't bothered which regional programming you get then Belmont might generally be your best bet.

If you want East Anglia programming, then use the King's Lynn transmitter which relays Tacolneston, which is in the grounds of Sandringham. This carries only PSB channels.

To receive the COMs you will probably need two Belmont aerials and two diplexers to combine feeds.

Dave Lindsay's 5,724 posts
Saturday, 19 January 2013

Many thanks Dave Lindsay for the reply.

I can actually receive Belmont, but I do rather like to get the Regional ITV ( Anglia ) which is the culprit giving me problems.(Unbelievable really, I live in East Anglia but cannot get reliable reception from it. )

Interesting about the Kings Lynn transmitter as Sandringhan is only 3 miles down the road, but all of the rooftop aerials in this vicinity point towards Waltham (????). I shall have to investigate further.

So, to clarify matters for me, if I have two Freeview aerials, one for Kings Lynn and one for Belmont, I can connect these two together via a diplexer after the masthead amplifiers. I could then receive PSB from Tacolneston and COMs from Belmont with a better degree of reliability than at present?

Is there any mileage in just upgrading my present aerial? It is just the quality of the signal that is poor.

Best regards

Gordon Elliott

Gordon Elliott's 9 posts

Gordon Elliott: Waltham broadcasts ITV Central (East) and BBC East Midlands so I am a little puzzled. If you are watching ITV Anglia with your aerial directed to Waltham then you must be receiving it off-beam which explains the poor signal.

Go to ITV and bring up the signal strength screen. It should tell you which UHF channel it is tuned to, which will allow you to identify whether you are tuned to Waltham or not.

Waltham is C54, King's Lynn is C46 and Tacolneston is C59.

Due to the terrain the north of Norfolk, along The Wash, does not get good reception of Tacolneston which is why there are dotted relays. However, there is quite good reception of Belmont, probably due to the flat Lincolnshire terrain.

In the days of four-channel analogue, King's Lynn relayed BBC One and ITV1 only. This was, so the powers that be said, the "correct" region for Belmont viewers. What it meant in practice is that two aerials were required: Belmont for BBC Two and Channel 4 and King's Lynn for BBC One and ITV1.

Following the switchover, King's Lynn carries all PSB (Public Service Broadcaster) channels. However, like over 1,000 similar small relays, it doesn't carry the COMs. So viewers may still wish to use the multiple aerial approach.

However, and here comes the but, it isn't as simple as in the days of analogue.

For a two-aerial diplexer you need to decide which channel to "split" at:

Online TV Splitters, Amps & Diplexers sales

ITV and C4 from Belmont were 28 and 32 and King's Lynn was 39 and 52 hence a diplexer that split and 36 would work.

Unfortunately the COM channels from Belmont or 30, 53 and 60 which is why I said in an earlier posting that two Belmont aerials would be needed and two diplexers, unless you do without C30.

Today, King's Lynn uses 43, 46 and 49. Use two aerials and a C38 diplexer and a C51 diplexer.

Feed the Belmont (53 and 60) aerial into the C51 diplexer (>C51 input) and the King's Lynn aerial into the other input. Then feed the output of that diplexer into the >38 input of the other diplexer and the other Belmont aerial into the other input of that diplexer.

I'm not a professional - I do wonder if it might be OK to use a single Belmont aerial with a splitter to give you two Belmont feeds.

There is a warning: if, or maybe when, the powers that be decide the channels are to change again, such as if they decide to sell off more spectrum for 4G mobile, then you "may" have to change it again.

If you're thinking that you can use Waltham's COMs instead, then you will have the same issue as they are 29, 56 and 57. And Sandy Heath's are 48, 51 and 52, so a C51 diplexer will be no good.


One other thing, the EPG data for all services is carried on all channels. This can sometimes cause difficulty for recorders when receiving from two different transmitter groups (presumably where the EPG data isn't shared). However, Digital UK says of King's Lynn "The Kings Lynn transmitter provides additional regional services to viewers of Belmont." which suggests that this might not be an issue.

For that reason, the Belmont/King's Lynn approach would probably be preferred, if the full service from Tacolneston isn't possible. Tacolneston got a taller mast for switchover so its coverage has increased.


For information on aerials, see ATV's site:

Aerials, TV Aerial and Digital Aerial

If you have an amplifier, I would certainly see if turning it down helps.

A higher gain aerial isn't necessarily a solution. There is a trade-off where the greater gain reduces the acceptance angle (narrow "beam"). This is because gain is simply at the expense of greater "loss" in other directions.

With digital reception you need good quality (digits intact). You can make a weak good quality signal bigger with an amplifier. You can't make a poor quality strong signal better.

Thus, if quality of the signal across the narrower angle isn't as good as the average quality of the signal over the wider angle, you will end up with a poorer signal. That is the theory as I understand it - I hope that it helps picture what's going on.

Another question: How well could you receive digital prior to switchover?

Dave Lindsay's 5,724 posts
Sunday, 20 January 2013
G
Gordon Elliott
1:02 PM
King's Lynn

Dear Dave Langley,

Many many thanks for your very detailed reply. It took me some time to work through it all so that I could properly understand it.

The information you gave me to determine which transmitter I was receiving ITV1 on was exceedingly helpful.

It would appear that my ITV1 Anglia signal ( thats what the signal strengh/quality indicator calls it ) is channel 46 ( Kings Lynn ) but I have drawn a straight line using google earth using the direction my aerial is pinting towards and it is definitely pointing towards Waltham. Signal strength is 10, quality about 7 - 8 for ITV1 and no surprise after all.

If I look at another ITV1 channel that the TV autotuner picked up, I can see that it has a signal strength of 10 quality 10 and is channel 54 from Waltham.

My confusion arose because I have a Panasonic TV, which, after it has done a channel scan, then gives me the option of choosing which area I am in.
Of course I say "Anglia" and it sorts the station numbering for Anglia. However, it appears to only selects BBC1 and ITV1 for Anglia.
On looking at each station network name as I check each channel manually, Only BBC1 and ITV1 are on Anglia and everything else in on East Midlands network.

My "as the crow flies" distance from Snettisham to Belmont is not much different to Waltham so it would probably be beneficial to redirect towards Belmont
for the COMS signals ( because sometimes some of the COMS channels are weak also ) and add another aerial directed towards King's Lynn for the PSB channels.
I notice that the polarisation from King's Lynn is vertical as opposed to Belmont which is Horizontal. Would I need a different type of aerial for King's Lynn?

My neighbour opposite actually has a class 1 aerial pointing towards Belmont, ( just the one aerial ) which probably indicates something, so I will have to ask him.

However, if I decide to add another aerial for King's Lynn, could I not use wideband diplexers to join the 2 aerial signals together?

Best regards

Gordon Elliott

Gordon Elliott's 9 posts
Gordon's:
map
G's Freeview map
terrain
G's terrain plot
waves
G's frequency data
G's Freeview Detailed Coverage
Select more comments
Your comment please