Ten more HD channels on two new Freeview HD multiplexes on air from 2014-18

Brian Butterworth published on UK Free TV
Just in case you missed it, in the recently published Securing long term benefits from scarce low frequency spectrum: UHF strategy statemen Ofcom document, footnote 64 is a link to BBC Channel 4 Arqiva - Interim use of 600 MHz for DTT which details "to make efficient use of the empty spectrum Ofcom will need to allocate two Multi-Frequency Networks (MFN) DTT licences to Arqiva".

The proposal suggest that, to allow for the move in 2018 to clear the 700MHz band of television frequencies - for allocation to mobile broadband - that two new DVB-T2 multiplexes are created in the 600MHz band. (see also Ofcom channel bingo II - introducing the bands and More Freeview capacity - COM7, COM8 and COM9 - in the 600MHz band).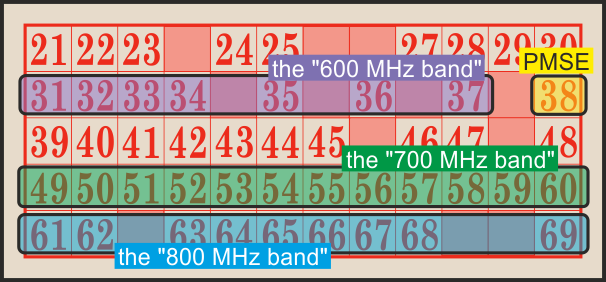 The top 20 transmitter sites in the UK are, in terms of coverage:

Crystal Palace (17%), Winter Hill (10.2%), Sutton Coldfield (7.1%), Emley Moor (5.9%), Black Hill (3.6%), Sandy Heath (3.5%), Waltham (2.9%), Mendip, Belmont, Pontop Pike (all 2.7%), Rowridge (2.4%), Bilsdale (2.2%), Hannington (1.8%), Sudbury, Divis (both 1.7%), Craigkelly, Oxford (both 1.6%), Wenvoe (1.4%), Tacolneston (1.3%) and The Wrekin (just 1.1%).

The proposal states that:

"the BBC Executive plans to simulcast a third BBC television service and potentially the BBC Red Button video service in HD, Channel 4 plans to simulcast at least one, and potentially two, television services on the interim multiplex ... rollout of the 20 sites could complete in 2014"

This would, following the Arqiva strategy set out in Creation of Broadcast Layers 7, 8 and 9 in 600MHz released Spectrum - Arqiva 21 Sept 2011 potentially use the following allocations:


First multiplex
Sudbury -
C31
100kW
Tacolneston - C31 100kW
Crystal Palace -
C33
200kW
Sutton Coldfield - C33 200kW
The Wrekin - C33 20kW
Winter Hill - C31 100kW
Emley Moor -
C32
200kW
Wenvoe - C31 100kW
Waltham - C31 50kW
Mendip - C33 100kW
Rowridge - C31 200kW
Belmont - C33 200kW
Bilsdale - C31 100kW
Black Hill - C32 100kW
Craigkelly - C33 20kW
Divis - C33 100kW
Hannington - C32 50kW
Oxford - C31 100kW
Pontop Pike - C33 100kW
Rowridge - C31 200kW
Sandy Heath - C32 200kW
Second multiplex
Sudbury -
C37
100kW
Tacolneston - C37 100kW
Crystal Palace -
C35
200kW
Sutton Coldfield - C35 200kW
The Wrekin - C35 20kW
Winter Hill - C37 100kW
Emley Moor -
C34
200kW
Wenvoe - C37 100kW
Waltham - C37 50kW
Mendip - C35 100kW
Rowridge - C37 200kW
Belmont - C35 200kW
Bilsdale - C37 100kW
Black Hill - C35 100kW
Craigkelly - C34 20kW
Divis - C34 100kW
Hannington - C34 50kW
Oxford - C37 100kW
Pontop Pike - C34 100kW
Rowridge - C37 200kW
Sandy Heath - C34 200kW
Comments
Tuesday, 27 November 2012

Tf the Wrekin Transmitter really does take the last position of 20,that would actually be a little ironic.
Because at the time of the official on air date
of 22/12/1975,only Main transmitters, Fremont Point,Torosay*,Eitshal and Brougher Mountain were not on air at that time.The Wrekin was 45th of 49 main transmitters according to the IBA to came on air,on UHF.
I do remember that it was difficult for the BBC to obtain planning permission for this site. Fortunately,before,Shropshire was quite well served by either Sutton Coldfield or in places by Winter Hill on UHF,only the county town of
Shrewsbury suffered from very marginal/poor TV reception.
The Wrekin is an excellent site with reception stretching into Cheshire and north-east Wales,across the West Mids,and south of Worcester in places.
But we always say locally that Wrekin is a gloryfied relay of Sutton Coldfield.
*Torosay,upgraded as a relay of Black Hill.

Aerialman's 140 posts
Wednesday, 28 November 2012

Aerialman: It's a question of where people live today that determines which transmitters are regarded as necessary for low-cost coverage.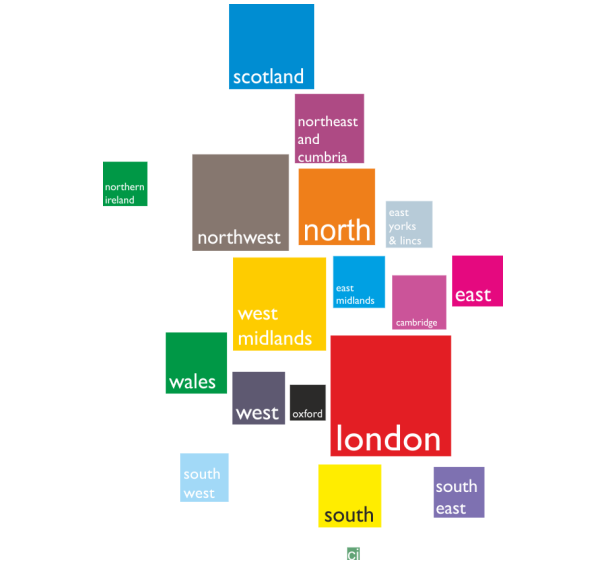 Fremont Point, Torosay and Eitshal might have been "important" when distribution was done "the old way", but if services are delivered to masts via fibre-optic, as they now are, then the network can be configured in different ways.

The 20 sites may be added to, but the two DVB-T2 multiplexes have to be done with BBC budget cuts.


Briantist's 38,908 posts

Briantist,i understand what you are sayying,just delighted that the Wrekin Transmitter is included in the chosen 20.

Aerialman's 140 posts

Aerialman: And I am glad that Belmont transmitter is included in the chosen 20 as well!

Josh's 97 posts

Josh: probably best to point out that the list has not been made official in any way!

Briantist's 38,908 posts
Thursday, 29 November 2012

Another factor is that all high-power sites have to be negotiated with our neighbours, due to the mutual interference. Signals can travel a surprisingly long way, for example Mendip had to be cleared with both Ireland and France.

The question is whether these 20 sites will be subject to a new round of negotiations, or whether the plan is simply to use the allocations we already have. If the latter, it could lead to some very weird results as to who gets what, with some low-coverage transmitters appearing and some high-coverage ones not. There's not even a guarantee that all sites will get both multiplexes.

Checking the sites with two allocations in the 31-37 range in the Geneva 2006 plan, I get this list, in descending order of 6MUX population coverage:

Crystal Palace
Belmont
Bilsdale
Rowridge
The Wrekin
Sudbury
Craigkelly
Divis
Ridge Hill
Lark Stoke/Bromsgrove/The Wrekin (SFN)
Stockland Hill
Caradon Hill
Darvel
Nottingham
Kilvey Hill
Tunbridge Wells
Fenton
Caldbeck
Lancaster
Pendle Forest
Rumster Forest
Hastings
Brougher Mountain
Eitshal
Blaenplwyf
Torosay
Bressay

27 sites, sum of gross 3PSB coverage 17,862,000 households, sum of gross 6MUX coverage 13,361,000 households. Top 20 give PSB coverage of 17,749,000 households and 6MUX of 13,277,000 households. The TV population is usually given as 24.8 million households, so assuming PSB coverage levels (which they should be, as the band is clear!) you get 71% population coverage, or 53.5% for 6MUX coverage levels.

Those with one allocation:

Sutton Coldfield
Emley Moor
Black Hill
Mendip
Sandy Heath
Waltham
Wenvoe
Moel Y Parc
Sheffield
Durris
Chatton
Whitehawk Hill
Redruth
Storeton
Guildford
Chesterfield
Saddleworth
Presely
Knockmore

Many other sites have additional unused allocations outside this band - we negotiated 8 'layers' per site for mainland UK and Northern Ireland. In many cases those allocations have had to go to neighbouring sites, where a site wouldn't have had six multiplexes after the 800 MHz allocations were removed, or have had relays carved out of them. Still, there *could* be scope for putting one of the multiplexes somewhere else, or borrowing a neighbouring allocation *from* a high-power relay that isn't one of the 6MUX sites (though it would inevitably be at lower power, to stay within the envelope of the original allocation). For a concrete example of that, see how Sheffield has borrowed C39 from Emley Moor.

There are of course massive omissions from this plan, particularly Winter Hill, Sutton Coldfield, Emley Moor and Black Hill. Some negotiation is likely to be required!

Mike Dimmick's 2,486 posts

And Huntshaw Cross and relays??? Surely, we could clock up a few more viewing peasants if required for eligibility... If 600MHz wins the day, many nationwide with no 28°E option will require their drooping, corroded C/D yagi to be replaced with a wideband log- periodic. Good news for the trade, less so for the inflation and tax-depleted wallet. Can't wait for ever more HD shopping channels!
Cynical, who, me?


michael's 869 posts
Monday, 3 December 2012

we can't provide a reliable service now so lets just impress everyone with what we might do in 2 years time and hope they dont notice how poor it is already

andrew's 2 posts
Tuesday, 4 December 2012

Surely they can't find more garbage to fill yet more channels? I really am more interested in program-content quality than watching shopping channels, house-flogging and porn in extremely fine screen detail with 20 minutes of adverts every hour. I think the BBC does a great job and would rather pay a higher licence fee than subsidize the big M's barrel scraping any day - and I really don't want local TV channels to give me on-the-spot reports of Mrs Pepperpot's drain blockage at no.56 down the road. I've got local radio stations I can avoid listening to for that purpose. Let's provide quality programming to everybody first and then think about opening it out to all the garbage.

Dave Sanity's 1 post
Thursday, 6 December 2012

I'm almost sorry now I bought a 'FREESAT' TV The news about 'FREEVIEW' seems more exciting and in N.Ireland with an HD Freeview
Box I can get RTE Channels . I know I get more channels on Freesat but I cannot record them from my TV !!!

PS Must be HD to get RTE
John

John's 7 posts
Select more comments
Your comment please