To join, leave or change ukfree.tv updates by email, enter your email address here:
Ofcom consults about Freeview HD two-multiplex upgrade plan in the 600MHz band

Brian Butterworth published on UK Free TV
As we covered back on 25th November 2012 Ten more HD channels on two new Freeview HD multiplexes on air from 2014-18 - Freeview news - there is plan to provide until the end of 2018 two more Freeview HD multiplexes.

The following sites will be upgraded to have two new DVB-T2/MPEG4 high definition services.

The sites that will get the services will be:

10 site plan (44.1% coverage): Crystal Palace, Winter Hill, Sutton Coldfield, Craigkelly, Black Hill, Divis, Pontop Pike, Rowridge, Wenvoe and Bilsdale.

20 site plan (61.8% coverage): above plus Waltham, Hannington, Belmont, Oxford, Tacolneston, Ridge Hill, Emley Moor, Mendip, Sandy Heath and Durris.

30 site plan (65.7% coverage): above plus Angus, Bluebell Hill, Sheffield, Moel-y-Parc, Caldbeck, Caradon Hill, Beacon Hill, Darvel, Fenton and Fenham.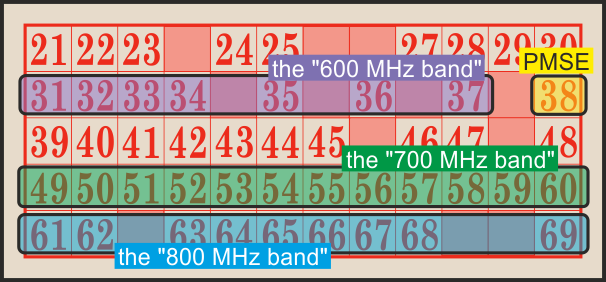 The allocations of frequcneis are:


Sutton Coldfield C33, C35 One just outside, One in group
Craigkelly C33, C34 In group
Black Hill C32, C35 One just outside, One in group
Divis C33, C34 In group
Pontop Pike C33, C34 Out of group
Rowridge HP C31, C37 In group
Wenvoe C31, C37 One just outside, One in group
Bilsdale C31, C37 In group
Waltham C31, C37 Outside with others
Hannington C32, C34 Just outside
Belmont C33, C35 In group
Oxford C31, C37 Out of group
Tacolneston C31, C37 Out of group
Ridge Hill C32, C34 In group
Emley Moor C32, C34 Just outside
Mendip C33, C35 Out of group
Sandy Heath C32, C34 In group
Durris C32, C35 In group
Angus C31, C37 Out of group
Bluebell Hill C32, C34 Just outside
Sheffield C31, C37 In group
Moel-y-Parc C32, C34 Just outside
Caldbeck C32, C35 In group
Caradon Hill C31, C37 In group
Beacon Hill C33, C34 Outside with others
Darvel C31, C37 In group
Fenton C32, C34 In group
Fenham C31, C37 In group
See also
Ofcom - Award of the 600 MHz spectrum band - Including request to stakeholders to notify intention to apply
Comments
Tuesday, 12 February 2013

Dave, KMJ: Channel 5 withdrew due to "financial constraints". It is widely believed that those financial constraints include some incentive from Sky for the channel to remain exclusive to pay services. That may be as simple as Sky paying the carriage costs on satellite, since the satellite transponder is shared with Sky Sports News HD and ESPN America HD. It may be that Channel 5 thought they could renegotiate this contract or break it early, but found that the compensation to Sky was too high to be covered by the expected ad revenue from Freeview. Which, to be honest, is unlikely to be substantially greater than the current revenue, as many viewers will simply switch from watching C5 in SD to watching it in HD.

On top of that, Channel 5 SD services have regional advertising - there are five versions of Channel 5 SD on satellite for this reason.

If Channel 5 wanted the HD service to go free-to-air on satellite, they would first have to lease a transponder, or space on a transponder, that uses the UK spot beam (although the current transponder is on the Astra 1N satellite, it uses the pan-European beam). Channel 4 and the BBC have spare capacity on the transponders they use for their HD services at present.

That's not a pre-requisite for going on Freeview, of course: as others have said, the UKTV stable are on Freeview without subscription, but require a subscription on other platforms.

Mike Dimmick's 2,486 posts
Platinum
Saturday, 9 March 2013

I'm curious to know why the band-plan graphic above has gaps and why there is no channel 26 at all!

Even if the frequency ranges covered by the gaps are currently assigned to other services for the foreseeable future, surely it would have made sense to use a contiguous sequential numbering system across the entire band.

Where is that elusive channel 26?

Also, when new frequencies are allocated to DVB-T2, will set-top-boxes and TVs automatically recognise them or will we be looking at hardware upgrades?

Félim Doyle's 18 posts
Félim's:
Freeview map
terrain plot
frequency data
R&TI Service
digitaluk trade
DAB coverage
Select more comments
Your comment please