On the tenth day of Christmas Auntie brought to me ... five more HD channels

Brian Butterworth
published on
UK Free TV
It would seem the BBC are going to have five HD channels for many UK homes in plenty of time for Christmas.

Here is the evidence. First, YouView is listing the channels from 7am/7pm on 10 December 2013.




And if you look into space, you can see the channels lined on satellite too.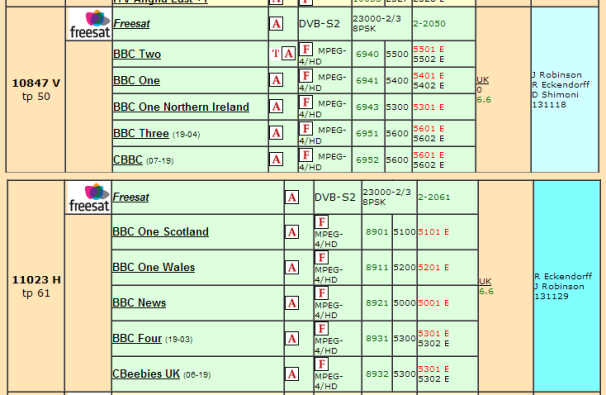 Remember that for Freeview HD viewers, you need to use the Crystal Palace (London), Belmont (Lincolnshire), Black Hill (Central Scotland), Emley Moor (West and South Yorkshire) and Winter Hill (Greater Manchester) transmitters to get BBC FOUR HD, CBeebies HD and BBC News HD.

UPDATE 9/12/13

The channel numbers are:



Sky HD subscribers will get the HD channels on the "usual" channel numbers: CBBCHD on 613 , CBeebies HD on 614 , BBC Three HD on 115 and BBC Four HD 116. (Virgin will get CBBCHD on 710, CBeebies HD on 711, BBC Three HD on 163, BBC Four HD 164 and BBC News HD 604).

See BBC - Blogs - About the BBC - CBBC HD, CBeebies HD, BBC Three HD, BBC Four HD & BBC News HD launch Tuesday 10 December 2013 for more.
Comments
Wednesday, 4 December 2013

Also... good to note the return of BBC digital radio to Scotland Freeview in the evening.

BBC - Blogs - About the BBC - The return of five radio stations in the evenings on Freeview in Scotland

"For those wondering where the capacity has come from, our Red Button text service is running in less capacity now than in 2011 thanks to an increase in efficiency and were reducing the audio bit rate of our TV channels from 256kbit/s to 192kbit/s on Freeview in Scotland; 192kbit/s is on a par with other public service broadcasters main channels."

Briantist's 38,908 posts

Briantist: Well they've changed the radio stations but haven't reduced the audio bit rates on the TV channels yet.

"Angusmast"'s 5 posts

"Angusmast": According to the post they only reduce them when BBC Alba is broadcasting.

Briantist's 38,908 posts

Briantist: I checked with my DVB dongle last night after 6pm. I'll let you know if they change.

Angusmast's 5 posts

Angusmast: OK, I look forward to hearing the details.

Briantist's 38,908 posts

I Have CBBCHD in the EIT listings from Wenvoe from Dec 10th So you can probably add that to the transmitter list.

Tim's 8 posts

Tim: CBBC hd and BBC Three hd are on all UK transmitters. The other three are limited to those listed.

Briantist's 38,908 posts

Briantist: Sorry misread cbeebies as cbbc

Tim's 8 posts

Briantist: Digital UK show 10th December 2013 as a re-tune day for Craigkelly, Divis, Emley Moor, Sandy Heath, Sutton Coldfield and Wenvoe. The extra HD channels are expected to enter service from these masts on that date.

KMJ,Derby's 1,811 posts

When you say five more do you mean five in total including the current ones?

JP's 82 posts
Select more comments
Your comment please