Indoor aerials

Brian Butterworth published on UK Free TV
We have tested a number of indoor aerials, to investigate how well they work for Freeview reception.
Simple stick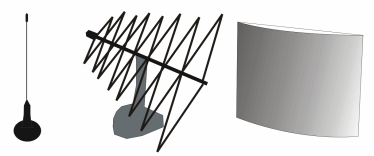 The first is a small 20cm high simple stick aerial, costing a few pounds. This was found to give adequate reception of (16QAM-
mode
) Freeview
channels
in strong
signal
areas, especially outside.
However, unless it can be placed in direct sight of the
transmitter
an only unsatisfactory signal can be received.
Indoor Yagi
The second form of aerial is of the Yagi design of around 30cm length, costing around 10.
This aerial was slightly better than the simple stick design, largely because it can be directed to point at the transmitter and be positioned horizontally or vertically as required.
However, in poor signal areas the
64QAM
channels were not received, and the aerial required good placement to get an uninterrupted Freeview signal.
Indoor Panel aerial
This was found to have around the same reception
quality
as the Indoor Yagi type, and cost around the same.
Indoor digital aerial with booster
Costing 25-30, the improvement of the signal provided by a modern internal TV aerial. Typically able to boost the signal by 36dB, this type of aerial when well positioned provided stable, uninterrupted Freeview reception on all channels.
Comments
Thursday, 26 January 2012

Emma: The local Norwich station located at only 1 mile away stands a chance of being picked up by a suitably positioned indoor aerial, but there is a much better chance of good reception from the main high powered station Tacolneston at 11 miles.

It has to be said though that its always a hit and miss with "same room" type aerials as they are vulnerable to any movements occurring within the room, so I would always advise that if at all possible to borrow one for a test before making a purchase, or alternatively purchase it with a guarantee of return if unsuitable.

jb38's 7,179 posts
Saturday, 28 January 2012

If I get a good signal now in bedrooms with an indoor aerial will this be the same after switchover. My Postcode is NW1 0RJ

Lesley's 1 post
Lesley's:
map
L's Freeview map
terrain
L's terrain plot
waves
L's frequency data
L's Freeview Detailed Coverage
Sunday, 29 January 2012

Lesley: Basically yes! although with you being located at only 9 miles away from Crystal Palace and are receiving such a good signal when the transmitters are presently on low power, then there's a slight (very) possibly that (in theory anyway) you could receive receive a signal thats slightly too strong after switchover.

If when switchover takes place you find that your picture starts glitching or freezing, then you would require an attenuator in line with the aerial socket of whatever you are receiving on. (about £4.00 or so)

Its unlikely that you will though, but best to keep whats said in mind.

jb38's 7,179 posts
Wednesday, 7 March 2012

i cannot get channel 10 30 and 31 on my freeveiw tele is there acure which is abush

jwhite's 1 post
jwhite's:
map
J's Freeview map
terrain
J's terrain plot
waves
J's frequency data
J's Freeview Detailed Coverage

Jwhite - dont think you can use a Bush to receive Freeview

Can you give us some more information, do you have an indoor or outdoor aerial ?

Keith
aerialsinsheffield.co.uk
07946481125

Kb Aerials Sheffield's 274 posts
Thursday, 15 March 2012

Does anyone know if a set top digital aerial will work in Waddington, Lincoln - LN5 postcode? Thanks

Nicky's 1 post
Nicky's:
map
N's Freeview map
terrain
N's terrain plot
waves
N's frequency data
N's Freeview Detailed Coverage

Nicky: I think that you have quite a good chance of some result if you can position with a good view in the direction of the transmitter.

It's not possible to give an absolute "yes" or "no" answer; more a likelihood of success.

With 20 miles clear line of sight to Belmont, unless there are local obstructions, then you shouldn't have a problem.

Your chances of success are greater at the side of the house that faces the transmitter, providing that there is, for example, another house there. Upstairs is also better than downstairs.

I have one of these Labgear aerials that I use where a fixed aerial isn't available:

Set Top Aerial Labgear | eBay

As I say, Belmont is your best option which is north east from you. You may even be able to see it on a clear day and see the red lights on it at night.

Dave Lindsay's 5,724 posts
Friday, 16 March 2012

Need some advice.
Have a Logik TV with Freeview but have tried two indoor digital aerials (Curry's) but get no channels or reception when tuning in the TV.
Have got an old Sky dish still erected with a cable leading into the house. How can I use this Sky dish to connect to this Logik TV.
The main TV reception is now with Virgin but the Sky dish was left up when we switched.

Paul

Paul's 2 posts

Paul: You will need to connect a satellite receiver to the Sky dish in order to supply the TV with a suitable source to display TV programmes. Otherwise an outdoor aerial will need to be connected to the TV to enable Freeview reception via the set's internal tuner.

KMJ,Derby's 1,811 posts

Paul: Sky satellite dishes and Freeview equipment are totally incompatible with each other, so you might have been better purchasing a Freesat box as that "is" compatible with the Sky dish and which the feed from would have connected straight into the Freesat box.

Advice cannot really be given on reception issues without knowledge of you location (pref: post code) this for purposes of signal checking as well as knowing what your local transmitter might be.

jb38's 7,179 posts
Select more comments
Your comment please