EXCLUSIVE More Freeview capacity coming 2012-2016

Brian Butterworth published on UK Free TV
It appears the Ofcom has decided that the UHF channels C31, C32, C33, C34, C35, C36 and C37 will be used for new Freeview services which will be rolled out on the 80 main transmitters by autumn 2016.

It appears that the seven UHF channels in the lower "digital dividend review" cleared spectrum for additional Freeview services.





It is possible that these services could be used for seven single-frequency networks (SFN) multiplexes, or less if they are used for multi-frequency networks.

Ofcom could assign C37 to a second public service high definition multiplex, as it can be received by all aerial groups. This could provide BBC three and BBC FOUR in HD, with perhaps ITV 2 HD and ITV 3 HD plus E4 HD, as Ofcom expect to get five HD channels per multiplex by 2013 - Five HD is expected on the BBCB multiplex at the end of 2012.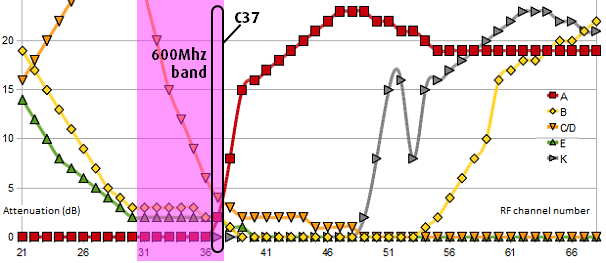 The remaining channels C31 to C36 will be receivable for group A, group B, group E group K and wideband aerial, and could provide high definition capacity to match all of the existing standard definition Freeview channels. (See also Aerial group performance).

Seven single frequency HD multiplexes would give Freeview HD another 35 high definition channels, making a total of 40 by 2016.

The six lower frequencies (C31-C36) will mean users of the following transmitters users require wideband aerials to watch the new services: Angus, Beacon Hill, Brierley Hill, Brighton (Whitehawk Hill), Carmel, Dover, Heathfield, Huntshaw Cross, Keighley, Limavady, Llanddona, Malvern, Mendip, Midhurst, Olivers Mount, Oxford, Plympton, Pontop Pike, Reigate, Rosneath, Salisbury, Selkirk, Tacolneston, Waltham and Winter Hill.

Ofcom has yet to consult on the actual usage and bidding process for these new frequencies.
The evidence
Arqiva is the company that owns all of the television transmitters in the United Kingdom, as well as two of the six Freeview multiplexes.
Regular contributor Mike Dimmock has pointed out that Arqiva have
applied to South Norfolk District Council, to make changes to the Tacolneston transmitter
, in which they say
"The decision has now been taken to reallocate spectrum at 600 MHz for additional terrestrial television broadcast services and OFCOM is tasked with the preparatory work leading up to the auction of this spectrum."
September 2011 - Arqiva Reference Offer prepared for OFCOM
Q2 2012 - Government holds Spectrum Auction
Q3 2012 new licences issued
Q3 2016 - Arqiva antenna works completed at Main Stations
Ofcom have been asked to comment.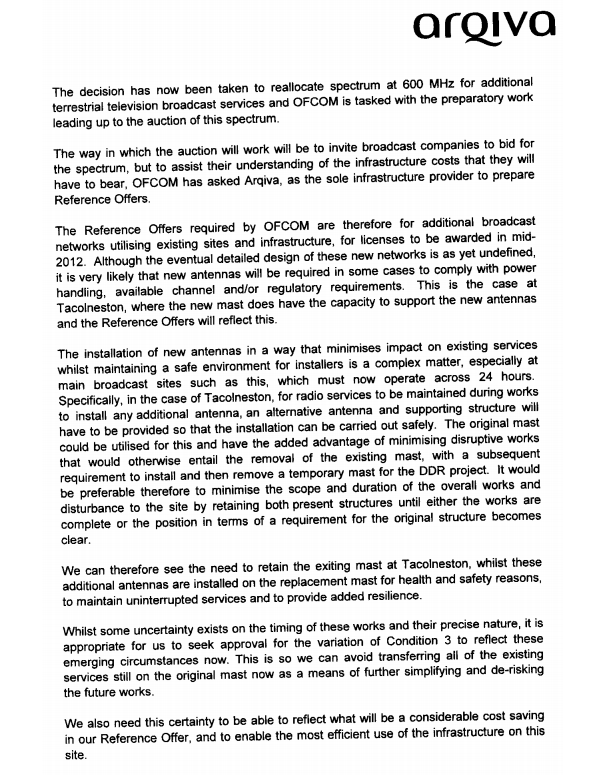 Comments
Wednesday, 17 August 2011
S
s mccloskey
8:45 PM
Dudley

i recieve freeview tv at the moment but when i checked my postcode it said i wont after the switch over my postcode is dy2 0nz

s mccloskey's 1 post
s's:
map
S's Freeview map
terrain
S's terrain plot
waves
S's frequency data
S's Freeview Detailed Coverage

If more capacity really is facilitated through a 'digital dividend' clearance of Ch31-37, let's hope that it won't simply lead to more junk channels or subscription channels.

No more shopping or so-called 'adult' soft porn channels should be permitted - and certainly no more payTV channels.

I thought the whole idea of clearing the 600 MHz band was to free it up for so-called 'mobile devices'.....???

Nick Wilcock's 44 posts

Nick Wilcock: Ofcom are not allowed to dictate what sort of channels get the capacity on Freeview, it is a free market.

It is the 800MHz band that is being used for 4G mobile, this is the 600MHz band.

Briantist's 38,908 posts

s mccloskey: I really don't know where you are looking, you can get a signal after switchover from Sutton Coldfield, The Wrekin and Ridge Hill (less well on the COM multiplexes). The only transmitter you can't use is the one close to you at Brierley Hill.

Briantist's 38,908 posts
Thursday, 18 August 2011
Martin
12:36 AM


What this report really is saying is about a 2nd change when many people who already have bought equipment once. Have to go out and replace/upgrade again their freeview SD tv's/boxes and buy DVB-T2 versions if they want to watch the HD channels.

Why do they continue in this country to sell HDTV's that still only have SD tuners in them, when the HD versions cost so little now to produce.

Martin's 9 posts

OFcon change plans again.. They said before that it wasn't possible due to international regulation..

so is there a uhf map for this plan, or will they map the new ones NATIONAL only muxes, so they can all broadcast on same UHF freq, which is possible I presume

Jay's 92 posts

Martin: There is no "report", there is a planning application.

It is unlikely that the vast majority of homes will not have DVB-T2 equipment by the end of 2016, given the life-cycle of electronic equipment is usually much less than five years.

You do have a good point about HD Ready sets being unable to receive Freeview HD without a set-top box, it would be useful if this stopped being the case.

Briantist's 38,908 posts

Jay: They never said that the 600MHz band couldn't be used for TV, they said that they had been directed to look into using it for other uses.

As I said in the article, it may be possible with DVB-T2 to use Single Frequency Networks (SFN).

There isn't a plan, only a slip-up by Arqiva. The hint about "different radiation patterns" does suggest that SFN is being considered.

Briantist's 38,908 posts

Hi Brian,

Am I correct in thinking that the Digital Divide is about to get much wider & those that are on "Freeview Lite" will miss out on any extra channels.
I cant see this going down very well in the valleys and other rural area's.

Mark Aberfan Aerials

Mark Aberfan Aerials's 1,059 posts

Mark Aberfan Aerials: I think you are right.

If they use the frequencies to implement a number of SFN networks, then this will limit the coverage even more.

I note that the document says "Arqiva antenna works completed at Main Stations" which could imply that they are going to be done first, with others to follow.

I think if the BBC get involved with another HD multiplex there is a good chance of them wanting to provide better coverage than the "main 80".

Generally speaking, it is the valley that have problems, the more flat rural areas tend to get coverage.

As far as I understand it DVB-T2 is more suited to a UK-wide SFN network than DVB-T would be.

Briantist's 38,908 posts
Select more comments
Your comment please