EXCLUSIVE More Freeview capacity coming 2012-2016

Brian Butterworth published on UK Free TV
It appears the Ofcom has decided that the UHF channels C31, C32, C33, C34, C35, C36 and C37 will be used for new Freeview services which will be rolled out on the 80 main transmitters by autumn 2016.

It appears that the seven UHF channels in the lower "digital dividend review" cleared spectrum for additional Freeview services.





It is possible that these services could be used for seven single-frequency networks (SFN) multiplexes, or less if they are used for multi-frequency networks.

Ofcom could assign C37 to a second public service high definition multiplex, as it can be received by all aerial groups. This could provide BBC three and BBC FOUR in HD, with perhaps ITV 2 HD and ITV 3 HD plus E4 HD, as Ofcom expect to get five HD channels per multiplex by 2013 - Five HD is expected on the BBCB multiplex at the end of 2012.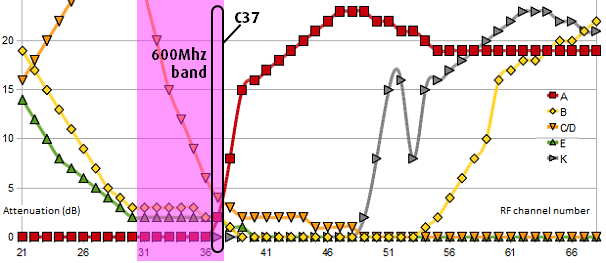 The remaining channels C31 to C36 will be receivable for group A, group B, group E group K and wideband aerial, and could provide high definition capacity to match all of the existing standard definition Freeview channels. (See also Aerial group performance).

Seven single frequency HD multiplexes would give Freeview HD another 35 high definition channels, making a total of 40 by 2016.

The six lower frequencies (C31-C36) will mean users of the following transmitters users require wideband aerials to watch the new services: Angus, Beacon Hill, Brierley Hill, Brighton (Whitehawk Hill), Carmel, Dover, Heathfield, Huntshaw Cross, Keighley, Limavady, Llanddona, Malvern, Mendip, Midhurst, Olivers Mount, Oxford, Plympton, Pontop Pike, Reigate, Rosneath, Salisbury, Selkirk, Tacolneston, Waltham and Winter Hill.

Ofcom has yet to consult on the actual usage and bidding process for these new frequencies.
The evidence
Arqiva is the company that owns all of the television transmitters in the United Kingdom, as well as two of the six Freeview multiplexes.
Regular contributor Mike Dimmock has pointed out that Arqiva have
applied to South Norfolk District Council, to make changes to the Tacolneston transmitter
, in which they say
"The decision has now been taken to reallocate spectrum at 600 MHz for additional terrestrial television broadcast services and OFCOM is tasked with the preparatory work leading up to the auction of this spectrum."
September 2011 - Arqiva Reference Offer prepared for OFCOM
Q2 2012 - Government holds Spectrum Auction
Q3 2012 new licences issued
Q3 2016 - Arqiva antenna works completed at Main Stations
Ofcom have been asked to comment.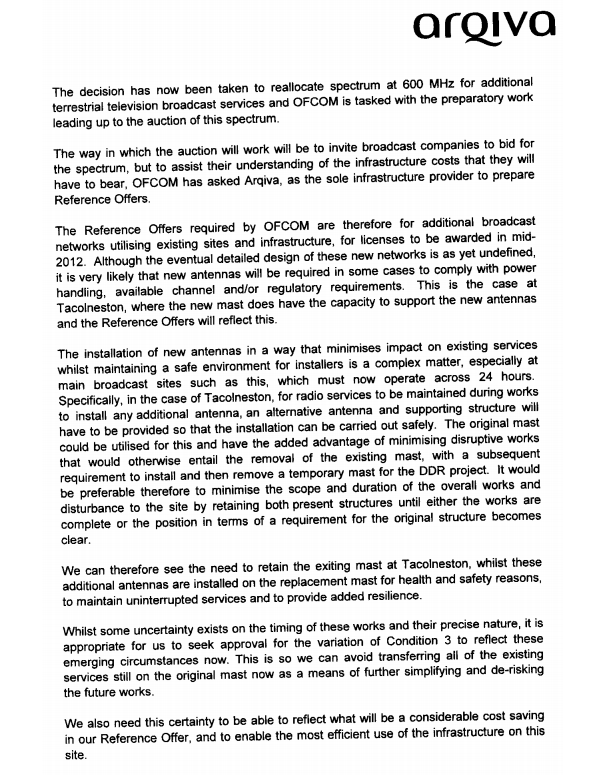 Comments
Monday, 22 August 2011

Matt: Channel 5 from Croydon, covering roughly the same area as Crystal Palace, uses C37. If you can already receive Channel 5, you are unlikely to have trouble receiving any new services.

Mike Dimmick's 2,486 posts

I sincerely hope that the extra capacity on Freeview is not wasted on 3D. Of all the new developments that have come along recently 3D is by far the biggest waste of time and effort. Watching a 3D TV reminds me of those old children's toy play theatres that used characters on flat card. If you imagine a flat piece of card with a character on it and then another character on another flat piece of card placed behind it that is what 3DTV looks like - a series of flat planes with no depth to individual characters. As Brian says above, it is not 3D it is stereoscopic, a principle that has been around as long as photography and stereoscopy is only an illusion of depth to a scene. That is why the human eye and brain do not like it, normally the eye scans a scene and focuses separately on near and then far objects - it cannot do this with 3DTV or 3D cinema - the image is still on a flat plane - the TV screen - and the eye is attempting to focus beyond that plane, hence the headaches and other medical symptoms that manufacturers of 3DTVs warn about in their instruction booklets.
Additional HD services is the more likely result of the extra capacity and that can only be a good thing.


Steve's 1 post
Wednesday, 24 August 2011

This new extra capacity should NOT be adding 35 HD extra channels for some viewers
but by making some of the selected array channels into national channels.
E.g. IVT3, ITV4, Film4 et cetera being transmitted from a new multiplex from all transmitters.

If you disagree with me then just close down all transmitters apart from Crystal Palace and transmit millions of channels that transmitter only.

MCMLXII's 12 posts

MCMLXII: There is no need to allocate frequencies to extend SDN, ArqA and ArqB to all transmitter - the operators of these multiplexes DO NOT WISH to do so as it is unprofitable.

Briantist's 38,908 posts

briantist, your knowledge of moore's law is very poor. What it says is that the number of transistors doubles every 2 years. This is processing power, it has nothing to do with cost of the processor nor encoding quality.

The way the bbc increases the quality of mpeg4 over time is by implementing more of the mpeg4 spec which was created many years ago, this is very time consuming to do to maximise quality of the video by having the pixels analyse those around them and countless other techniques which take years to fully implement. New encoders are released with more and more of the specification completed, a bit like firefox adding more of the html5 specification.

The bbc will be able to increase the quality of video with the same bitrate a little over time but not by an enormous amount, the bbc is lying by saying they can fit 5 hd channels on the mux and there be no difference in quality. The same as when they dropped the bitrate from 16mbps on satellite to around 9 and said as a result of new encoders there was no difference in quality, this was a lie, screenshots of the same tv shows prove it.

btw 12% of brits can't see 3d and get headaches as a result, this is because their brains can't see 2 seperate images. One of the countless reasons why 3d is just a gimmick.

I'd rather we keep 4 hd channels on the mux and wait until another mux is opened until more hd channels come on freeview hd otherwise the quality will be way worse than it is now. Freesat hd is around 8mbps average, freeview hd is around 6.4mbps average so the quality is way worse as it is.

sam potts's 1 post
Thursday, 25 August 2011

sam potts: Thank you for your comment. I suspect you need to do some reading up, as the "computing power doubles every 18 months at the same cost" is a typical industry usage of Moore's Law, and not just the now meaningless "transistors on a chip" version.

Briantist's 38,908 posts

Sam I agree that the number of HD channels per multiplex should be kept at 4. Unfortunatly this is Ofcom. They reduced the bitrate of DAB dispite a public consultation which showed that most people did not want a reduction in sound quality.

I don't agree about 3D though. 8% of males and 0.5% of females are colour blind but that does not mean we should not have colour television.

As for headaches there has been some scientific study. This study looks at visual comfort:

The zone of comfort: Predicting visual discomfort with stereo displays

This shows how these adverse effects can be minimised.

We cannot be sure that all the channels will be used for HD. It must be remembered that these channels will be auctioned so Ofcom will be looking for the most lucrative solution.

This shows

Trevor Harris's 367 posts
Saturday, 27 August 2011

In view of the Satellite transponder cutbacks I wonder if the BBC will be able to afford any of the new freeview multiplexes in 2016. My guess is they will not bid for any of them without a substancial increase in licence fee.

Trevor Harris's 367 posts
Sunday, 28 August 2011

Trevor Harris: If Ofcom DO offer C37 for public service broadcasting as a SFN, then the BBC adding this to 80 existing sites, as appears to be the plan, the additional costs will be quite marginal.
Another effect of the new Astra capacity being taken by ITV is there will be room for another BBC stream on Astra 2D transponder 50.
Looking to the Olympics next year, the BBC has already said that BBC three will be used 24/7 for the Olympics (and BBC Parliament will close for the duration).
I rather suspect that BBC HD will become BBC TWO HD and the third slot become BBC three HD so there will be three HD channels for the Olympics at the very least.
BBC three has also just won "Digital Channel of the Year" - The Press Association: Stars see Sherlock pick up TV gong .
I also suspect that, at least for the Olympics, BBC three HD will be put onto the BBCB multiplex, in the place where Channel 5 HD will go at the end of the year.

Briantist's 38,908 posts

With inflation running so high and the licence fee fixed I cannot see how the BBC can afford any expansion without cutting else where. If the BBC do take a channel on C37 they would also have to take a satellite channel.

I have always felt that it would be better for BBC HD to be BBC 2 HD. I don't watch BBC3 ( too old) so I would have prefered BBC 4 to go HD first. The BBC certainly need more HD channels for the Olympics. At least Eurosport will be able to provide some extra coverage.

I should say I don't watch BBC very much because most of it is either repeats or trash television. One thing I did watch is F1 but I will be watching it on Sky next season. Even the BBC news has been very poor recently. Sky News coverage of Libya has been exceptional and some of it in HD. So I don't see why I should have to pay the licence fee to support the BBC executives lifstyle.

Squeezing another HD channel on BBCB is also bad news.

Trevor Harris's 367 posts
Select more comments
Your comment please