Interleaved Frequencies maps (old ones)

Brian Butterworth published on UK Free TV
These are the maps, supplied by Ofcom, showing the coverage areas for the "Interleaved Frequencies" than can be used for the Freeview Local TV service.

The green areas have good predicted coverage for the "Interleaved Frequencies", yellow is possible coverage.

Note: these areas are considerably different from the normal Freeview coverage for each transmitter.

Update: Ofcom introductory comments

The study considered frequency channels -5 below and +2 above the receive aerial group for the station. Though for the 10 largest stations all channels were considered.

The ERP of main stations has been set at 10kW and relay stations at 1kW. It should be noted that in several cases these powers result in a higher ERP than allocated to the main multiplexes.

Coverage of the chosen channel has been assessed on the basis of the derived template and the use of a 64QAM 2/3 modulation scheme. Availability of mast aperture, mast loading and building space to support the required antennas and house transmitters was not investigated.

Coverage calculations are based on existing broadcast stations and reception via fixed roof top aerials.

The derived UK median templates are designed to protect populated coverage derived by the median method. The derived UK continental templates include Irish and Continental restrictions based on 23dB?V/m at the border.

The exercise has been based on version 5.51 of the UK digital plan and an interpretation of the GE-06 frequency plan for Europe. Coverage of each interleaved channel is quoted in isolation, i.e. only that channel and the v5.5 plan have been considered.

As coverage is based on the template at the planned height and at the maximum ERP, coverage using implemented antennas, heights and actual ERP will be lower.

Crystal Palace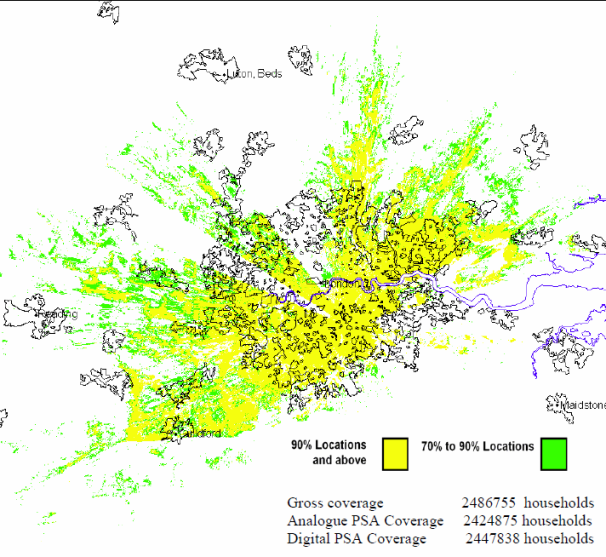 The Interleaved Map for the transmitter is created from three elements. The left circular image shows the UK post-switchover use of the same frequency, the central circular image is the Continental use of the same frequency. These are subtracted from the "normal" coverage area for the transmitter, the right hand image, to create the "Interleaved Frequency" coverage area.



Winter Hill




Black Hill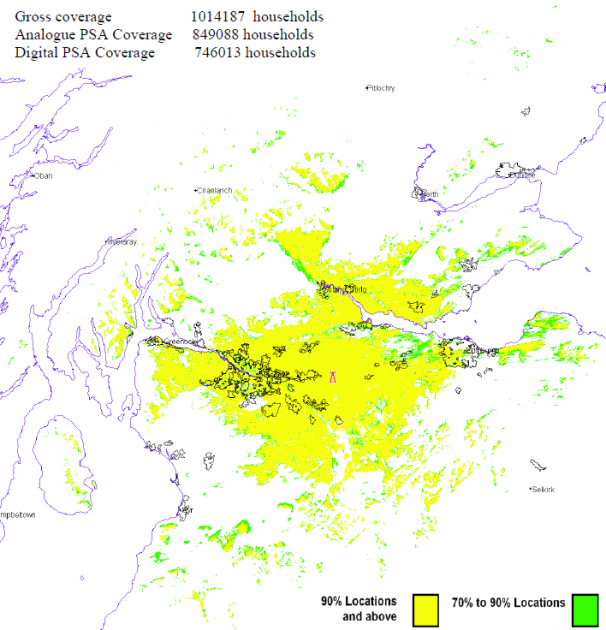 Sutton Coldfield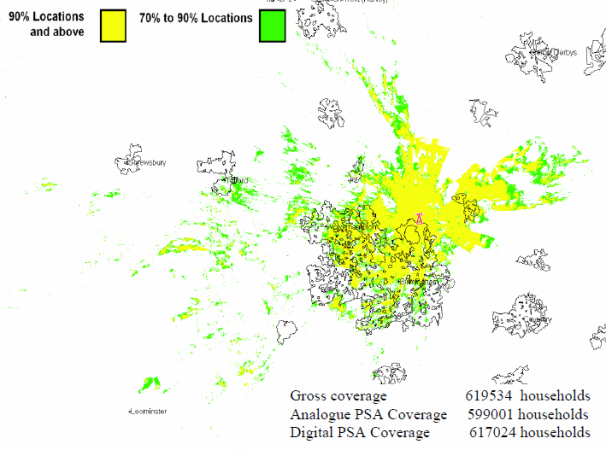 Pontop Pike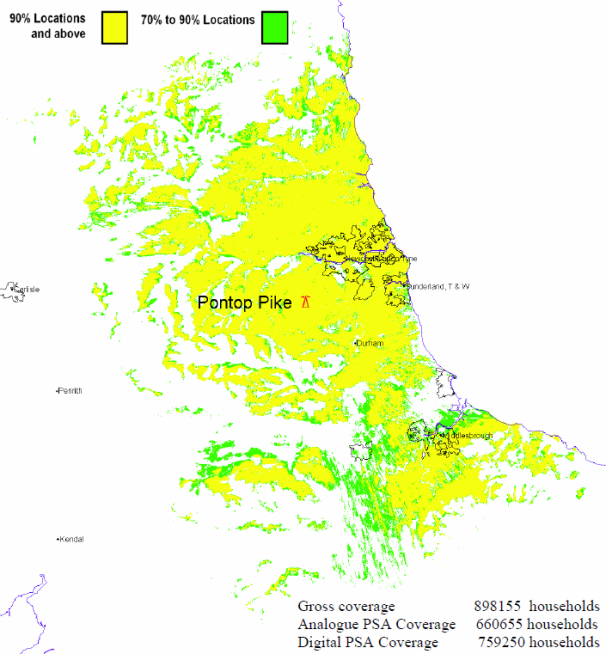 Emley Moor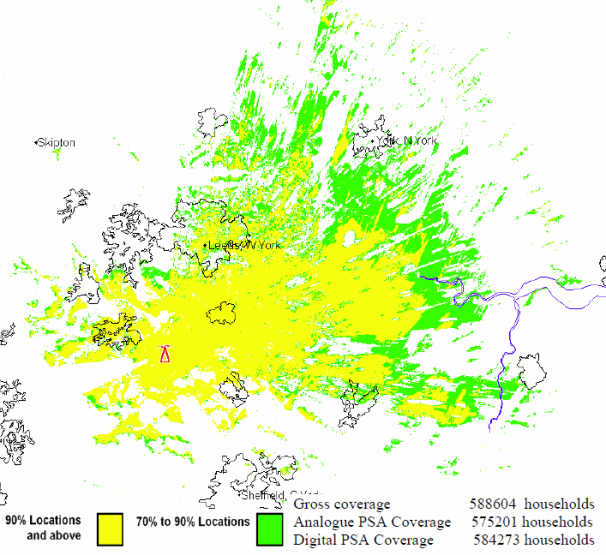 Bilsdale




Rowridge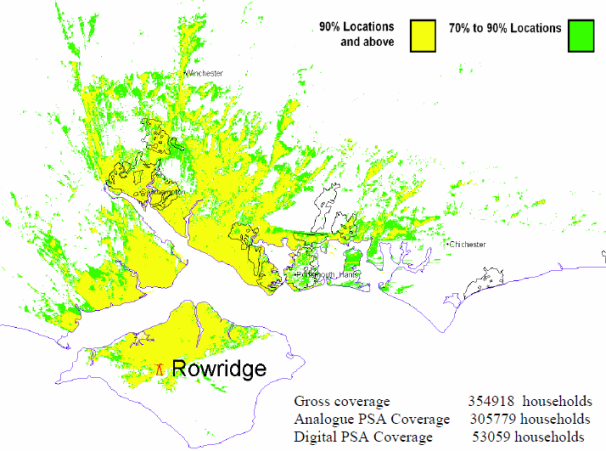 Waltham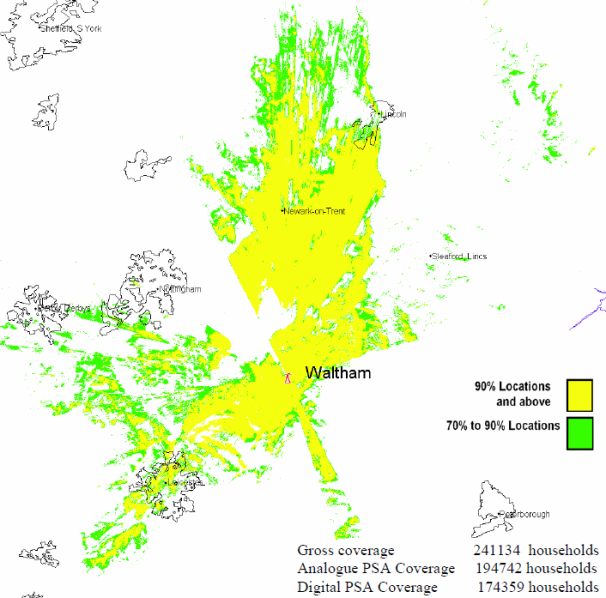 Craigkelly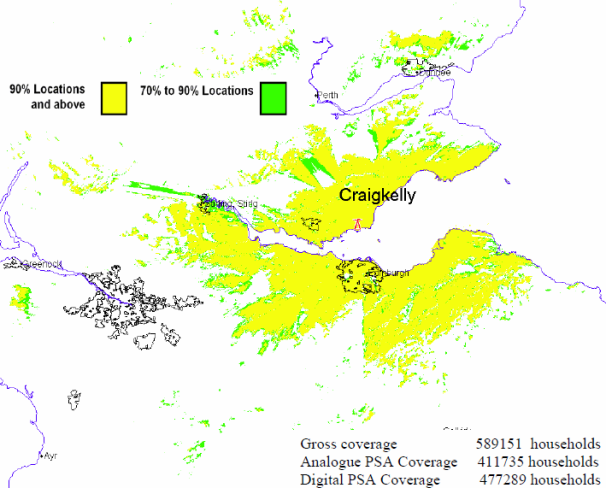 Wenvoe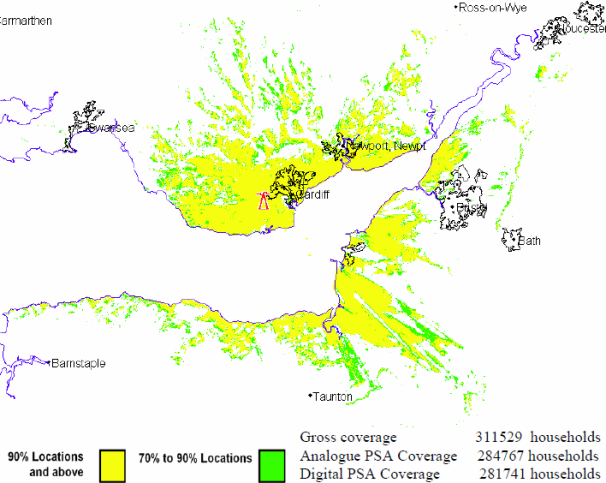 Belmont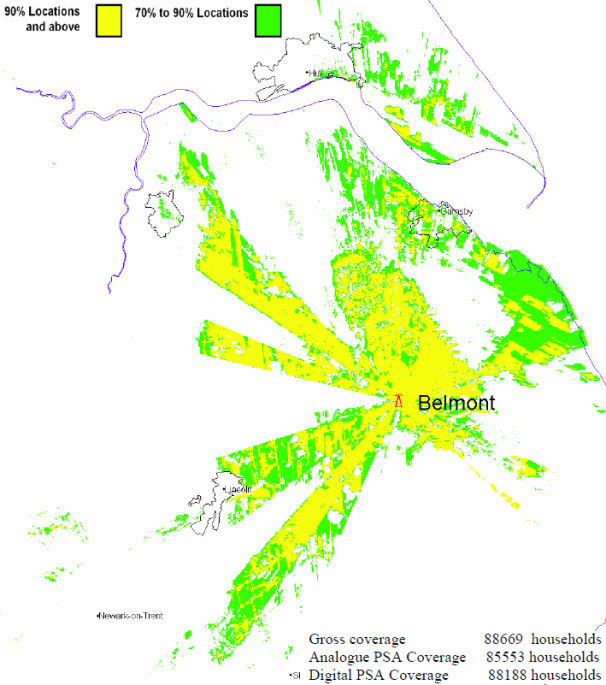 Hannington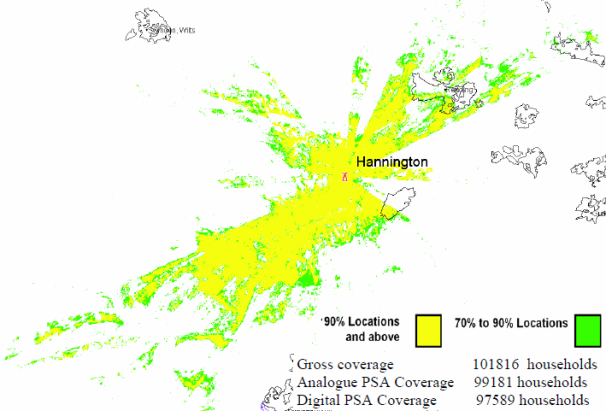 Divis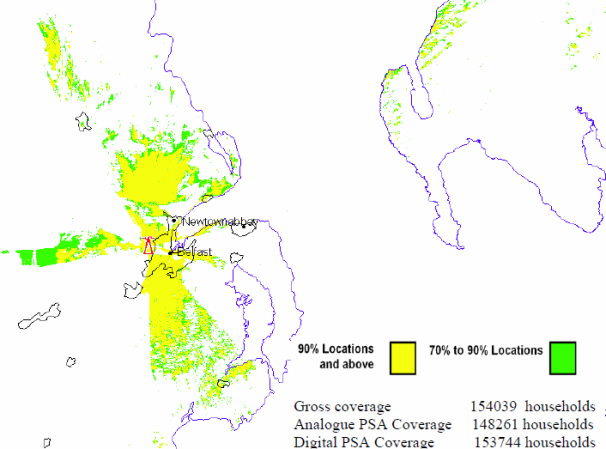 Tacolneston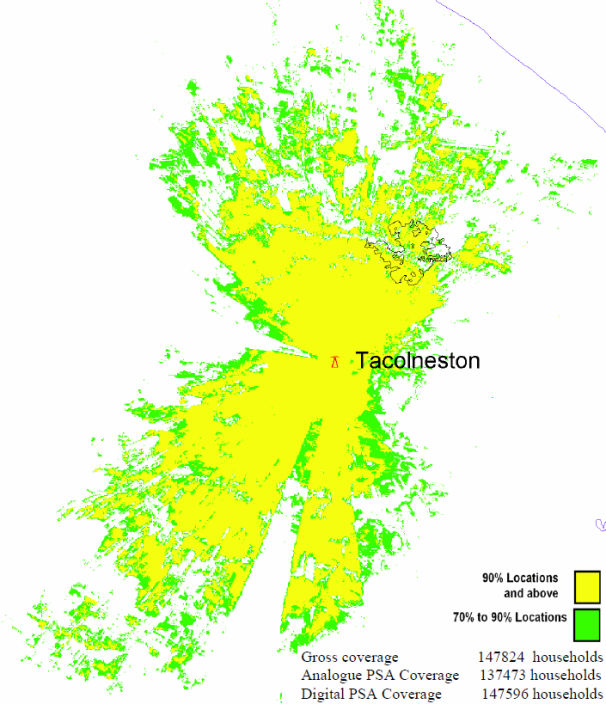 Sandy Heath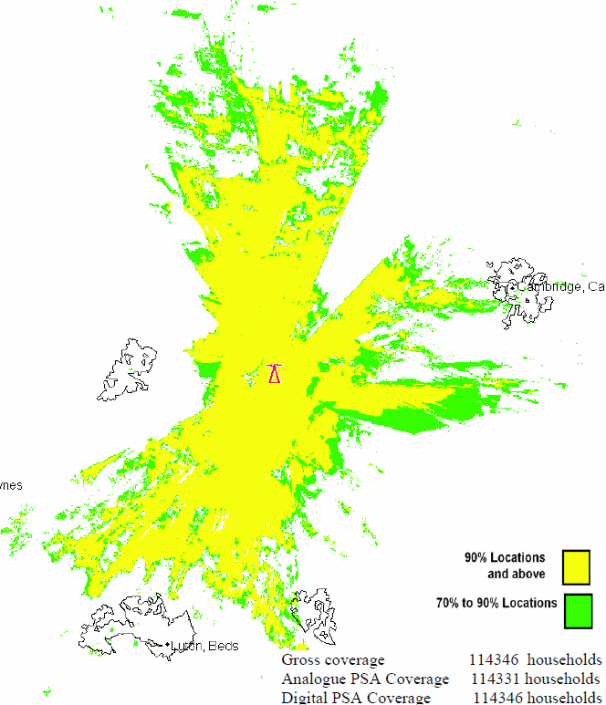 Mendip




Sudbury




Oxford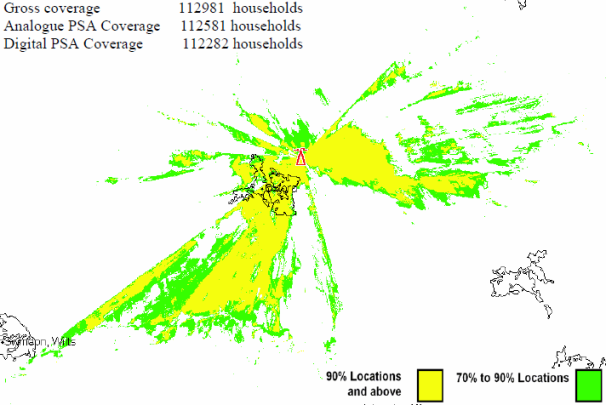 The Wrekin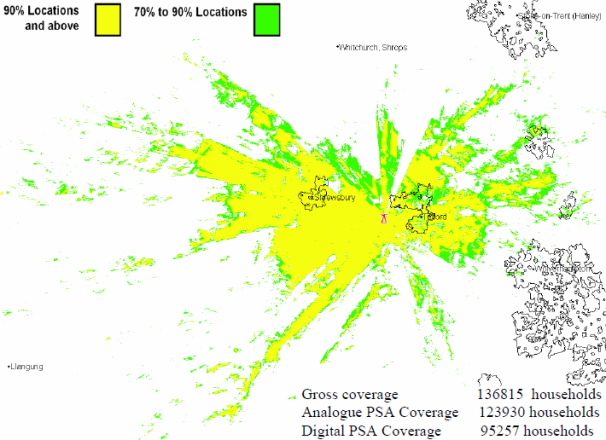 Dover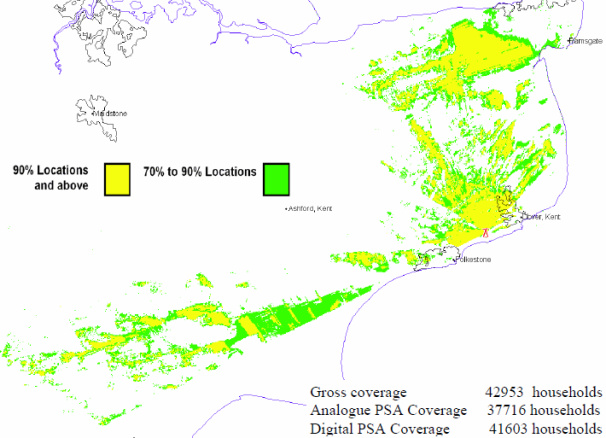 Ridge Hill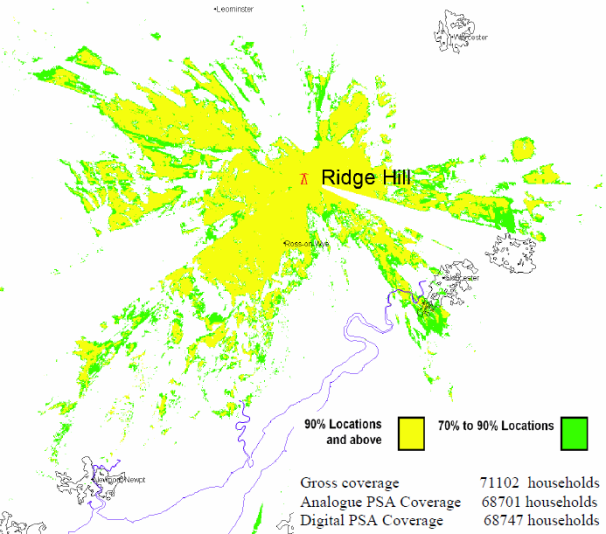 Caldbeck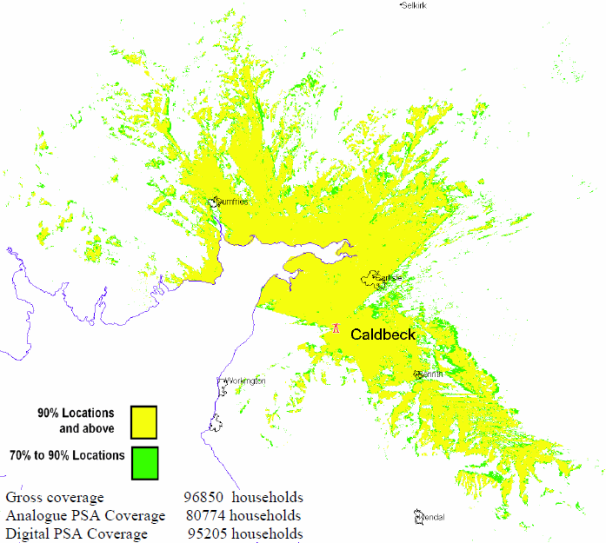 Durris




Angus




Limavady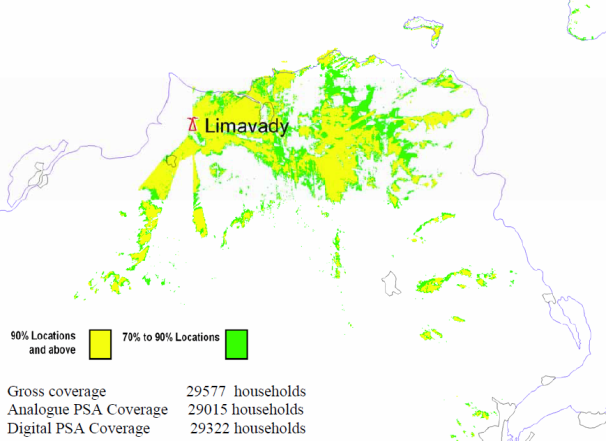 Knockmore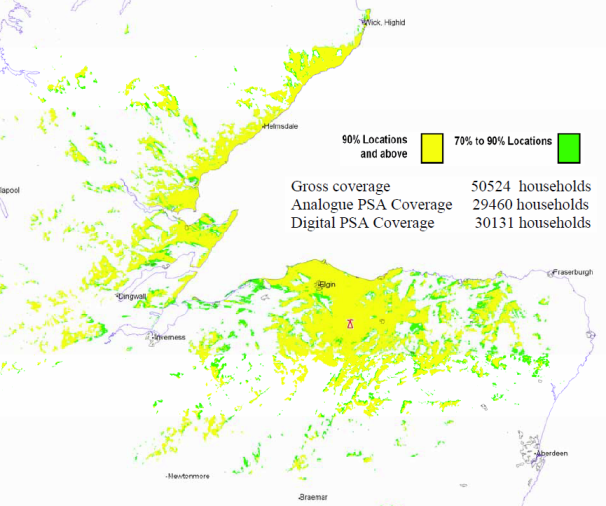 Rosemarkie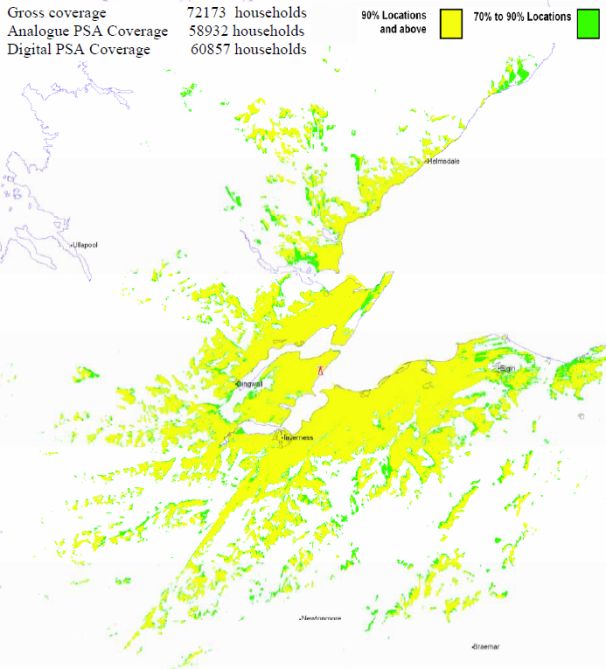 Hemel Hempstead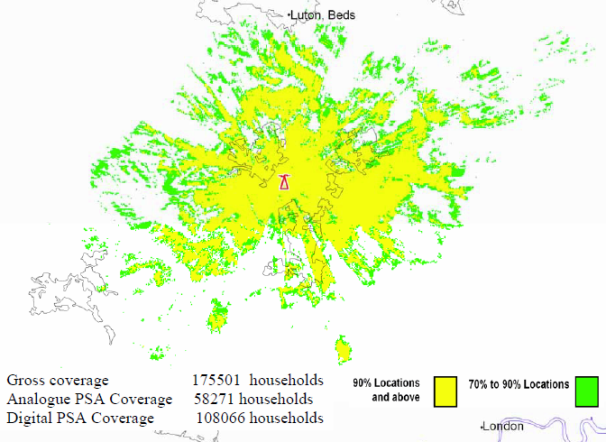 Brierley Hill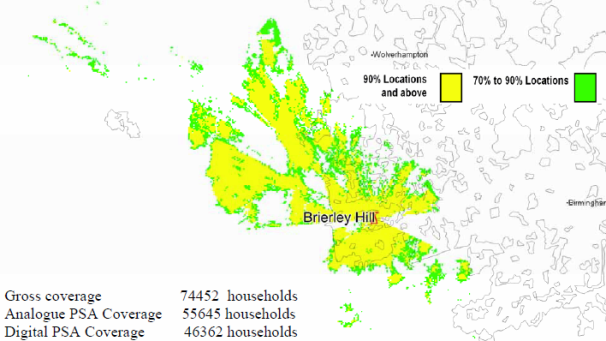 Bromsgrove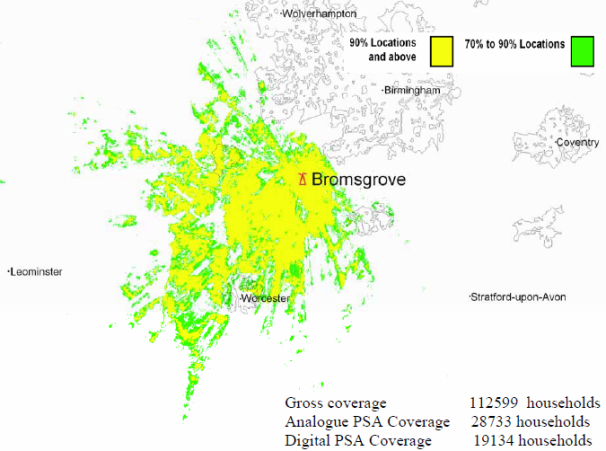 Kidderminster




Storeton




Sheffield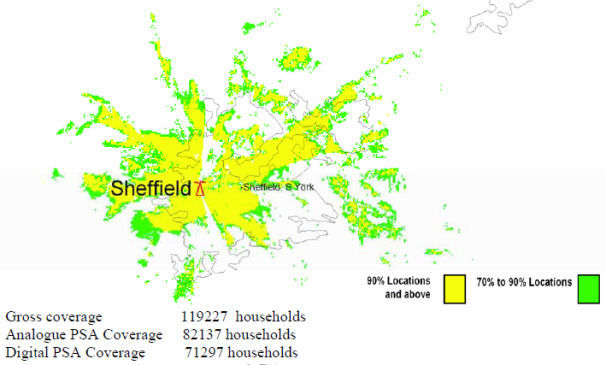 Guildford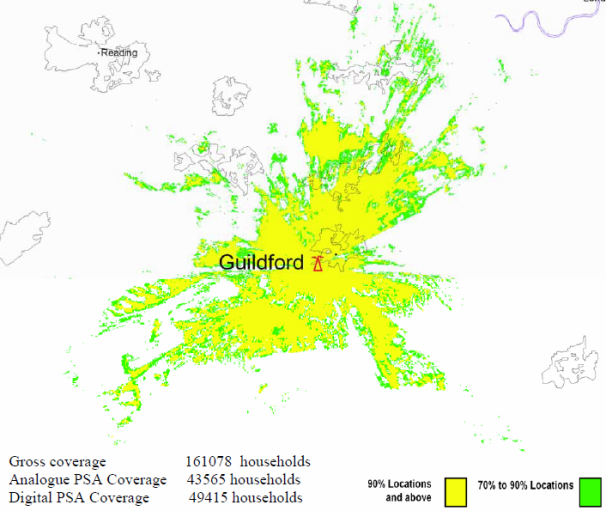 Reigate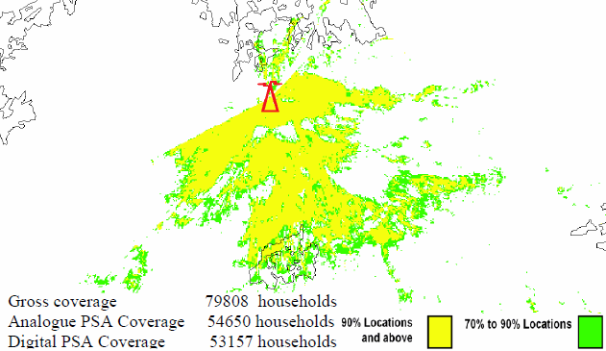 Tunbridge Wells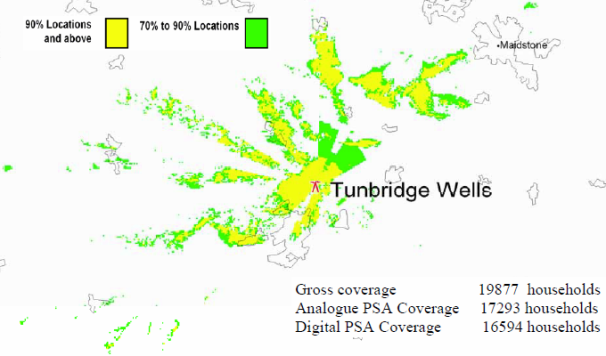 Malvern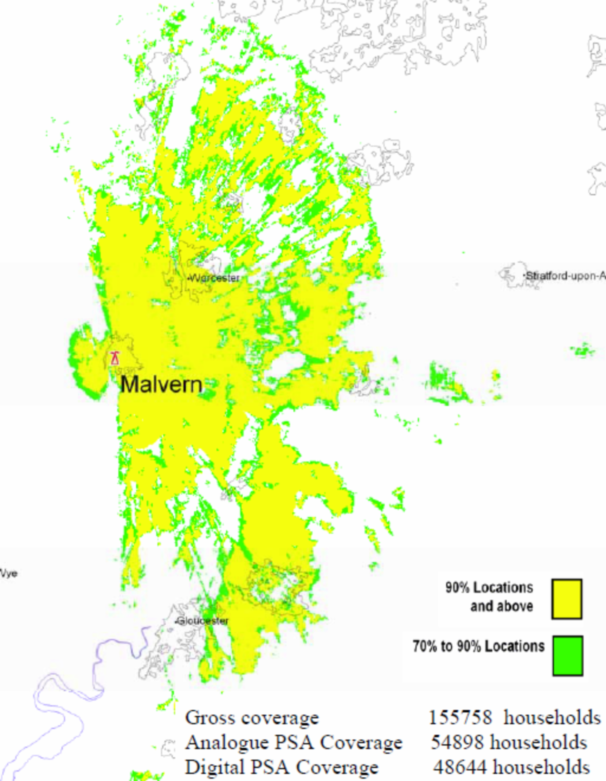 Lark Stoke




Fenton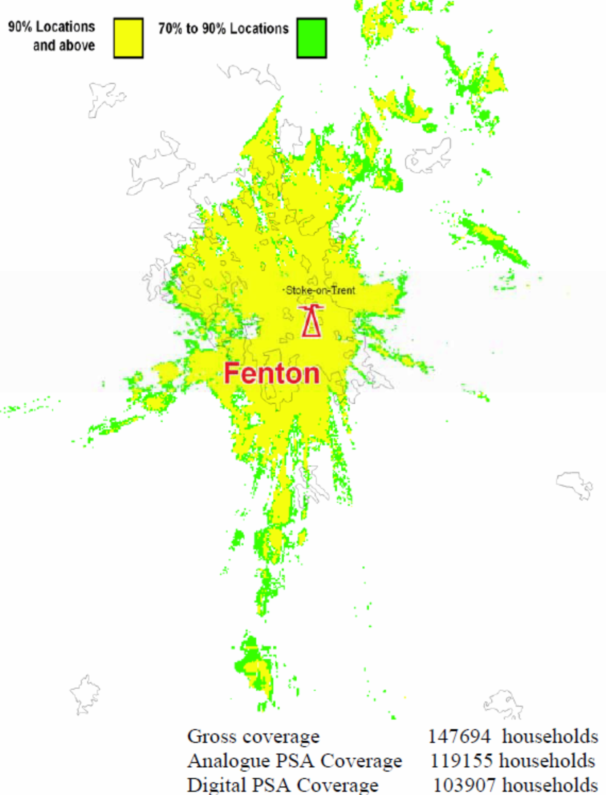 Pendle Forest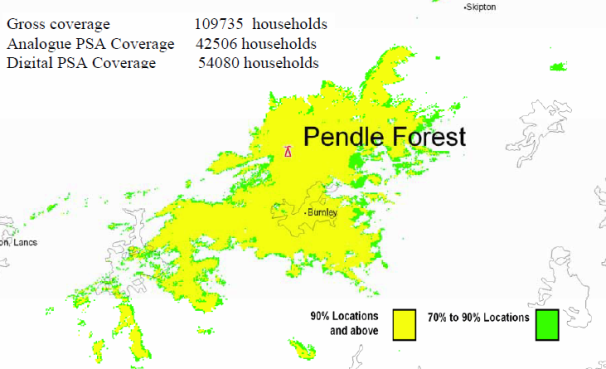 Saddleworth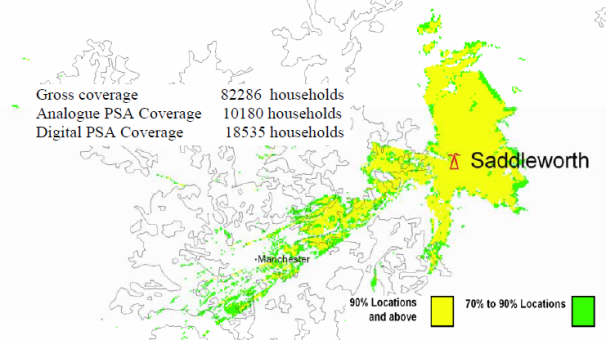 Lancaster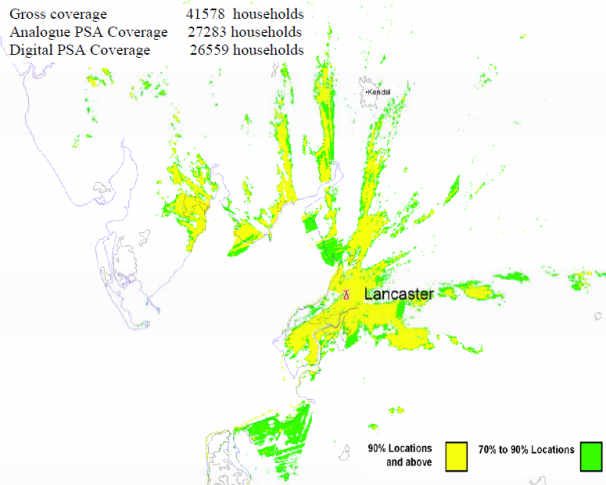 Keighley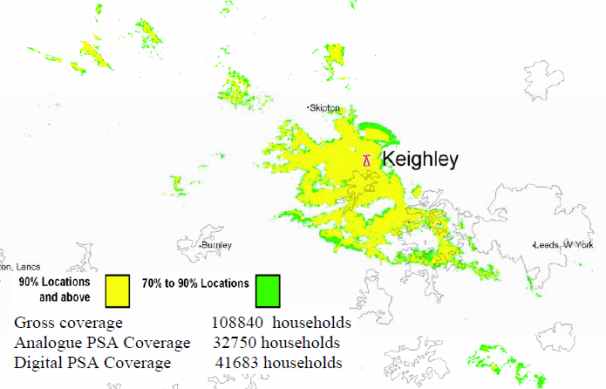 Kilvey Hill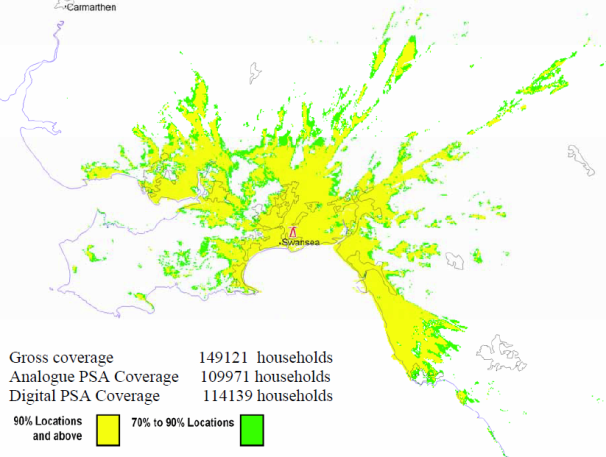 Salisbury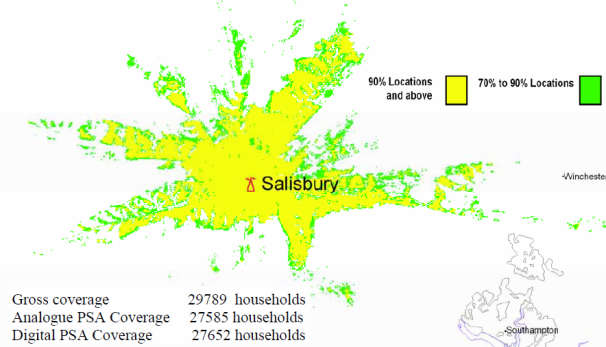 Poole




Whitehawk Hill




Fenham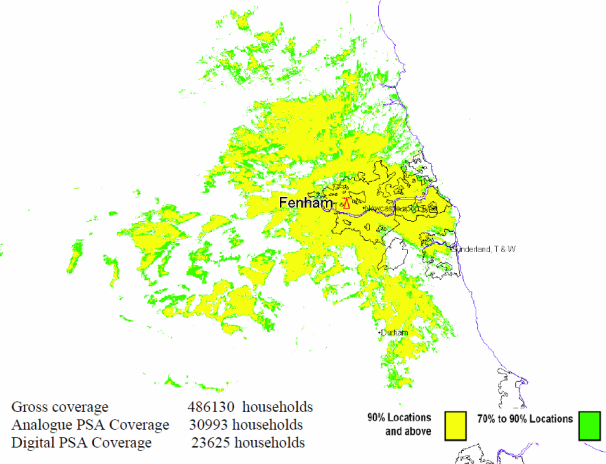 Bristol Kings Weston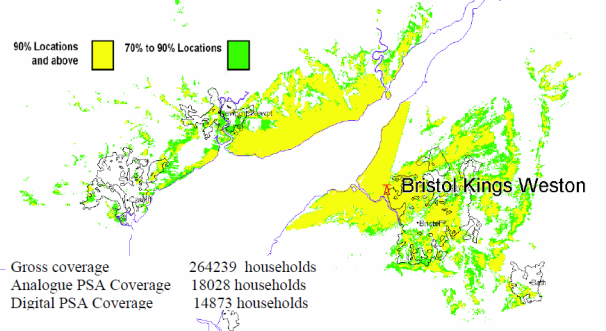 Bristol Ilchester Crescent




Nottingham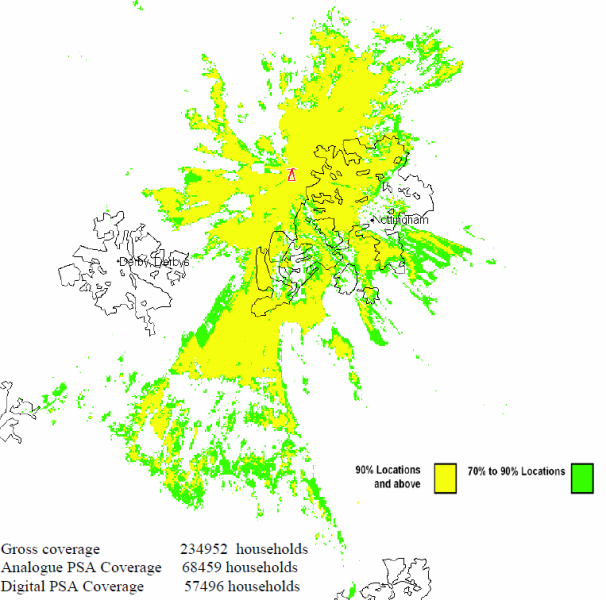 Llanddona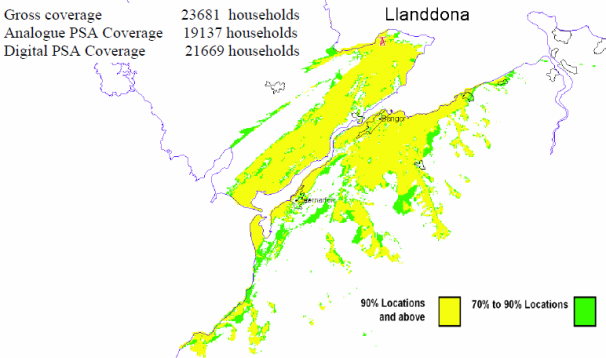 Carmel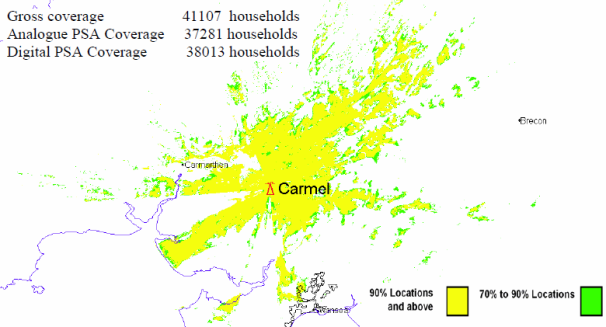 Olivers Mount




Luton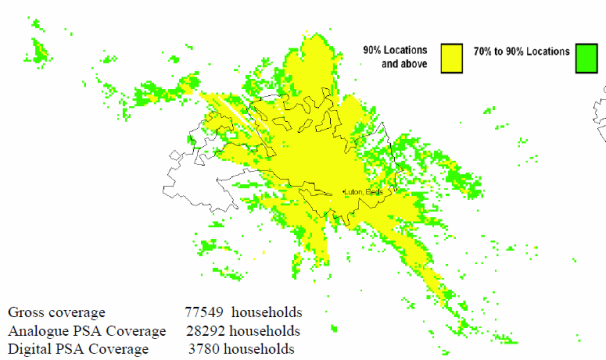 Midhurst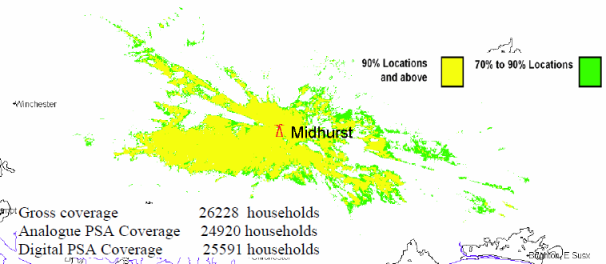 Preseli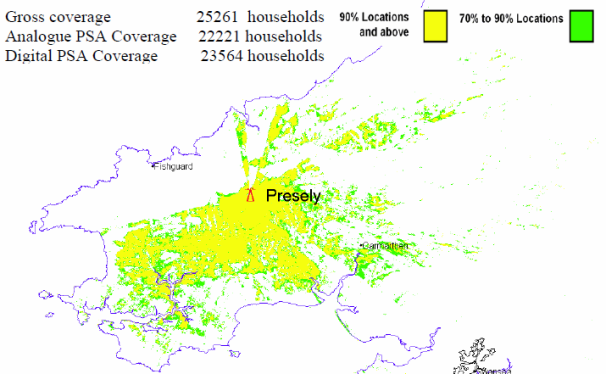 Caradon Hill




Plympton




Stockland Hill




Beacon Hill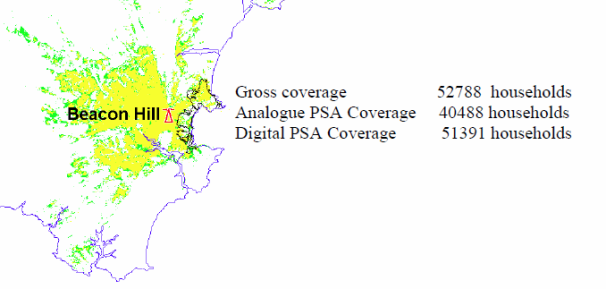 Huntshaw Cross




Redruth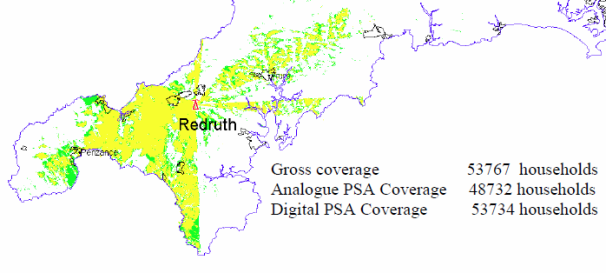 Moel Y Parc




Brougher Mountain




Darvel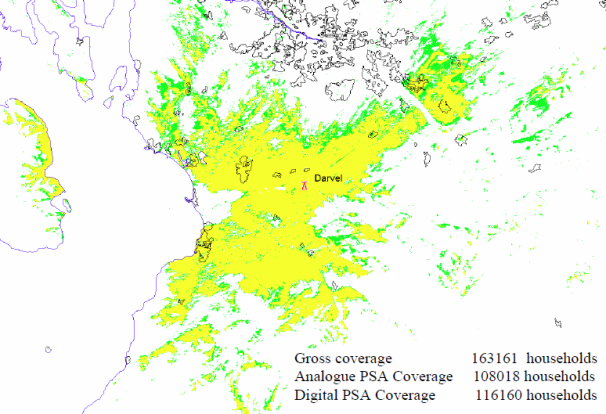 Rosneath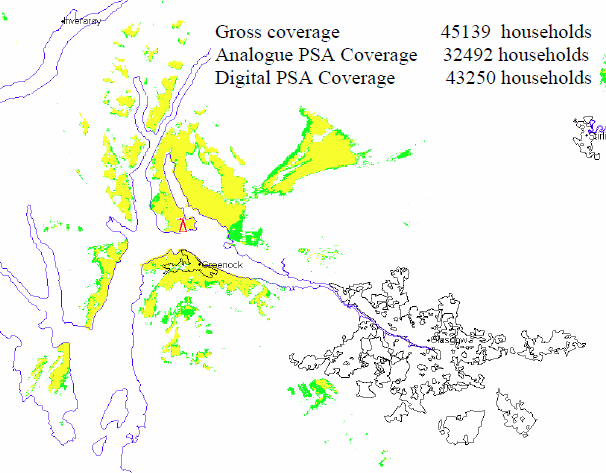 Bluebell Hill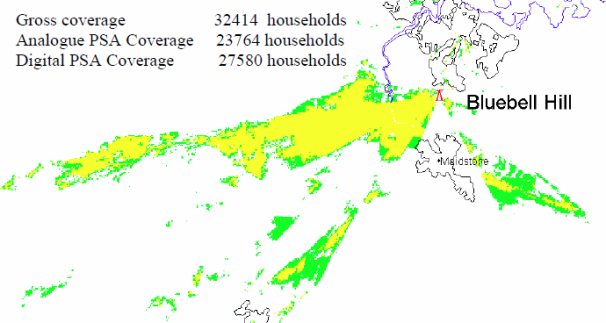 Londonderry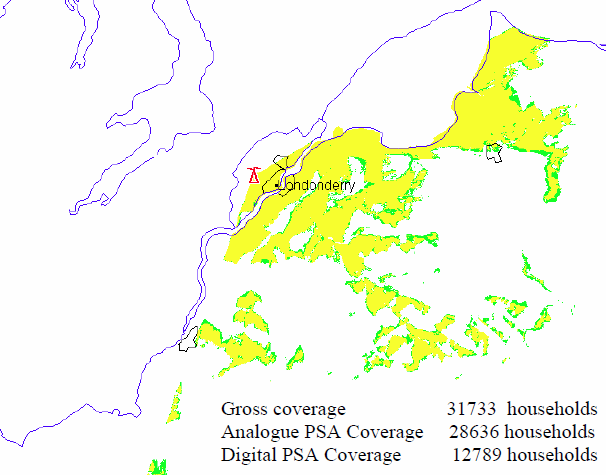 Heathfield




Selkirk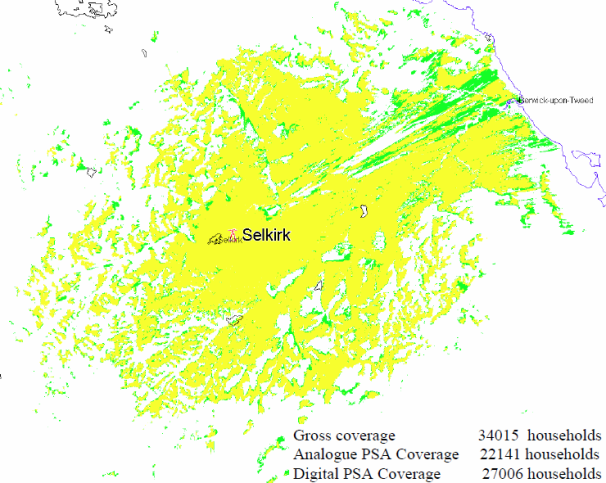 Bressay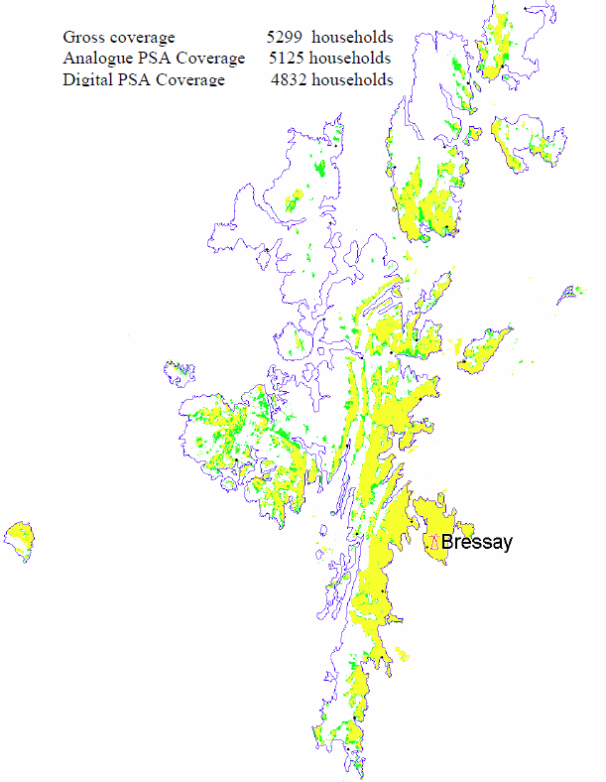 Torosay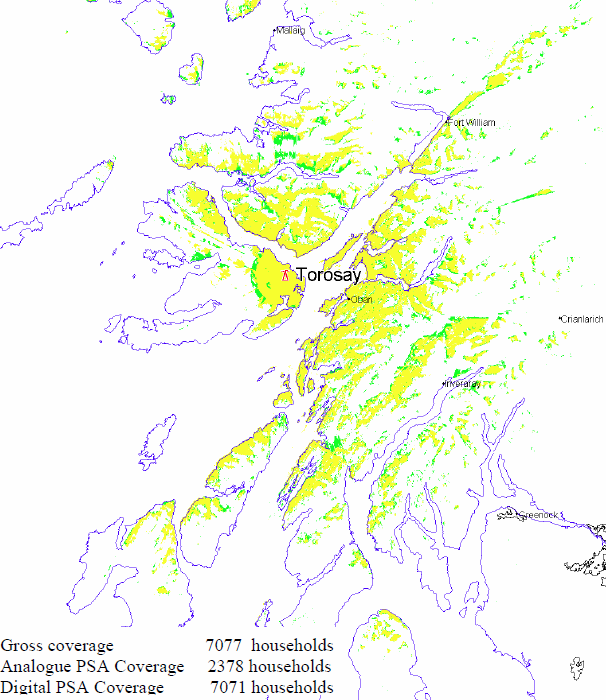 Perth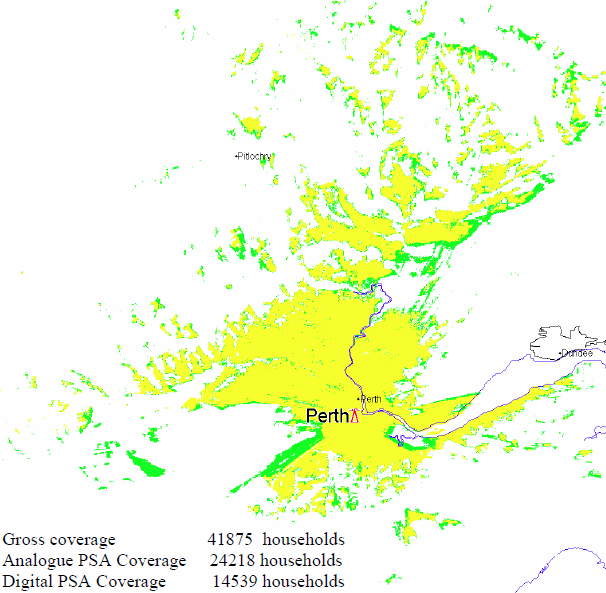 Tay Bridge




Keelylang Hill




Rumster Forest




Eitshal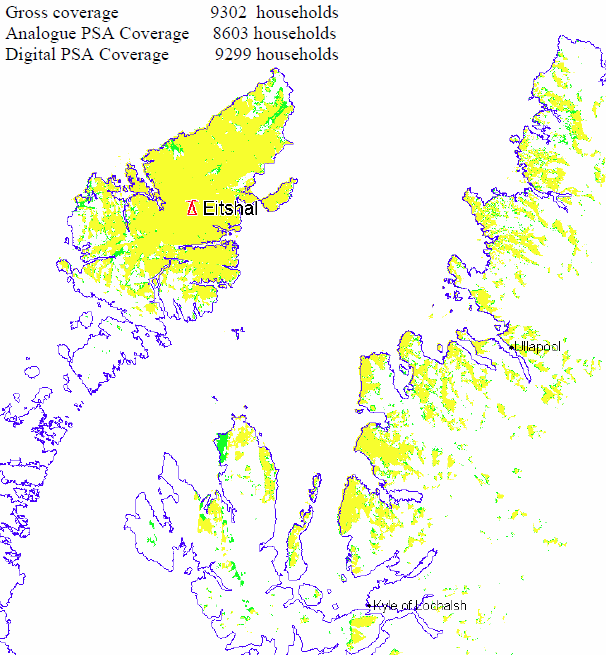 Balgownie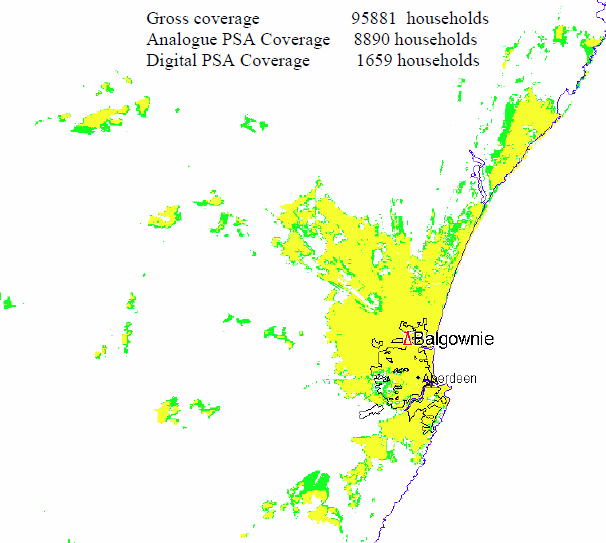 Comments
Monday, 21 March 2011
M
Mike Dimmick
3:56 PM
Reading

Charles Stuart: DVB-T QPSK 2/3 provides 8.04 Mbit/sec with a 1/32 Guard Interval. 64QAM 2/3 provides 24.13 Mbit/sec. The broadcasters currently carry 7 or 8 streams in this capacity. You might get 2 or perhaps 3 SD streams in QPSK 2/3, though it does depend on how heavily you're prepared to compress them.

Mike Dimmick's 2,486 posts
Mike's:
map
M's Freeview map
terrain
M's terrain plot
waves
M's frequency data
M's Freeview Detailed Coverage

While I can see from the figures provided by Mike Dimmick that QPSK probably does limit the number of channels to two, it still seems the better option to me. I can't see many areas having the economic capability to sustain more than two local channels, London, Birmingham, Manchester, Newcastle and Glasgow being really the only possible exceptions.

However, there's been no discussion of the possibility of using 16QAM. How would that affect reception? Particularly in England, I think that 64QAM simply won't cover the population in significant areas sufficiently for a service to be economically viable. The problem with 64QAM is that the signals so often totally miss the major population centre being served by the PSB and COM services from the same transmitter.

Maybe, as many of these transmitters have a second frequency available, if 64QAM were to be adopted perhaps the second frequency could be allocated to new transmitter locations to increase the coverage of the service. As an example, the second frequency available to Crystal Palace could be assigned to a new transmitter near Junction 3 or 4 of the M25 to serve south-east London.

Charles Stuart's 159 posts
Tuesday, 22 March 2011

Charles Stuart: They are expecting to make many billions from the DDR sale - BBC News - Ofcom to launch next-generation 4G consultations - the local TV system does not have "billions" in funding for additional frequencies to be used for digital TV.

Briantist's 38,899 posts
M
Mike Dimmick
3:51 PM
Reading

Charles Stuart: The whole point is that the frequencies can't be used outside the radiation patterns shown here, because they would interfere with other stations. Channel 29 from Crystal Palace is restricted at about 300° to protect Ridge Hill (West) near Hereford - this is the service that points roughly south-east to serve Cheltenham and Gloucester with West-region news rather than Central. Crystal Palace is over the horizon 112 miles away, but in the right weather conditions, signals can bounce off the atmosphere and cause problems.

In the north sector from 325° to 35°, it has to miss the coverage area of the Waltham transmitter, the main transmitter for the East Midlands 100 miles away. It has to avoid affecting the relay sites' ability to pick up their signal from Waltham as well.

It might just be acceptable if a station on the other side of the target city used the same frequency, aimed back towards the main station, and broadcast simultaneously with it - a Single Frequency Network. Receivers are already designed to handle reflections, and they just treat extra transmitters as really big reflections, as long as all 'reflections' arrive within a short period of time.

However, they're trying to keep the costs down by piggybacking on the existing main transmission facilities. Power would have to be pretty low as well, where the radiation patterns are restricted on both sides of the city.

These diagrams aren't final. A large number of sites have to be retuned after switchover is 'complete' to free up channels 61 and 62 for 800MHz (4G) mobile phones. The rough plan is to move use of 61 and 62 to 49 and 50, and use of 49 and 50 to 39 and 40, which were previously going to be released in the Digital Dividend. The plans they were based on weren't finished anyway - final plans for Tyne Tees and Ulster are still yet to be published.

The diagrams also represent the restrictions that must be placed on the signal - it won't be permitted to broadcast outside this area. However, it is not possible to build practical aerials that exactly match these patterns, so the actual broadcasts will be even further restricted.

Mike Dimmick's 2,486 posts
Mike's:
map
M's Freeview map
terrain
M's terrain plot
waves
M's frequency data
M's Freeview Detailed Coverage
Thursday, 24 March 2011

As a purely political statement, I think that British governments have neglected local broadcast media almost all the time since broadcasting started. I think that this is wrong. I think that some of the channels being given up for alternative use should be clawed back to provide a comprehensive local television system in every urban and suburban area of the country, covering rural areas as well as possible. I think that this should be done regardless of the relative financial cost/gain of alternative uses for these frequencies.

I think that local television is an important tool in contemporary democracy and that it also helps to preserve areas' sense of identity. Where all TV is regional or national, it seems to me that everywhere and everyone gets homogenized. Having lived in the US thirty years ago, I feel an understanding of how local broadcasters can contribute to local identity. US broadcast television is often criticized as bland and boring but its local stations can also be a focus for their communities.

While I don't suppose that posting on this site will influence anyone in a position of authority, one can at least try.


Charles Stuart's 159 posts
Wednesday, 30 March 2011

Charles Stuart: Sorry, but the government is expected to be able to make billions of pounds from the sale of the DDR frequencies, so it doesn't matter what anyone "thinks" about their use.

Briantist's 38,899 posts
M
Mike Dimmick
1:42 PM
Reading

Briantist: The mobile phone companies got burned with the 3G sale at 2.1GHz. I don't think anyone expects them to bid nearly as much for the 800MHz lot.

There is no mobile phone equipment anywhere in the world designed to operate at 550-614 MHz. No other country is releasing this spectrum. It's highly unlikely that anything would be designed just for the UK. Most of the responses to Ofcom's consultation from mobile networks simply said 'reserve it' (i.e. think about it later) and from hardware manufacturers, said 'we're not planning any hardware for that band'.

Mike Dimmick's 2,486 posts
Mike's:
map
M's Freeview map
terrain
M's terrain plot
waves
M's frequency data
M's Freeview Detailed Coverage

Mike Dimmick: Yes, I was considering the 550-614 MHz band in that respect. One very good use would be for SFN HD versions of the commercial multiplexes.

Briantist's 38,899 posts
Saturday, 21 May 2011

Q: hello, pls would anyone tell me where I could find a list of ONW_IDs TS_IDs S_IDs and Audio Chan Nos for Waltham? PC PCI cards need additional config data. Tried DTG Ofcom + BBC to no avail. Many thanks in anticipation.

bob davies's 3 posts

bob davies: Your software should be able to autoscan for this information as it changes from time to time.

If you have Windows 7, select Media Center and then Set Up TV.

Briantist's 38,899 posts
Select more comments
Your comment please