EXCLUSIVE More Freeview capacity coming 2012-2016

Brian Butterworth published on UK Free TV
It appears the Ofcom has decided that the UHF channels C31, C32, C33, C34, C35, C36 and C37 will be used for new Freeview services which will be rolled out on the 80 main transmitters by autumn 2016.

It appears that the seven UHF channels in the lower "digital dividend review" cleared spectrum for additional Freeview services.





It is possible that these services could be used for seven single-frequency networks (SFN) multiplexes, or less if they are used for multi-frequency networks.

Ofcom could assign C37 to a second public service high definition multiplex, as it can be received by all aerial groups. This could provide BBC three and BBC FOUR in HD, with perhaps ITV 2 HD and ITV 3 HD plus E4 HD, as Ofcom expect to get five HD channels per multiplex by 2013 - Five HD is expected on the BBCB multiplex at the end of 2012.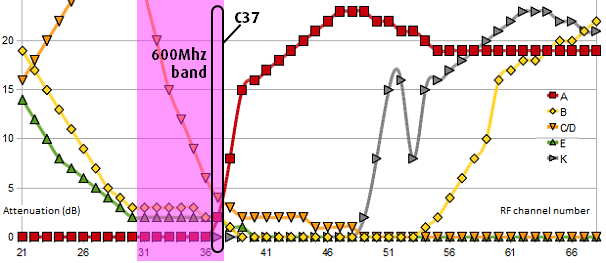 The remaining channels C31 to C36 will be receivable for group A, group B, group E group K and wideband aerial, and could provide high definition capacity to match all of the existing standard definition Freeview channels. (See also Aerial group performance).

Seven single frequency HD multiplexes would give Freeview HD another 35 high definition channels, making a total of 40 by 2016.

The six lower frequencies (C31-C36) will mean users of the following transmitters users require wideband aerials to watch the new services: Angus, Beacon Hill, Brierley Hill, Brighton (Whitehawk Hill), Carmel, Dover, Heathfield, Huntshaw Cross, Keighley, Limavady, Llanddona, Malvern, Mendip, Midhurst, Olivers Mount, Oxford, Plympton, Pontop Pike, Reigate, Rosneath, Salisbury, Selkirk, Tacolneston, Waltham and Winter Hill.

Ofcom has yet to consult on the actual usage and bidding process for these new frequencies.
The evidence
Arqiva is the company that owns all of the television transmitters in the United Kingdom, as well as two of the six Freeview multiplexes.
Regular contributor Mike Dimmock has pointed out that Arqiva have
applied to South Norfolk District Council, to make changes to the Tacolneston transmitter
, in which they say
"The decision has now been taken to reallocate spectrum at 600 MHz for additional terrestrial television broadcast services and OFCOM is tasked with the preparatory work leading up to the auction of this spectrum."
September 2011 - Arqiva Reference Offer prepared for OFCOM
Q2 2012 - Government holds Spectrum Auction
Q3 2012 new licences issued
Q3 2016 - Arqiva antenna works completed at Main Stations
Ofcom have been asked to comment.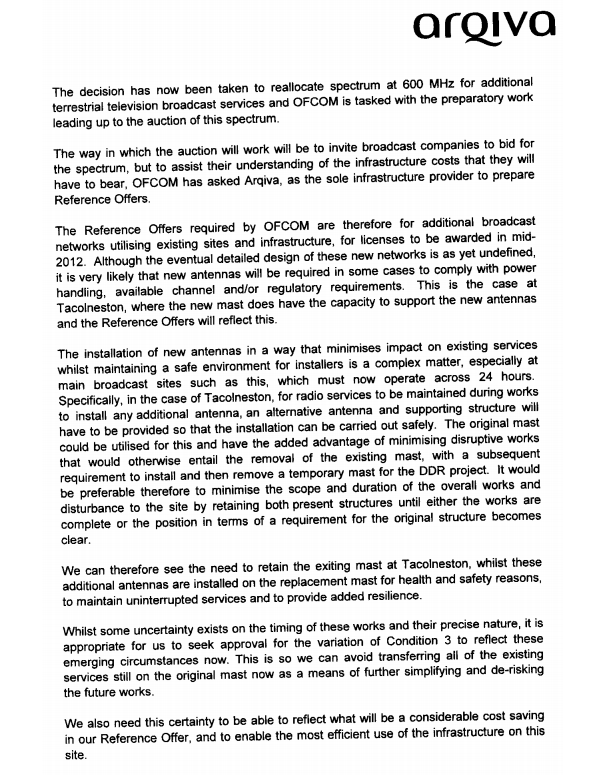 Comments
Thursday, 22 September 2011

Ah, I see that Ofcom | 600 MHz band and geographic interleaved spectrum has been published...

Briantist's 38,908 posts
Tuesday, 10 January 2012

Hi Brian, I haven't posted anything in a while but I want to just go back to my post I made on Thursday 18 August 2011 at 5:37PM. I was talking about future proofing and upgradeable hardware in tv's. Well under 5 months down the line at CES 2012 Samsung are showing us this is possible. Read this BBC report about it:-

BBC News - Samsung's 'future-proof' voice-controlled television

On top of that they have incorporated an Xbox Kinect style controller to replace the remote. It looks like Samsung are watching consumers ideas about future tv developments. Where people have been using a Kinect gestures to control a tv on Youtube.

Martin's 9 posts
M
Mark Fletcher
6:14 PM
Halifax

Scott.Saturday 3 September 2011,9.20am.That is true,the group C/D aerials normally works between frequencies 48 and 68,some superior quality group C/D Yagi and X-beam antennas can work as low down as fr 41,but as low down as fr 37 is pushing the boat out a wee bit !

Mark Fletcher's 673 posts
Mark's:
map
M's Freeview map
terrain
M's terrain plot
waves
M's frequency data
M's Freeview Detailed Coverage
Tuesday, 17 January 2012

Martin: Thanks. I would also read BBC News - CES postscript: Smart TVs get ready for prime time ...

Briantist's 38,908 posts
Saturday, 21 January 2012

It would be nice to have a Asian Community Channel- Thank You

kamran's 3 posts
Wednesday, 1 February 2012

i would more great tv noy tlus 1 channals or cellicast eg babestation psychic tv or 3rd partu shopping just new channals with programs for entertainment like pick tv

ian holdsworth's 2 posts
Thursday, 9 February 2012
S
Stu Davies
9:36 PM
Buckley

When will freeview HD be available in CH7 3AP

Stu Davies's 2 posts
Stu's:
map
S's Freeview map
terrain
S's terrain plot
waves
S's frequency data
S's Freeview Detailed Coverage

Stu Davies: It already is, and has been since November 2009 from the Winter Hill transmitter. You need a Freeview HD-branded TV, set-top box or PVR. Just 'HD Ready' is no good - see What does "Full HD Ready" actually mean? | ukfree.tv - independent free digital TV advice .

If you're looking at the manual, check that it lists DVB-T2 as well as DVB-T, if the Freeview HD logo doesn't appear.

Digital UK's postcode checker lists Moel-Y-Parc as the 'most likely' transmitter, from which the likelihood of HD reception is shown as variable, due to strong interference from Sutton Coldfield. To be honest I'd expect you to be using Winter Hill, with Storeton Wales supplying Welsh channels (including S4C Clirlun), if you want them. The Wrekin is also shown as a good option.

Mike Dimmick's 2,486 posts
Thursday, 26 April 2012

HI reading the statement about more channels to freeview between 2012 and 2016 i am very pleased coming back to freeview from virgin media these last few months i thankfull some new channels are coming what i would like to see are some channels thats on the sky , virgin media like the

a discovery channel
c s i [ crime channel ]
news news news channel abc 24 hour news
a channel like bravo which had old tv series and old black and white films
freeview answer to m tv music channel
plus another 14 channels of various out pot

andrew hidle's 3 posts
Sunday, 29 April 2012

well reading all messages most people are thinking about sky television , sky taken over virgin media channels wasnt the right thing to do what i would like to see is sky televison to loase its liciness to broadcasting then we can get all the televison station free it would also make a different as well that all broadcast channels that includes all bbc tv and radio stations to do the same then its a free market place for broacasters yes i am pleased someone asked about country music televison yes all channels that subsription based on freeview should be also free there should open up uk gold thats think of television programmes from the 1970s and 1980s that teenagers havent even watched love thy neighbour jewl in the clown etc come on freeview please take note

andrew hidle's 3 posts
Select more comments
Your comment please