EXCLUSIVE More Freeview capacity coming 2012-2016

Brian Butterworth published on UK Free TV
It appears the Ofcom has decided that the UHF channels C31, C32, C33, C34, C35, C36 and C37 will be used for new Freeview services which will be rolled out on the 80 main transmitters by autumn 2016.

It appears that the seven UHF channels in the lower "digital dividend review" cleared spectrum for additional Freeview services.





It is possible that these services could be used for seven single-frequency networks (SFN) multiplexes, or less if they are used for multi-frequency networks.

Ofcom could assign C37 to a second public service high definition multiplex, as it can be received by all aerial groups. This could provide BBC three and BBC FOUR in HD, with perhaps ITV 2 HD and ITV 3 HD plus E4 HD, as Ofcom expect to get five HD channels per multiplex by 2013 - Five HD is expected on the BBCB multiplex at the end of 2012.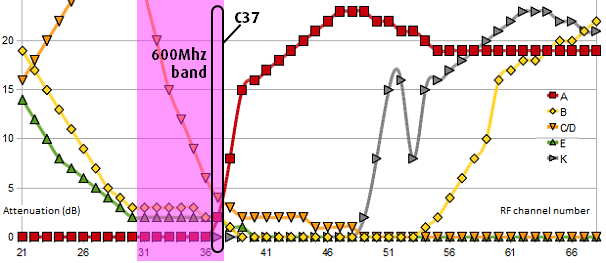 The remaining channels C31 to C36 will be receivable for group A, group B, group E group K and wideband aerial, and could provide high definition capacity to match all of the existing standard definition Freeview channels. (See also Aerial group performance).

Seven single frequency HD multiplexes would give Freeview HD another 35 high definition channels, making a total of 40 by 2016.

The six lower frequencies (C31-C36) will mean users of the following transmitters users require wideband aerials to watch the new services: Angus, Beacon Hill, Brierley Hill, Brighton (Whitehawk Hill), Carmel, Dover, Heathfield, Huntshaw Cross, Keighley, Limavady, Llanddona, Malvern, Mendip, Midhurst, Olivers Mount, Oxford, Plympton, Pontop Pike, Reigate, Rosneath, Salisbury, Selkirk, Tacolneston, Waltham and Winter Hill.

Ofcom has yet to consult on the actual usage and bidding process for these new frequencies.
The evidence
Arqiva is the company that owns all of the television transmitters in the United Kingdom, as well as two of the six Freeview multiplexes.
Regular contributor Mike Dimmock has pointed out that Arqiva have
applied to South Norfolk District Council, to make changes to the Tacolneston transmitter
, in which they say
"The decision has now been taken to reallocate spectrum at 600 MHz for additional terrestrial television broadcast services and OFCOM is tasked with the preparatory work leading up to the auction of this spectrum."
September 2011 - Arqiva Reference Offer prepared for OFCOM
Q2 2012 - Government holds Spectrum Auction
Q3 2012 new licences issued
Q3 2016 - Arqiva antenna works completed at Main Stations
Ofcom have been asked to comment.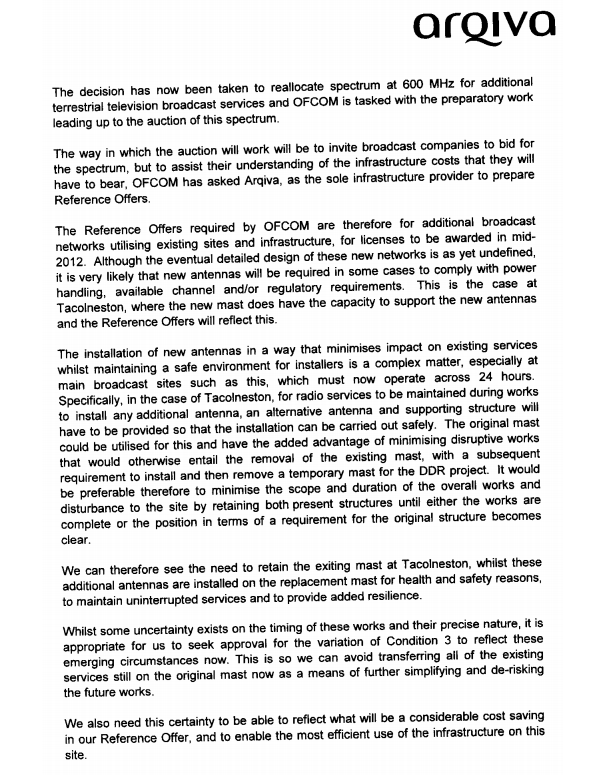 Comments
Sunday, 22 June 2014

So that solved the problem but why !!


Nigel's 58 posts
Nigel's:
map
N's Freeview map
terrain
N's terrain plot
waves
N's frequency data
N's Freeview Detailed Coverage
Tuesday, 5 May 2015

Please can freeview increase their cultural viewing and show us more choice of television without HD - I DO NOT UNDERSTAND what is HD -
Please Explain thank you-

Try and convince ZEE TV AND ZEE NEWS to come to FREEVIEW they are not as popular as COLOURS and PRIME TV and others on SKY - Bring ZEE TV _ ZEE NEWS and a FAR EAST TV Channel to FREEVIEW no HD Please Thanks - my FREEVIEW has no HD Thank You

kamran akram's 3 posts

kamran akram:

HD stands for High Definition, meaning the pictures are made up using the equivalent of 1080 lines rather than 720 line equivalwent for Standard Definition (SD). To view in HD you need an HD equipped TV/STB, many TVs that claim to be 'HD ready' do not have the equipment internally to receive the HD signals but they can display them if you use a Set Top Box (STB) that *is* HD equipped. It appears that it will be more important in the forthcoming few years to have equipment that can receive HD signals as Ofcom, the regulator, seems to be planning for more and more HD type signals that cannot be received by non-HD equipped TVs or STBs.

As for the programming, may I suggest you contact the broadcasters themselves as this site is entirely independent of them and cannot influence what programmes or content they show.

MikeP's 215 posts
MikeP's:
map
M's Freeview map
terrain
M's terrain plot
waves
M's frequency data
M's Freeview Detailed Coverage
Monday, 15 February 2016

Why can't there be more channels that are not for HDI don't want to go to the expense of purchasing another box my TV has freeview I just have the box for recording other channels. Not everyone wants things in high definition I for being one so more channels on normal freeview please

Sandra Newport's 2 posts

Sandra Newport: There are more channels, and most are still not in HD (although you might need an HD tuner to get them). Sorry, but HD is the way of the future, but since you can get an HD box for a whole forty four pounds, your not exactly going to break the bank.

While not everyone might want to watch in HD, once you have, you really will find it much better. The Attenborough nature programmes are filmed in HD, but are shown in SD and HD. Trust me, the HD looks much better, with a far greater degree of detail.

MikeB's 2,579 posts
Select more comments
Your comment please