On the tenth day of Christmas Auntie brought to me ... five more HD channels

Brian Butterworth
published on
UK Free TV
It would seem the BBC are going to have five HD channels for many UK homes in plenty of time for Christmas.

Here is the evidence. First, YouView is listing the channels from 7am/7pm on 10 December 2013.




And if you look into space, you can see the channels lined on satellite too.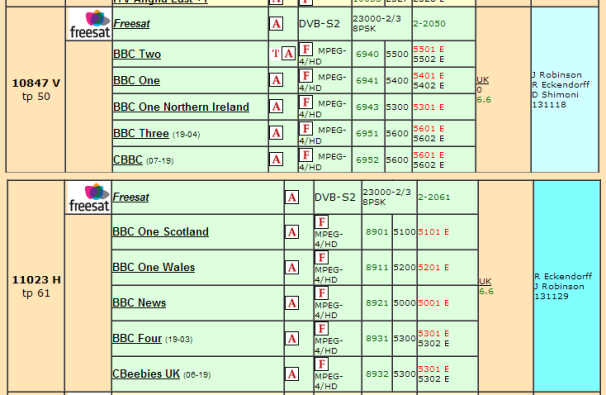 Remember that for Freeview HD viewers, you need to use the Crystal Palace (London), Belmont (Lincolnshire), Black Hill (Central Scotland), Emley Moor (West and South Yorkshire) and Winter Hill (Greater Manchester) transmitters to get BBC FOUR HD, CBeebies HD and BBC News HD.

UPDATE 9/12/13

The channel numbers are:



Sky HD subscribers will get the HD channels on the "usual" channel numbers: CBBCHD on 613 , CBeebies HD on 614 , BBC Three HD on 115 and BBC Four HD 116. (Virgin will get CBBCHD on 710, CBeebies HD on 711, BBC Three HD on 163, BBC Four HD 164 and BBC News HD 604).

See BBC - Blogs - About the BBC - CBBC HD, CBeebies HD, BBC Three HD, BBC Four HD & BBC News HD launch Tuesday 10 December 2013 for more.
Comments
Friday, 6 December 2013

Mark A.: and it isn't just Freeview light that is missing the com7 multiplex. The service is limited to a few masts today and will get 70% coverage in a couple of years.

Briantist's 38,908 posts

I think it all goes to show how much better satellite is. No such thing as light freesat.

trevorjharris's 367 posts
Saturday, 7 December 2013
T
Trevor Haywards Heath
11:51 AM

Question is .... are we definitely getting the 5 additional BBC HD channels on Freesat from the 10th ?

Trevor Haywards Heath's 2 posts
M
Mike Davison
2:48 PM
Wetherby

If you can operate your Freesat receiver in the 'non-Freesat' mode you could get them now using the info' from the Lyngsat screenshot above. I'm not sure when the numbered labels will change, probably not until inserted in the Freesat EPG. Only do this if you're really impatient about getting them.

Mike Davison's 127 posts
Mike's:
map
M's Freeview map
terrain
M's terrain plot
waves
M's frequency data
M's Freeview Detailed Coverage

I think it all goes to show how much better satellite is.


Except when there is heavy snow!

Steve P's 1,173 posts

Steve P: or want local or regional programmes...

Briantist's 38,908 posts

As I've said somewhere else, it's all very well introducing COM7 and COM8 in the frequency range C31 to C37, but why put them on so few transmitters? For example, Stockland Hill won't be getting COM 7 and COM 8. That seems odd, because according to UK Free TV, Stockland Hill serves 120,000 homes, whereas Beacon Hill (which will get COM7 and COM8) serves 84,000 homes. If Stockland Hill serves more homes than Beacon Hill, it too should have COM7 and COM8.

Looking at the COM 7 and COM 8 coverage maps for transmitters other than Stockland Hill, it seems all of Exeter won't be able to get COM 7 or COM 8 from Wenvoe, Mendip, Beacon Hill or Caradon Hill. Exeter is a city with quite a larege population, so surely the two new HD muxes ought to be on Stockland Hill as well to better serve Exeter.

It looks like west Wales won't get the new MUXs neither Preseli (57,000 homes) nor Carmel (72,000 homes) will carry COM7 or COM8. Ridiculous! That's denying an awful lot of homes of the signal.

If they wanted these two extra MUXES, why not put them on all the 80 transmitters that got DTT at the outset - autumn 1998, To save UHF channels, one could have been put on C37 as a SFN from all 80 transmitters, could it not? Is there anyone who can explain? Who decided which few transmitters should get the new MUXes?

Nicholas Willmott's 80 posts

Nicholas Willmott: the government froze the BBC licence fee so they don't have the money to roll out a full service.

There is a background article I wrote here

More Freeview capacity - COM7, COM8 and COM9 - in the 600MHz band | Freeview news | ukfree.tv - 11 years of independent, free digital TV advice

Sfn networks cannot be used due to the proximity of the French and Dutch TV networks.

Briantist's 38,908 posts

The policy of only serving a few areas is very unfair as everyone has to pay the same licence tax. The BBC has plenty of money but prefers to squander it on other things. The latest is that the BBC spent atleast £1.3m flying people to Salford over the past 2.5 years.

trevorjharris's 367 posts
Select more comments
Your comment please