EXCLUSIVE More Freeview capacity coming 2012-2016

Brian Butterworth published on UK Free TV
It appears the Ofcom has decided that the UHF channels C31, C32, C33, C34, C35, C36 and C37 will be used for new Freeview services which will be rolled out on the 80 main transmitters by autumn 2016.

It appears that the seven UHF channels in the lower "digital dividend review" cleared spectrum for additional Freeview services.





It is possible that these services could be used for seven single-frequency networks (SFN) multiplexes, or less if they are used for multi-frequency networks.

Ofcom could assign C37 to a second public service high definition multiplex, as it can be received by all aerial groups. This could provide BBC three and BBC FOUR in HD, with perhaps ITV 2 HD and ITV 3 HD plus E4 HD, as Ofcom expect to get five HD channels per multiplex by 2013 - Five HD is expected on the BBCB multiplex at the end of 2012.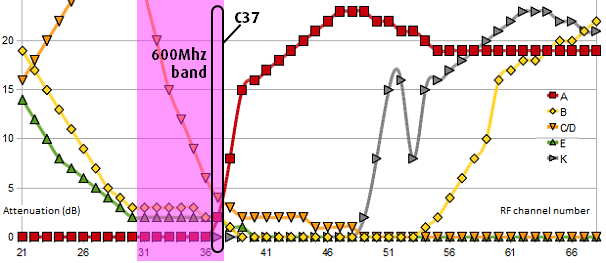 The remaining channels C31 to C36 will be receivable for group A, group B, group E group K and wideband aerial, and could provide high definition capacity to match all of the existing standard definition Freeview channels. (See also Aerial group performance).

Seven single frequency HD multiplexes would give Freeview HD another 35 high definition channels, making a total of 40 by 2016.

The six lower frequencies (C31-C36) will mean users of the following transmitters users require wideband aerials to watch the new services: Angus, Beacon Hill, Brierley Hill, Brighton (Whitehawk Hill), Carmel, Dover, Heathfield, Huntshaw Cross, Keighley, Limavady, Llanddona, Malvern, Mendip, Midhurst, Olivers Mount, Oxford, Plympton, Pontop Pike, Reigate, Rosneath, Salisbury, Selkirk, Tacolneston, Waltham and Winter Hill.

Ofcom has yet to consult on the actual usage and bidding process for these new frequencies.
The evidence
Arqiva is the company that owns all of the television transmitters in the United Kingdom, as well as two of the six Freeview multiplexes.
Regular contributor Mike Dimmock has pointed out that Arqiva have
applied to South Norfolk District Council, to make changes to the Tacolneston transmitter
, in which they say
"The decision has now been taken to reallocate spectrum at 600 MHz for additional terrestrial television broadcast services and OFCOM is tasked with the preparatory work leading up to the auction of this spectrum."
September 2011 - Arqiva Reference Offer prepared for OFCOM
Q2 2012 - Government holds Spectrum Auction
Q3 2012 new licences issued
Q3 2016 - Arqiva antenna works completed at Main Stations
Ofcom have been asked to comment.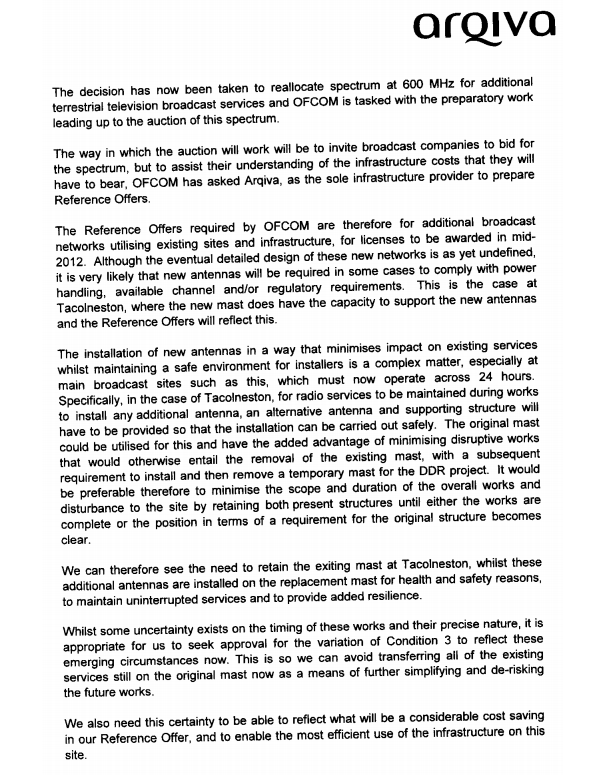 Comments
Friday, 19 August 2011

Jamie: Sadly, that is not possible. There are three rather blindingly obvious reasons:

1. For an SFN to work to cover the whole country you would need to change the locations of the transmitter masts and you would need to change the direction that everyone's aerials point;

2. Almost everyone would need to change their "grouped" aerial for a wideband aerial.

3. BBC One, BBC Two, ITV1, Channel 4, Channel 5 all have regional versions.

I covered this back in March 2006 at How much is switchover worth?
| ukfree.tv - independent free digital TV advice .

Briantist's 38,899 posts

Mark Aberfan Aerials: I think that most people I have spoken to in the industry concur that 3D (it isn't 3D, it is stereoscopic, they just call it 3D) is a gimmick being used to sell high end television sets, now that "Full HD" sets are now commodities (you can get a 40" HDTV for £300 - ASDA Launches Budget 40″ Full HD 1080p Freeview LCD TV Priced At £299 - it is a commodity).
The problem with stereoscopic production is that you can't make a stereoscopic programme that looks good that also looks good in normal 2D.
With the upgrade to HDTV, you can make a programme in HD and show on a SD channel either later, or at the same time.
But, anyway, as I have said before there is no need to "plan for 3D" as it carried in a standard HDTV frame with a flag set for televisions that can do something with it.

Briantist's 38,899 posts

Martin: Generally consumer electronic products are created using the cheapest possible technology, which is usually just enough tech to get it to work.

Moore's Law means that trying to design a device that you can upgrade in a couple of years would price such a device at four times the price of one that doesn't.

This, basically, does not work as a market proposition.

Briantist's 38,899 posts

I do not agree that most of the industry believe that 3D is just a gimmick. Have a look at 3D News Including Virtual Reality and Other Immersive Entertainment It was 3D that persuided David Attenborough to switch to Sky with considerable success. Of course there is a commercial element to this but that is the only way of making it all happen. The amount of content is increasing rapidly we now have Blu-ray, Sky, and consumer camcorders. It is also possible to convert 2D to 3D as has been done with the Star Wars films. I think the biggest advance has been in postproduction technology. I have been using Cineforms Neo to edit my 3D and it is amaizing what can be done.

John Logie Baird demonstrated high definition colour 3D in the 1940's so it is hardly new.

You mention the side by side transmission systems. There is a better way and that is using a frame compatable based system such as MVC as used in Blu-ray 3D. The advantage of this is that it is compatable with 2D decoders so a Blu-ray 3D disc will play in a 2D on a 2D player. I tried this by making a 3D blu-ray and it worked in 2D on my very old Sony player. This system gives full HD definition for both eyes but does require a higher bitrate.

I have no doubt that by 2016 3D will be common place and so if Freeview does not keep up with the technology it is going to loose out to satellite.

We have not mentioned Super HD yet with 8k and 4k pictures. A service is already starting in Japan so I would expect that by 2016 we would have some sort of service. I have seen plans to include this on terestrial but it looks to be very limited because of the bandwidth required. Personally I cannot wait for 8k at p50 in 3D. Awesome.

Trevor Harris's 367 posts

Trevor Harris: Obviously you are talking to different industry people than I am.

I think the idea that David Attenborough voiced over a documentary should be regard with the "one swallow does not make a summer". Sky have a fast marketing budget and tends to like having one-offs like that.

As you rightly point out there have been many demonstrations of stereoscopic systems over the years, but they have always fallen by the wayside due to being, as I said before, one-off gimmicks by the public.

The two above formats are the ones proposed by the broadcast industry.

I actually very much doubt if "by 2016 3D will be common place", and even if it were it is carried as I have indicated in standard HD frames, with the left and right parts having half horizontal resolution.

I think your point about higher resolutions is fair, it does seem that "full HD" is quite low resolution, as computer monitors in excess of "full HD" have been around for a long time.

It is possible that improvements in computing power and the MPEG-4 encoding algorithms will allow better-than-full-HD to be carried via DVB-T2, or that DVB-T2 could be extended to carry more bits.

Briantist's 38,899 posts

Voiced Over!! I don't think so you need to watch


David Attenborough's Flying Monsters 3D - Behind the Scenes
- YouTube


Took 9 months to make and more are planned. Sky has formed a new production company called Colossus Productions for producing 3D. There is a long term commitment. Currys and PC World are reporting that 20% of all televisions sold are 3D. Sky claims that half of all 3D tvs in the UK are connected to their 3D service.

Trevor Harris's 367 posts
Sunday, 21 August 2011

Trevor,

This site is all about FREE television and not really for those who can afford 3D televisions and 3D camcorders and pay Sky over £60 a month to get 1 3D channel.

Just because you can afford 3D doesn't mean that everyone can - especially in these difficult economic times.

You must learn to stop using marketing claims by Sky (and other vendors) as facts to support your arguments.

There are a lot of other skeptical sources (such as The Register) that do not believe what these marketing groups are saying.

There is the additional bandwidth required for 3D over 2D and until a true downward compatible 3D>HD>SD system is available it will require additional bandwidth for a relatively small customer base who actually want 3D.

Rather than quoting marketing groups, have you any independent customer analysis that supports your assertions - i.e. that 3D will be common place (whatever that may means) by 2016?

Peter's 18 posts

I'd just like to say that the small independent I work for sold our first 3D TV this weekend. The chap who bought it has no interest in 3D but liked the design and 2D picture quality on the TV (The exact reason we stocked it). I'm not really convinced by 3D personally, nor do I believe the sales figures being quoted by the "shed" retailers. We've not had lots of peopleasking for 3D. Let's face it, most retailers are going to tell the press they are selling lots so as not to look bad. Can you imagine an article that says Big Retailer Inc are selling 20%, but One Man Band Ltd haven't sold any?

Steve's 20 posts

Sorry Peter I did not mean this to become a discusion about 3D. My original point was that some of the extra space on freeview would be allocated to 3D.

Of course the distinction between so called "Free" television and pay TV is rather achademic. For BBC we have to pay a yearly fee and with ITV we pay with higher prices in the shops. As Bevin once said if you want a free National Health Service you have to pay for it.

Steve. Companies have to be very carefull about publishing sales figures as they could be construde as miss leading share holders which is a very serious offence.

Trevor Harris's 367 posts
Monday, 22 August 2011

What about crystal palace. All of its frequencies are in the group A region.

Matt's 101 posts
Select more comments
Your comment please