EXCLUSIVE More Freeview capacity coming 2012-2016

Brian Butterworth published on UK Free TV
It appears the Ofcom has decided that the UHF channels C31, C32, C33, C34, C35, C36 and C37 will be used for new Freeview services which will be rolled out on the 80 main transmitters by autumn 2016.

It appears that the seven UHF channels in the lower "digital dividend review" cleared spectrum for additional Freeview services.





It is possible that these services could be used for seven single-frequency networks (SFN) multiplexes, or less if they are used for multi-frequency networks.

Ofcom could assign C37 to a second public service high definition multiplex, as it can be received by all aerial groups. This could provide BBC three and BBC FOUR in HD, with perhaps ITV 2 HD and ITV 3 HD plus E4 HD, as Ofcom expect to get five HD channels per multiplex by 2013 - Five HD is expected on the BBCB multiplex at the end of 2012.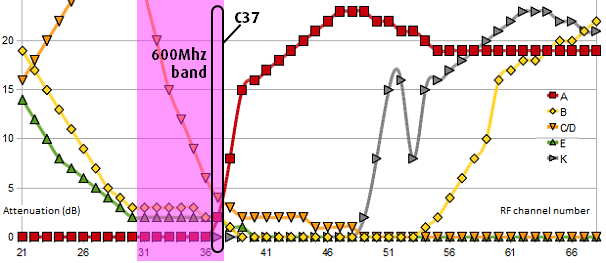 The remaining channels C31 to C36 will be receivable for group A, group B, group E group K and wideband aerial, and could provide high definition capacity to match all of the existing standard definition Freeview channels. (See also Aerial group performance).

Seven single frequency HD multiplexes would give Freeview HD another 35 high definition channels, making a total of 40 by 2016.

The six lower frequencies (C31-C36) will mean users of the following transmitters users require wideband aerials to watch the new services: Angus, Beacon Hill, Brierley Hill, Brighton (Whitehawk Hill), Carmel, Dover, Heathfield, Huntshaw Cross, Keighley, Limavady, Llanddona, Malvern, Mendip, Midhurst, Olivers Mount, Oxford, Plympton, Pontop Pike, Reigate, Rosneath, Salisbury, Selkirk, Tacolneston, Waltham and Winter Hill.

Ofcom has yet to consult on the actual usage and bidding process for these new frequencies.
The evidence
Arqiva is the company that owns all of the television transmitters in the United Kingdom, as well as two of the six Freeview multiplexes.
Regular contributor Mike Dimmock has pointed out that Arqiva have
applied to South Norfolk District Council, to make changes to the Tacolneston transmitter
, in which they say
"The decision has now been taken to reallocate spectrum at 600 MHz for additional terrestrial television broadcast services and OFCOM is tasked with the preparatory work leading up to the auction of this spectrum."
September 2011 - Arqiva Reference Offer prepared for OFCOM
Q2 2012 - Government holds Spectrum Auction
Q3 2012 new licences issued
Q3 2016 - Arqiva antenna works completed at Main Stations
Ofcom have been asked to comment.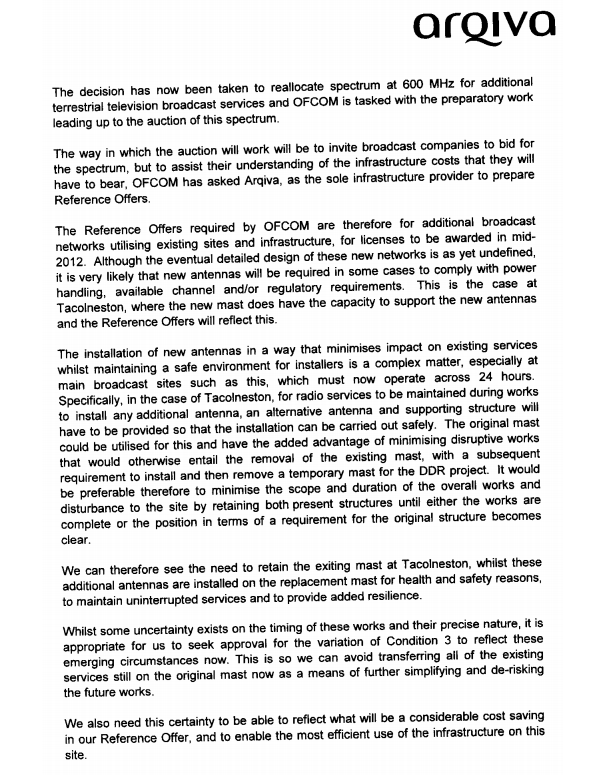 Comments
Thursday, 3 May 2012

when are the 3 new freeview chanals due 2 start chanal 47 on 47 tv stars and tv news

ian holdsworth's 2 posts
Monday, 16 July 2012

Are there any plans for anymore HD channels available for Freeview HD ?

Kev Mitchell's 1 post

Kev Mitchell: There will be a fifth slot available on the BBC B multiplex after the Olympics have finished (while the Olympics are on, this will be 301 HD, the HD version of the first additional Olympics video stream - there is already a placeholder on channel number 304). There are suggestions that Channel 4 might have leased the space to run some E4 HD/Film4 HD service, as C4 changed the names of the service licences fairly recently to mention '(HD)'. Nothing has been published, though.

After that, additional capacity can only come from launching new multiplexes, or converting existing ones to higher-capacity modes. New multiplexes are now unlikely until 2015 or later, because Ofcom are looking into releasing C49-C60 for mobile phone/broadband, following a decision at the last World Radiocommunications Congress to put that on the agenda for the next WRC. There's space available, and costs and template contracts had been drawn up, but releasing those frequencies means that the space available for new multiplexes would most likely have to be used for existing services instead.

Converting existing multiplexes is also fairly unlikely in the short term, as the existing services would then become unavailable to anyone without a Freeview HD box. It will depend on how quickly people take up Freeview HD, or another TV service that carries the same channels.

It's technically possible to put an HD channel on an unconverted multiplex, but it would occupy about one-third of the capacity, meaning four SD channels would have to close (at least - four slots would have to be freed up, and many slots are time-shared for different parts of the day) so it's pretty unlikely to happen.

Mike Dimmick's 2,486 posts
Thursday, 16 August 2012

More documentary or film channles would be nice - the archives the mainstream channels have on these, would be a real boon to freeview - we only have Quest and Yesterday (When the latter's not showing old period-set TV progs). also only really Film 4 is of any good, movies for Men is on Freesat but even that's a bit lame.

Paul Scott's 2 posts
Thursday, 13 September 2012
Stuart Owens
1:45 PM
Wrexham

Why is there two Al Jazeera channels on two separate EPG numbers? Both broadcast on COM6 so can't they timeshare on the same EPG number?
Al Jazeera Eng is on air 1800-2300 on ch.83 and Al Jazeera 6-8 is on air 0600-0800 on ch.84. Surely they could timeshare on the one channel number to save being on two different channel numbers at different times of the day?

Stuart Owens's 156 posts
Stuart's:
map
S's Freeview map
terrain
S's terrain plot
waves
S's frequency data
S's Freeview Detailed Coverage
Thursday, 20 December 2012
V
Viv
10:31 AM
Loughborough

Hi - wonder if you can enlighten me...
I bought one of Tesco's Freeview HD boxes (STBHDIS2010) recently, mainly for HD channel access but also for the iPlayer TV access offered via Channel Zero. Channel Zero recently had their licence revoked by OFCOM and have stopped broadcasting.
1) Do you know of any other way of accessing on-demand services with this box at present?
2) If not, what prospects are there of doing so in future ?
I was relieved to see from your recent post that HD services are definitely going to expand, so the box should be of some use for this at least...

Viv's 1 post
Viv's:
map
V's Freeview map
terrain
V's terrain plot
waves
V's frequency data
V's Freeview Detailed Coverage
Wednesday, 4 June 2014

Why has itv gone off my freeview digital box please.



day's 1 post

I keep losing ITV Yorks LCN 3 on my LG tv ITV +1 channel 4 all OK
Need to rescan each time I turn on the TV Regional ITV problem ?
BBC Yorks is OK on LCN 1

Nigel's 58 posts
Nigel's:
map
N's Freeview map
terrain
N's terrain plot
waves
N's frequency data
N's Freeview Detailed Coverage

Nigel: Which transmitter are you using?

Emley Moor seems the most likely. If you loose BBC One but not other BBC services and ITV but not Channel 4, Channel 5 etc then could you be tuned to Bilsdale for them and Emley for BBC One Yorkshire and ITV Yorkshire?

Dave Lindsay's 5,724 posts
Thursday, 5 June 2014

Using Bilsdale TX for all Muxs except Olivers mount for BBC and ITV Yorks Ch 57, 60 but keep losing ITV Yorks when TV is turned off been like this for about a month 800 duplicates in 800s are OK No Emley Moor signal


Nigel's 58 posts
Nigel's:
map
N's Freeview map
terrain
N's terrain plot
waves
N's frequency data
N's Freeview Detailed Coverage
Select more comments
Your comment please