Ofcom announces 700 MHz clearance schedule 2017-20

Brian Butterworth
published on
UK Free TV
Following on from the When will I get a new Freeview aerial because of even more mobile broadband? article, this week Ofcom have published the dates for the "700MHz clearance".[1]
New "Switchover" dates
The dates are for the transmitter regions (these main transmitters and the relays of them):
July-December 2017: Bressay, Eitshal (Lewis), Keelylang Hill, Knock More, Rosemarkie, Rumster Forest, Skriaig.
January-June 2018: Bromsgrove, Crystal Palace, Hannington, Lark Stoke, Midhurst, Oxford, Ridge Hill, Rowridge, Sandy Heath, Sutton Coldfield, Tacolneston, The Wrekin, Tunbridge Wells.
July -December 2018: Black Hill, Blaenplwyf, Bluebell Hill, Craigkelly, Darvel, Durris, Hastings, Heathfield, Llanddona, Long Mountain, Moel-Y-Parc, Preseli, Rosneath, Sudbury, Torosay, Whitehawk Hill.
January-June 2019: Beacon Hill, Caradon Hill, Fremont Point, Huntshaw Cross, Kilvey Hill, Mendip, Redruth, Stockland Hill, Wenvoe.
July -December 2019: Angus, Bilsdale, Brougher Mountain, Caldbeck, Caldbeck Scotland, Carmel, Chatton, Divis, Dover, Limavady, Pontop Pike, Selkirk.
January-June 2020: Belmont, Douglas, Emley Moor, Nottingham, Olivers Mount, Waltham, Winter Hill.
I have created an interactive map showing these regions and the dates: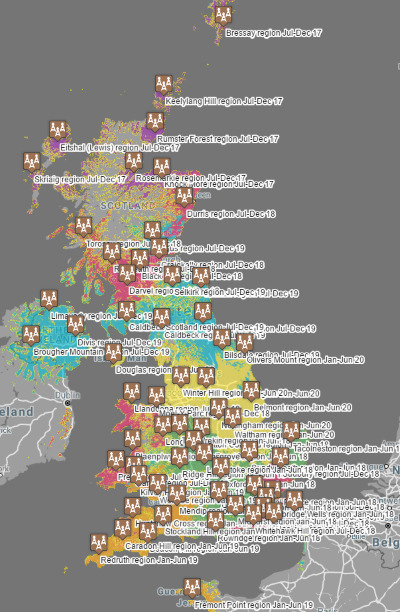 Freeview HD allocations
Channel 55 and 56 will be used for the "interim" HD multiplex com7 and com8:
[1] Maximising the benefits of 700 MHz clearance Enabling acceleration of 700 MHz clearance and use of the 700 MHz centre gap 17th October 2016
Comments
Wednesday, 24 January 2018
T
Total spammer
11:53 PM
Bristol

You desperately need to get some kind of abuse reporting tool on here; a comment posted on Sunday, 4 December 2016, which is clearly spam, with what is almost certainly a virus laden weblink, has still not been removed. You will get problems if you don't add such a feature.

Total spammer's 1 post
Total's:
map
T's Freeview map
terrain
T's terrain plot
waves
T's frequency data
T's Freeview Detailed Coverage
N
Not actually a spammer
11:58 PM
Bristol

And a way to edit your posts might be nice!

*message in good spirit, just spotted that dodgy post on here and wanted to report it :)

Not actually a spammer's 1 post
Not's:
map
N's Freeview map
terrain
N's terrain plot
waves
N's frequency data
N's Freeview Detailed Coverage
Thursday, 25 January 2018

I seem to have lost BBC HD NEWS 24 on 107 I retuned my Humax Freeview Box in fact both of them, the signal strength is 90% so its not the Freeview Boxes or the aerial that is at fault, any suggestions?

Chris's 1 post

Chris: Retuning was a bad idea as you've just deleted the channel when it was already correctly tuned. What does the signal quality level show?

StevensOnln1's 3,569 posts
Select more comments
Your comment please