To join, leave or change ukfree.tv updates by email, enter your email address here:
Ofcom announces 700 MHz clearance schedule 2017-20

Brian Butterworth
published on
UK Free TV
Following on from the When will I get a new Freeview aerial because of even more mobile broadband? article, this week Ofcom have published the dates for the "700MHz clearance".[1]
New "Switchover" dates
The dates are for the transmitter regions (these main transmitters and the relays of them):
July-December 2017: Bressay, Eitshal (Lewis), Keelylang Hill, Knock More, Rosemarkie, Rumster Forest, Skriaig.
January-June 2018: Bromsgrove, Crystal Palace, Hannington, Lark Stoke, Midhurst, Oxford, Ridge Hill, Rowridge, Sandy Heath, Sutton Coldfield, Tacolneston, The Wrekin, Tunbridge Wells.
July -December 2018: Black Hill, Blaenplwyf, Bluebell Hill, Craigkelly, Darvel, Durris, Hastings, Heathfield, Llanddona, Long Mountain, Moel-Y-Parc, Preseli, Rosneath, Sudbury, Torosay, Whitehawk Hill.
January-June 2019: Beacon Hill, Caradon Hill, Fremont Point, Huntshaw Cross, Kilvey Hill, Mendip, Redruth, Stockland Hill, Wenvoe.
July -December 2019: Angus, Bilsdale, Brougher Mountain, Caldbeck, Caldbeck Scotland, Carmel, Chatton, Divis, Dover, Limavady, Pontop Pike, Selkirk.
January-June 2020: Belmont, Douglas, Emley Moor, Nottingham, Olivers Mount, Waltham, Winter Hill.
I have created an interactive map showing these regions and the dates: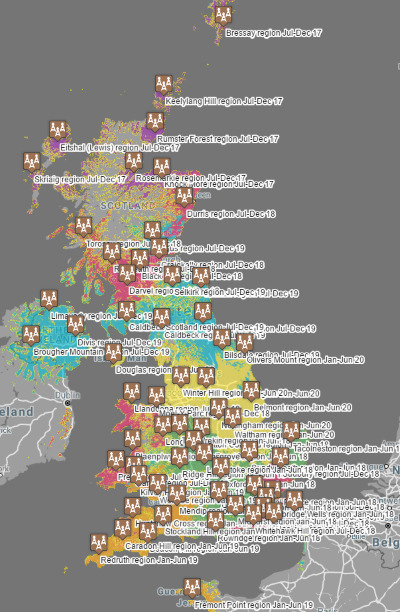 Freeview HD allocations
Channel 55 and 56 will be used for the "interim" HD multiplex com7 and com8:
[1] Maximising the benefits of 700 MHz clearance Enabling acceleration of 700 MHz clearance and use of the 700 MHz centre gap 17th October 2016
Comments
Monday, 13 February 2017

I notice that Brierley Hill is not on the list even though all MUXs are in the ch50 to 60 range??

StuHarris's 16 posts
Monday, 20 February 2017

Note: The Selkirk transmitter is now being "done" in March 2017.

"Freeview said the updating of the Selkirk transmitter in south-east Scotland in March will enable the firm to test its processes ahead of the full rollout, which will begin in the summer.

The Selkirk transmitter serves about 18,000 homes. Some Freeview channels will move to new airwaves, which means that Freeview viewers in the south of Scotland will need to retune their TV equipment on 1 March to continue watching BBC channels.

Ofcom said that "for the vast majority, the move will require only a simple retune".

It estimates that in total 100,000 households might need to change their roof-top aerial, and that a "small number" of viewers might need to fit a filter to their TV to prevent mobile phone signals from interfering with TV reception."

Briantist's 38,768 posts
Owner
Wednesday, 22 March 2017

I notice that in the new plan some main transmitters use exactly the same UHF channels as each other . Will there be a frequency offset or other means to reduce the chance of co channel interference?

hardy's 18 posts
Monday, 11 September 2017

Why can cable TV suppliers such as BT not supply a full freeview service to areas currently only getting the freview light service

Seamus's 1 post

Seamus: Because BT would want to be paid for rebroadcasting the commercial channels via their internet TV service. This would require BT to enter into a commercial deal with each broadcaster in order to carry their channels, which probably wouldn't bring them enough additional subscribers to be worthwhile.

StevensOnln1's 863 posts
Gold
Select more comments
Your comment please