Ofcom announces 700 MHz clearance schedule 2017-20

Brian Butterworth
published on
UK Free TV
Following on from the When will I get a new Freeview aerial because of even more mobile broadband? article, this week Ofcom have published the dates for the "700MHz clearance".[1]
New "Switchover" dates
The dates are for the transmitter regions (these main transmitters and the relays of them):
July-December 2017: Bressay, Eitshal (Lewis), Keelylang Hill, Knock More, Rosemarkie, Rumster Forest, Skriaig.
January-June 2018: Bromsgrove, Crystal Palace, Hannington, Lark Stoke, Midhurst, Oxford, Ridge Hill, Rowridge, Sandy Heath, Sutton Coldfield, Tacolneston, The Wrekin, Tunbridge Wells.
July -December 2018: Black Hill, Blaenplwyf, Bluebell Hill, Craigkelly, Darvel, Durris, Hastings, Heathfield, Llanddona, Long Mountain, Moel-Y-Parc, Preseli, Rosneath, Sudbury, Torosay, Whitehawk Hill.
January-June 2019: Beacon Hill, Caradon Hill, Fremont Point, Huntshaw Cross, Kilvey Hill, Mendip, Redruth, Stockland Hill, Wenvoe.
July -December 2019: Angus, Bilsdale, Brougher Mountain, Caldbeck, Caldbeck Scotland, Carmel, Chatton, Divis, Dover, Limavady, Pontop Pike, Selkirk.
January-June 2020: Belmont, Douglas, Emley Moor, Nottingham, Olivers Mount, Waltham, Winter Hill.
I have created an interactive map showing these regions and the dates: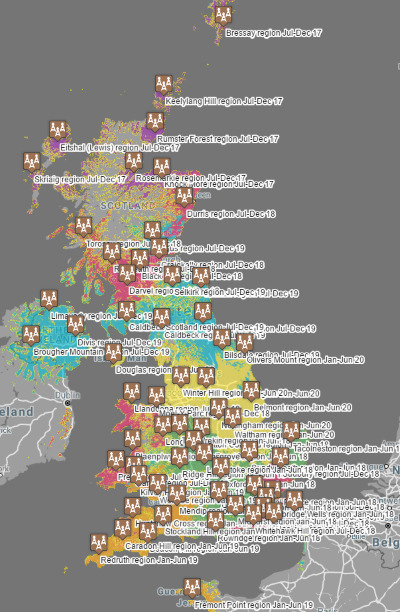 Freeview HD allocations
Channel 55 and 56 will be used for the "interim" HD multiplex com7 and com8:
[1] Maximising the benefits of 700 MHz clearance Enabling acceleration of 700 MHz clearance and use of the 700 MHz centre gap 17th October 2016
Comments
Thursday, 20 October 2016

Is this when a HD TV or box will be required in order to receive even SD IE change to DVB-T2 ?

David's 306 posts

David: It doesn't look like there has been an announcement on DVB-T switchover yet, and the frequency change doesn't mean you have to - in fact most people probably wont notice the change at all, since their aerial will be fine, and the equipment will auto retune.

There is over 18 months until the first really large number of people will be affected - and by that time, the bulk of people will have a DVB-T2 tuner anyway, if they havn't already, simply through natural turnover, so its not worth worrying about.

MikeB's 2,579 posts

David:

Further to that said by MikeB, when the switchover does occur, you will need equipment that is capable of receiving DVB-T2 transmissions. That means any equipment that is capable of receiving HD transmissions already is suitable. If, however, your equipment is not capable of receiving HD services (so is not a full HD set but only and HD ready one) then a change of equipment will be required.

Many people change their TV sets naturally, as MikeB suggests, but not everyone. Many I know expect to get at least 10 years usage from a TV so the 'churn' mentioned is not necessarily quick enough for everyone to have obtained a full HD set by the time of switchover.

If you already watch, or are capable of watching, HD services is will not be a problem for you. However, there may be some areas where a different aerial might be needed but that is unclear at this stage.



MikeP's 3,056 posts

MikeP which switch over are you talking about?
The one in this timetable or a future one?
I agree people may well change their main lounge TV with 10 years but then it goes to replace say the Dinning room TV, or Kitchen or Bedroom etc. thus people will be upset with the DVB-T2 switchover.
Another thing are suppliers still allowed to sell new DVB-T1 (non HD) equipment?

David's 306 posts

MikeP: Nobody has sold CRT TV's for a decade (my old one was from 2005), so the vast majority of TV's should either have a DVB-T2 tuner, or at least have at least one or two HDMI connections, able to take a seperate HD box.

Since companies like Mahanttan make an HD receiver which includes a scart, and even the latest Humax still has RCA phonos, even a relatively old TV should be upgradable, if it hasn't given up the ghost by the time DVB-T2 becomes the standard.

As you say, the old thing people really need to worry about for the moment is if their aerial will work, and we will see what the actual percentage that need to change them, rather than the headline figure. We all remember the panic over 4G!

David - yes, they are! However, from this year, sellers will have to explain clearly that they are Freeview only, and at some point soon, they will have to stop selling them. Frankly, this should have been done ages ago, but there you are.


MikeB's 2,579 posts

It's reasonable to expect people's main TV and/or set top box to be replaced after a period - though we have 2010 gear that is still as good as day one. Scrapping it to enable ever more mobiles to stream tripe in 4k 5g is a waste.

Furthermore, many of us have irreplaceable SD boxes - ones that have features or usability you struggle to find today at any price. Some early-ish SD boxes make brilliant radio recorders, with live buffering / chase play, EPG to series record, great UI and playback control. Just the stuff 21st century radios should have built-in, but it looks like is never coming.

woodface's 39 posts

woodface: Do you have a mobile phone? The answer is almost certainly yes. The spectrum to use that mobile has to come from somewhere. And the most efficient way to get that spectrum is to use those frequencies which wont be needed once we go over to DVB-T2.

You may not want to stream in 5G, but the market (and the money) says people do. And money talks. Its going to happen, and overall, the advantages are pretty clear to almost all. And its unlikely that you'd want to stream 4K over a mobile all that much anyway.

As for SD tuners that can be used to record radio - just how many are there? There are about 29m households in the UK, so what are the percentage of people who use this kit in this way (my current recorder probably could) - tiny.

Just like when people talk about analogue radio going, some get very hot under the collar when talking about the switch to T2 tuners. But it hasn't happened yet - in fact its hasn't even been announced as to when it might happen and what criteria will be used. And it wont be for a fair while, and when it is decided, there will be a decent interval for people to change over.

And by that point, the vast majority of the old kit would have died off anyway. Lets worry about it when we get to it.

MikeB's 2,579 posts
Friday, 21 October 2016

As far as I know, the move to clear the 700MHz band from Freeview doesn't require the change of the existing services to DVB-T2. It may also be possible to continue the "interim multiplexes" com7 and com8 in what is shown as the "centre gap" C55/C56 (using a UK-wide single frequency network) beyond the introduction of the mobile services - however Ofcom have said in the linked document above that they aren't planning to do this.

I've been though the whole document and there is no suggestion **at all** that the existing PSB and COM multiplexes will change to DVB-T2 before June 2020.

However, once com7/com8 close down (at the end of May 2020) there might be pressure to switch other multiplexes to DVB-T2 to increase capacity and move to having HD for the public service channels (those of the BBC, plus ITV (1), Channel 4 and Channel 5).

Briantist's 38,906 posts

"MikeB/MikeP: Nobody has sold CRT TV's for a decade (my old one was from 2005), so the vast majority of TV's should either have a DVB-T2 tuner, or at least have at least one or two HDMI connections, able to take a separate HD box. "
I have 4 flat screens in the house only one is DVB-T2 so I doubt majority of non-crt are other than DVB-T1.

David's 306 posts

David: As I wrote 'or at least have one or two HDMI connections, able to take a seperate HD box'.

DVB-T2 tuners appeared about the time of digital switchover in 2012, so of course they would not be built into older sets/PVR's. But as long as they have an HDMI (or even in theory a scart) connection, thats fine.

Since most people buy TV's on a 5-10 year cycle, with 7 years currently being roughly the average time between upgrades, and the bulk of TV's sold since about 2014 have had DVB-T2 tuners, by the time it comes to switching off DVB only transmissions, the majority of main TV's are likely to have them built in, and the rest easily capable of upgrade.

A fair number of my customers last week bought a TV about 8-10 years ago. Their new one will have Freeview HD, probably Freesat, wifi, be smart and 4K. And will be much cheaper in real terms than the one they bought previously. The market is moving ahead - and will probably make DVB tuners very largely obsolescent some time before the regulators decide to make the switch.

MikeB's 2,579 posts
Select more comments
Your comment please