Local TV on Freeview - new Ofcom maps

Brian Butterworth published on UK Free TV
Here are the maps produced by Ofcom to show the local television on Freeview areas idenfitied in the Ofcom: Indicative locations for local television multiplexes - Initial technical assessment [pdf] document.

The maps are shown with the service covering most homes listed first, as on the Local TV on Freview - table of winners and loosers page.

Crystal Palace, Sutton Coldfield and Brierley Hill




Emley Moor and Beecroft Hill (relay), Winter Hill (southeast petal) and Saddleworth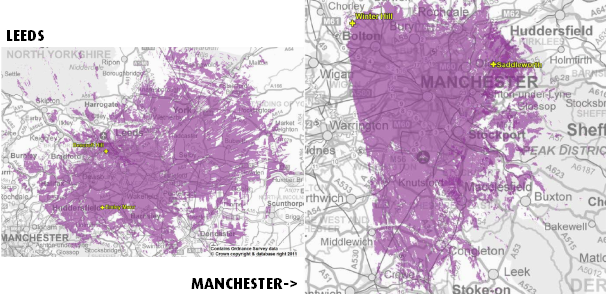 Fenham and Pontop Pike, Winter Hill (southwest petal) and Storeton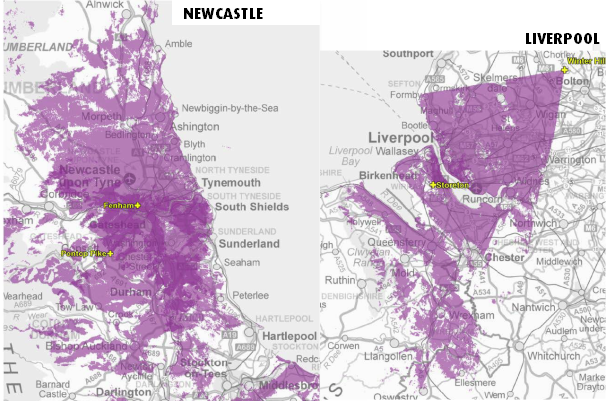 Black Hill (west petal), Craigkelly




Wenvoe, Black Hill (northeast petal)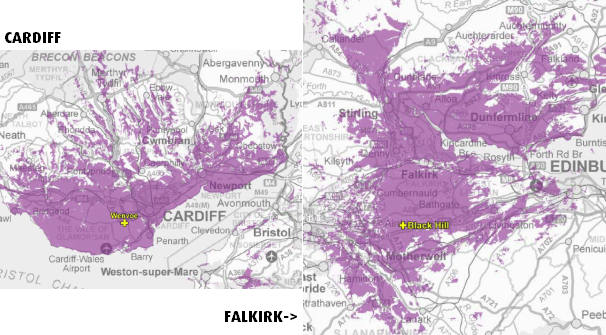 Rowridge, Angus and Tay Bridge (relay)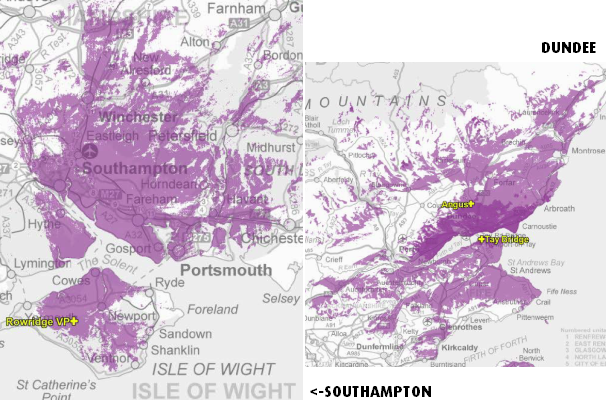 Bristol Kings Weston and Bristol Ilchester Crescent and Mendip, Hannington (northeast petal)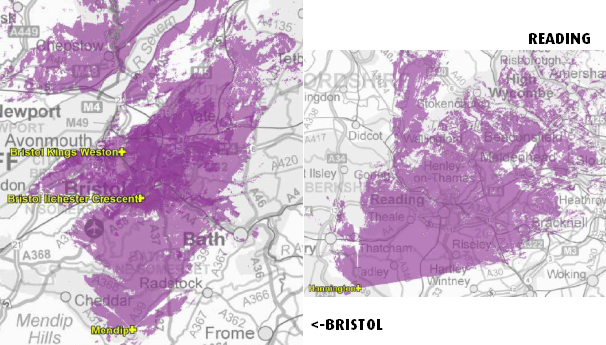 Winter Hill (northeast petal), Waltham and Nottingham



Bilsdale (north petal), Belmont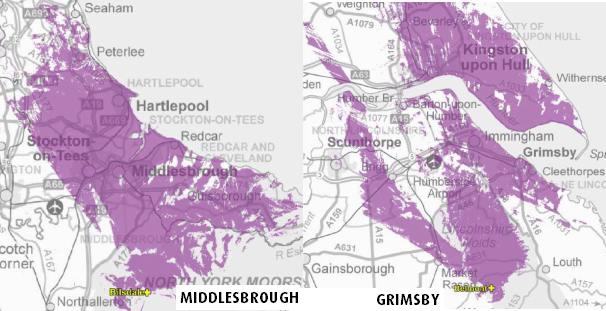 Divis, Bluebell Hill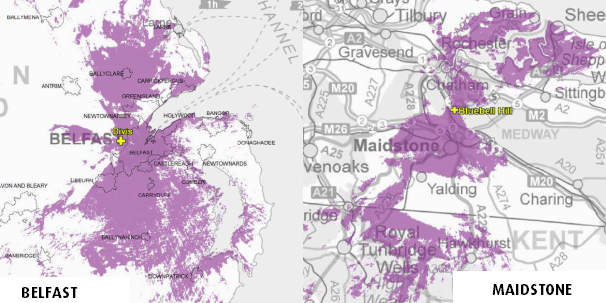 Sheffield, Guildford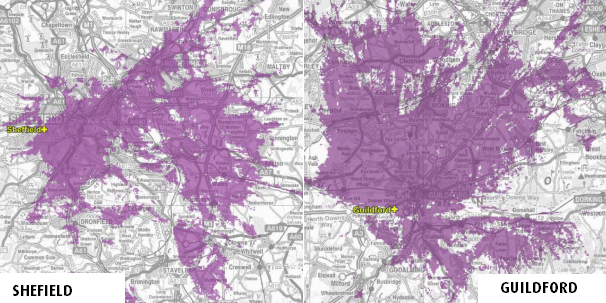 Darvel, Tacolneston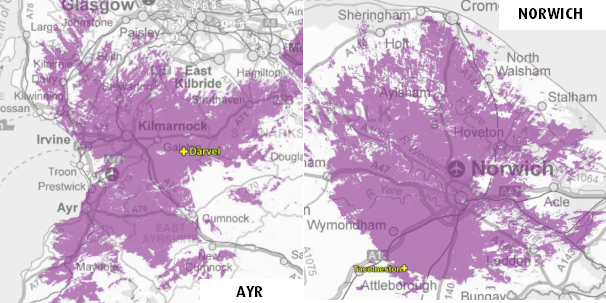 Whitehawk Hill, Fenton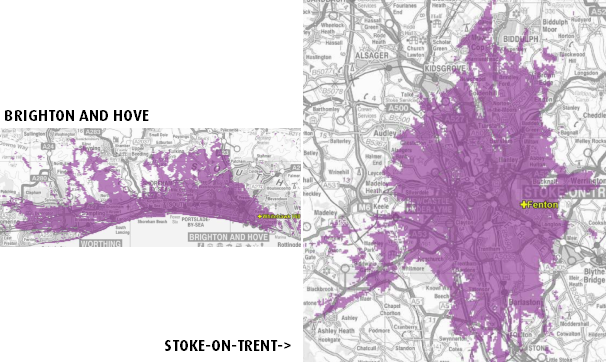 Bilsdale (south), Ridge Hill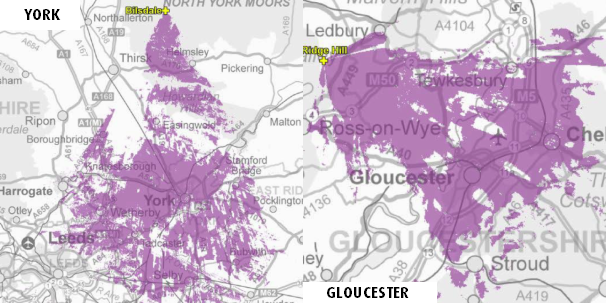 Lancaster, The Wrekin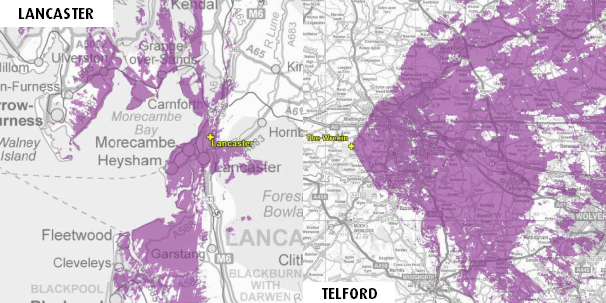 Durris, Pendle Forest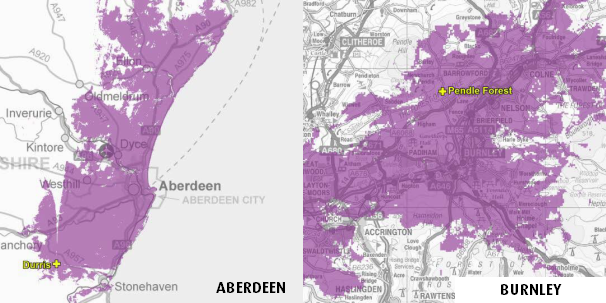 Caldbeck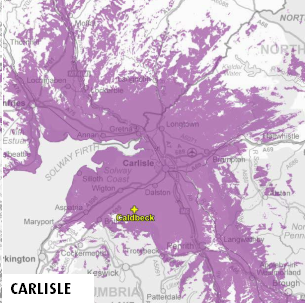 Reigate, Kilvey Hill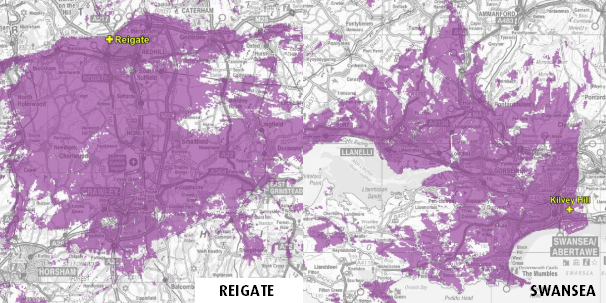 Hemel Hempstead, Oxford



Heathfield, Plympton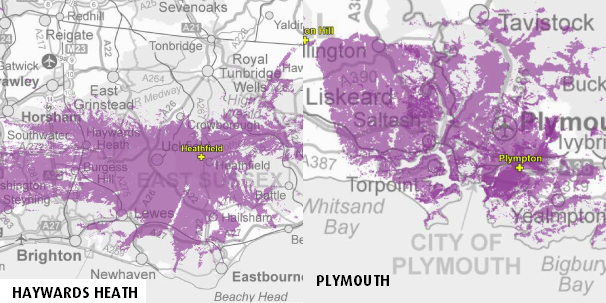 Moel-y-Parc, Hannington (southeast petal)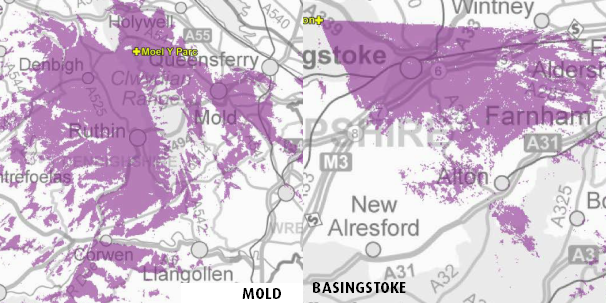 Madingley (Cambridge) (ex-C5), Bromsgrove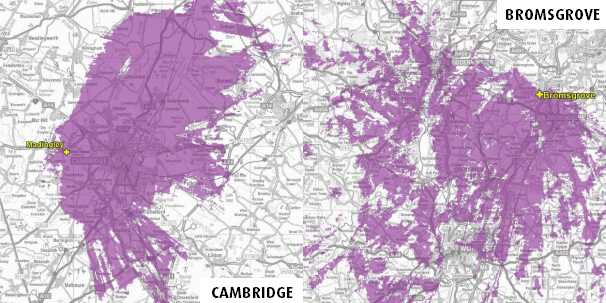 Luton, Keighley, Malvern, Rosemarkie, Lark Stoke, Sandy Heath, Tunbridge Wells, Limavady, Dover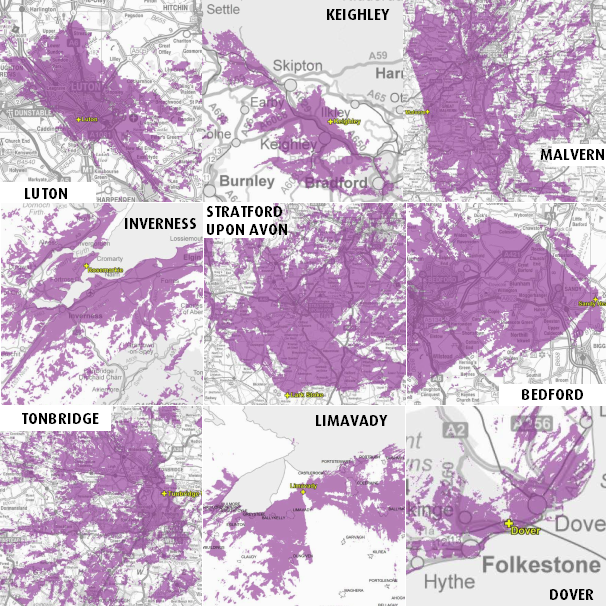 Carmel, Poole, Knockmore, Rosneath, The Wrekin (east), Ridge Hill (northeast), Olivers Mount, Salisbury, Londonderry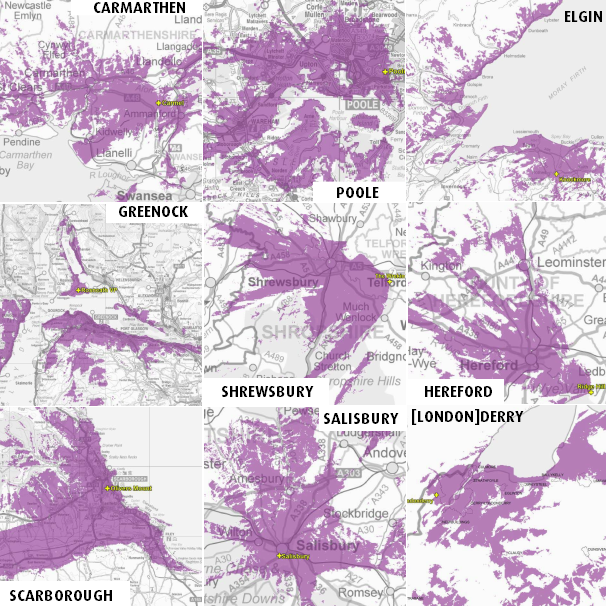 Kidderminster, Huntshaw Cross and Barnstaple (relay), Presely, Llanddona

Comments
Wednesday, 10 August 2011

If this page is a response to my request, it's astonishingly quick! Thanks either way.

Though I do not much like the information. 5 miles north of Oswestry we seem to be in the Liverpool "local" TV area!

In no way are Liverpool and NE Wales a common locality. We don't even speak the same language - Scouse is poorly understood here.

Are these areas fixed, or can they be challenged/changed?

Steve P's 1,173 posts

Steve P: You cannot stop a transmission at an arbitrary boundary. If the signal is strong enough to be received in all parts of the coverage area in Liverpool itself, there's inevitably going to be some bleed over into areas beyond the city. This isn't intentional coverage, though it will cover some 'dormitory' areas.

Mike Dimmick's 2,486 posts

Mike - we are not a Liverpool suburb; we are 50 MILES away - and in a different country!

If you look at the map above (right, near top) I am the very southernmost tip of coverage, where it says "Oswestry".

Wrexham is the largest town in N Wales, and should have a local service. Directional tx is possible!

Steve P's 1,173 posts

Right, that's all 66 maps done.

Briantist's 38,901 posts

Just found the "Mold" map - listed on the other thread as pop 214547. They must be counting sheep, not people.

Brian - I am a bit confused with these regions. They don't seem related to TV regions as we know them. I presume the powers that be are trying to make littler regions? But I don't think I in LL14 5HD can see "Storeton". We use the Wrekin; and I understand Granada id possible with a long pole (Winter Hill)

Certainly it would make FAR more sense to put Mold and Wrexham into the same area.

Steve P's 1,173 posts
Steve's:
map
S's Freeview map
terrain
S's terrain plot
waves
S's frequency data
S's Freeview Detailed Coverage

I get more confused as I go on!

Why no service for Chester? It seems to be a gap in the Liverpool/Storeton area, but I can't think of any big hills to cut it off. The wirral is pretty flat!

Steve P's 1,173 posts

Steve P: Re: "They don't seem related to TV regions as we know them".

That is the whole point of the exercise. regional news is all well and good if you happen to live in the city where it is made, but much less so if you don't.

The whole point of this exercise is to provide local TV services that do not follow the BBC and ITV regions.

However, there are constraints.

Firstly, there are no new frequencies available, this means using the "geographical interleave" planning, which restricts the power levels and requires to use of DVB-T, QPSK, rate 2/3, guard interval 1/32, which will provide two TV channels per multiplex at the most.

Secondly, the proximity of transmitters to coverage areas. For example, Emley Moor covers most of the West Yorkshire conurbation, so Leeds gets lumped together with Wakefield, Halifax and Huddersfield, for example. Some places such as Dundee are served by two transmitters. Guildford and Lancaster do have transmitters, but they only serve 30% of the actual local population.

Thirdly, you always have to serve the area between the transmitter and a given target city, the signal is always stronger nearer to the transmitter.

There is no restriction on some of these areas being joined together if needs be, but the principle idea is that this is "local" television.

Briantist's 38,901 posts

Steve P: Even though Moel-y-Parc could serve Chester, people there point at Winter Hill, which is too far distant for low power QPSK to reach.

Briantist's 38,901 posts

I live in Mold and I can not get freview at all. I have to have Fresat

Peter D's 4 posts

ITV ( Granada ) asset stripped the industry. I think they should replace the facilities they have destroyed. i.e 5 studios in Newcastle and a similar number in Leeds etc.

Peter D's 4 posts
Select more comments
Your comment please