COM7, COM8 and COM9 part II - which transmitters are "in group"

Brian Butterworth published on UK Free TV
Following on from More Freeview capacity - COM7, COM8 and COM9 - in the 600MHz band below is a table showing the list of transmitters and the proposed channel allocations for the proposed three new multiplexes.

Next to each allocation, in the "dB" column is the amount of signal loss that using the allocated "grouped" aerial for each transmitter will cause.

A value of 0, shown with a green background, denotes full power. A value down to -3dB with an orange background shows that a grouped aerial will probably work, and values in red of -4dB or lower are where a grouped aerial will block the signal.

There is a chart at the bottom of the page showing how various grouped aerials perform under the "reference ITC" model that Ofcom and Arqiva use.

Transmitters shown bold have the new multiplexes "in group", those totally "out of group" are shown in italic.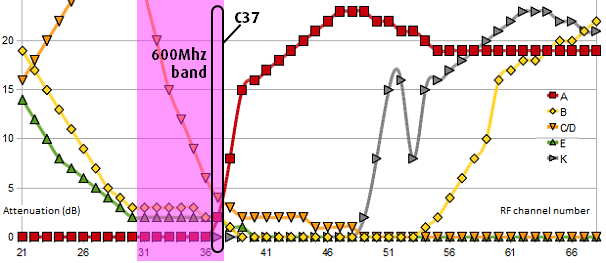 Comments
Sunday, 25 September 2011

i'm get freeview from the Tacolneston transmitter using a group C/D aerial, on the north side of Norwich. I was told by the help scheme that this aerial would be adequate for all services, but with the announcement of the new multiplexes, it would seem that I've been misled.

A Foster's 4 posts
A's:
map
A's Freeview map
terrain
A's terrain plot
waves
A's frequency data
A's Freeview Detailed Coverage

Is the SFN on C36 not going to be transmitted from Durris?

Will's 39 posts

Will: No, due to the border with the RoI, the UK-wide SFN cannot be broadcast from Durris or Limavady.

Briantist's 38,904 posts

A Foster: Yes, that is correct, if you want to use these services when they launch, you will need a wideband aerial.

Actually, looking at the data, you may also need a wideband aerial to receive SDN and ArqA after switchover, but as they are only "just" out of group and you are in a very strong signal area, you will probably be OK.

The official advice for the last decade or so has been that you should fit a wideband aerial if you upgrade, but there is no need to fit a replacement for access to the "public service" multiplexes.

Most transmitters also have the COM multiplexes "in group" after switchover, but not all.

Briantist's 38,904 posts

How can Durris signals from NE Scotland interfere with the ROI?

David's 1 post
David's:
map
D's Freeview map
terrain
D's terrain plot
waves
D's frequency data
D's Freeview Detailed Coverage

David: I'm really sorry, I made a copy and paste error. It's Brougher Mountain, not Durris, that goes along with Limavady to be not part of the SFN.

Briantist's 38,904 posts

Will: The correct answer is yes, it's Brougher Mountain and Limavady that won't have the SFN.

Briantist's 38,904 posts
Monday, 26 September 2011

This is just a theoretical question because it interests me. I guess that eventually the five DVB-T munltiplexes will be converted to DVB-T2. When that happens, could they be reconfigured to create eight new multiplexes and a leftover frequency that could be used for other purposes?

Another idea I've had is that when the first of COM 7,8 or 9 opens, one of the existing multiplexes could be transferred to enable a truly local television service, along the lines of ITV when it first started but with local, rather than regional franchises and much more local content in each franchise area. (52.3992,-0.7201)

Charles Stuart's 159 posts

Charles Stuart: When the existing five multiplexes are converted to DVB-T2 they will use the same plan as now with DVB-T. I'm not sure why you think there would be anything "left over"?

Local television is being provided on Interleaved Frequencies - see Local TV on Freeview - new Ofcom maps | ukfree.tv - independent free digital TV advice . COM7 or COM8 could, in theory, be used for local services, COM9 can't as it's a national SFN.

Briantist's 38,904 posts

My idea was that if they convert from DVB-T to DVB-T2, I guess that they need to build new transmitters. If they're building new transmitters, why not reallocate the frequencies to the same, more efficient model that will be used for COM 7 & 8? If you can change five frequencies per multiplex to three per multiplex, why not do it to create more multiplexes or to clear some frequencies for other use? (52.3992,-0.7201)

Charles Stuart's 159 posts
Select more comments
Your comment please