Ofcom announces 700 MHz clearance schedule 2017-20

Brian Butterworth
published on
UK Free TV
Following on from the When will I get a new Freeview aerial because of even more mobile broadband? article, this week Ofcom have published the dates for the "700MHz clearance".[1]
New "Switchover" dates
The dates are for the transmitter regions (these main transmitters and the relays of them):
July-December 2017: Bressay, Eitshal (Lewis), Keelylang Hill, Knock More, Rosemarkie, Rumster Forest, Skriaig.
January-June 2018: Bromsgrove, Crystal Palace, Hannington, Lark Stoke, Midhurst, Oxford, Ridge Hill, Rowridge, Sandy Heath, Sutton Coldfield, Tacolneston, The Wrekin, Tunbridge Wells.
July -December 2018: Black Hill, Blaenplwyf, Bluebell Hill, Craigkelly, Darvel, Durris, Hastings, Heathfield, Llanddona, Long Mountain, Moel-Y-Parc, Preseli, Rosneath, Sudbury, Torosay, Whitehawk Hill.
January-June 2019: Beacon Hill, Caradon Hill, Fremont Point, Huntshaw Cross, Kilvey Hill, Mendip, Redruth, Stockland Hill, Wenvoe.
July -December 2019: Angus, Bilsdale, Brougher Mountain, Caldbeck, Caldbeck Scotland, Carmel, Chatton, Divis, Dover, Limavady, Pontop Pike, Selkirk.
January-June 2020: Belmont, Douglas, Emley Moor, Nottingham, Olivers Mount, Waltham, Winter Hill.
I have created an interactive map showing these regions and the dates: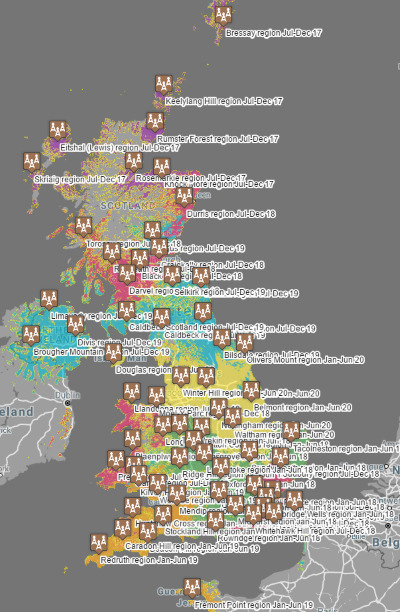 Freeview HD allocations
Channel 55 and 56 will be used for the "interim" HD multiplex com7 and com8:
[1] Maximising the benefits of 700 MHz clearance Enabling acceleration of 700 MHz clearance and use of the 700 MHz centre gap 17th October 2016
Comments
Friday, 4 November 2016

Wideband aerial that term needs a rethink.
Are present wideband aerial that are sold just cover the present used channels or those we used back in analog days?
Will there be an aerial that covers only these future channel and how will that be marketed in name?

David's 306 posts

David:

Current 'wideband' aerials are suitable for all existing digital and the 'old' UHF analogue services as they use the same frequency bands. All currently projected future digital TV transmissions will also use the same bands below 700 MHz, that is all of Band 4 and part of Band 5. DAB radio uses part of Band 3 that was used for the VHF 405 line analogue ITV transmissions.

So any wideband aerial of either modified Yagi pattern or of log-periodic pattern will be suitable for TV transmissions into the foreseeable future, so there is no requirement to change the design of the aerials at this time.



MikeP's 3,056 posts
Saturday, 5 November 2016

Thanks for info.
My present wideband aerial is not as your first line it is described, badly I think, as a wideband 4G aerial.
Meaning it does not cover the higher channel numbers that were given up to mobile phone use.

David's 306 posts

David:

The reference to 4G means that it is fitted with a filter so that 4G signals are significantly attenuated, that is the signals above 800 MHz. I expect that if/when the 700-800 MHz band becomes available to mobile operators over the next few years there may be a requirement on them to ensure that their transmissions do not cause interference to TV signals and others. So they may need to offer filters, to those affected by their new signals, that are effective across the 700-800 MHz range. Not everybody will need these filters if their local transmitter uses the lower channels.

So your aerial should be suitable for TV reception after the changes mentioned by Briantist at the top of this section. That is based on currently available information.

MikeP's 3,056 posts
Sunday, 6 November 2016

I doubt it has a filter in it as I can't recall one when installing it.
I believe it is optimised for the present range of frequencies in its design.
I will be looking out in the future for an aerial that is optimised for the new range of frequency being talked about.

David's 306 posts

David:

It is a filter 'built in' during manufacture and not a later fitment. It is therefore suitable for current and ALL future foreseeable digital TV transmissions, even when the proposed changes occur between 2017 and 2019. You do NOT need a different aerial as all that is happening is that some multiplexes on the higher frequencies above 700 MHz are being altered so they are below 700 MHz. Your aerial is already capable of receiving signals between 450 MHz and 700 MHz so does not need to be altered at all. Likewise, there is no need for any change in the optimisation of the aerials offered, though some may try to claim such as a means to 'rip off' potential customers unnecessarily.

You do not need to be concerned about what aerial you need in future nor what it may be called, your current aerial is likely to be perfectly suitable, based on currently available information.



MikeP's 3,056 posts
Monday, 7 November 2016

Yes agree it will work, but by 2019 will need a replacement due to age.
Then I would expect aerials to have been redesigned.

David's 306 posts
Tuesday, 8 November 2016

David:

Aerials last for many, many years in my considerable experience in the industry (since 1960) so, unless the current aerial is damaged, you are very unlikely to need a replacement aerial. It is also unlikely that aerials will have been redesigned in any significant way as it is not necessary at all. Only those wanting to 'rip off' customers who are unaware of the technicalities of aerials and TV reception will change the stated details and probably not have changed anything of the aerial design.

So I strongly suggest your relax and not worry about changing aerials or what they are called.



MikeP's 3,056 posts
Wednesday, 9 November 2016

MikeP: Agree entirely with Mike P's comments. Sorry to say, many people were 'ripped off' into buying 'digital' aerials in the past!

rasthem's 11 posts

The television aerial at my parent's place has been there ever since the start of transmissions from the Saddleworth transmitter (1969 I think) so that's 46 years and the aerial has never once packed in.

Very very rarely would an aerial give up due to 'age'; it's more about the physical state of it overtime.

Harry's 27 posts
Select more comments
Your comment please