Freeview Light on the Trefin (Pembrokeshire, Wales) transmitter

Brian Butterworth first published this on - UK Free TV
The symbol shows the location of the Trefin (Pembrokeshire, Wales) transmitter which serves less than 500 homes. The bright green areas shown where the signal from this transmitter is strong, dark green areas are poorer signals. Those parts shown in yellow may have interference on the same frequency from other masts.
This transmitter has no current reported problems
The BBC and Digital UK report there are no faults or engineering work on the Trefin (Pembrokeshire, Wales) transmitter.


_______
Which Freeview channels does the Trefin transmitter broadcast?
If you have any kind of Freeview fault, follow this
Freeview reset procedure
first.
Digital television services are broadcast on a multiplexes (or Mux) where many stations occupy a single broadcast frequency, as shown below.
Mux
H/V
Frequency
Height
Mode
Watts

PSB1




BBCA

V max

C25 (506.0MHz)
155m
DTG-

100W


1 BBC One (SD) Wales, 2 BBC Two Wales, 9 BBC Four, 23 BBC Three, 201 CBBC, 202 CBeebies, 231 BBC News, 232 BBC Parliament, plus 14 others 601 BBC RB 1, 700 BBC Radio 1, 701 BBC Radio 1Xtra, 702 BBC Radio 2, 703 BBC Radio 3, 704 BBC Radio 4 (FM), 705 BBC Radio 5 Live, 706 BBC Radio 5 Live Sports Extra, 707 BBC Radio 6 Music, 708 BBC Radio 4 Extra, 709 BBC Asian Network, 710 BBC World Service, 719 BBC Radio Wales, 720 BBC Radio Cymru,



PSB2




D3+4

V max

C22 (482.0MHz)
155m
DTG-

100W


5 Channel 5, 6 ITV 2, 10 ITV3, 13 E4, 14 Film4, 15 Channel 4 +1 South ads, 18 More4, 26 ITV4, 28 ITVBe, 30 E4 +1, 35 ITV1 +1 (Wales),



PSB3




BBCB

V -1.4dB

C28 (530.0MHz)
155m
DTG-

72W


46 5SELECT, 101 BBC One HD Wales, 102 BBC Two HD Wales, 104 Channel 4 HD South ads, 105 Channel 5 HD, 106 BBC Four HD, 110 Channel 4 HD (Wales), 204 CBBC HD, 205 CBeebies HD, plus 1 others 66 TBN UK,


H/V: aerial position (horizontal or vertical)
Are you trying to watch these 44 Freeview channels?


The
Trefin (Pembrokeshire, Wales)
mast is a
public service broadcasting
(PSB) transmitter, it does not provide these
commercial
(COM) channels: 4seven, 5Action, 5STAR, 5USA, Al Jazeera Eng, Al Jazeera English, Blaze, Blaze +1, Challenge, Channel 5 +1, Dave, Dave ja vu, DMAX, Drama +1, E4 Extra, YAAAS!, Film4 +1, Food Network, GREAT! action, GREAT! christmas, GREAT! movies extra, GREAT! movies, HGTV, HobbyMaker, ITV2 +1, ITV3 +1, ITV4 +1, ITVBe +1, Legend, PBS America, Quest +1, Quest Red, Really, Sky Mix, Sky News, Talking Pictures TV, TCC, That's 90s, That's Christmas, Together TV, TRUE CRIME, TRUE CRIME XTRA, W, Yesterday +1.
If you want to watch these channels, your aerial must point to one of the 80
Full service Freeview transmitters
. For more information see the
will there ever be more services on the Freeview Light transmitters?
page.
Which BBC and ITV regional news can I watch from the Trefin transmitter?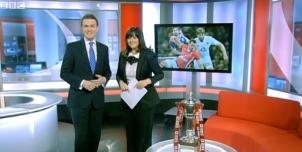 BBC Wales Today
1.2m homes
4.7%
from
Cardiff
CF5 2YQ, 140km east-southeast (112°)
to
BBC Wales region - 206 masts
.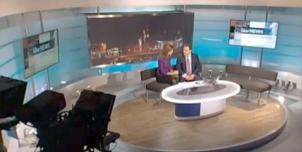 ITV Cymru Wales
1.2m homes
4.7%
from
Cardiff
CF5 6XJ, 139km east-southeast (114°)
to
ITV Wales region - 206 masts
.
How will the Trefin (Pembrokeshire, Wales) transmission frequencies change over time?
1984-97
1997-98
1998-2009
2009-13
31 Dec 2018-

A

K

T

A

K

T

A

K

T

A

K

T

A

K

T

C22
BBC1waves
BBC1waves
BBC1waves
D3+4
D3+4
C25
ITVwaves
ITVwaves
ITVwaves
BBCA
BBCA
C28
BBC2waves
BBC2waves
BBC2waves
BBCB
BBCB
C32
C4waves
C4waves
C4waves
tv_off Being removed from Freeview (for 5G use) after November 2020 / June 2022 - more
Table shows multiplexes names see this article;
green background for transmission frequencies
Notes:
+
and
-
denote 166kHz offset;
aerial group
are shown as
A
B
C/D
E
K
W
T
waves
denotes analogue; digital switchover was 19 Aug 09 and 16 Sep 09.
How do the old analogue and currrent digital signal levels compare?
BBCA

,

D3+4

100W

BBCB

(-1.4dB)

72W

Analogue 1-4
(-2.5dB)

56W
Which companies have run the Channel 3 services in the Preseli transmitter area
| | |
| --- | --- |
| Sep 1962-Jul 1964 | Wales (West and North) Television (Teledu Cymru) |
| Jul 1964-Jul 1968 | Television Wales and the West |
| Jul 1968-Feb 2004 | Harlech Television |
| Feb 2004-Dec 2014 | ITV plc |

| | |
| --- | --- |
| Feb 1983-Dec 1992 | TV-am• |
| Jan 1993-Sep 2010 | GMTV• |
| Sep 2010-Dec 2014 | ITV Daybreak• |
• Breakfast ◊ Weekends ♦ Friday night and weekends † Weekdays only. Trefin was not an original Channel 3 VHF 405-line mast: the historical information shown is the details of the company responsible for the transmitter when it began transmitting Channel 3.
Comments
Friday, 14 April 2023
Transmitter engineering
9:46 AM

Trefin transmitter - Trefin transmitter: Possible effect on TV reception week commencing 10/04/2023 Screen may go black on some or all channels [DUK]

Transmitter engineering's 146,829 posts
Monday, 17 April 2023
Transmitter engineering
4:07 AM

Trefin transmitter - Trefin transmitter: Possible effect on TV reception week commencing 17/04/2023 Screen may go black on some or all channels [DUK]

Transmitter engineering's 146,829 posts
Monday, 9 October 2023

Any current issues with the Trefin transmitter? Last night, all 3 muxes were dropping out completely for short periods. Neighbour asked me today if I have been having issues the past couple of days. I hadn't noticed on Saturday but mentioned last night and he confirmed the same issues as I had yesterday. He said he's had issues most of the day today and can confirm channels 22 and 25 are currently showing low signal quality on my Humax.

I can't see any issues being listed on here in regards to the Trefin transmitter. Signal from the Saorview muxes from Mt Leinster seem unaffected so seems unlikely to be atmospheric.

Adam Jackson's 9 posts

Actually take back that last part, I'm seeing fluctuations in signal quality on Mt Leinster Ch26 so must be atmospheric issues. Must be having mobile network issues as it seems I posted the same message 5 times. Sorry about that

Adam Jackson's 9 posts

Adam Jackson: While there may be other possible reasons, it may be worth noting that PSB1 on C25 and PSB2 on C22 are 100W and PSB3 on C28 is 72W. This appears as such in a spreadsheet titled "Complete DTT Frequency Plan" which I have saved from 2013, which tells us it's been like it since then.

The only reason I can think that they are on higher power is because there is another transmitter which uses C22 and C25 but not C28 which has been calculated as a potential interferer and they have upped the power in effort to compensate.

This doesn't prove that this is the reason you and your neighbour have had difficulty over the last few days, but it is a hypothesis that you may wish to consider.

The question then, is which transmitter or transmitter might it be? Blaenplwyf uses 22, 25 and 28 for its COMs, so it doesn't make sense to suspect it.

I wonder if the GE06 agreements between Ireland and the UK may give the answer. For the 800MHz Clearance agreement dated 1 June 2012, Trefin had added for channels 22, 25 and 28: "Slope across; 2dB | 275 degrees | Waterford; 1dB | 285 degrees | Waterford". In the table this is written on three separate lines -- I've denoted a line break through use of the semicolons. This is an addition, not a modification to an entry at on a previous agreement.

For the 700MHz Clearance, dated 24 March 2017, for the three channels of Trefin, in the "Action" column (where is says either "no change", "addition" or "modification") it does say "no change". However, the clearance agreement has had added (since the 700MHz Clearance agreement) entries for Arklow/Wicklow for C22 and C25 but not C28 (C28 remained as per the 800MHz Clearance agreement).

The agreement for C22 and C25 at Trefin (but no C28) now reads "Interpolate 2dB | 275deg to 1dB | 285deg | Waterford; Interpolate 0dB | 320deg to 1dB | 330deg and 1dB | 331 - 334 | Arklow/Wicklow".

Now let's cross-reference this with what's actually being transmitted from these Irish sites. In Ireland there are only two multiplexes but the international negotiations are for six multiplexes. This begs the question: does Waterford use 22 and 25? It has international clearance to use 28, but does it not do so at present?

The "Digital Television Transmission Network" document from 2rn dated September 2019 Gallows Hill, Waterford using 22 and 25 with vertical polarity and ERP of 250W.

The "Saorview bulletin" dated July 2019 sets out the transmitter network post 700MHz Clearance, including listing the transmitters which were to change channel and their old channel. Wicklow was a new transmitter on 22 and 25 with vertical polarity at ERP of 250W.

Steve Donaldson's 144 posts

Adam Jackson: I remember you now! I know we talked on here a few months back to someone in St Nicholas.

In which case, as all three channels went then Blaenplwyf's COM channels must be the prime suspect as they are relatively local. The terrain map and plot, and the coverage map on this site suggests that their normal availability is up to the high ground to the north east of St Nicholas, between St Nicholas and Fishguard.

The Trefin transmitter had quite a power increase at digital switchover. The former analogue was 56W and 7dB down on that is 25W. -7dB with respect to analogue provides the same coverage for digital. The powers are now 100W (PSB1/2) and 72W (PSB2), so roughly a tripling and quadrupling of power. Prior to switchover, Blaenplwyf and Trefin were not co-channel.

Steve Donaldson's 144 posts

Adam Jackson:

Whilst Steve's technical analysis is very thorough and maybe very relevant to you, there are weather related problems -

They have been causing Tropospheric Ducting affecting much of the south coast and southern parts of the country on Saturday and now extending into the Midlands and North of the country through Sunday including East Anglia, now currently affecting Wales and England. This causes interfering signals from distant transmitters in Europe or the UK to affect reception of your wanted signals. This can periodically last, seconds, minutes and sometimes much longer - Do NOT Retune.
There is nothing you can do about this apart from wait for conditions to change, or use online streaming if available.

IF you did retune, you'd be best manually retuning the UHF channels for your transmitters.

The BBC and Freeview have issued warnings -
High pressure weather conditions impacting TV & Radio services - from 07 October | Help receiving TV and radio
High pressure could affect reception across parts of the UK this week | Freeview

Your posting problem wasn't your mobile signal - there's been a number of bugs on this site!!

Chris.SE's 3,934 posts
Select more comments
Your comment please