Ofcom announces 700 MHz clearance schedule 2017-20

Brian Butterworth
published on
UK Free TV
Following on from the When will I get a new Freeview aerial because of even more mobile broadband? article, this week Ofcom have published the dates for the "700MHz clearance".[1]
New "Switchover" dates
The dates are for the transmitter regions (these main transmitters and the relays of them):
July-December 2017: Bressay, Eitshal (Lewis), Keelylang Hill, Knock More, Rosemarkie, Rumster Forest, Skriaig.
January-June 2018: Bromsgrove, Crystal Palace, Hannington, Lark Stoke, Midhurst, Oxford, Ridge Hill, Rowridge, Sandy Heath, Sutton Coldfield, Tacolneston, The Wrekin, Tunbridge Wells.
July -December 2018: Black Hill, Blaenplwyf, Bluebell Hill, Craigkelly, Darvel, Durris, Hastings, Heathfield, Llanddona, Long Mountain, Moel-Y-Parc, Preseli, Rosneath, Sudbury, Torosay, Whitehawk Hill.
January-June 2019: Beacon Hill, Caradon Hill, Fremont Point, Huntshaw Cross, Kilvey Hill, Mendip, Redruth, Stockland Hill, Wenvoe.
July -December 2019: Angus, Bilsdale, Brougher Mountain, Caldbeck, Caldbeck Scotland, Carmel, Chatton, Divis, Dover, Limavady, Pontop Pike, Selkirk.
January-June 2020: Belmont, Douglas, Emley Moor, Nottingham, Olivers Mount, Waltham, Winter Hill.
I have created an interactive map showing these regions and the dates: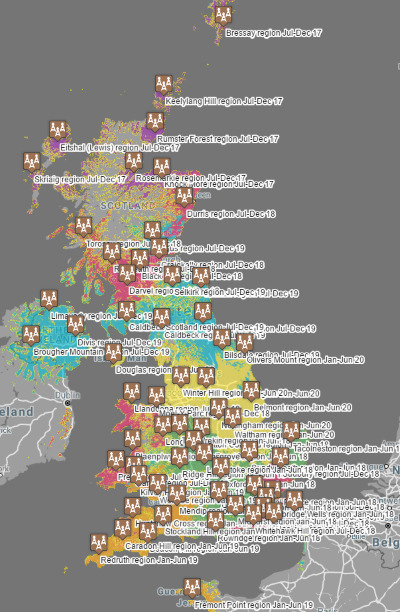 Freeview HD allocations
Channel 55 and 56 will be used for the "interim" HD multiplex com7 and com8:
[1] Maximising the benefits of 700 MHz clearance Enabling acceleration of 700 MHz clearance and use of the 700 MHz centre gap 17th October 2016
Comments
Saturday, 7 January 2017

You could easily watch a slightly snowy picture, but digital signals are not watchable at all if they are poor. I can give you a long list of camp sites with great tv reception but no mobile signal of any kind not even 2g hell I can take you to many towns that struggle to get 3g. And what about the cost of streaming? The analogue system was far superior to the present digital, and until something is done in this country regarding mobile coverage, streaming is not a viable alternative.

Ian's 497 posts

Ian : Good afternoon, Ian. I'm 62 years of age and so I can remember 51 years of analogue tv viewing from 1960, when my father bought our first television, through to 2011, when our tv transmitter switched over to digital only. 'Snow' was only prevalent when we moved into a slight dip in 1970, when our tv transmitter started to transmit BBC1 and ITV on 625 lines UHF in addition to BBC2. I'm afraid that I couldn't watch a slightly snowy picture and so I'd walk over to the television, clean the coax inner and outer, and then reconnect the coax plug to the aerial input socket. If you are finding that you have a poor digital tv signal, there are a large number of actions that you can take to improve your signal sufficiently for you to have a watchable tv picture. Correspondents on this website will offer many different options for you! I think you'll find that UK Government is doing all that it can to improve mobile telephone coverage in this country. Richard in Norwich.

Richard Cooper's 466 posts

I very rarely use terrestrial tv I prefer to use satellite its far more reliable. I even use it when away in the caravan. I reserve judgement on improved mobile reception, and improved internet speed, Ill believe it when I see it.

Ian's 497 posts
Tuesday, 17 January 2017

An update from across the Irish Sea, our Dept. of Communications has confirmed the coordinated start date for the migration of broadcasting from the 700 MHz band across the island of Ireland, 4th September 2019.In the Republic there will be a 6 month simulcast period to allow viewers time update aerials etc. ending 4th March 2020. Across the border in N. Ireland migration is expected to be completed in a number of weeks.A final coordinated DTT plan below the 700 MHz band is expected to be signed between Ireland and the UK next March.A point to note, the 2019 transmitter frequency plan on this site differs from what was agreed during the WEDDIP multilateral discussions last year, for example the 3 main NI transmitters the provisionally agreed plans are:
Divis 21,23,24,26,27,30
Limavady 39,41,42,44,45,47
Brougher Mt 21,24,27,29,31,37

The Cush's 2 posts
Wednesday, 8 February 2017

Where I live in Southwater I get my TV from Midhurst transmitter. Some mux's are output at 20,000 watts and others are at 10,000 watts. When the weather is bad I lose the channels on the mux's on the weaker output. When the final switch to the newer frequencies is complete is there any idea what the output power will be? I understand mux's will be on the 600Mhz range, is this correct?

Charles's 29 posts
Charles's:
map
C's Freeview map
terrain
C's terrain plot
waves
C's frequency data
C's Freeview Detailed Coverage

Charles: look at your location - your just 25km from the transmitter, with just a very small obstruction in the way very close to you. You should have a great signal.

If your signal strength is very low, then it sounds like there is something wrong with your system, which makes sense when you say that you lose signal when its wet. Sounds like a lose connection and water getting in.

MikeB's 2,579 posts

Although on "paper" it looks like I should get a great signal it is only with the mux's on the stronger signal that this is the case. Right now the weather is fine and I can get the weaker signal output with a strong signal strength showing. The problem is that our house has some (but not a lot of trees). The aerial is new with new cabling with no water coming in to the system and has been fitted professionally by someone we trust.

Charles's 29 posts
Charles's:
map
C's Freeview map
terrain
C's terrain plot
waves
C's frequency data
C's Freeview Detailed Coverage
Sunday, 12 February 2017

Is freeview tv getting more new tv channels to come in 2017 in may and September 2017 from Daniel clapham

Daniel clapham's 2 posts

Is freeview tv getting more new tv channels to come in 2017 in may and September 2017 from Daniel clapham there should be more new hd. Channels I the future like film4 hd ITV3HD. On the freeview platform

Daniel clapham's 2 posts
Monday, 13 February 2017

I notice that Brierley Hill is not on the list even though all MUXs are in the ch50 to 60 range??

StuHarris's 34 posts
Select more comments
Your comment please