To join, leave or change ukfree.tv updates by email, enter your email address here:
Freeview Light on the Haslemere (Surrey, England) transmitter

Brian Butterworth first published this on - UK Free TV
map is loading, please wait...
The symbol shows the location of the Haslemere (Surrey, England) transmitter which serves 3,700 homes. The bright green areas shown where the signal from this transmitter is strong, dark green areas are poorer signals. Those parts shown in yellow may have interference on the same frequency from other masts.
This transmitter has no current reported problems
The BBC and Digital UK report there are no faults or engineering work on the Haslemere (Surrey, England) transmitter.


Which Freeview channels does the Haslemere transmitter broadcast?
If you have any kind of Freeview fault, follow this
Freeview reset procedure
first.
Digital television services are broadcast on a multiplexes (or Mux) where many stations occupy a single broadcast frequency, as shown below.
Mux
H/V
Frequency
Height
Mode
Watts

PSB1




BBCA

V max

C28 (530.0MHz)
219m
DTG-3

10W


1 BBC One South, 2 BBC Two England, 9 BBC Four, 201 CBBC, 202 CBeebies, 231 BBC News, 232 BBC Parliament, 601 BBC RB 1, plus 17 others 250 BBC Red Button, 700 BBC Radio 1, 701 BBC Radio 1Xtra, 702 BBC Radio 2, 703 BBC Radio 3, 704 BBC Radio 4, 705 BBC Radio 5 Live, 706 BBC Radio 5 Live Sports Extra, 707 BBC Radio 6 Music, 708 BBC Radio 4 Extra, 709 BBC Asian Network, 710 BBC World Service, 719 BBC Berkshire (BBC local radio), 720 BBC Sussex (BBC local radio), 721 BBC Wiltshire (BBC local radio), 722 BBC Solent (BBC local radio), 734 BBC Solent for Dorset (BBC local radio),



PSB2




D3+4

V max

C22 (482.0MHz)
219m
DTG-3

10W


3 ITV (Meridian (West micro region)), 4 Channel 4 South ads, 5 Channel 5, 6 ITV 2, 13 Channel 4 +1 South ads, 14 More4, 15 Film4, 24 ITV4, 24 ITV4 +1, 28 E4, 33 ITV +1 (Meridian south coast),



PSB3




BBCB

V max

C25 (506.0MHz)
219m
DTG-6

10W


45 Film4 +1, 101 BBC One HD (England no regional news), 102 BBC Two HD (England), 103 ITV HD (ITV Meridian Southampton), 104 Channel 4 HD South ads, 105 Channel 5 HD, 204 CBBC HD,


DTG-3
64QAM 8K 2/3 24.1Mb/s DVB-T MPEG2
DTG-6
256QAM 32KE 2/3 40.2Mb/s DVB-T2 MPEG4
H/V: aerial position (horizontal or vertical)
Are you trying to watch these 0 Freeview channels?
The
Haslemere (Surrey, England)
mast is a
public service broadcasting
(PSB) transmitter, it does not provide these
commercial
(COM) channels: .
If you want to watch these channels, your aerial must point to one of the 80
Full service Freeview transmitters
. For more information see the
will there ever be more services on the Freeview Light transmitters?
page.
Which BBC and ITV regional news can I watch from the Haslemere transmitter?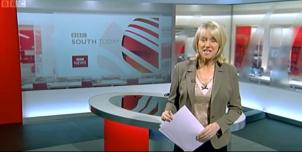 BBC South Today
1.3m homes
4.9%
from
Southampton
SO14 7PU, 51km west-southwest
to
BBC South region - 39 masts
.
ITV Meridian News
0.9m homes
3.6%
from
Whiteley
PO15 7AD, 43km southwest
to
ITV Meridian (South Coast) region - 39 masts
.
All of lunch, weekend and 50% evening news is shared with all of Meridian plus Oxford
How will the Haslemere (Surrey, England) transmission frequencies change over time?
years
1984-97
1997-98
1998-2012
2012-13
2013-18
2013-17
31st Mar 2018-
aerial group

A

K

A

K

A

K

A

K

A

K

A

K

A

B

C/D

E

K

VHF
C22
BBC1
BBC1
BBC1

D3+4

D3+4

D3+4

C25
ITV
ITV
ITV

BBCB

BBCB

BBCB

C28
BBC2
BBC2
BBC2

BBCA

BBCA

BBCA

600
C32
C4
C4
C4
orange background for multiplexes names more
green background for transmission frequencies
lilac background for power levels in watts
800MHz band: 4G mobile started in 2013
700MHz band: 4G from 30 June 2020more
600MHz band: new or moved digital TV services more
Notes:
+
and
-
denote 166kHz offset;
aerial group
are shown as
A
B
C/D
E
K
W
Italics for
analogue
, digital switchover was Wednesdays 29th February and 14th March 2012.
How do the old analogue and currrent digital signal levels compare?
Analogue 1-4

15W

BBCA

,

D3+4

,

BBCB

(-1.8dB)

10W
Which companies have run the Channel 3 services in the Midhurst transmitter area
| | |
| --- | --- |
| Aug 1958-Jan 1992 | Southern Television |
| Jan 1982-Dec 1992 | Television South (TVS) |
| Jan 1993-Feb 2004 | Meridian |
| Feb 2004-Dec 2014 | ITV plc |

| | |
| --- | --- |
| Feb 1983-Dec 1992 | TV-am• |
| Jan 1993-Sep 2010 | GMTV• |
| Sep 2010-Dec 2014 | ITV Daybreak• |
• Breakfast ◊ Weekends ♦ Friday night and weekends † Weekdays only. Haslemere was not an original Channel 3 VHF 405-line mast: the historical information shown is the details of the company responsible for the transmitter when it began transmitting Channel 3.
Comments
Saturday, 10 March 2018

John Dyer:

Same story here at 43 Longdene Road.

I've tried a factory reset of our BT box but no change.

Looks like the transmitter still has problems. There doesn't seem to be an obvious customer service contact place that I can log the potential transmitter problem with.

Does anyone know how to contact whoever it is that looks after it?

thanks

John Fitzpatrick's 4 posts

All fixed now.
Hooray!

John Fitzpatrick's 4 posts
Sunday, 11 March 2018

They are still working on the transmitter , though not today , Sunday . There are notices in this weeks Haslemere herald , with a number to call .....0808 100 0288 or look at freeview.co.uk/tvchanges I think that it's part of the clearance programme above 700Mhz . Though I realise holy cross is not transmitting on these frequencies ! My tv is still playing up , and yes I have checked everything . Gary , Apex Aerials . Haslemere

Gary Cox's 2 posts
Monday, 12 March 2018

We're still having problems too (Longdene Road). BBC channels are now more or less OK but nothing on HD.

John Dyer's 2 posts
Tuesday, 20 March 2018
J
John Fitzpatrick
11:31 AM

GU27 2PQ
My aerial is in the loft space.

I am still having problems (Longdene Road) receiving some channels on Freeview. However I have narrowed the problem down a bit.

I have run through the troubleshooting from this site and had a phone conversation with both BT and Freeview Support. Both the latter wanted a full retune and BT have even given me another youview box (my third in 3 months!!). None of their suggestions, nor the new box have changed the poor reception on affected channels.

Thanks to this web site, though, I can see that the channels with problems (blocky/no images and chopped or no sound) are the full set of channels on the Haslemere Transmitter Multiplex (MUX) PSB3/BBCB. All other channels are fine. The BT YouView box allows me to see that the Signal Strength is 91% and the Signal Quality is 100%.

I still have no clue why channels on this MUX would change state. All these channels worked OK before (a couple of weeks ago). Any further troubleshooting suggestions gratefully received.

There is a suggestion that aerial or cabling could be a problem though I have changed nothing at my end. I will get these checked even though I don't see how this is the problem.


John Fitzpatrick's 4 posts
John's:
Freeview map
terrain plot
frequency data
R&TI Service
digitaluk trade
DAB coverage

John Fitzpatrick: Your signal strength is 91% - thats screaming you have too much signal, and thus every so often the tuners in the Humax (because thats what you really have) are overloading, hence the breakup.

The mux strength probably hasn't changed much, but it might just be enough to make it unwatchable.

There may be another problem, but I strongly suggest searching for 'too much of a good thing' on this website, and purchasing a couple of attenuators.

MikeB's 2,513 posts
Platinum
Wednesday, 21 March 2018

MikeB:

Many thanks for your help, much appreciated.

I read your recommended pages and I now realise that I need to aim for a 75% signal level rather than the current high level. Also that I can deal with this problem via aerial and/or attenuator.

Pity that both Freeview and BT didn't check or advise on this as part of their helpdesk and installation scripts.

regards
John Fitzpatrick



John Fitzpatrick's 4 posts
John's:
Freeview map
terrain plot
frequency data
R&TI Service
digitaluk trade
DAB coverage

John Fitzpatrick: To be fair, they have to ask the right questions - Humax's are well known to have sensitive tuners, and BT's biggest problem is usually broadband issues, not TV ones.

MikeB's 2,513 posts
Platinum
Select more comments
Your comment please