Freeview Light on the Portishead (North Somerset, England) transmitter

Brian Butterworth first published this on - UK Free TV
The symbol shows the location of the Portishead (North Somerset, England) transmitter which serves 2,100 homes. The bright green areas shown where the signal from this transmitter is strong, dark green areas are poorer signals. Those parts shown in yellow may have interference on the same frequency from other masts.
This transmitter has no current reported problems
The BBC and Digital UK report there are no faults or engineering work on the Portishead (North Somerset, England) transmitter.


_______
Which Freeview channels does the Portishead transmitter broadcast?
If you have any kind of Freeview fault, follow this
Freeview reset procedure
first.
Digital television services are broadcast on a multiplexes (or Mux) where many stations occupy a single broadcast frequency, as shown below.
Mux
H/V
Frequency
Height
Mode
Watts

PSB1




BBCA

V max

C59 (778.0MHz)
110m
DTG-3

7W


1 BBC One (SD) West, 2 BBC Two England, 9 BBC Four, 201 CBBC SD, 202 CBeebies, 231 BBC News, 232 BBC Parliament, 250 BBC Red Button, plus 16 others 700 BBC Radio 1, 701 BBC Radio 1Xtra, 702 BBC Radio 2, 703 BBC Radio 3, 704 BBC Radio 4 (FM), 705 BBC Radio 5 Live, 706 BBC Radio 5 Live Sports Extra, 707 BBC Radio 6 Music, 708 BBC Radio 4 Extra, 709 BBC Asian Network, 710 BBC World Service, 719 BBC Bristol (BBC local radio), 721 BBC Wiltshire (BBC local radio), 722 BBC Somerset (BBC local radio), 734 BBC Solent for Dorset (BBC local radio), 735 BBC Gloucestershire (BBC local radio),



PSB2




D3+4

V max

C50 (706.0MHz)
110m
DTG-3

7W


3 ITV (SD) (West), 4 Channel 4 (SD) South ads, 5 Channel 5 (SD), 6 ITV 2, 10 ITV3, 13 Channel 4 +1 South ads, 14 More4, 15 Film4, 24 ITV4, 28 E4, 33 ITV +1 (West), 45 Film4 +1,



PSB3




BBCB

V max

C55 (746.0MHz)
110m
DTG-6

7W


86 More4 +1, 101 BBC One HD (England no regional news), 102 BBC Two HD (England), 103 ITV HD (ITV Meridian Southampton), 104 Channel 4 HD South ads, 105 Channel 5 HD, 204 CBBC HD,


DTG-3
64QAM 8K 2/3 24.1Mb/s DVB-T MPEG2
DTG-6
256QAM 32KE 2/3 40.2Mb/s DVB-T2 MPEG4
H/V: aerial position (horizontal or vertical)
Are you trying to watch these 61 Freeview channels?

The
Portishead (North Somerset, England)
mast is a
public service broadcasting
(PSB) transmitter, it does not provide these
commercial
(COM) channels: 4Music, 4seven, 4seven HD, 5SELECT, 5Spike, 5STAR, 5STAR +1, 5USA, 5USA +1, Aljazeera English HD, BBC Four HD, BBC News HD, Blaze, Blaze +1, CBeebies HD, CBS Drama, CBS Justice, CBS Reality, CBS Reality +1, Challenge, Channel 4+1 HD, Channel 5 +1, CITV, Dave, Dave ja vu, DMAX, Drama, E4 +1, Food Network, Forces TV, Freesports, Home, Horror Channel, ITV2 +1, ITV3 +1, ITV4 +1, ITVBe +1, Quest HD, Movies4Men, NOW 80s, Now 90s, Paramount Network, PBS America, pick, Pick +1, Quest +1, Quest Red, Quest Red +1, Really, RT HD, Sewing Quarter, Sky News, Smithsonian Channel HD, Sony Movie Channel, Talking Pictures TV, TCC, Together, True Entertainment, True Movies, Yesterday, YourTV.
If you want to watch these channels, your aerial must point to one of the 80
Full service Freeview transmitters
. For more information see the
will there ever be more services on the Freeview Light transmitters?
page.
Which BBC and ITV regional news can I watch from the Portishead transmitter?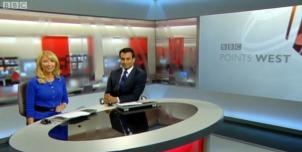 BBC Points West
0.9m homes
3.4%
from
Bristol
BS8 2LR, 12km east-southeast (103°)
to
BBC West region - 60 masts
.
ITV West Country News (East)
0.9m homes
3.4%
from
Bristol
BS4 3HG, 16km east-southeast (107°)
to
ITV West region - 61 masts
.
All of lunch, weekend and 50% evening news is shared with West Country (West)
How will the Portishead (North Somerset, England) transmission frequencies change over time?
1984-97
1997-98
1998-2010
2010-13
27 Mar 13
2013-17
19 Jun 2019

E

E

E

C/D

E

C/D

E

T

C/D

E

T

A

K

T

C21
BBCA
C24
D3+4
C37
BBCB
C39
BBC2waves
BBC2waves
BBC2waves
C49tv_off
ITVwaves
ITVwaves
ITVwaves
C50tv_off
D3+4
D3+4
C55tv_off
BBCB
BBCB
BBCB
C59tv_off
BBCA
BBCA
BBCA
C62
D3+4
C66
BBC1waves
BBC1waves
BBC1waves
C68
C4waves
C4waves
C4waves
tv_off Being removed from Freeview (for 5G use) by 30 June 2020 - more
Table shows multiplexes names see this article;
green background for transmission frequencies
Notes:
+
and
-
denote 166kHz offset;
aerial group
are shown as
A
B
C/D
E
K
W
T
waves
denotes analogue; digital switchover was 24 Mar 10 and 7 Apr 10.
How do the old analogue and currrent digital signal levels compare?
BBCA

,

D3+4

,

BBCB

7.4W

Analogue 1-4
(-0.2dB)

7W
Which companies have run the Channel 3 services in the Mendip transmitter area
| | |
| --- | --- |
| Jan 1958-Jul 1968 | Television Wales and the West |
| Jul 1968-Feb 2004 | Harlech Television |
| Feb 2004-Dec 2014 | ITV plc |

| | |
| --- | --- |
| Feb 1983-Dec 1992 | TV-am• |
| Jan 1993-Sep 2010 | GMTV• |
| Sep 2010-Dec 2014 | ITV Daybreak• |
• Breakfast ◊ Weekends ♦ Friday night and weekends † Weekdays only. Portishead was not an original Channel 3 VHF 405-line mast: the historical information shown is the details of the company responsible for the transmitter when it began transmitting Channel 3.
Comments
Wednesday, 12 September 2012

Hi,
I live at bs206dj. Which tramsmitter should I point the ariel towards to recieve the most channels ? Also do I need a wideband ariel the one that I have at the moment doesnt recieve any freeview channels at all.
Many thanks
Mat

Mat's 1 post

Mat: Mendip, if possible, aerial horizontal.

The Portishead relay is on the top of Hanover House, although it carries PSB channels only. Aerials should be vertical.

Or Wenvoe which broadcasts PSB and COM channels, although carries the Wales regional variants of BBC One, BBC Two and ITV1. If Mendip is out and Wenvoe is therefore your only full-service transmitter, you could have another aerial pointing at Hanover House, either connected to a separate receiver or diplexed (combined) into one downlead.

For a list of services by multiplex (including which are PSB and which are COM), see:

DTG :: DTT Services by Multiplex


See ATV Sheffield's site for lots of information:

Mendip Transmitter

Mendip is all Group C/D so no wideband aerial is necessary. However, you may decide to get a wideband aerial just incase the authorities decide to change it all again so as to sell the spectrum off to the highest bidder...

Plus, if you get a wideband, it will also be suitable for Wenvoe (which is all Group B), should you find that Mendip isn't good enough.

If you are looking at receiving from Hanover House, then I assume that you can see its roof from yours, so a DM Log should do. Logs are wideband but have a flatter response than yagis. See here for examples:

Gain (curves), Again


I am wondering why your current aerial gives you nothing. Is there a fault that needs fixing and once it's fixed will give you the full service (if it points to Mendip)?

Even if it points to Hanover House, it will still be expected to give you PSB channels.

If your existing aerial points to Hanover House and you can get it working, then it's probably best to keep it as a backup. And if you find that Mendip isn't an option, you may decide to diplex it with one on Wenvoe.


It is worth looking to see where other aerials are pointing. Also, see if you can see anything that could be an obstruction that might be to the detriment of reception from your chosen transmitter.

Dave Lindsay's 5,724 posts
Tuesday, 16 April 2013

I live at postcode BS20 7BW. My Aerial picks up Welsh telly (BBC 1 Wales, ITV Wales, S4C etc).

Any tips on how I can get proper English/Bristolian freeview?

Any help appreciated!

JRD's 2 posts

JRD: You've left out a crucial bit of information - which transmitter your aerial faces!

So your aerial picks up Welsh television. But does it face Wenvoe, which is the transmitter in Wales? If it does then the answer is to look at realigning or replacing with an aerial on a transmitter in England.

If your aerial faces a transmitter in England, but your receiver keeps tuning to Wenvoe then your question relates to how you can prevent your tuner opting for the 'wrong' transmitter.

Dave Lindsay's 5,724 posts
Wednesday, 17 April 2013

Many thanks Dave, I will check and may come back for some more help if it's facing the right way and still picking up transmission from Wenvoe!

Without meaning to sound too ignorant (this is my first encounter with TV aerials), would realigning it simply be a case of pointing the aerial in the general direction of the English transmitter?!

Thanks again

JRD's 2 posts
Monday, 11 May 2015
Transmitter engineering
10:30 AM

PORTISHEAD transmitter - RelayPossible service interruptions [DUK]

Transmitter engineering's 117,017 posts
Tuesday, 19 May 2015
Transmitter engineering
4:31 AM

PORTISHEAD transmitter - RelayPossible service interruptions [DUK]

Transmitter engineering's 117,017 posts
Select more comments
Your comment please