To join, leave or change ukfree.tv updates by email, enter your email address here:
Full Freeview on the Rowridge (Isle Of Wight, England) transmitter

Brian Butterworth first published this on - UK Free TV
map is loading, please wait...
The symbol shows the location of the Rowridge (Isle Of Wight, England) transmitter which serves 620,000 homes. The bright green areas shown where the signal from this transmitter is strong, dark green areas are poorer signals. Those parts shown in yellow may have interference on the same frequency from other masts.
This transmitter has no current reported problems
The BBC and Digital UK report there are no faults or engineering work on the Rowridge (Isle Of Wight, England) transmitter.


Which Freeview channels does the Rowridge transmitter broadcast?
If you have any kind of Freeview fault, follow this
Freeview reset procedure
first.
Digital television services are broadcast on a multiplexes (or Mux) where many stations occupy a single broadcast frequency, as shown below.
Mux
H/V
Frequency
Height
Mode
Watts

PSB1




BBCA

V max

H max

C24 (498.0MHz)

320m
DTG-3

200,000W




200,000W


1 BBC One South, 2 BBC Two England, 9 BBC Four, 120 CBBC, 121 CBeebies, 130 BBC News, 131 BBC Parliament, 601 BBC RB 1, plus 17 others 200 BBC Red Button, 700 BBC Radio 1, 701 BBC Radio 1Xtra, 702 BBC Radio 2, 703 BBC Radio 3, 704 BBC Radio 4, 705 BBC Radio 5 Live, 706 BBC Radio 5 Live Sports Extra, 707 BBC Radio 6 Music, 708 BBC Radio 4 Extra, 709 BBC Asian Network, 710 BBC World Service, 719 BBC Berkshire (BBC local radio), 720 BBC Sussex (BBC local radio), 721 BBC Wiltshire (BBC local radio), 722 BBC Solent (BBC local radio), 734 BBC Solent for Dorset (BBC local radio),



PSB2




D3+4

V max

H max

C27 (522.0MHz)

320m
DTG-3

200,000W




200,000W


3 ITV (Meridian (South Coast micro region)), 4 Channel 4 South ads, 5 Channel 5, 6 ITV 2, 13 Channel 4 +1 South ads, 14 More4, 15 Film4, 24 ITV4, 28 E4, 33 ITV +1 (Meridian south coast),



PSB3




BBCB

V max

H max

C21+ (474.2MHz)

320m
DTG-6

200,000W




200,000W


45 Film4 +1, 101 BBC One HD (England no regional news), 102 BBC Two HD (England), 103 ITV HD (ITV Meridian Southampton), 104 Channel 4 HD South ads, 105 Channel 5 HD, 123 CBBC HD,



COM4




SDN

H -6dB

V -6dB

C25 (506.0MHz)

299m
DTG-8

50,000W




50,000W


10 ITV3, 20 Drama, 21 5 USA, 26 ITV Be, 27 ITV 2 +1, 30 5STAR, 34 ITV3 +1, 37 Quest, 44 Channel 5 +1, 54 My5, 58 ITV Be +1, 61 True Entertainment 1, 62 ITV4 +1, 66 CBS Reality, 70 Horror Channel, 83 Blaze, 84 Blaze +1, 122 CITV, plus 25 others Gay Rabbit, Holidays TV, Rabbit, 1-2-1 Dating, Christian, Peace TV, Playboy TV Chat, Bluebird 1, TVPlayer, 16 QVC, 39 TJC Choice, 85 Hochanda, 170 ADULT Section (start), 171 Television X, 182 Xpanded TV promo, 226 CCTV, 231 Racing UK, 234 CONNECT 4, 239 SonLife, 244 VisionTV, 246 JSTV, 247 kykNET, 724 Capital, 727 Absolute Radio, 728 Heart,



COM5




ArqA

H -6dB

V -6dB

C22+ (482.2MHz)

302m
DTG-8

50,000W




50,000W


11 pick, 12 Dave, 17 Really, 29 E4 +1, 32 Sony Movie Ch, 41 Food Network, 46 Challenge, 48 Movies4Men, 68 truTV, 69 Tru TV +1, 72 YourTV, 126 Tiny Pop, 132 Sky News, plus 12 others 23 Create and Craft, 43 Gems TV, 49 TJC, 65 TBN UK, 173 ADULT smileTV3, 175 ADULT PARTY, 176 ADULT Blue, 177 ADULT Babestn2, 207 Kiss Me TV, 208 Proud Dating, 723 talkSPORT, 730 RNIB Connect,



COM6




ArqB

H -6dB

V -6dB

C28 (530.0MHz)

302m
DTG-8

50,000W




50,000W


Al Jazeera English, BT Sport 1 (not free), 18 4Music, 19 Yesterday, 25 Home, 31 Spike, 38 Quest +1, 42 Travel Channel, 47 4seven, 59 BT Showcase (not free), 64 CBS Action, 73 YourTV +1, 79 Dave ja vu, plus 23 others Dating, Q, Propeller TV, 22 Ideal World, 35 QVC Beauty, 36 QVC Style, 40 Rocks and Co, 125 Pop, 135 RT, 172 ADULT smileTV2, 174 Babestation, 199 ADULT Section (end), 711 The Hits radio, 712 KISS FRESH, 713 Kiss, 714 KISSTORY, 715 Magic, 716 heat, 717 Kerrang!, 718 Smooth radio, 725 Premier Radio, 731 Classic FM, 732 LBC,



LSO




H -13dB

C29 (538.0MHz)
299m
DTG-12

10,000W


from 22nd December 2014: 7 That's Solent, plus 1 others QVC Extra,



com7




H -9.1dB

C31 (554.0MHz)
320m
DTG-6

24,400W


Buz Muzik, 56 5USA +1, 57 VIVA, 67 CBS Reality +1, 71 CBS Drama, 81 Talking Pictures TV, 82 Vintage TV, 87 Keep It Country, 106 BBC Four HD, 107 BBC News HD, 108 Al Jazeera Eng HD, 109 Channel 4+1 HD, 110 4seven HD, 113 RT HD, 124 CBeebies HD, plus 4 others DAYSTAR HD, Arise News, 77 Rishtey, 245 Planet Knowledge,



com8




H -10.4dB

C37 (602.0MHz)
320m
DTG-6

18,400W


55 5STAR+1, 63 Community Channel, 86 More4 1, 91 Front Runner TV, plus 3 others 88 Rishtey Cineplex, 111 QVC HD, 112 QVC Beauty HD,


DTG-3
64QAM 8K 2/3 24.1Mb/s DVB-T MPEG2
DTG-6
256QAM 32KE 2/3 40.2Mb/s DVB-T2 MPEG4
DTG-8
64QAM 8K 3/4 27.1Mb/s DVB-T MPEG2
DTG-12
QSPK 8K 3/4 8.0Mb/s DVB-T MPEG2
H/V: aerial position (horizontal or vertical)
Which BBC and ITV regional news can I watch from the Rowridge transmitter?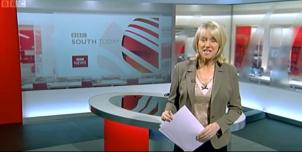 BBC South Today
1.3m homes
4.9%
from
Southampton
SO14 7PU, 26km north
to
BBC South region - 39 masts
.
ITV Meridian News
0.9m homes
3.6%
from
Whiteley
PO15 7AD, 24km north-northeast
to
ITV Meridian (South Coast) region - 39 masts
.
All of lunch, weekend and 50% evening news is shared with all of Meridian plus Oxford
Are there any self-help relays?
| | | | |
| --- | --- | --- | --- |
| Portsmouth Docks | Transposer | 2 km N city centre | 50 homes Estimate. Group of houses' |
How will the Rowridge (Isle Of Wight, England) transmission frequencies change over time?
years
1950s~85
1984-97
1997-98
1998-2012
2012-13
2013-18
2013-18
2019-
aerial group
VHF

A

K

A

K

A

K

A

K

A

K

A

K

A

K

C3
BBCtv
C21
C4
C4
C4

+

BBCB

+

BBCB

+

BBCB

BBCB

C22

+

ArqA

+

ArqA

+

ArqA

SDN

C24
BBC2
BBC2
BBC2

BBCA

BBCA

BBCA

D3+4

C25

SDN

SDN

SDN

ArqA

C27
ITV
ITV
ITV

D3+4

D3+4

D3+4

BBCA

C28

+

B

ArqB

ArqB

ArqB

ArqB

C29

LSO

C30

-

A

600
C31
BBC1
BBC1
BBC1

com7

C32

+

2

C33

+

D

C34

1

C37

+

C

com8
orange background for multiplexes names more
green background for transmission frequencies
lilac background for power levels in watts
800MHz band: 4G mobile started in 2013
700MHz band: 4G from 30 June 2020more
600MHz band: new or moved digital TV services more
Notes:
+
and
-
denote 166kHz offset;
aerial group
are shown as
A
B
C/D
E
K
W
Italics for
analogue
, digital switchover was Wednesdays 7th March and 21st March 2012.
How do the old analogue and currrent digital signal levels compare?
Analogue 1-4

500kW

PSB1||

,

PSB1≡

,

PSB2||

,

PSB2≡

,

PSB3||

,

PSB3≡

(-4dB)

200kW

COM4≡

,

COM4||

,

COM5≡

,

COM5||

,

COM6≡

,

COM6||

(-10dB)

50kW

com7≡

(-13.1dB)

24.4kW

Mux 1*

,

Mux 2*

,

Mux A*

,

Mux B*

,

Mux C*

,

Mux D*

(-14dB)

20kW

com8≡

(-14.3dB)

18.4kW

LSO≡

(-17dB)

10kW
Which companies have run the Channel 3 services in the Rowridge transmitter area
| | |
| --- | --- |
| Aug 1958-Jan 1992 | Southern Television |
| Jan 1982-Dec 1992 | Television South (TVS) |
| Jan 1993-Feb 2004 | Meridian |
| Feb 2004-Dec 2014 | ITV plc |

| | |
| --- | --- |
| Feb 1983-Dec 1992 | TV-am• |
| Jan 1993-Sep 2010 | GMTV• |
| Sep 2010-Dec 2014 | ITV Daybreak• |
• Breakfast ◊ Weekends ♦ Friday night and weekends † Weekdays only. Rowridge was not an original Channel 3 VHF 405-line mast: the historical information shown is the details of the company responsible for the transmitter when it began transmitting Channel 3.
Comments
Friday, 13 January 2017

MikeB: Thanks for your response to my query on 30th December re channel 66 reception.Whatever caused this seems to be a one off as I've been monitoring ever since hence my late reply. All seems to be well,signal strengths high in varying weather conditions. I take your point about cbs 66 being on less power on the mux but but I am a regular user of others such as ch5+1which are on the same mux without problem.

Ed Hopper's 5 posts
Ed's:
Freeview map
terrain plot
frequency data
R&TI Service
digitaluk trade
DAB coverage

Ed Hopper: You didn't give a signal strength for that mux, but you did say 'it was high in all weather conditions'. Check what that 'high' means. Usually, a 'no signal' means just that, but of course you can also overload the tuner - and the breakup/no signal can look much the same. Remember to thick about all the channels on that mux to be the same power - if your getting a problem with one, you should be getting a problem with them all.

If its way about 75%, then look at 'too much of a good thing'.

There is one more possibility - that your system has a lose connection somewhere, but its so small and so infrequent that its hardly noticed - it does happen! Good luck in getting to the bottom of the mystery!

MikeB's 2,046 posts
Platinum
Sunday, 15 January 2017

My aerial is mounted externally & above the roof line. My Post Code is BN16 4DH.
Tonight Saturday 14th Jan 17 whilst watching Channel 4 & 4HD @ between 21:00 & 23:30 the sound volume output or difference between levels of he Film being shown & the adverts was massively different.
I have a Samsung Smart TV 1 years old, Normally I would watch normal TV programmes with a Volume setting of 12 or maybe sometimes 15. Watching Films in recent month I have had to increase the volume to over 30. TONIGHT in order to listen to the film "Oblivion" on both 4 & 4HD I had to select sound volumes of over 55. When the adverts come on its simply deafening?
Q, Could you please advise what is wrong with the broadcasting of "Films" & their sound quality?
Thank you in anticipation.
Mike King

Michael King's 1 post
Michael's:
Freeview map
terrain plot
frequency data
R&TI Service
digitaluk trade
DAB coverage

Michael King:

A lot of people across the country complain of there being a significant difference in sound level between the programmes and the adverts. Generally, in my experience, adverts have a greater sound level than programmes. There is nothing technically wrong with your equipment and all you can do is complain directly to the particular broadcaster concerned (not this website).



MikeP's 1,302 posts
Gold

MikeP: One other possibility occurs to me. Yes, adverts are louder than problems, I think due to the assumption that we all turn down the volume during ads. But nobody should be going from perhaps 12-15 to 55 on a Samsung.

Michael King - Are you watching the films via the TV or via another box? If its via a another box, check that its volume is up to max, because otherwise your listening to a low volume, but having to turn it up high.

If the volume is off on all media - TV, DVD, internet, etc, than you need to take it back to the shop, because thats very strange.

MikeB's 2,046 posts
Platinum
Wednesday, 25 January 2017

MikeB: Lost reception completely on all freeview devices (2 tvs and one recorder). We are in Dorset (BH31 6NZ) and use the Rowridge transmitter, which doesn't show any faults at the moment. Anybody else lost reception from this transmitter? Could be my aerial of course (still dark, can't check it).

Greg's 1 post
Greg's:
Freeview map
terrain plot
frequency data
R&TI Service
digitaluk trade
DAB coverage

Greg: If the transmitter is fine, logically, what else could it be but your system?

Since it sounds like the TV's are being fed from one aerial, logically, the point at which the signal splits (or before) sounds like where the problem lies. Could be a loose connection, failed booster (do you actually need one?), etc. Your looking for around 75% signal strength - it might be you've still got some signal, its just too low to register.

There does seem to be loads of people at the moment who assume that the transmitter must be at fault, even though all evidence to the contrary. Your signal is fed by a cable which is just 6mm wide, can be put in by anyone, can be any age, and even if its inside, is still prone to the problems of decay, just like anything else. Add to that high winds, moisture, extremes of heat and cold, and just old age, and stuff fails.

MikeB's 2,046 posts
Platinum
Select more comments
Your comment please