Full Freeview on the Torosay (Argyll and Bute, Scotland) transmitter

Brian Butterworth first published this on - UK Free TV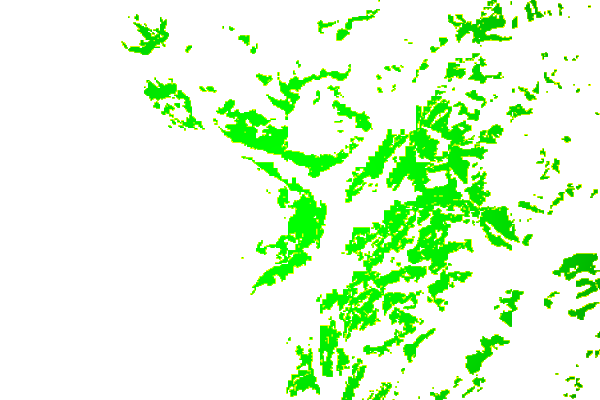 The symbol shows the location of the Torosay (Argyll and Bute, Scotland) transmitter which serves 2,800 homes. The bright green areas shown where the signal from this transmitter is strong, dark green areas are poorer signals. Those parts shown in yellow may have interference on the same frequency from other masts.
This transmitter has no current reported problems
The BBC and Digital UK report there are no faults or engineering work on the Torosay (Argyll and Bute, Scotland) transmitter.


_______
Which Freeview channels does the Torosay transmitter broadcast?
If you have any kind of Freeview fault, follow this
Freeview reset procedure
first.
Digital television services are broadcast on a multiplexes (or Mux) where many stations occupy a single broadcast frequency, as shown below.
Mux
H/V
Frequency
Height
Mode
Watts

PSB1




BBCA

V max

C28 (530.0MHz)
480m
DTG-

4,000W


1 BBC One (SD) Scotland, 2 BBC Two Scotland, 7 BBC Alba, 23 BBC Three, 24 BBC Four (Scotland SD), 201 CBBC, 202 CBeebies, 231 BBC News, 232 BBC Parliament, 250 BBC Red Button, plus 12 others 700 BBC Radio 1, 701 BBC Radio 1Xtra, 702 BBC Radio 2, 703 BBC Radio 3, 704 BBC Radio 4 (FM), 705 BBC Radio 5 Live, 706 BBC Radio 5 Live Sports Extra, 707 BBC Radio 6 Music, 708 BBC Radio 4 Extra, 709 BBC Asian Network, 710 BBC World Service, 720 BBC Radio nan Gaidheal,



PSB2




D3+4

V max

C25 (506.0MHz)
480m
DTG-

4,000W


3 STV (SD) (STV Central (Glasgow micro region)), 4 Channel 4 (SD) Scotland ads, 5 Channel 5, 6 ITV 2, 10 ITV3, 13 E4, 14 Film4, 15 Channel 4 +1 Scotland ads, 18 More4, 26 ITV4, 28 ITVBe, 30 E4 +1, 35 ITV1 +1 (STV Edinburgh), 35 STV+1 (STV Edinburgh),



PSB3




BBCB

V max

C22 (482.0MHz)
480m
DTG-

4,000W


46 5SELECT, 101 BBC One HD Scotland, 102 BBC Two HD Scotland, 103 ITV 1 HD (STV West), 103 STV HD (STV West), 104 Channel 4 HD Scotland ads, 105 Channel 5 HD, 106 BBC Four HD, 108 BBC Scotland HD, 204 CBBC HD, 205 CBeebies HD, plus 1 others 66 TBN UK,



COM4




SDN

V max

C23 (490.0MHz)
480m
DTG-8

4,000W


20 Drama, 21 5USA, 29 ITV2 +1, 32 5STAR, 33 5Action, 38 Channel 5 +1, 41 Legend, 42 Great! Movies Action, 57 Dave ja vu, 58 ITVBe +1, 59 ITV3 +1, 64 Blaze, 67 CBS Reality, 69 HorrorXtra, 78 TCC, 81 Blaze +1, 89 ITV4 +1, 91 WildEarth, 203 CITV, 208 Pop Player, 209 Ketchup TV, 210 Ketchup Too, 211 YAAAS!, plus 16 others Racing TV, Kiss Chat & Date, Proud Dating, ADULT Xpanded2, 16 QVC, 22 TJC, 37 QVC2, 237 TalkTV, 263 SonLife, 264 VisionTV, 265 On Demand 365, 269 Arise News, 670 ADULT Section (start), 724 Capital, 727 Absolute Radio, 728 Heart,



COM5




ArqA

V -3dB

C26 (514.0MHz)
480m
DTG-8

2,000W


Smithsonian Channel, 11 Sky Arts, 17 Really, 19 Dave, 31 E4 Extra, 36 pick, 40 Quest Red, 43 Food Network, 47 Film4 +1, 48 Challenge, 49 4seven, 60 Drama +1, 70 Quest +1, 71 That's 60s, 74 Yesterday +1, 75 That's 70s, 233 Sky News, plus 9 others CRAFT EXTRA , 45 Gems TV, 85 Create and Craft, 673 ADULT smileTV3, 723 talkSPORT, 730 RNIB Connect, 731 Classic FM, 732 LBC, 733 Trans World Radio,



COM6




ArqB

V -3dB

C30 (546.0MHz)
480m
DTG-8

2,000W


Quest Red +1, Classic Hits, 12 Quest, 25 W, 27 Yesterday, 34 GREAT! movies, 39 DMAX, 44 HGTV, 52 GREAT! romance, 73 HobbyMaker, 76 That's 80s, 82 Talking Pictures TV, 83 Together TV, 84 PBS America, 90 Together TV +1, 235 Al Jazeera Eng, plus 19 others ADULT smileTV2, ADULT Studio 66, QVC Style, 50 GREAT! tv, 51 Ideal World, 72 Jewellery Maker, 206 Pop, 674 ADULT Babestn, 678 Xpanded TV, 699 ADULT Section, 711 Hits Radio, 712 KISS FRESH, 713 KISS, 714 KISSTORY, 715 Magic, 716 Greatest Hits Radio, 717 Kerrang!, 718 Smooth Radio, 725 Premier Radio,


DTG-8
64QAM 8K 3/4 27.1Mb/s DVB-T MPEG2
H/V: aerial position (horizontal or vertical)
The
Torosay (Argyll and Bute, Scotland)
mast is a
public service broadcasting
(PSB) transmitter, it does not provide these
commercial
(COM) channels: .
If you want to watch these channels, your aerial must point to one of the 80
Full service Freeview transmitters
. For more information see the
will there ever be more services on the Freeview Light transmitters?
page.
Which BBC and ITV regional news can I watch from the Torosay transmitter?
BBC Reporting Scotland
2.4m homes
9.2%
from
Glasgow
G51 1DA, 112km southeast (129°)
to
BBC Scotland region - 230 masts
.
STV News
1.3m homes
4.8%
from
Glasgow
G51 1PQ, 112km southeast (129°)
to
STV Central (Glasgow) region - 94 masts
.
Are there any self-help relays?
| | | | |
| --- | --- | --- | --- |
| Ardtornish B | Active deflector | 68 km W Fort William | |
| Barguillean | Active deflector | 12 km E Oban | 3 homes |
| Br Of Awe | Transposer | 20 km E Oban | |
| Colonsay | Active deflector | Island of Colonsay | 59 homes |
| Glenuig | Active deflector | 43 km W Fort William | 9 homes |
| Loch Caolisport | Active deflector | 20 km SW Lochgilphead | 85 homes |
| Loch Caolisport | Active deflector | 20 km SW Lochgilphead | (second level) |
| Loch Caolisport | Active deflector | 20 km SW Lochgilphead | (second level) |
| Loch Caolisport | Active deflector | 20 km SW Lochgilphead | (second level) |
| Loch Caolisport | Active deflector | 20 km SW Lochgilphead | (second level) |
| Loch Sunart | Active deflector | | |
| Portuairk | Active deflector | 68 km W Fort William | 12 homes |
| Strontian | Active deflector | 32 km WSW Fort William | 14 homes |
How will the Torosay (Argyll and Bute, Scotland) transmission frequencies change over time?
1984-97
1997-98
1998-2010
2010-13
4 Oct 2017

A

K

T

A

K

T

A

K

T

A

K

T

A

K

T

C22
BBC1waves
BBC1waves
BBC1waves
BBCB
BBCB
C23
SDN
SDN
C25
ITVwaves
ITVwaves
ITVwaves
D3+4
D3+4
C26
ArqA
ArqA
C28
BBC2waves
BBC2waves
BBC2waves
BBCA
BBCA
C29
ArqB
C30
ArqB
C32
C4waves
C4waves
C4waves
tv_off Being removed from Freeview (for 5G use) after November 2020 / June 2022 - more
Table shows multiplexes names see this article;
green background for transmission frequencies
Notes:
+
and
-
denote 166kHz offset;
aerial group
are shown as
A
B
C/D
E
K
W
T
waves
denotes analogue; digital switchover was 13 Oct 10 and 27 Oct 10.
How do the old analogue and currrent digital signal levels compare?
Analogue 1-4

20kW

SDN

,

BBCA

,

D3+4

,

BBCB

(-7dB)

4kW

ARQA

,

ARQB

(-10dB)

2kW

Mux 1*

,

Mux 2*

,

Mux A*

,

Mux B*

,

Mux C*

,

Mux D*

(-22dB)

125W
Which companies have run the Channel 3 services in the Torosay transmitter area
| | |
| --- | --- |
| Aug 1957-Jun 1997 | Scottish Television |
| Jun 1997-Dec 2014 | STV plc |

| | |
| --- | --- |
| Feb 1983-Dec 1992 | TV-am• |
| Jan 1993-Sep 2010 | GMTV• |
| Sep 2010-Dec 2014 | ITV Daybreak• |
• Breakfast ◊ Weekends ♦ Friday night and weekends † Weekdays only. Torosay was not an original Channel 3 VHF 405-line mast: the historical information shown is the details of the company responsible for the transmitter when it began transmitting Channel 3.
Comments
Monday, 30 January 2023
Transmitter engineering
5:08 AM

Torosay transmitter - Torosay transmitter: Possible effect on TV reception week commencing 30/01/2023 Screen may go black on some or all channels [DUK]

Transmitter engineering's 144,075 posts
Wednesday, 15 March 2023

My postcode is Pa384bs and suspect I need to replace my aerial. What type of aerial is suitable? The aerial is 130 metres from the property.

J G Lobb's 2 posts
Thursday, 16 March 2023

J G Lobb:

Do you really mean 130m? That's an extremely long distance - more than the length of a 100m drum of cable!
I assume you maybe in a bit of a valley, and the aerial is mounted up on top of a nearby hill if so.

You will need a Group A aerial BUT the rest will depend on the rest of the installation and what you intend replacing, if anything.

I assume you have a masthead amplifier. What type/model is it? (I'd be thinking about something like the LABGEAR KIT125VK which has 5G filtering as well as variable gain upto 25dB)

You should have the filtering as there is at least one mobile phone mast nearby and future upgrades may give you a problem with interference due to mobile use of the 700MHz band.
If interference is something that's started recently and this is what has prompted you to think about replacing the aerial not realising what the issue is, then you should be able to get a free filter from https://restoretv.uk (put that into your web browser for information).

What coax are you currently using? You really should use CT100 type cable (double screened copper coax).

Chris.SE's 3,707 posts
Tuesday, 4 July 2023

Chris.SE: I live west coast Scotland. Torosay transmitter 30 miles away. Aerial 150 metres away with Proception masthead amp 27 dB receiving 12 v from distribution amp in loft.All 3 tvs show no no signal. Please could you advise steps to check system?

G Lobb's 2 posts

J G Lobb:

Now that is a tricky one!
I trust you haven't retuned whilst you had no signal, if so, this may have cleared your correct tuning, so try a MANUAL tune of Torosay's UHF channels as listed at the very top of this page.
Other than that, it's possible there is unlisted Engineering, but feel free to proceed with any checks you want.

Firstly check the aerial is intact and still pointing correctly but do a visual check of the cable en route to see if there is any obvious damage. Check the aerial and other connections whilst you are there for corrosion etc.

Do you have a (digital ideally) voltmeter so that you can check that 12v supply.
First unplug the feed to the masthead and check that 12v is present on the output of the distribution amp. If it's not, there's the problem.

Even if it's there, the distribution part of the amp may have failed but checking that will either be by taking it somewhere where there is a signal (a friend's) and connecting it to their aerial output and see if the outputs provide signal to their TV. Alternatively by substitution, but that means buying or borrowing another so probably best left as a last resort, or of course getting it professionally checked! Probably best to check the rest of the system first.

If 12v is ok, then check if it is arriving at the masthead amp,

If it's arriving at the masthead, and all other checks are ok, the masthead itself may have failed.
In your situation I cannot think of anything other than get it professionally checked, but read on first.

If it's not arriving at the masthead, there could be a break in the coax cable somewhere. Finding that may be difficult. You'll probably need someone to help and an ohm-meter or continuity tester.
Disconnect the cable at both ends and then short together one end and put the ohm-meter or continuity tester on the other, then work your way along the cable flexing it slightly to see if you can find a break where your friend sees a reading which wasn't there to start.

If everything else checked out ok, then if you still have no signal you ideally need a signal strength meter you can connect direct to the aerial so see what you are receiving. There are currently no reported faults that I can find, and as previously mentioned the transmitter is not currently listed for Planned Engineering but there could still be work in progress in which case i would expect signals to retune later in the day.

I don't know if anyone else has any bright ideas about checks that I may not have thought of.

Chris.SE's 3,707 posts

Typo "I would expect signals to Return later in the day", NOT "Retune later in the day"

Chris.SE's 3,707 posts
Friday, 15 September 2023
Transmitter engineering
10:48 AM

Torosay transmitter - Torosay transmitter: Possible effect on TV reception week commencing 11/09/2023 Pixelation or flickering on some or all channels [DUK]

Transmitter engineering's 144,075 posts
Monday, 18 September 2023
Transmitter engineering
5:09 AM

Torosay transmitter - Torosay transmitter: Possible effect on TV reception week commencing 18/09/2023 Pixelation or flickering on some or all channels [DUK]

Transmitter engineering's 144,075 posts
Select more comments
Your comment please